Are you preparing for Google Cloud Certified Associate Cloud Engineer exam? Many questions would be hovering into your mind like what will be the difficulty level of the exam? On which GCP services should I spend more time? and so on.
Don't worry! I also had these questions in my mind while preparing for my Google Associate Cloud Engineer certification exam. I got over these questions and finally passed the certification exam. Yes, I'm a Google Certified Associate Cloud Engineer now! 
Whizlabs is dedicated to providing you the high-quality and up-to-date content for your certification preparation. For this, the team keeps on tracking the exam format and important topics by giving different certification exams. So I, being the member of Whizlabs Google Cloud expert team, took the Google Associate Cloud Engineer certification exam.
As per the experience, we'll prepare the exam-oriented online course and practice tests for you to pass the Google Cloud Associate Engineer certification exam in the first attempt. Here, I'll share my experience and review on the Google Cloud Certified Associate Cloud Engineer certification exam. Let's first begin with the basic introduction to the Google Associate Cloud Engineer exam.
You can use this blog post as the well defined preparation guide for the Google Cloud Certified Associate Cloud Engineer Certification Exam.
Google Cloud Certified Associate Cloud Engineer Exam
Google Cloud Certifications
As cloud technology is becoming more popular and all the applications are moving to the cloud platforms, the urge to seek a career in this field is quite demanding. Google entered this sector back in 2012 and is today one of the most popular cloud platforms. With this demand, Google Cloud Certifications came into play to help the aspirants enjoy fruitful careers.
There are 10 Google Cloud Certifications available in the market. These certifications are classified into three categories:
Foundation – Beginner
Associate – Intermediate
Professional – Advanced
Google Cloud certifications are very popular among cloud professionals. Many aspirants do not have necessary guidance for google cloud associate cloud engineer certification preparation. The following discussion would provide essential details on approaches to obtain google associate cloud engineer certification.
Salary of Google Associate Cloud Engineer
 Let us find out what's the expected google associate cloud engineer salary. The salary can act as a motivating force for candidates. Who doesn't want a high paying job? As per Zip Recruiter salary report, the average google associate cloud engineer salary estimate is $127,890 per annum. The salary estimate varies between $68,500 and $173,000.
Associate Cloud Engineer Certification
Google Cloud Certified Associate Cloud Engineer exam is intended for the Google Cloud Engineers who are expertise to deploy applications, monitor operations, and manage enterprise solutions. Associate Cloud Engineers can use Google Cloud Console and the command line interface to perform various tasks to maintain one or more deployed solutions on the Google Cloud platform.
The Associate Cloud Engineer exam checks one's expertise to:
Set up a cloud solution environment
Plan and configure a cloud solution
Deploy and implement a cloud solution
Ensure the successful operation of a cloud solution
Configure access and security
The certification is ideal for learning more about maintaining one or more solutions deployed on Google Cloud. You can also gain credibility as a Google associate cloud engineer with a certification in your credentials. Most important of all, you can deal with solutions using self-managed or Google-managed services on Google Cloud.
Google Associate Cloud Engineer Exam Details
Here is a quick insight into the basic exam details such as the number of questions, duration of the exam, registration fee, exam format etc.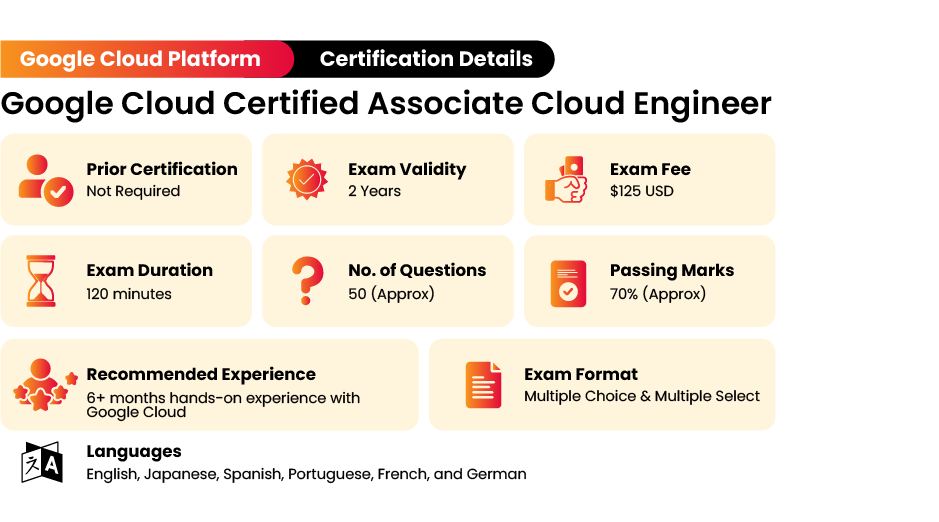 There are no prerequisites to appear for this certification exam. But you are recommended to possess at least six months of hands-on experience with the operations of Google Cloud. Along with that, it is better to have a brief understanding of the concepts such as containers, networking, and virtual machines.
Preparation for the Google Associate Cloud Engineer Exam
No doubt, when we discuss the preparation of an exam, the main thing is what should I study, and what are the important topics. But before sharing the important topics for the preparation of Google Cloud Certified Associate Cloud Engineer exam, I'd like to answer a few questions that may be hovering into your mind.
How many hours did I spend on the exam preparation?
So, I'm a working professional and couldn't spend many hours on the preparation. So, as per my schedule, I decided to give 2-3 hours every day for 2 months to the exam preparation. You can decide as per your schedule and your prior knowledge.
Which resources did I use to prepare for the exam?
We, the GCP team at Whizlabs, are focused to make our online course and practice tests aligned with the Google Cloud Platform study guide and resources. For this, I used most of the official preparation resources, these are –
Google Cloud Platform Documentation
What are the Important Topics for the Google Associate Cloud Engineer Exam Preparation?
It is very important to prepare yourself with the important topics to clear the exam in the first attempt. So, as per my experience, here I enlist the important topics, you should have a proper understanding of, in order to pass the Google Cloud Certified Associate Cloud Engineer exam.
IAM
Too many questions on IAM roles (Least privilege principle). For example, testing user knowledge on billing account roles, storage access roles, compute engine role, etc. 

How to list and describe the roles using CLI

How to filter the roles and members using GCP console
App Engine
How to deploy applications on App Engine using CLI.

Use cases on App Engine Versions functionality

How to split the traffic between multiple versions in the App Engine. 
VPC (Networking)
How to configure firewalls and use cases

Shared VPC

VPC peering vs VPN vs Interconnect 

Types of load balancers and use cases
Projects
How to create projects

Linking projects with the billing accounts

How to list and describe the existing configurations

How to create and manage projects via CLI
Billing Accounts
Required roes to create and manage the billing accounts 

Understanding the relation between Billing accounts & Projects & Organizations
Compute Engine
The understanding of market place uses cases (Ex: If the user wants to deploy functional software packages without having to manually configure the software or Virtual machine instances)

Auto-scaling types (Selecting best scaling type based on the given scenario)

When to use External IP address (Static external vs Ephemeral external IP)

Importance of metadata and labels

High availability (Spreading the resources across the Global vs Regional)

Understanding Managed and Unmanaged instance groups.
Cloud Storage (Object-based)
When to use different storage classes available in GCP (Ex: Multi-regional vs Regional vs Nearline vs Coldline)

Changing or conversion of storage classes. (Ex: Multi-regional to Nearline, Multi-regional to Coldline, etc)

Automatic deletion of objects and Objects transfer between the different storage classes using lifecycle policies
Kubernetes Engine
The deployment process of docker file

How to create a docker file and understanding of container registry

Autoscaling in Kubernetes

Working of cluster nodes and services
Databases
Relational databases: SQL vs Spanner

When to use BigQuery and Cloud Bigtable
Bigdata Tools
Difference between Dataproc vs Dataperp

Questions based on Pub/Sub use cases and integration with other services

Data Analytics tools use cases
Image-based Questions: Got 2 Questions
Provided the sample company cloud architecture diagram with blanks and asked to fill the blanks with suitable GCP services as per requirement demand 
Stackdriver
Importance of Stackdriver in the Google cloud and how it works

Creating and configuring the workspaces

How to add projects form different GCP accounts to single Stackdriver account via GCP console
Step-By-Step Preparation Guide for Clearing Google Associate Cloud Engineer Certification Exam
As you have now understood the areas of focus, it is time for you to put the pedal on the accelerator and commence with the preparation. Moreover, for that, you need a proper guide and schedule. Therefore, here is a step-by-step preparation guide for you to correct your study approach for this certification exam.
Step 1: Gain Experience on Google Cloud
Even though there are no prerequisites for the Google Associate Cloud Engineer examination, it is advisable to practice Google Cloud services and products. Google Cloud is offering a GCP free tier to let you learn how to build solutions on different cloud products.
There are monthly limits to it, but it is quite productive to give you hands-on experience with cloud products. Take up the free tier, and you will eventually be preparing yourself for the Google ACE examination. You can also use Whizlabs free hands-on labs to practice Google Cloud.
Step 2: Take Appropriate Training to Master the Fundamentals
The second step is to purchase a good training materials to prepare for the associate engineer certification exam. The ideal preparation materials are:
Video Course
Hands-on Labs
Practice Exam Questions
Whizlabs provides all the above materials created by the Google Cloud Certified Experts.
Step 3: Master the Practice Exam Questions
You need to practice the sample questions thoroughly to check the level of your preparation. The sample questions will be in exam format, and it will prepare you to face the difficult level in the main examination. The exam simulators helps you to gain more confidence to take the real exam.
Step 5: Last Minute Revision
Once you have followed all the previous steps, now you are ready to appear for the Google Cloud Certified Associate Engineer Certification exam. On the exam day, you have to revise the important points or notes you have taken while preparing for this certification exam.
Are you Ready to Take the Google Cloud Certified Associate Cloud Engineer Exam? 
After completion of your preparation for google associate cloud engineer exam, take a deep breath, my friend! You are just one step away from becoming a Google Certified Cloud Engineer.
Now, Ask your self a few questions — "Am I ready to take the GCP official exam? Is it the correct time?" This is really important to understand your preparation level. But the big question is "where to test my preparation level"? 
The analysis is more important!
Once you are prepared, it's time to introspect yourself and identify your strong and weak areas.
For now, you can try Google Cloud Engineer Practice Exam by Whizlabs.
If you are not able to score well in the practice exams, put extra time on your weak areas and make yourself confident. That's it, guys. You are ready for the exam. 
All The Best….!!