There are 12 AWS certifications offered by Amazon Web Services (AWS). These certifications are classified according to the role and experience level. If you are planning to prepare for the AWS certification, then the first and most important step is to understand all the certifications and find out which certifications are most suitable for your career.
This blog post will answer you "What's the best AWS certifications path for your career?". Also helps you to plan your customer AWS Certification Learning Path that suits your needs.
There are four categories of AWS certifications, foundational, associate, professional and specialty. There are multiple certifications under each category. We are going to start learning about each certification in detail in this blog post. 
At the end of reading this blog post, you will be able to choose the aws certifications path which is suitable for your career. Note that, you need to go through a list of certifications to achieve a desired career goal, doing only one certification would not be sufficient for your career goals.
Which AWS Certification Should I Choose?
Why should I prepare for AWS Certification?
Look at the below screenshot, AWS certifications is the most sought after skill in the IT industry and AWS certifications are the highly paid certifications in the market. This is answer for your question, why should you prepare for AWS exams?. There is a huge gap between number of AWS engineers in the market and actual demand from the companies.
If you pass AWS certification, then you have a greater chance of getting a very high paying job.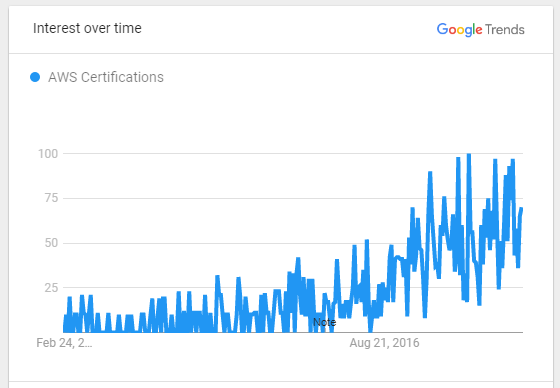 Demonstrates Your Skills to Employers
Certifications are valid proof of your skills. So when you have an AWS certification, your employer will know that you are proficient enough to work in the AWS cloud. It also makes them believe in your capability that you can work with the industry best practices.
Note that, passing certification is only additional advantage for getting a job, but it's completely depends on how well you are confident with your understanding of the AWS cloud and some amount of hands-on experience is required to land in a good job.
AWS Certification Salary
When you have a certification it is like you are adding new skills, validating existing skills, and improving yourself. Thus, it increases your demand and you are offered more salary even by your current employer. Let your employer feel that you will go elsewhere if they don't appreciate you!
According to Business Insider Salary Survey, A certificate in Amazon's AWS cloud technology can boost your salary by 26%
There's no doubt that AWS certifications can lead to better jobs and higher salaries. In fact, according to a recent report, the average salary for AWS certified professionals is $113,000!
But what about the specific AWS certifications list? Which ones will lead to the highest salaries?
According to the same report, the top three highest-paying AWS certifications are:
1. AWS Certified Solutions Architect – Associate: $126,000
2. AWS Certified Developer – Associate: $120,000
3. AWS Certified SysOps Administrator – Associate: $114,000
So, if you're looking to maximize your earning potential, these are the three certifications to go for. But of course, salaries vary depending on experience, location, and other factors, so be sure to do your research before making any decisions. Here is the detailed overview of AWS Salary in India.
Which AWS Certification paths is best for me?
As mentioned above, AWS offers different levels of certifications. See the role-based AWS Certification Path here. If you would like to grow faster in the AWS Roles, then you will have to follow the AWS Certification Path and plan to pass as many certifications possible.
AWS Certification Levels are classified into four levels:
Foundation
Associate
Professional
Specialty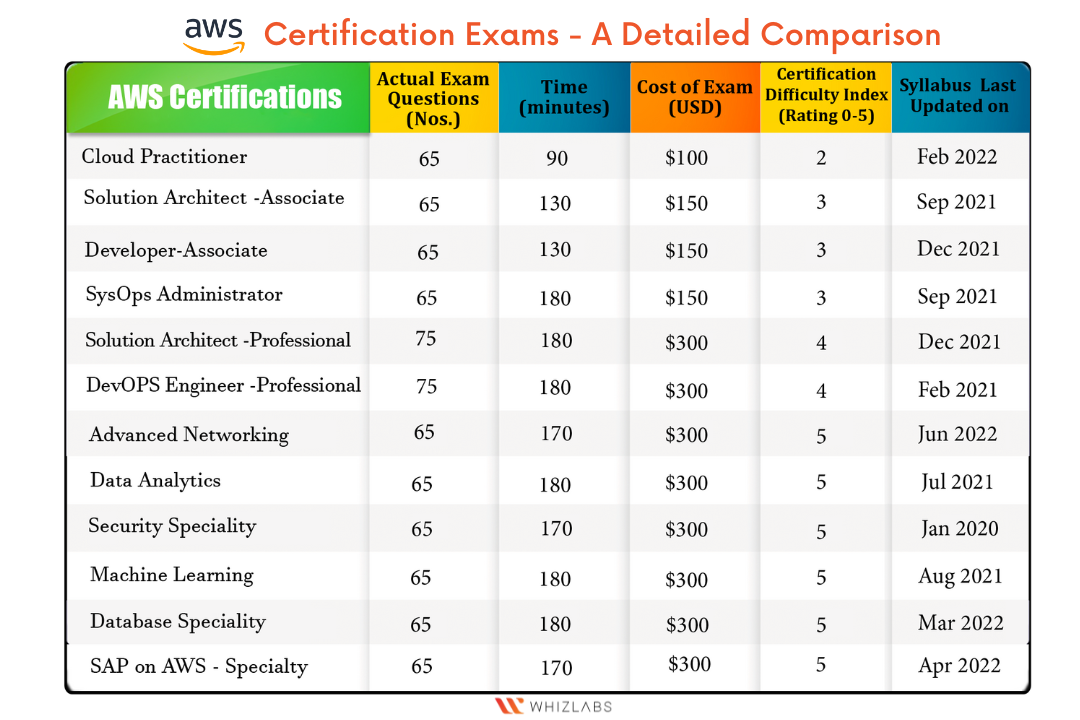 These are for various positions such as developer, architect, admin, and others with specialties like big data, security and networking. So, you can make a choice for the right AWS certification according to your career and the experience level.
Here is the list of AWS certifications that are grouped under each level. In the subsequent sections, we will read more details about each category and how you should choose a learning path that's suitable for your career.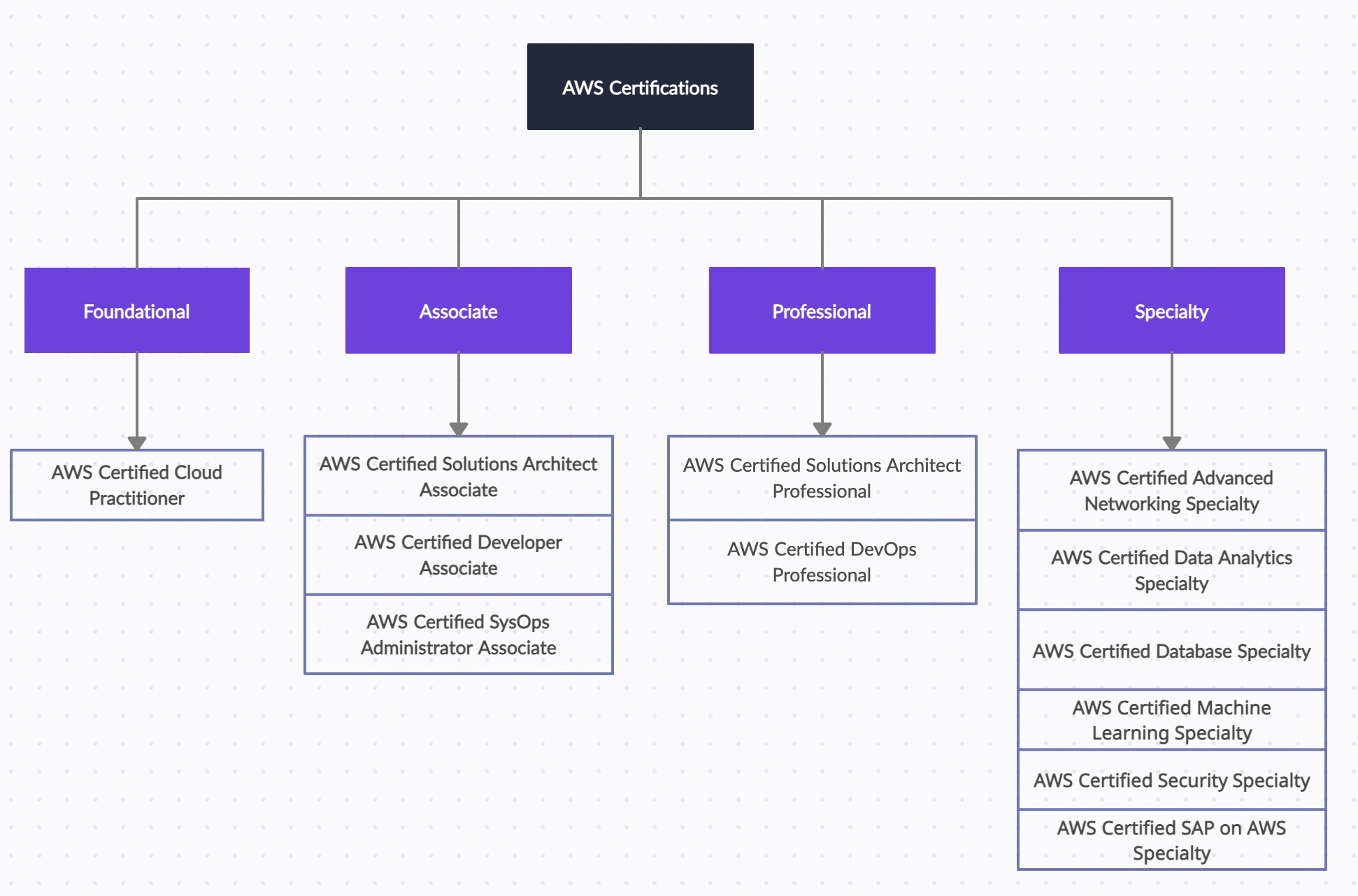 Let's start with the most fundamental AWS certification!
AWS Foundational Level Certifications
This is the entry level certification offered by AWS. Most of the freshers asks the following questions:
Which AWS certification should I prepare first?. The answer is Cloud Practitioner exam.

I am a fresher, Can I pass AWS certification?. The answer is simple "Yes".
These aws certifications list are meant for freshers or managers who are not focused on the technical work and would like to understand the cloud concepts. In simple terms, if you want to understand what is cloud, what is AWS, who can use it then foundation level certification is the right certification for you.
If you are a fresher or wants to learn cloud for the first time, then you should consider AWS Certified Cloud Practitioner exam is the first one to prepare and attain it. This is the best AWS certification for the beginner.
This AWS Certified Cloud Practitioner certification exam focuses on teaching the basics of AWS and cloud concepts to the beginner. If you are an advanced or experienced AWS professional, then this exam is not for you. The objective of this exam is to provide you with a complete overview of what is AWS and What is cloud?. Anyone who are first time trying to learn the cloud computing, then this certification is the entry point to start their learning.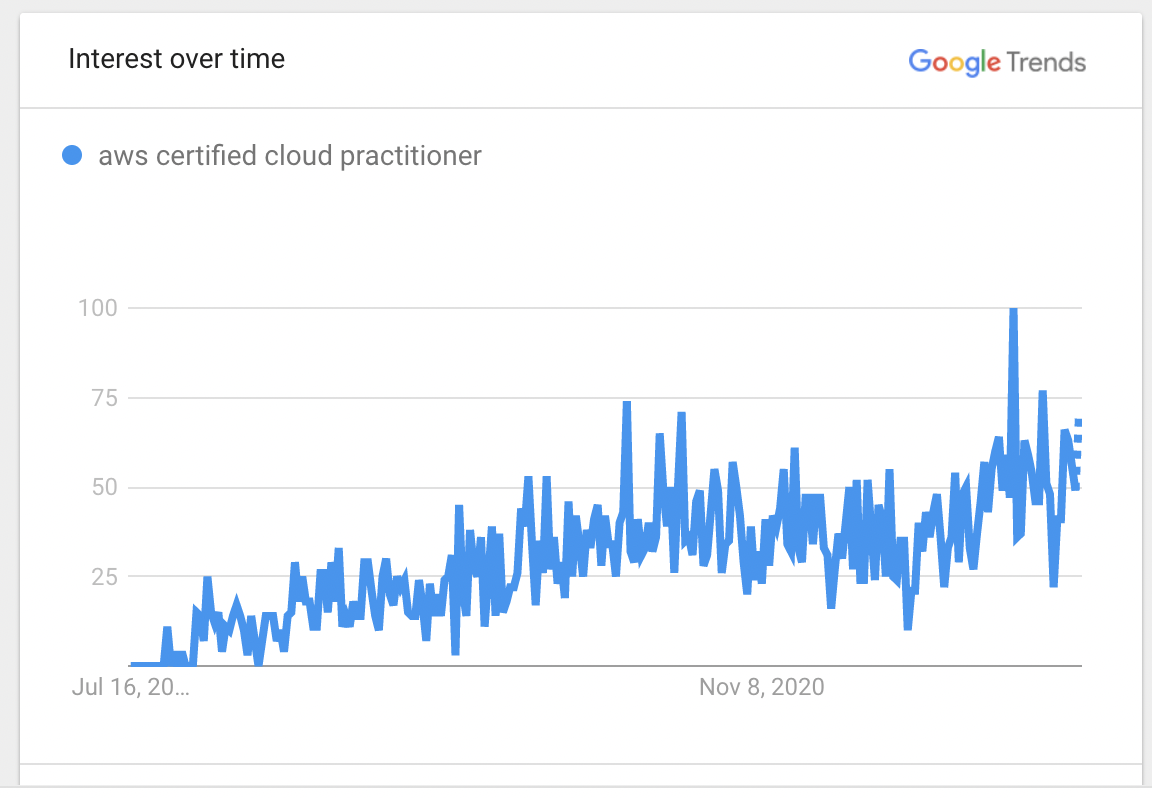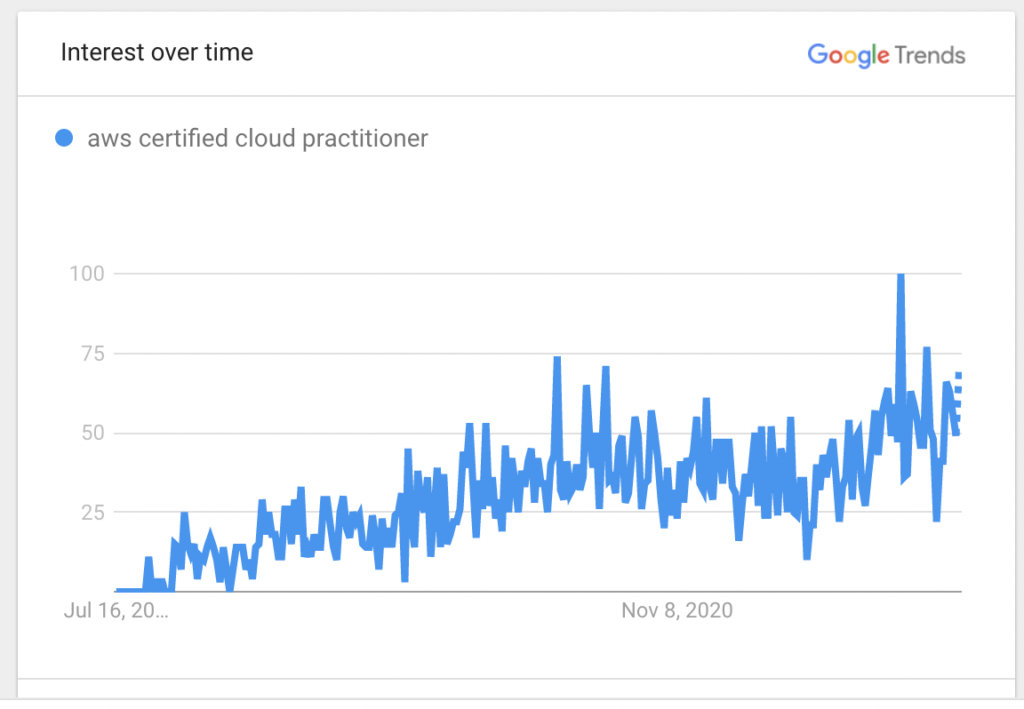 What is Covered in CLF-C01 exam?
The following topics are covered in this CLF-C01 exam:
Basic Cloud Concepts: This includes AWS and it's fundamental concepts
Security and Compliance: How security is handled in AWS and user roles / access related policies
Technology: AWS Infrastructure and technology implementation
Billing and Pricing: This is one of the major and most important domain that needs to be studied in the cloud practitioner certification exam. There are various options and features in AWS console to review and optimize the AWS cost, you will learn while preparing for this certification.
Here is the detailed blog post on how to prepare for cloud practitioner certification exam.
Hands-on Labs for AWS Certified Cloud Practitioner
Below are the listed hands-on labs to prepare for AWS Certified Cloud Practitioner exam
Creating a SNS Topic and Subscribing through Email
Creating a CloudWatch Dashboard for EC2 Instance
Creating DynamoDB and adding items to the Table
Create a DynamoDB table and perform various table operations using NoSQL Workbench
Creating a Virtual Private Cloud with VPC Wizard
Creating a Lambda function and testing it
Introduction to Amazon API Gateway
Introduction to Amazon Simple Email Service SES
Upgrading and downgrading an EC2 Instance Type
AWS Associate Level Certifications
If you are planning to work in a real AWS environment and start your career as a AWS developer, Solutions Architect or SysOps Administrator, then associate level certifications are the right place to start your certification journey. There are three different certifications offered in this level based on the job role.
Would you like to become a Solutions Architect?

– Solutions Architect Associate Certification

Would you like to become a Developer?

– Developer Associate Certification

Would you like to become a SysOps Administrator?

– SysOps Administrator Associate Certification
In the following sections, we will go through each certain and who has to plan for these aws certifications.
AWS Solutions Architect is the one who has the knowledge of how to design and deploy secure, scalable, robust, and cost-effective applications on AWS. This is the most important and valuable certification that is present in the industry as of now. If you are a beginner in the cloud, you can take this certification just after passing your cloud practitioner certification. There are 2 Amazon Web Services Certifications for the AWS Solutions Architect role – one is the Associate level and another one is Professional level.
There are no prerequisites for this certification. This exam mostly focused on how to design solutions using AWS architecture principles. 
This exam validates all your skills required to work on AWS infrastructure, that's the reason this certification is most popular among the AWS engineers. The following core services are tested heavily in this exam:
Identity and access management (IAM)

Simple Storage Service (S3)

Virtual Private Cloud (VPC)

Elastic Compute Cloud (Amazon EC2)
Those who are passing this certification, there is more recognition in the job market while looking out for high paying jobs.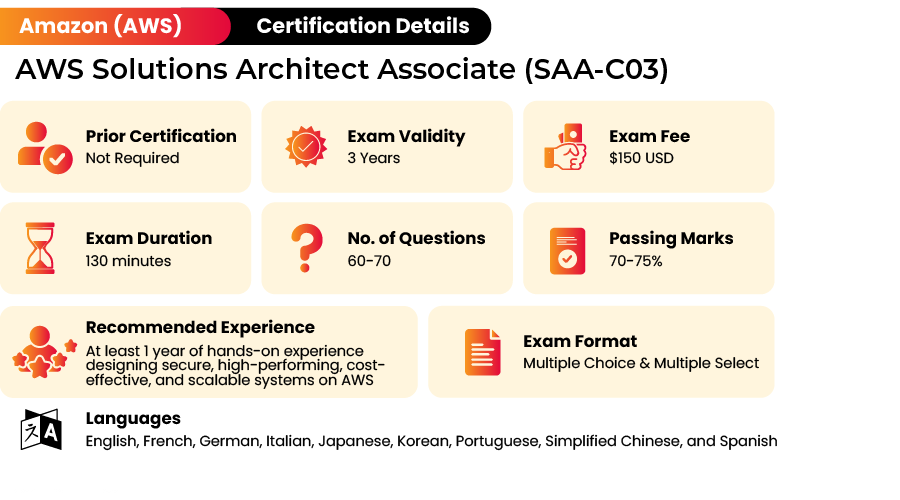 Hands-on Labs for AWS Certified Solutions Architect Associate (SAA-C03 exam)
Introduction to Amazon Elastic Compute Cloud (EC2)

Introduction to AWS Identity Access Management (IAM)

How to Create a static website using Amazon S3

AWS S3 Multipart Upload using AWS CLI

Introduction to Amazon CloudFront

Introduction to AWS Elastic Load Balancing

Deploying Amazon RDS Multi-AZ and Read Replica, Simulate Failover

Introduction to Amazon CloudFormation

Introduction to AWS Elastic Beanstalk

Creating and Subscribing to SNS Topics, Adding SNS event for S3 bucket

Upgrading and Downgrading an EC2 Instance Type

Enable deletion protection for Amazon S3 Bucket Using Resource-Based Policy and Object Lock

How to Encrypt an S3 bucket using AWS KMS and monitor the activities with CloudTrail

Create a DynamoDB table and perform various table operations using NoSQL Workbench

Enable sticky sessions in Application Load balancer

Create, build and Deploy a Sample Hello World App using AWS SAM

Access Amazon SQS using Amazon VPC Interface Endpoint

Creating ALB Sticky Sessions

Use AWS Secrets Manager secret with Amazon ECS

Hibernating an EC2 Instance

Using Pre-Signed URLs with S3
Those who are not interested in pursuing solutions architect role, either they can choose AWS Developer or AWS SysOps Administrator role certification. As the role implies, this certification is more focused on the programming languages and development technologies that are used inside the AWS services. Don't choose this certification if you are not interested in programming related work.
You will have to understand the basic code examples such as JSON code, config files, and IAM policy documents but they're  easy to understand.
You can read this blog post about how to prepare for the AWS developer exam. Here you will find more information about what are the topics covered in the actual exam. We keep updating this blog to reflect the latest changes in the real exam.
Also, the AWS Developer has the good understanding and experience of –
Using AWS technology and programming with AWS APIs
Designing, developing, and deploying cloud-based applications and systems on AWS
Basic AWS services, their uses, and best architecture practices
Development and maintenance of applications built for Amazon S3, DynamoDB, SQS, SNS, SWS, Elastic Beanstalk, and CloudFormation
AWS best practices, automation and AWS deployment tools, storage options, and consistency models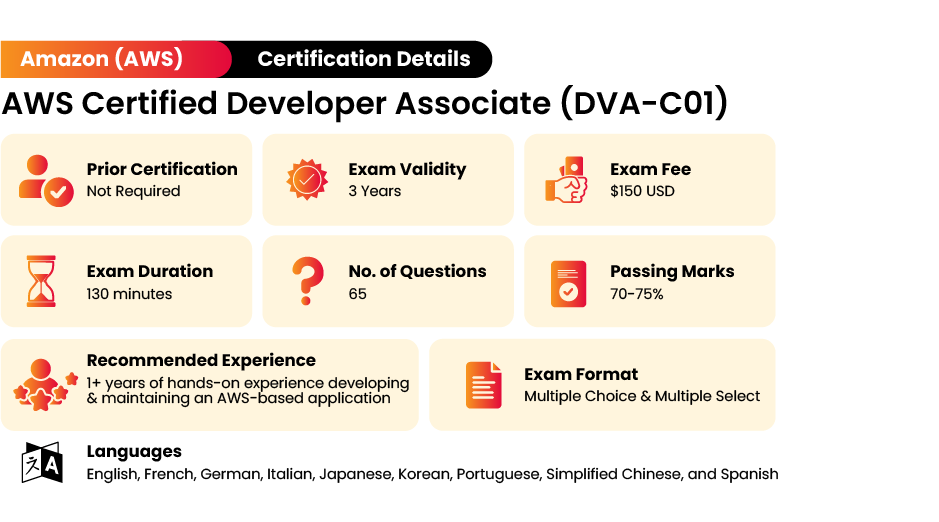 If you prefer to choose the administrator role or DevOps role, then this AWS certification is the right choice for you. This is the toughest and most challenging exam among the three certification exams. The reason for the toughness is a heavy syllabus from networking and infrastructure. In the associate level learning path, most of the experts recommend the SysOps Administrator exam along with the Solutions Architect Associate to become expert in the AWS services. Because this exam goes deeper than the other two exams.
Please read our detailed blog on how to prepare for the SysOps Administrator exam.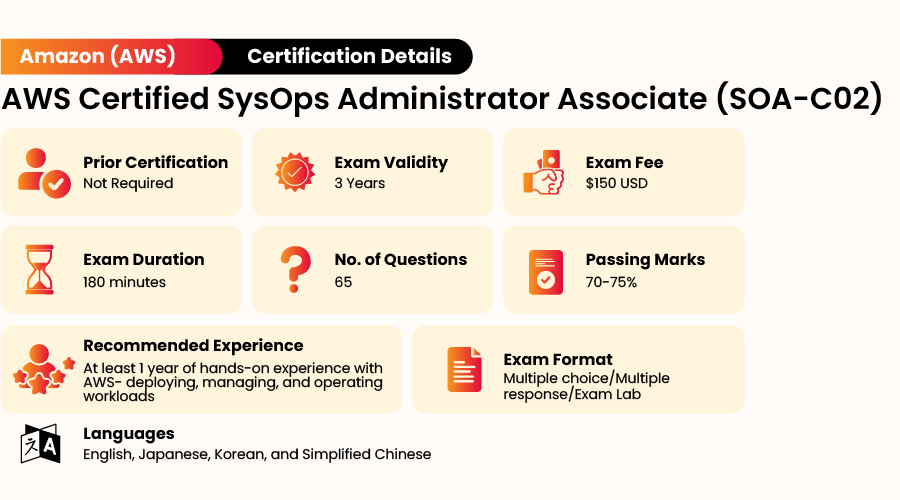 AWS Professional Level Certifications
Professional level certifications are advanced certifications which test the deep knowledge on AWS services. It is suitable for your career only if you have more than 6 years of experience in AWS technologies. This doesn't mean that you should not take this certification if you have less experience, still there are many who pass this certifications without any experience because of their hard work and learning all the concepts on their own self-learning.
There are two professional certifications:
Would you like to become a Solutions Architect?

– Solutions Architect Professional

Would you like to become a DevOps Engineer?

– DevOps Engineer Professional
Solutions Architect Professional
If you have taken the Solutions Architect Associate exam, then it's recommended that you go for this advanced level certification to become a Solutions Architect. This exam would test your knowledge on all the AWS services with very deep and thorough understanding. Without hands-on experience or hands-on learning, it would be very challenging for anyone to pass this certification (however, with dedication and hard work anyone can pass this certification exam).
The following are the list of differences between associate and professional level certification exams.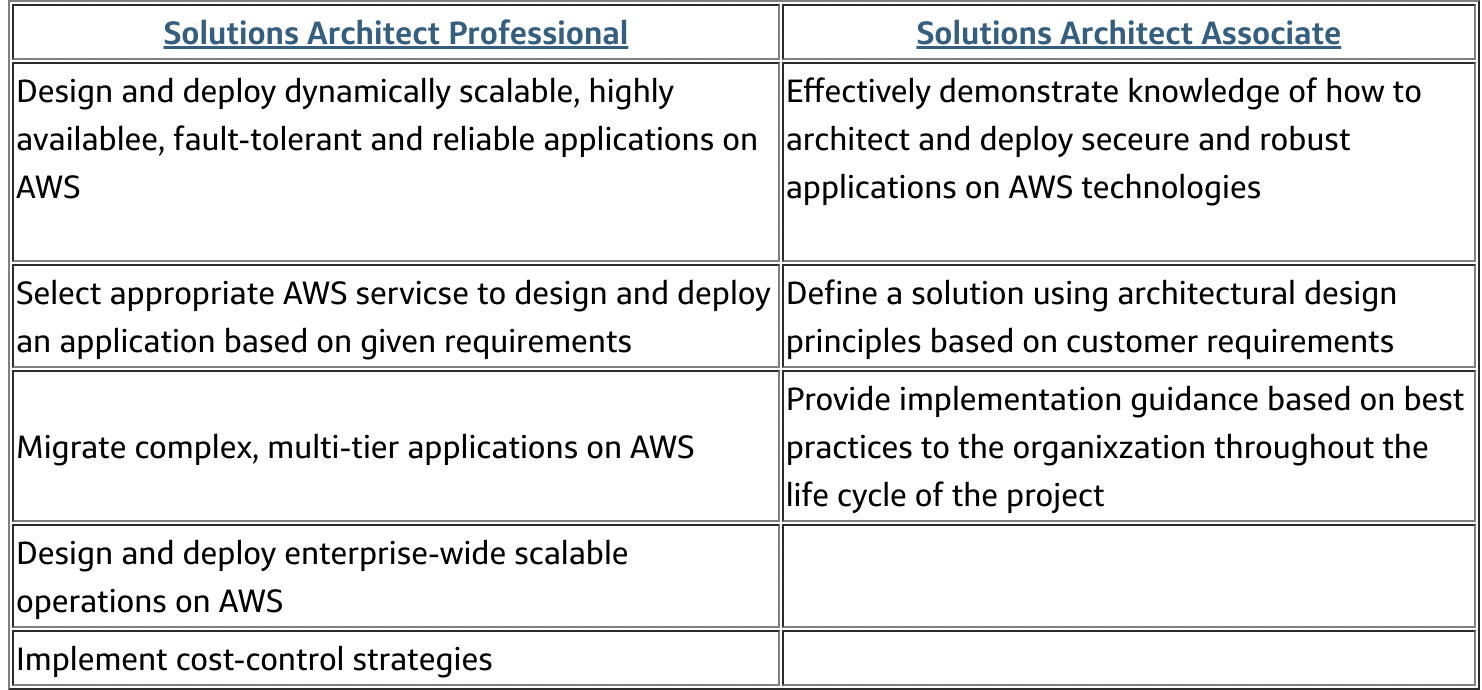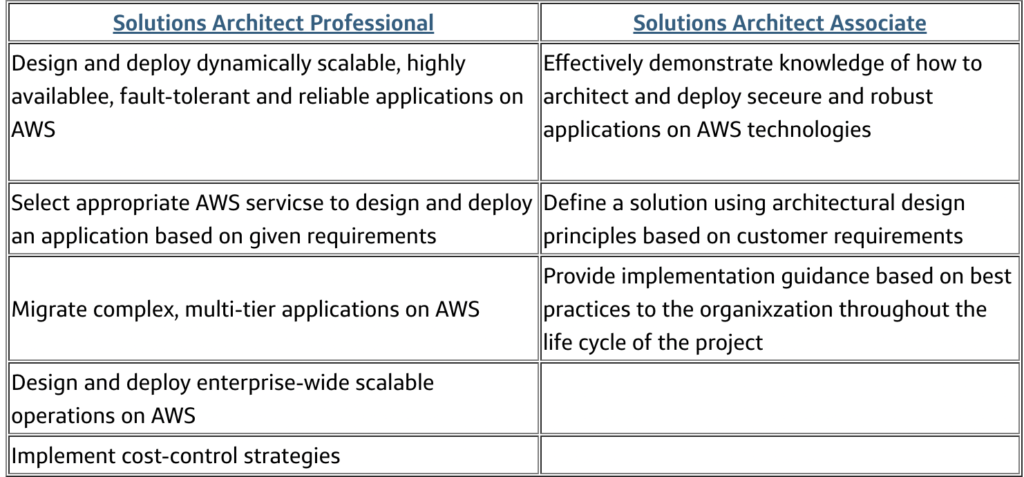 (Source: Capital One's Blog).
As we have said earlier, there are no prerequisites for any of the AWS exams. You can directly take this exam.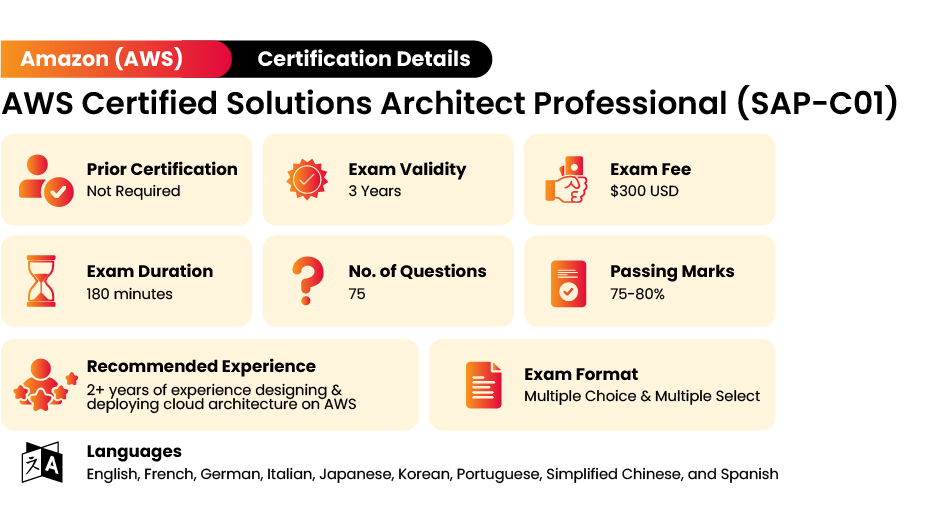 DevOps Engineer Professional
This certification is suitable for you if you are a network architect or a system administrator with a wide range of responsibilities. If you are a network architect or administrator, then this certification would guarantee you that you will know most of the potential problems you face in the real world scenarios.
Read our blog on how one of our students passed the devops engineer certification exam.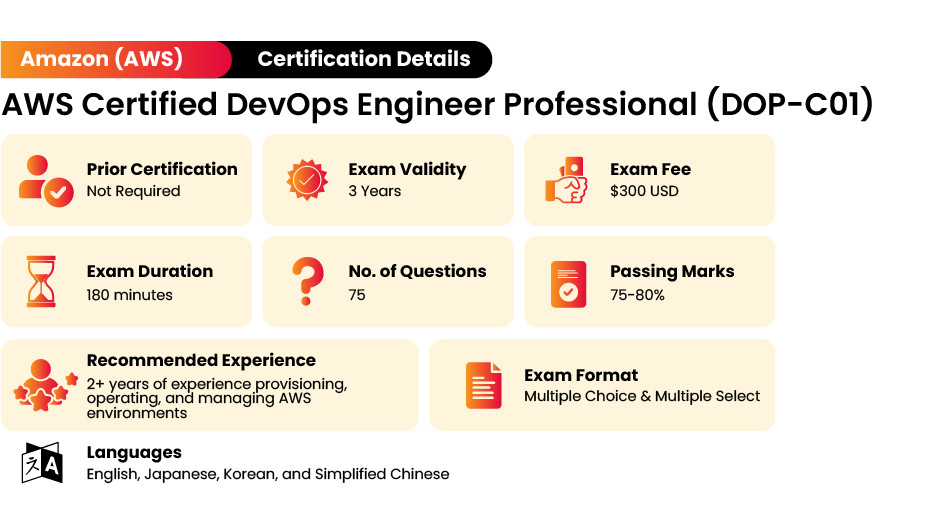 AWS Specialty Level Certifications
These are advanced level certifications for the specialization areas. There are six specialty certifications offered by AWS. You can prepare for these certifications only if you are choosing a specific career path that is relevant to this certification exam. For example, if you are working in a Security related domain, then the AWS Certified Security Specialty exam is suitable for your career. In the following sections, we would go through each certification and who should take those certifications for their career.
Advanced Networking Specialty
This is the toughest AWS certification path out of all the 12 certifications. We have noted many of our Whizlabs users find it very difficult to pass this certification exam without a good amount of practice and experience in the networking concepts. Many people who passed the CCIE exam also have failed in this exam. CCIE is the most popular and reputed certification in the networking space. We are providing these details to alert you that, don't underestimate this exam, and brace yourself to prepare very well to pass this networking exam.
This certification exam is valuable for networking architects, network engineers, devops engineers who are involved in design, deploy and manage the AWS cloud with hybrid network solutions. You should choose this exam if you would like to become an AWS Networking Engineer or Networking Specialist.
Please read our preparation guide for advanced networking exams to know more information about this exam.
Data Analytics Specialty
The Data Analytics certification exam is intended for those who are data analysts, data engineers, data scientists, data architects and ideal for those who are practicing with data. If you are not focused on data engineering, we would not recommend this certification for you. Because, this certification would test your core knowledge on data science related services like Kinesis, Redshift, etc.
This exam is not very tough as compared to the networking exam. There is no prerequisite for taking this exam.
Please read our preparation guide for data analytics exams to know more information about this exam.

Database Specialty
Database Specialty exam focuses on data services from relational, non-relational, graph, caching, and data warehousing. It also focuses on data migration. To pass this exam, you should have expertise on AWS cloud relational and non-relational databases. If you are working on-premises and AWS Cloud data migrations, then this certification is suitable for your job role. This certification would help you to showcase your knowledge on database services and solutions.
Please read our preparation guide for database specialty certification exam to know more information about this exam.
Machine Learning Specialty
This certification is focussed on those who are working on Machine Learning Domain. Machine Learning is a very fast growing industry and cloud knowledge is required to perform ML operations. This certification requires a well structured plan and preparation to pass at first attempt.
Here is our article on how to prepare for the AWS Machine Learning certification exam. Also read this blog.

Security Specialty
Security Specialty certification exam is one of the most important skills required for every engineer. If you are a cloud engineer, then this certification must be very helpful for your work. In the infrastructure space, security is the backbone of everything we do, so attaining this certification would be really important to achieve success in your career. We recommend this certification for everyone who is working on the cloud infrastructure design, deploying and managing using AWS cloud.
Please read our preparation guide for aws security specialty exam preparation to know more information on how to prepare for this certification. Here is a useful post from CaptitalOne blog about this exam experience.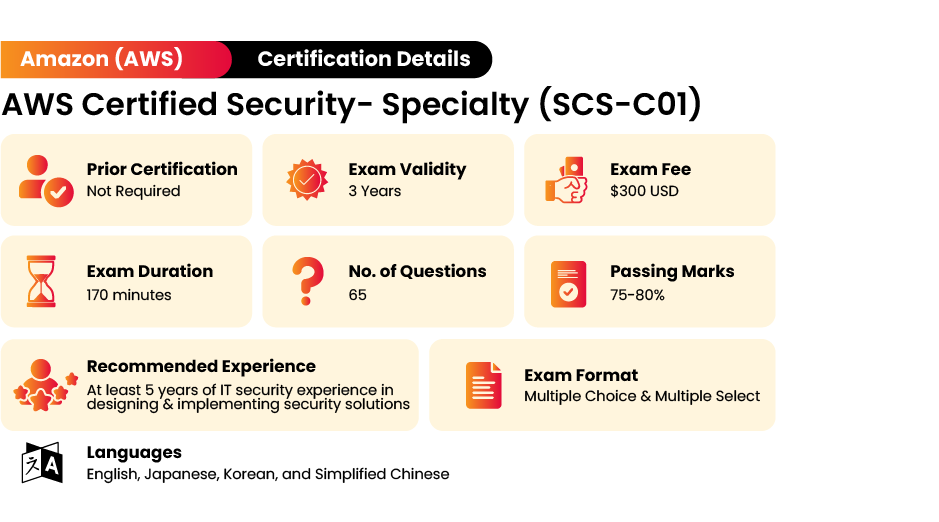 SAP on AWS Specialty
This is a very new and 12th certification launched by the AWS team. This certification exam is intended for only those who are working on the SAP workloads using AWS infrastructure. 
Final Words
The trend of AWS certifications is not going to out! AWS offers a dynamic cloud platform and brings new services, features, and certifications regularly. So, to validate your AWS cloud knowledge, it becomes important to choose the right AWS certification. Hope this article will prove as a complete guide to choose the right AWS certification as per your career.
There are a few things you need to remember regarding AWS certifications. There is a recertification process offered by AWS to continue your expertise. You need to renew your credential after every two years to maintain the validity of the AWS cloud certification. Also, there is no passing score set for the AWS certifications. It may vary for every slot on the basis of statistical analysis without any prior notice.
So, you need to study hard and prepare well to pass the AWS certifications. For this, we bring effective AWS certification training for you. As the AWS certification cost is too high, this best in industry study material will help you pass the AWS certification exam in a single attempt.
Get certified and have a bright AWS career!
Have any questions or doubts? Just put the comment below, we will be happy to help you.