Cloud computing is the future. The post-pandemic world is embracing the cloud more widely and deeply than it has ever before. This makes the cloud computing industry an attractive one to work in, with some of the biggest organisations as employers.  Amazon Web Services (AWS) is the world's biggest and most widely-used cloud platform, and in the current cloud-adoption race, AWS salaries in India are increasing significantly.
AWS provides a host of services including storage, servers, remote computing, networking, mobile development, email and security. Netflix uses AWS for almost all of its storage and computing needs, and so do Twitch, LinkedIn, BBC, ESPN and Adobe. Some of the biggest enterprises and fast-growing startups are finding a use for AWS in lowering costs and helping them innovate faster and become more agile.
In this blog post, we are going to discuss more about the AWS Salary in India, that means how much a AWS Solutions Architect get salary in India.
Working at AWS exposes employees to a scale that is hard to find anywhere else. Many young professionals – freshers and more experienced personnel – are eager to work under management that built a business from the ground up to billions and left other cloud services far behind.
Here we take a look at what it's like to work in AWS in 2022 and the salary forecast that freshers and experienced professionals can expect from the cloud computing giant.
AWS Salary In India
At the outset, let's take a look at some of the numbers for AWS salaries in India at the moment. Glassdoor's latest update from December 2021 notes an average base pay of INR 5 lakh a year. However, note that this is the base pay, which is the initial salary paid to an employee without including any bonuses, benefits or raises.
If we were to be more precise, Glassdoor estimates the national average salary for an AWS employee is INR 4,57,900. However, these salary estimates are based only on 9 salaries submitted on Glassdoor by employees at AWS, and they are hardly representative of the real numbers.
Here is the snapshot:


But we can take them as a starting point for exploring real AWS salaries in India in 2022. If we're to look at these salaries by seniority levels, by different job roles, we find:
L2: Solutions Developer Lead earns around INR 9 lakhs a year

L3: Technical Manager Lead earns around INR 6 lakhs a year

L4: Technical Manager Senior Lead earns around INR 15 lakhs a year
If we look beyond the average, we see salaries range between INR 3 lakhs and INR 27 lakhs a year. However, your salary also depends on where you are in the country. And as you get used to your responsibilities and roles as an AWS developer or AWS architect and work towards higher certifications, you attract higher salaries. 
How Much Do AWS Freshers Make In India In 2022?
Based on current trends in AWS salaries for freshers, we can say that in 2022, AWS freshers in India will make around INR 4,80,000 in a year. We are speaking of freshers right out of their courses in whichever field they have completed their education. This means you don't need an IT background in order to apply for an AWS certification associate degree. As long as you have some domain knowledge you can write the 'Cloud Practitioner' or the 'Associate' exams.
If you start from the ground up and stick around for a while, and you've developed great skills, you can make around INR 8 lakhs a year. Professionals with around 6 to 14 years of experience can make up to INR 18,00,000 in a year.
However, it's important to remember that Amazon has only been around for 17 years, and cloud computing is slated to rise by a whopping 59% across organisations as usage rises. This is bound to drive up profits for cloud vendors like AWS and they are bound to share the profits with their employees.
Therefore the forecast for various levels of cloud service professional jobs is good. With plenty of scope for upward mobility, it offers freshers the chance to be a part of a dynamic and exciting industry of the future.
Who is a Cloud Practitioner?
Freshers can intern with Amazon Web Services and gain six months of experience in the AWS Cloud. This exposure allows them to write the AWS Certified Cloud Practitioner exam, which requires a basic understanding of IT services and their use in the AWS Cloud platform.
It also needs you to understand the use of AWS services, their pricing and billing models, the impact of cloud on businesses, and security concepts.
The Cloud Practitioner certification opens up a career path that leads to greater things and higher salaries.
With your certification, you can apply for job roles such as:
AWS SysOps Admin

AWS Solutions Architect

AWS System Admin

AWS Managed Services Expert

IT Support Executive

Cloud Infrastructure Expert, and others
Now we can take a look at some of the other certifications offered by AWS.
Now we can go ahead and take a look at some of the roles that attract higher AWS professional salaries in India in 2022. 
Some of the AWS Certified Solutions that job seekers can aspire to, in order to move towards a higher salary include:
An in-depth look at these job roles will give interested candidates a clearer idea of what to expect when working at AWS.
How much does an AWS architect earn?
An AWS Architect has an AWS solutions architect certification. This role comes with a number of responsibilities in the area of solution development. A critical responsibility for the AWS Architect is to design services or applications with the organisation. But in order to do a good job in this area, the Architect needs to understand how AWS can work with businesses.
As a result, a balance of business and technical skills are necessary for the solution architect. The architect must collaborate with the client organisation's enterprise architect to find a strategic direction in building services and applications. This is usually a technical collaboration that must also factor in the potential impact on business outcomes. The development team that is involved in the implementation of a solution benefits from this information.
AWS architects also need to manage processes and people, explain complex problems in simple ways, motivate the development team through project lifecycles, determine risks in third-party platforms or frameworks, and focus on future scalability.
In India, an AWS architect has a bright future with the scope to rise up the ranks with more experience. The average base pay is INR 6,07,000 lakhs a year. Freshers without adequate experience start at INR 3,83,000 lakhs and can work up to a salary of INR 15,37,000.
Solutions architects in metros, as per Glassdoor, earn on average:
INR 7,67,000 in New Delhi

INR 11,95,000 in Mumbai

INR 6,44,000 in Chennai

INR 5,51,000 in Hyderabad

INR 9,50,000 in Kolkata
Location plays a big role in salaries in India. PayScale makes it very clear that solutions architects in Bangalore earn 5% more than the national average and those in Pune earn 3% more. Some of the highest-paying employers of solutions architects, besides AWS, include Ericsson Inc., Tata Consultancy Services Ltd., and HCL Technologies Ltd. IBM India Pvt Ltd. pays the highest average salaries at INR 22,60,061.
AWS Solutions Architects can move on to roles such as Senior Solutions Architect, Enterprise Architect IT and Principal Architect.  
Both the AWS Solutions Architect Professional and the AWS Solutions Architect Associate are aimed at similar job roles. Only those who are highly proficient in AWS solutions architect associate roles will be able to move on to obtain the Professional certification and attract higher salaries. 
The following companies are hiring AWS Solution Architects:
TCS
Infosys
Wipro
HCL
Accenture
IBM
Capegemini
DXC Technology
Mindtree
Solutions Architects Career Paths:
Here is the snapshot taken from the Payscale on the career paths that are most common for a solutions architect: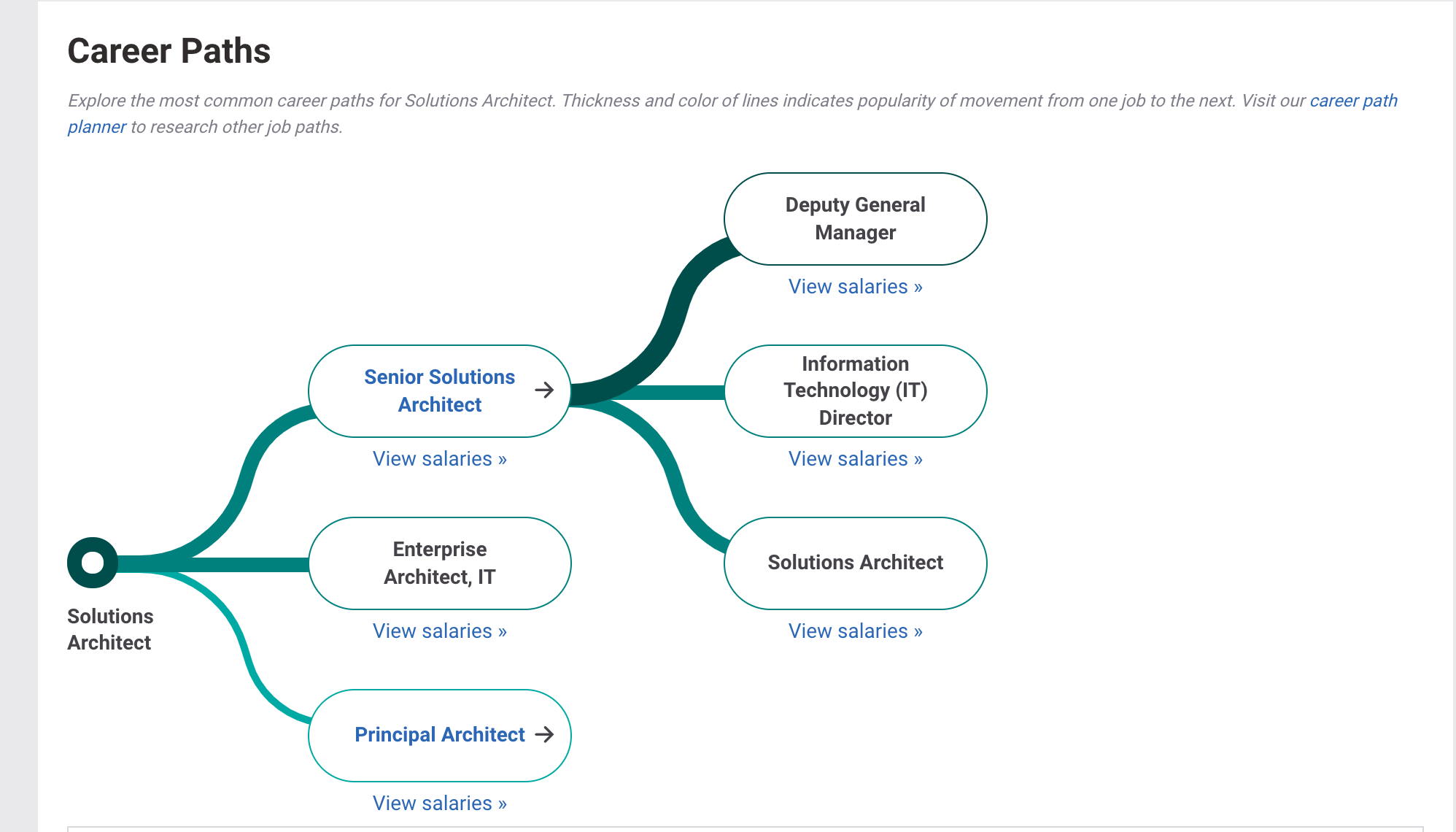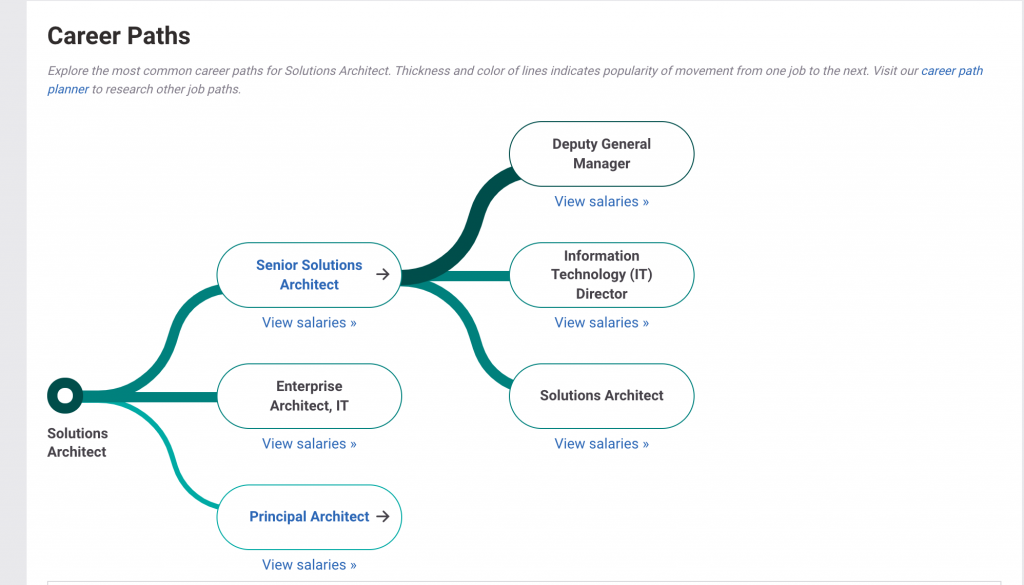 How much does an AWS developer make?
An AWS developer Associate is associated with the candidate's abilities to write and implement cloud-based applications. Anyone with a year or more of practical experience in developing and maintaining an AWS-based application can apply for this certification. The role requires:
Knowledge of at least one high-level programming language

Understanding of AWS's core services and best practices

The ability to write code for cloud-native applications

The ability to identify features of AWS services and use APIs, SDKs etc. to write applications
The average AWS Developer in India earns around INR 5,82,480 per year. Of course, salaries increase depending on the years of experience and seniority levels:
L2 Enterprise developer Senior earns around INR 8 lakhs a year

L3 Lead Applications Engineer earns around INR 19 lakhs a year

L4 Senior Applications Engineer earns around INR 12 lakhs a year
How much does an AWS Certified Sysops Administrator make?
The SysOps administrator helps organisations identify and develop talent with the skills for cloud implementation. The certification is for system admins who have experience in cloud operation roles, and want to validate their technical skills. A minimum of one year of experience, hands-on, with AWS tech, is required to apply for and earn the certification. Professionals must be:
Familiar with using AWS CLI and AWS Management Console

Experienced in managing and operating AWS workloads and implementing compliance requirements and security controls

Familiar with AWS Well-Architected Framework, security and networking services
PayScale suggests AWS SysOps Admins employed in India make INR 9,94,560. The average base pay for freshers in AWS administration in India, according to Glassdoor is INR 25,000 a month. A Senior Administrative Assistant makes around INR 5 lakhs a year and an Administration Manager makes around INR 8 lakhs a year.
In comparison, AWS SysOps admins earn higher salaries and all the perks that come with working for an organisation of such a vast scale.
How much does an AWS Certified DevOps Engineer make?
A DevOps Engineer Professional certification validates a professional's ability to automate the testing and implementation of AWS apps and infrastructure. Anyone with some experience in developing code in at least one high-level programming language can apply for this certification.
In general, the AWS DevOps Engineer must:
Understand modern DevOps processes and methodologies

Be able to manage and implement continuous delivery systems on AWS

Be able to automate and implement security controls, compliance validation and governance processes.

Be able to implement and define metrics, monitoring and logging systems on AWS.
In India, AWS DevOps Engineers make, on average (base pay) INR 6 lakhs a year. But depending on various factors such as skill level, location, etc., salaries can range between INR 3 lakhs and INR 11 lakhs.
Senior DevOps Engineers, Head DevOps Engineers and DevOps Engineering Managers earn salaries that are proportional to their experience and skill levels.
What is it like to work at AWS?
Since AWS is a critical arm of Amazon, working there can be challenging and suitable for ambitious professionals who want exposure to dynamic work environments. With the kind of brand value that AWS carries, the organisation attracts some of the most talented professionals in the field.
Since the organisation is an extension of Amazon, the compensation policies, stock grants and feedback structures are the same as its parent company.
There are plenty of perks and benefits that Amazon offers its employees. These include:
Health insurance

Work from home benefits

A sizeable job training budget per year

Free transportation

Cafetaria and snack bars
Summary
Hope you got good idea of average AWS Salary in India. Amazon Web Services (AWS) is a global organisation with a presence in over 250 countries. They are focused on customers rather than on their competition. They offer employees the chance to innovate, take risks, and expose themselves to possibilities with their self-proclaimed 'experiment and fail' culture. 
This encourages a selection of talented individuals to apply for jobs at AWS. This makes the workplace dynamic, diverse and competitive along with healthy collaboration. With plenty of perks, financial health and wellness focus, and scope for growth and success, young Indians with ambitions in IT can make AWS a workplace to aspire to.