Are you preparing for SAP on AWS Certification exam (PAS-C01) exam? Then, it's totally worth it embracing the SAP on AWS. If you're a SAP user, you'll be involved in the environment of optimizing workloads, acclearting processes and have freedom of a versatil environment.
If you are appearing for the AWS Certified SAP on AWS – Specialty exam (PAS-C01), then you must ensure you have obtained the right skills and knowledge on how to manage the SAP workloads on the AWS platform.
This blog will take you through a quick overview on how to get prepare for Sap on AWS Certification with some pro tips. Before going for it, let's have a glance at what is AWS Certified SAP on AWS – Specialty certification and what are the benefits that it brings to those who earn it.
Let's dig in!
Overview of AWS Certified SAP on AWS – Specialty exam (PAS-C01)
To get AWS certifications like  AWS Certified SAP on AWS – Specialty, the individual needs to know how to design, deploy, Migrate and operate SAP Workloads on AWS.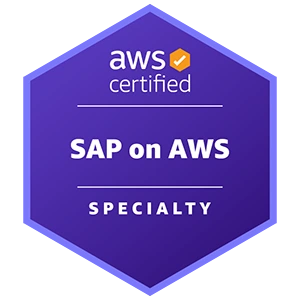 Read More: Want to enhance your preparation level? Take our Preparation Guide on PAS-C01: SAP on AWS Specialty Certifications Exam
The main goal of AWS Certified SAP on AWS – Specialty exam (PAS-C01) certifications is to validate your knowledge across a number of areas, such as:
Design an SAP solution that runs in the AWS Cloud in adherence with the AWS Well-Architected Framework

Designing an SAP solution that runs in the AWS Cloud with SAP and supports necessary requirements

Implementation of new SAP workloads on AWS

Migrating existing SAP workloads to AWS

Operating SAP workloads on AWS
AWS Certified SAP on AWS – Specialty certification is chosen mainly by IT professionals who work in the areas like SAP applications. It is also preferred by SAP administrators, solution architects, and DevOps engineers.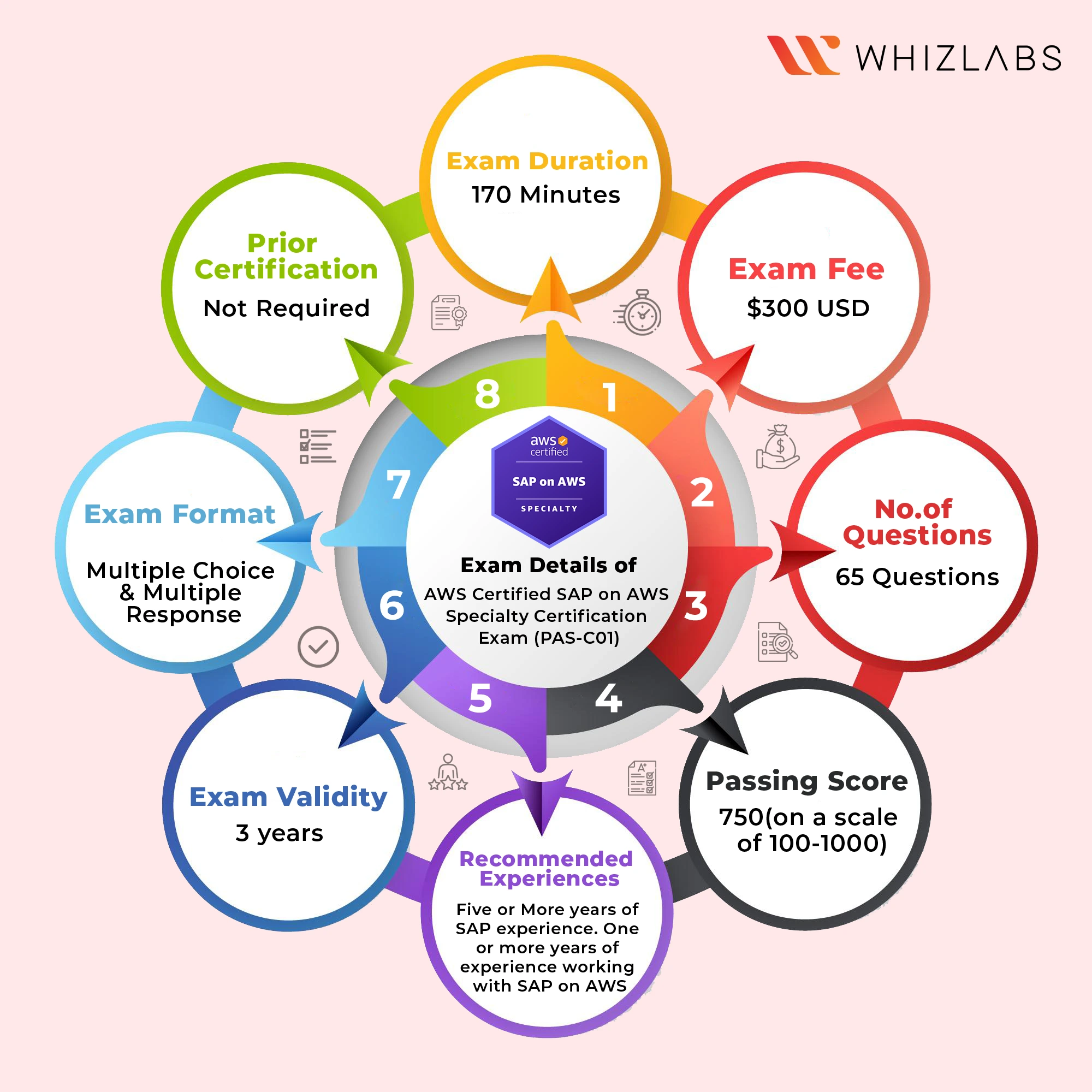 In addition, the candidate can gain geekiness in running SAP applications on AWS and showcase their skills to the potential customers, employers and organization.
Why do you need to take AWS Certified SAP on AWS – Specialty exam (PAS-C01)?
Fascinatingly, the PAS-C01: SAP on AWS Specialty certification exam stands as the sole course designed to empower you with SAP skills, enabling you to elevate outcomes within the AWS ecosystem.
SAP on AWS professionals can contribute significantly to their firm by learning how to improve business results. By taking this cert, you can be able to 
Reduce operational costs by moving SAP instances to AWS infrastructure, which will also let you: 

Scale up significantly by adding additional resources to SAP systems for nighttime batch tasks or month-end closings. 

Reduce the time it takes for projects to go live by launching SAP systems quickly. 

Planning for capacity is unnecessary since you can expand the AWS ecosystem to include as many networks, instances, solutions, storage, and processing as you need.
Exam tips to prepare for AWS Certified SAP on AWS – Specialty exam (PAS-C01)
Getting prepared well for the exam will significantly improve your success level in passing the aws certifications. By adhering to some pro tips and study resources, one might definitely ace the challenges faced during the exam. Let's have a look at them!
Step 1: Study the Exam guide carefully
If you are a Beginner, then you must download the official study guide and must familiarize yourself with the Sap exam concepts, requirements and domains and more. Then jump to the instructor based led-videos and learning path. Mapping the skills with the requirements will be the major priority while appearing for the exam. 
If any skill gaps persist, focus on it and take efforts to fill those gaps. 
Step 2: Make a schedule in your calendar
Time management plays a vital role in ending an exam with success. Make yourself stick to the time and you need to dedicate time to studying for the exam. And you must be careful of the fact that you are not skipping out any portion of the exam at any cost.
Before starting the preparation, you need to divide the syllabus and plan as per your timeline, and spend time on it until you get familiar with it. 
Step 3: Watch more videos
The best method to understand a subject is through video. Start with YouTube lessons, instructor-led AWS videos, or sign up for other video courses. The following are some videos and lessons you may use to study for the SAP on AWS – Specialty exam (PAS-C01): 
AWS Digital Training on Technical Essentials: This four-hour foundational course covers key solutions and associated ideas of AWS Certifications.
Step 4: Go through the theories and learning paths
Now that you are familiar with the basics of the AWS solutions architect certification exam, it's time to start preparing with the theory. You can enroll for the paid classroom training and it is four-hour course covering technical fundamentals. It includes information on the fundamental technological concepts and key architectural patterns for managing SAP workloads on AWS, sizing SAP to meet performance requirements, automating and securing deployments, making architectural decisions, upholding AWS standard practices, etc.
Once you are familiar with the fundamentals of SAP on AWS – Specialty exam, then move to the theoretical part. You can enroll for SAP on AWS training course and you learn the technical basics and architectural patterns for running SAP on AWS. 
And you might get knowledge on the size of SAP on AWS to meet performance objectives and carry out basic system operations for SAP on AWS which includes backups, monitoring, and automated deployments and make architectural decisions on the basis of recommended best practices of AWS.
In addition to this, you can try the AWS exam prep course. It includes 6-8 hours of practice materials, videos and hands-on labs. In short a complete package. If you need additional materials, you can always go for training program courses. They are self-paced and will give you a complete exam package, including theory resources and video courses. 
Step 5: Mapping your learning with the prerequisite 
While appearing at this stage, you might have become familiar with the basics of SAP on AWS. So, now you can analyze the skills and knowledge you need to gain. Once you have fulfilled those things, then you can dive into specifics of the SAP on AWS.
You can also go through AWS FAQs and Whitepapers on SAP Lens – AWS Well-Architected Framework, High Availability and Disaster Recovery Options and SAP on AWS Technical Documentation.
Step 6: Level up your real-world experience
Once you feel confident about your skills, then apply your skills in real-time settings via hands-on labs, challenges and hands-on labs. Applying your knowledge in a real scenario is the best way to understand and remember concepts. You can refer to: 
Lab challenges like AWS Cloud Quest : By letting you use AWS services and resolve issues as you would in the real world, it functions more like a game than a method of teaching AWS services. 

Training programme with practical labs: These labs typically last an hour and are complex. There are also free labs available for you to use. You just need to open an account to do this.

AWS sandboxes: These infrastructures are virtual and separate, allowing you to experiment and use them. In a replicated AWS environment, you may learn and experiment with your knowledge while honing your practical abilities.
Step 7: Attempt practice papers
You are almost at the end of the Sap on AWS preparation process. By taking practise exams, you can start evaluating your knowledge and domain comprehension. Numerous practise tests and exam dumps are available. Start with the official exam and sample papers for AWS.
These exams provide thorough justifications and prompt results. Analyse your SWOT. Relearn the weak regions and fill up the gaps. Then try it once more. 
Step 8: Make use of online discussions and webinars
Always keep an eye out for AWS webinars, community conversations, live YouTube sessions, live streaming in Facebook groups, and other events. Ask specialists to answer your questions directly so you can benefit from their knowledge, advice, and experiences. Anyone can develop their own formula for success. You only need to look through the recipes. 
Step 9: Revise, Revise and Revise
We frequently have a tendency to remember extremely basic and minimal elements during the exam when we are preoccupied with mastering the technical and sophisticated issues. The ideal way to score is with simple questions, but they are frequently difficult to recall when time is running out. So, while carrying out each of the seven processes, constantly refining them. 
FAQs
Which pays more AWS or Azure?
AWS experts can get an average of 6.3 lakhs per year, whereas Azure professionals get approximately 6.1 lakhs per year.As the both clouds become popular, there are huge job opportunities available for AWS and Azure professionals.
Is AWS specialty certification exam(PAS-C01) worth it?
Yes, AWS specialty certification exam(PAS-C01) is worth it as it solely depends on the networking tools and utilities of a single service provider's cloud and thus it is easier to get a job.
Is the PAS-C01 exam difficult?
(PAS-C01) exam is not difficult to pass and you don't have in-depth knowledge on the Sap on AWS concepts. Getting familiar with the concepts is enough.
Which AWS specialty certification exam is hardest?
Advanced Networking Specialty is the toughest AWS certifications path out of all the 12  aws certifications. You need to have good practical skills and experience in the networking concepts.
What is the validity of the PAS-C01 certification exam? 
The PAS-C01 certification Exam is valid for three years.
What is the easiest AWS Speciality exam?
The AWS Certified Cloud Practitioner exam recognised as widely regarded as the easiest exam Candidates can take the exam online. AWS recommends that candidates can have at least six months of experience with AWS. However, this experience also needs to be highly technical.
What is the passing score for SAP C02?
The AWS Certified Solutions Architect – Professional (SAP-C02) exam consists of 75 questions that are a combination of multiple-choice and multiple-response formats. Candidates are given 180 minutes to complete the exam. To pass, a minimum score of 75 – 80%  is required.
How many attempts are allowed for SAP certification?
You can take a SAP Certification exam up to three (3) times.
Is it easy to clear SAP certification?
To succeed in the SAP certification exam, it is crucial to maintain a consistent and diligent work ethic. Make effective use of training materials available in the SAP Certification Hub, engage in continuous practice, and persistently prepare for the exam. With dedication and perseverance, I am confident that you will be able to successfully clear the SAP Certification Exam. Best of luck!
Summary
Getting the AWS certified SAP on AWS certification will be a valuable one for anyone who is seeking to advance their career in the SAP and cloud computing field. 
To clear this Sap on was certifications, having stronger skills and foundation in both AWS and SAP is required and also require a thorough understanding of those two platforms. It is advisable to take more hands-on labs and sandboxes while implementing SAP on the AWS platform.
Taking such kind of aws certification can help you to stand out from the crowd and improvise your earning potential. It also shows your commitment to professional development and being updated with the latest technologies and trends.
With proper dedication and preparation. You can easily pass the AWS Certified SAP on AWS – Specialty exam and uplift your career to new heights in the cloud and SAP environment.