Cloud computing has spent nearly a decade on the market since its inception and has created innumerable job opportunities for IT professionals across industries. But if you are a non-coder, you might have doubts about whether or not it is for you. 
"I am a non-coder. Can I build a career in cloud computing? Is it necessary to master coding in cloud computing? What certifications should I pursue if I enter cloud computing as a non-coder?" These questions are common if you are considering a career in cloud computing but don't know how to code. 
But guess what? Coding is vital but not everything in cloud computing, and you can have a bright future as a cloud professional. This blog breaks all the myths about coding, non-coding, and cloud computing and helps you streamline your career plans for cloud computing as a non-coder. 
Time to dig in. 
Also Learn: Which cloud technology should you learn in 2023?
Yes, you can use the cloud without coding: time to break myths. 
Remember this: You don't need any coding skills to learn about or step into cloud computing for the first time. However, if you are aiming for architect, developer, or DevOps roles, you can always learn to code after you have joined the training, courses, or certifications.
For instance, starting with AWS and Azure doesn't require coding or knowledge of hard-core programming. In fact, you will find that most training programs or certification courses impart fundamentals as a part of the user interface and not code.
Therefore anyone with the bare minimum knowledge of cloud services and computing can easily follow concepts. Moreover, the training platforms and certification providers include separate environments and setups to teach you the required coding skills from scratch. 
Are you a fresher ?And interested to learn about Cloud Computing? Go through this Introduction to Cloud Computing and level up your Cloud knowledge.
Another big myth among cloud computing aspirants is that they need to be full-fledged IT professionals to understand cloud computing. Wrong! You can always get into the nitty-gritty of tech domains and expertise once you have started learning about cloud computing. Azure is the best example.
The courses range from teaching you the basics of Azure to building solutions and Azure architecture for your business ecosystem. You learn about all the counterparts and quintessential on-the-go.
Interesting, isn't it?
How can non-coders start building a career in cloud computing?
As discussed above, you will find innumerable cloud services like AWS and Azure that are not just limited to tech roles and can get you a good kickstart for your career in cloud computing. Even the prior requirement list for many cloud certifications mentions coding in cloud computing as a good-to-have skill and not a must-have.
You need to target those types of roles first to understand cloud environments in detail and then move towards tech-savvy roles if you want to advance later. 
Again, if you don't plan to expand your career in coding, you must have a working knowledge of cloud computing concepts like networking and basic bash. It will help you gain a comprehensive view of using APIs, and you can leverage cloud environments with a breeze.
Additionally, you can focus on the front end of cloud computing, like marketing, pre-sales, etc., and help your audience solve domain issues. Here are a few cloud computing roles for non-coders to consider.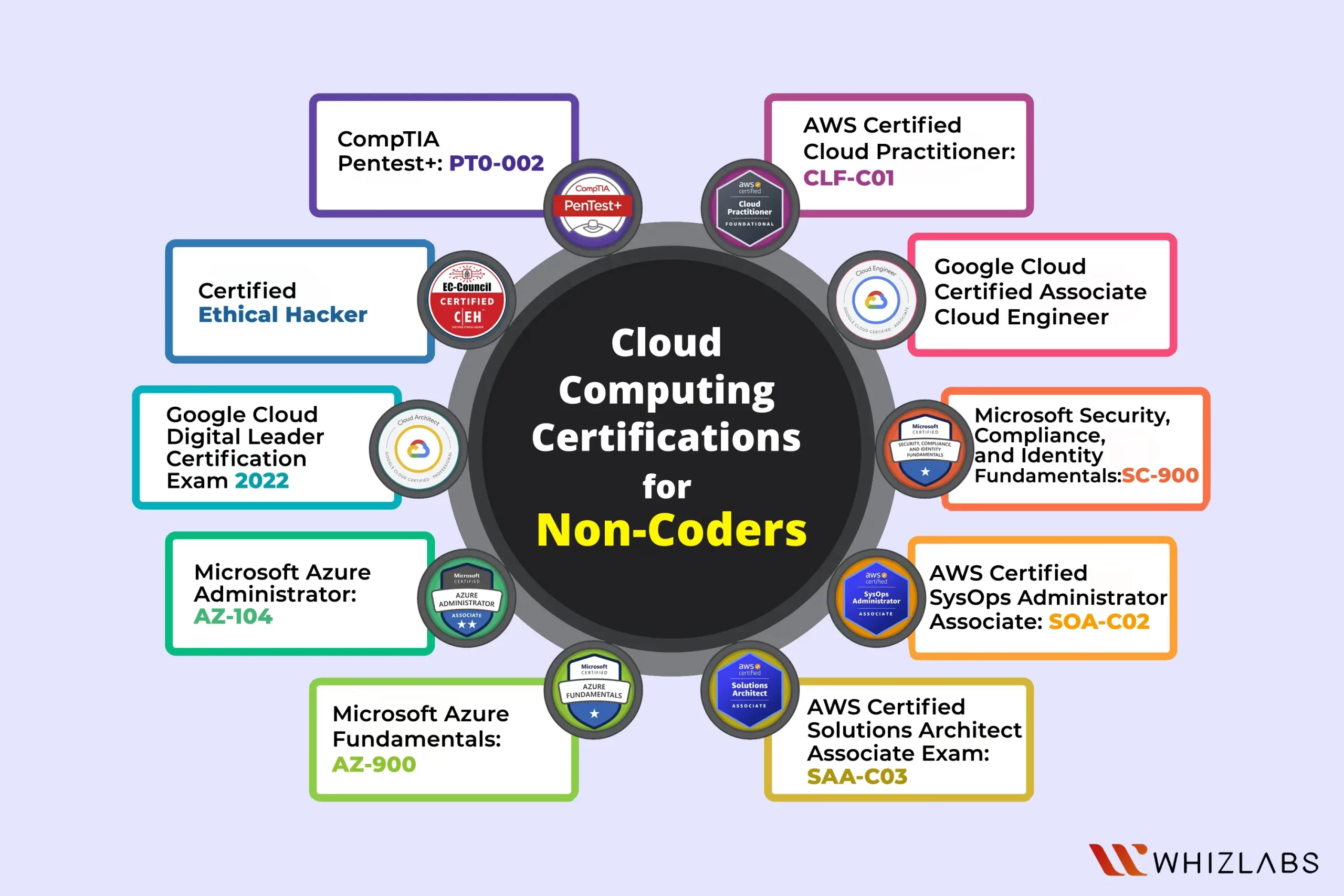 Cloud network engineer
A cloud network engineer upskills in migrating functions, data, workloads, and networks to the on-prem, cloud, and hybrid cloud environments. As a cloud network engineer, you will make it easier for your teams and business to use resources seamlessly while enjoying increased flexibility and productivity.
Cloud administrator
As a cloud administrator, you will maintain functions, features, and cloud systems. You will also help clients integrate your cloud services, ensure the network runs smoothly and collaborate with cloud engineers and management personnel to perform all the line items mentioned. 
Cloud security analyst
A cloud security analyst carries out security risk analyses, assesses security products and services, examines and describes information security policies and practices, and monitors and manages alerts in the cloud environment.
Cloud consultant 
Cloud consultants educate businesses about the services offered by cloud computing, assisting them in making choices that would improve operations. Cloud consultants retain strong communicative roles and are knowledgeable about the technicalities of cloud solutions.
Cloud engineers and cloud security engineers
As a cloud security engineer, you will give technical guidance and engineering norms to build a secure, highly available, and cost-effective cloud environment for your organization while configuring network security trouble spots and ensuring no breach. 
Speaking of cloud engineers, They explore and combine services and products for both public and private clouds that help businesses run more efficiently, securely, and meticulously. When users have issues with cloud-based platforms, you will debug the apps to make operations seamless.
Cybersecurity Analyst
This is one of the most popular IT domains for non-coders. As a cyber security analyst, you will protect your business networks from unauthorized access and privacy attacks.
You will identify and troubleshoot data breaches and malware attacks using tools like Microsoft Defenders or techniques mentioned by Certified Ethical Hacker (CEH) codes, etc.
Cloud computing certifications for non-coders
If you are a non-coder, the best way to kickstart your career in cloud computing is to go for certification courses. All major cloud platforms provide uncountable certs and training resources to teach you about cloud services and environments and enhance your understanding.
Here, we will be going through some high-velocity certifications by leading cloud platforms that all non-coders wishing for a career in cloud computing should check out. 
AWS Certified Cloud Practitioner: CLF-C01
The AWS Certified Cloud Practitioner or CLF-C01 cert imparts a fundamental understanding of AWS Cloud principles, services, and terminology. This is a fantastic place to start for non-coders, people in non-technical roles with no prior IT or cloud expertise, or anyone with little on-prem IT knowledge wanting to upgrade to AWS Cloud fluency.
However, you would need at least 6 months of experience working in the AWS domain and holding on to IT services and how to leverage them when working with the AWS cloud. 
Google Cloud Certified Associate Cloud Engineer
Google Cloud Certified Associate Cloud Engineer course will enable you to handle enterprise solutions, implement apps, and keep an eye on operations.
You will also learn to maintain one or more deployed solutions that leverage Google-managed tools or self-managed services on Google Cloud by using the Google Cloud Console and the command-line interface. To be eligible for this course, you will need over six months of experience in Google Cloud. 
Microsoft Security, Compliance, and Identity Fundamentals: SC-900
The Microsoft Security, Compliance, and Identity Fundamentals or SC-900 cert exam will help you get familiar with the basics of security, compliance, and identity (SCI) for cloud-based services and other relevant Microsoft solutions.
Not just non-coders but any business stakeholders, new entrants in the IT industry, and students interested in expanding their knowledge base for Microsoft SCI can take this cert.
However, to be fully capable of building end-to-end security solutions for Microsoft services, you should gain hands-on experience with Microsoft Azure and Microsoft 365. 
AWS Certified SysOps Administrator Associate: SOA-C02
AWS Certified SysOps Administrator Associate or SOA-C02 certification helps you understand how to find and develop the necessary capabilities for delivering cloud initiatives for companies. You will be able to define deploying, managing, and running workloads on AWS.
Though, you would need at least a year's experience working with AWS and should be able to demonstrate how to implement, handle, and run workloads in the AWS infrastructure. 
AWS Certified Solutions Architect Associate Exam: SAA-C03
AWS Certified Solutions Architect Associate Exam or the SAA-C03 cert would help you build abilities to demonstrate expertise and knowledge of AWS technology using a variety of AWS services.
You will also gain a thorough understanding of the AWS Well-Architected Framework as it focuses on the design of cost- and performance-optimized solutions.
With this cert, you can improve your credibility and confidence in stakeholder and consumer relations, as well as your career profile and revenues. The cherry on top, you don't need any prior experience to become eligible. However, a little working knowledge of programming languages can be beneficial. 
Microsoft Azure Fundamentals: AZ-900
Microsoft Azure Fundamentals or the AZ-900 course help you master the Azure cloud basics and can be a good stepping stone for your career in cloud computing.
You will gain a holistic approach toward tech domains in Azure while validating your fundamental skills in cloud services and gaining a better understanding of Azure workloads, privacy, security, pricing, and support. 
Microsoft Azure Administrator: AZ-104
The Microsoft Azure Administrator or AZ-104 exam will help you gain subject matter expertise in deploying, monitoring, and handling Azure infrastructure, including virtual networks, computing, storage, security, identity, and compliance.
As an Azure administrator, you will partner with teams to develop the Azure environment and deliver Azure security, network, database, and app development solutions.
To be eligible for the AZ-104, you need familiarity with networking, servers, operating systems, and virtualization. You also need hands-on experience with the Azure portal, Azure ARM templates, PowerShell, Azure CLI, and Microsoft Azure AD.
Google Cloud Digital Leader Certification Exam 2022
Google Cloud Digital Leader Certification helps you explore core Google cloud products and services and choose the ones that best fit your business needs.
You will also learn to define business use cases and tailor Google digital solutions to enhance business outcomes. You need to be familiar with the process of partnering with tech professionals to be eligible for this exam. 
Certified Ethical Hacker
Certified Ethical Hacker or CEH is one of the EC-Council Certifications, designed to teach you how to identify vulnerabilities and loopholes in a network system and prevent malicious hackers from breaking the fort. To be eligible, you need at least two years of experience working with the information security domain. 
CompTIA Pentest+: PT0-002
CompTIA Pentest+ or PT0-002 exam is one of the most thorough exams, encompassing every level of penetration testing.
PenTest+ employs both performance and knowledge-based concepts to ensure that all stages are covered, in contrast to other penetration testing courses that only cover a section of stages with essay questions and hands-on. However, you need a minimum 3-4 years of hands-on with info security-related domains. 
Certified Information Security Manager (CISM)
Certified Information Security Manager (CISM) helps you demonstrate proficiency in risk management, programme development, incident management, and information security governance. Though, the cert demands a minimum of 5 years of experience working with information security management. 
A few more things to consider when strategizing your cloud computing career
The best part about building a career in cloud computing is that there's no bar or time duration to enter this domain. Be it non-coders or non-tech professionals; you can become a cloud expert anytime you want to. However, there are certain factors to consider before you jump onto the bandwagon aimlessly.
Let's take a quick look at them. 
What is the level of cloud expertise you are aiming for? 
Your goals are the most important thing. For example, becoming entry-level involves anything from one to six months, while becoming mid-level takes anywhere from six to twelve months. However, learning and practical exposure could take up to three years of your life if you wish to become a true expert in Cloud.
Therefore, you must choose whether a fundamental awareness of the cloud suffices for you or if you want to gain a deeper understanding of the many services offered by different cloud platforms.
Do you have any prior experience with cloud environments? 
Half of your struggles will escape when you are already familiar with the thing you have to work with. Working with cloud platforms is no different.
To say you have prior experience with techs like systems administration or network security in a cloud environment, in which case, learning cloud services will at least not give you dark circles when understanding fundamentals.
How efficiently can you structure your cloud learning process?
Studying cloud platforms can be frightening at first, just like entering any other new field. However, you will focus better if you know how to streamline your time and resources.  Most cloud courses have a tiered structure, which simplifies the procedure.
Before deciding on a learning path, make sure you complete your homework on the other non-coders cloud certifications available before committing to one. 
Summary 
Hope this blog helps you figure out a career in cloud computing as a non-coder and streamline your profile for cloud-related responsibilities.
However, if you are a beginner and want to take the help of the certifications mentioned above, then you would need to take special care of the quality of training programs and resources you choose. 
Therefore, Whizlabs brings countless cloud computing certifications for all leading cloud platforms and helps you enhance your cloud skills with practice papers, video courses and hands-on labs designed by domain experts, and sandboxes for complete knowledge of isolated cloud testing environments.
Does this intrigue you? Reach out to us today to learn more about our programs and features.