The only thing that remains the same in the cloud computing world is change. With so many transformations, evolutions, and innovations going on continuously in the cloud space, it's natural to get overwhelmed and figure out what skills are becoming outdated and what's gaining traction and relevance in the industry. 
So, to make it convenient for you, this blog will walk you through some of the cloud technologies for you to keep an eye on in 2023. But before we jump into them in detail, let's have a quick preview of what cloud technology and cloud computing in 2023 looks like. 
Time to dive in! 
What does 2023 look like for Cloud adoption and Cloud Technology?
What started as a "good to have" thing, cloud technologies are now a must for all companies across industries, be it manufacturing, apparel, corporate, etc. And the space will see more adoptions and innovations in the near term, and both organizations and IT professionals should start bracing: 
By 2023, nearly 50% of all global companies will go for a full-fledged cloud approach. Organizations will longer seek third-party servers or data centers and will migrate to cloud environments. 

Additionally, global spending on public cloud services and products is increasing at 20.4% and will reach $600 billion in 2023.

End-user expenditures on IaaS are growing at 30.6%. Simultaneously, for Desktop as a Service and Platform as a Service, the growth will reach around 26.6% and 26.1%, respectively. 

Amid the prolonged debates of complete remote and hybrid work culture, companies will increase their spending on cloud migration by $2.6 billion. 

More and more companies that were still existing on legacy solutions and conventional client computing solutions will finally buckle up and switch to cloud computing technologies, especially DaaS. PaaS, on the other hand, will have increased spending of $109.6 billion as the demand for end-user native cloud capabilities rise. 

Gartner says by 2025, spending on public cloud services will surpass legacy IT spending. The services will include apps, business processes, infrastructure software, and system environments. 

By 2025, public cloud solutions will account for 51% of IT spending, up from 41% in 2022. That and 65.9% of expenses on app software will be for the cloud, up from 57.7% in 2022.
Also Learn : What's all the buzz about Metaverse and Cloud Computing
Top Cloud Technology to learn in 2023
The statistics and figures above imply that cloud technologies are on an innovation and adoption spree. If you want to tap into this opportunity and stay in the good books of your company, you need to accelerate your search process right now, dive deeper into these few cloud technology, and start upskilling. 
Let's view these cloud technology in detail.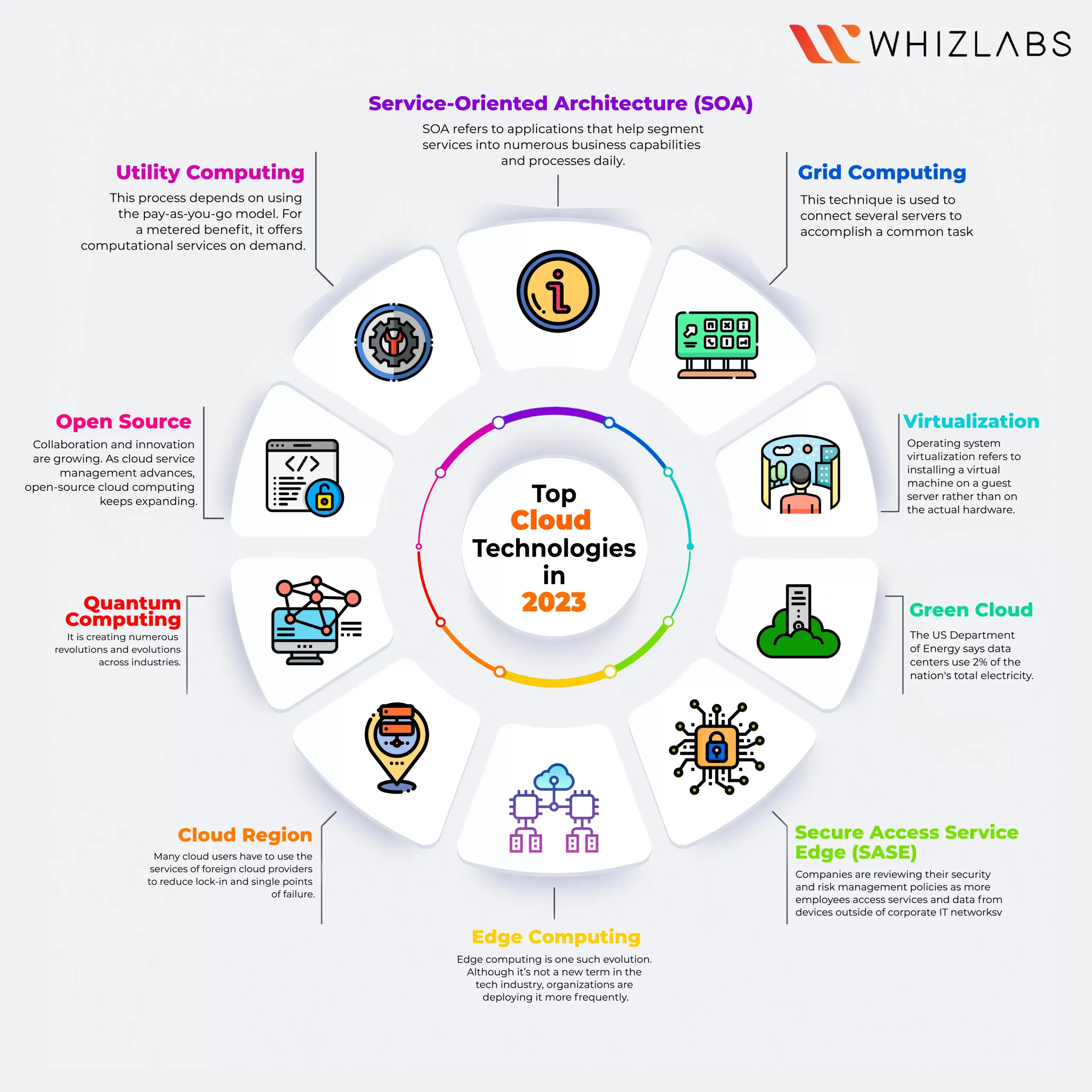 Quantum Computing
Quantum computing is creating numerous revolutions and evolutions across industries. Companies like Google and AWS are increasingly promoting this cloud service to develop out-of-the-box user services. They are using it as one of their differentiators by adopting emerging quantum computing techniques. One of the best examples of Quantum computing is how supercomputers work when leveraged accurately. 
In fact, quantum computing uses principles of quantum physics to initiate complex algorithms and process bulk data in just a few seconds. A supercomputer will help get strong encryption capabilities for secured communications and increase the protection of network environments. 
Speaking of utility, financial institutions can benefit the most from quantum computing. They can increase the speed of transactions, save time, and boost process efficiency. Quantum computing stores information in qubits. It is a simple form of data that helps provide speed to processing. This tech reduces additional operational expenses of setting up new solutions to manage pre-optimized workflows. 
Cloud Region
The need for geopolitical fragmentation for trade protectionism, compliance, and industry norms gives rise to new, different, and separate compliance and governance ecosystems. Speaking of which, a consolidation among cloud ecosystems and regional and specialized data services is happening in numerous regions as we speak right now. 
Furthermore, so many cloud users have to use the services of foreign cloud providers to reduce lock-in and single points of failure. It is so because not all regions have the ecosystem or sufficient resources to hold platform services. This is paving the way for legislation that governs the cross-border interchange of cloud services. For instance, projects like GAIA-X have surfaced in European nations due to growing concerns among researchers, lawmakers, and technology vendors.
Edge Computing
Cloud providers are going through a plethora of resilience tests with never-ending innovations like the expansion of 5G, Internet of Things (IoT) gadgets, latency-sensitive apps, etc. Edge computing is one such evolution. Although it's not a new term in the tech industry, organizations are deploying it more frequently.
Interestingly, unlike data centers which house a lot of information at one centralized location, edge computing enables systems to become more distributed and brings processing and data much closer to users. This tech helps reduce latency and bandwidth expenses while enhancing connection performance.
Secure Access Service Edge (SASE) 
Companies are reviewing their security and risk management policies as more employees access services and data from devices outside of corporate IT networks. Gartner was the first to use the phrase "Secure Access Service Edge". It refers to an approach to cloud-based IT security that considers the changeability of business processes.
Moreover, organizations using SASE can gain myriad benefits, like security gateways, zero-trust network access (ZTNA), and firewalls.SASE is a secure architecture that helps companies efficiently and safely offer new services over the cloud.
Green Cloud
Enormous infrastructures and the constant need for cooling and power to maintain cloud ecosystems are raising climate and environmental concerns. The US Department of Energy says data centers use 2% of the nation's total electricity. A standard commercial office building uses 10 to 50 times less energy per floor than a data center on average. Along with this, e-waste is a hotspot for concern because outdated electronics generate millions of tonnes of rubbish every year. 
Therefore, cloud service providers are always seeking methods to improve the effectiveness of their infrastructure and software. Over time, even minor adjustments and enhancements can result in considerable energy savings. Also, increasing supply chain disruptions and a shortage of rare minerals are calling for improved computer hardware recycling.
When debating on-premises data centers versus cloud computing, ethical business owners take these concerns seriously and are aware of their part in addressing climate change.
Virtualization
Virtualization refers to the process of sharing license keys to share licensing keys for actual instances of software across various enterprise users. This technology's primary objective is to offer all users a uniform version of the cloud app. It is popular because of its adaptability and quick running time. Here are a few types of virtualization: 
Operating system virtualization
Operating system virtualization refers to installing a virtual machine on a guest server rather than on the actual hardware. It improved the testing environment for many OS platforms and apps.
If you directly deploy a virtual machine on a hardware server, it is called hardware virtualization. It is often easier to handle a VM than a physical server. 
Storage virtualization is the practice of assembling physical storage from many network storage devices. It primarily serves as a backup and recovery system.
When you deploy a virtual machine on a system, the process is called server virtualization. It is segmented into various resources and used for load balancing as needed.
Grid Computing
This technique is used to connect several servers to accomplish a common task. By breaking enormous problems into smaller ones, servers are broadcast to and placed on the grid through grid computing. It is primarily used in eCommerce and is designed to share resources on massively parallel cluster computing.
Folding@home is a well-known grid computing project. The initiative seeks to identify disorders connected to protein folding and misfolding. It involves using the computing capacity of idle computers to resolve challenging scientific puzzles.
Service-Oriented Architecture (SOA)
SOA refers to applications that help segment services into numerous business capabilities and processes daily. This particular cloud application component provides cloud-related arrangements that can be changed and amended based on business requirements.
A service-oriented system consists of two main components: software as a service and quality as a service. Its primary purpose is to offer a distinctive perspective. Software as a Service offers a new delivery model as it was adapted from the world of application service providers.
Utility Computing
This process depends on using the pay-as-you-go model. For a metered benefit, it offers computational services on demand. Lowering the initial expenditure aids in cost reduction. The billing changes under changes in a business's computing needs without incurring any additional costs. The cost of billing likewise decreases with a decrease in client utilization.
Disaster Recovery and Backup
System failures, data loss, and cyberattacks make businesses vulnerable. Data loss results from server failures. Cloud-based backup and disaster recovery help companies avoid these disruptions. Spiceworks spends 15% more on cloud backup and disaster recovery than email hosting and productivity software.
Cloud-based backup and DR are making a comeback. Lost data is saved through cloud-based backups. Backup to the cloud also includes recovery. Our data recovery method makes it possible to restore erased data.
Open Source
Collaboration and innovation are growing. As cloud service management advances, open-source cloud computing keeps expanding. Open-source cloud software is modifiable by anyone. You can customize Infrastructure with open-source cloud platforms. Organizations benefit in myriad ways from open-source IT systems. They have a scalable cloud architecture, and adding new features is simple. You can improve your abilities by taking the cloud architect course.
FAQs
What are some of the 2022 cloud computing skills that will gain more traction?
Here are a few 2022 cloud computing skills that every beginner should kick start their cloud career with:
Multi-cloud solutions

Hybrid cloud solutions

Serverless architecture

AI platforms

Machine Learning

Cloud Security

IoT platforms

DevSecOps

Service mesh
What are some of the top cloud computing roles that will enjoy increased demand?
Here are some top cloud computing roles to rule the job market in the near term:
DevOps

Database skills

Machine learning and AI

Communication

Automating key tasks

Securing cloud environment

Data migration

Network management

Development and operations

Network management

Platform expertise

Programming
What are the salary trends of some of the top cloud computing job roles?
Here's a complete salary trend analysis of some of the top cloud computing job roles:
Network and cloud architect
The average pay in the US is $106,100 per year.

The average pay in the UK is £63,732 per year.
Cloud Network Engineer
Average pay in the USA: $150,866/yr

Average in the UK: £35,183
Computer Systems Analysts
Average pay in the USA: $73,318 p.a

Average pay in the UK: £36,398 p.a.
Cloud Security Analysts
Average pay in the USA: $94,796 p.a.

Average pay in India: Rs.8,14,386 p.a.
Cloud Database Administrator
Average pay in the USA: $130,000 p.a.

Average pay in India: Rs. 501,660 p.a.
Summary
Hope this blog helps you figure out some top cloud technology skills to look out for in 2023. However, this list doesn't mean that all the 2022 industry-relevant skills will no longer be in use. Those are still very much relevant, and you should start with them if you haven't already.
All these cloud technologies will trigger numerous revolutions in the times ahead, and professionals and organizations should buckle up. 
Furthermore, if you want to check out certifications imparting skills and knowledge on these cloud technologies, visit our Whizlabs resources. You will find countless practice tests, mock tests with unique questions and exhaustive explanations, video courses especially curated by our subject matter experts, hands-on labs, and cloud sandbox to apply your theoretical knowledge and experiment with your abilities.