Building a tech startup from the ground up is not an easy task. It requires a deep knowledge of technology and high-quality software and hardware to execute your plans while keeping your data secure at the same time.
In fact, some might say that keeping your data safe and accessible at the same time is one of the biggest challenges faced by tech startups today. To handle this delicate task, we looked at the biggest players in the cloud computing market, as there's nothing better than the cloud in ensuring that your data is always accessible and safe.

Choosing Google Cloud Platform over AWS
Even though there are dozens of companies offering all sorts of services, our choice eventually came down to Google Cloud Platform (GCP) vs Amazon Web Services (AWS). These two platforms account for a majority of the cloud computing market, thanks to the vast experience of the companies behind them as well as the versatility of their services.
However, at the end of the day, we chose to go with Google Cloud vs AWS, for various reasons that we will explore today.
Google Cloud vs AWS – Services
When comparing the Google Cloud Platform vs AWS, one of the first things that one looks for is what services they offer and what can be accomplished by using these services. In this segment, the battle of GCP vs AWS easily leans to the side of AWS as the services they offer beat GCP in numbers alone.
They have options for all kinds of cloud computing needs such as Computing Services, Network Services, Storage Services, Database, Big Data & Analytics, and Management Services among others.
Compared to these, the offerings from Google are relatively tamer, focused more on IaaS & PaaS services. However, it is important to note that a lot of services offered by AWS are for niche-requirements and Google can easily handle a majority of cloud computing needs even with their limited options.
Check out Google Cloud Platform Services in detail.
Google Cloud vs AWS – Performance
Performance is another thing that is a key factor in the decision-making process. It is not easy to do a Google Cloud Platform vs AWS performance comparison as both companies offer fully customizable programs with multiple configurations with specific amounts of virtual CPU, RAM, and network connectivity.
Both Google Cloud and AWS constantly tweak their systems to make sure that all applications are easy to launch and configure. With the development of new market standards in serverless computing and cloud containers, these systems have becomes increasingly efficient in resource management and remote execution. GCP however, has a definite edge in this, as their systems can be deployed on all types of systems without worrying too much about compatibility issues.
Having such easy handling makes everything easier to implement, thus encouraging deeper market penetration. However, just being present on a large number of systems is not enough, as the services must also be smart enough to handle the massive amounts of data that applications like this are expected to generate.
Quick collection and sorting of data is a huge requirement for most companies opting for cloud computing solutions and AWS is definitely the leader for such Big Data systems, thanks to integration with many popular DevOps tools like Docker and Kubernetes, as well as by the virtue of being one of the first companies to explore this space.
GCP seems to have caught up to this advantage though, thanks to their experience in gathering and analyzing all the data that the Google search engine and Google Chrome generate.
It is also interesting to take a look at Google Trends to see the interest over time. Although the demand for AWS has a great increase as compared to Google Cloud in the last 5 years as shown, tech startups still prefer Google Cloud over AWS.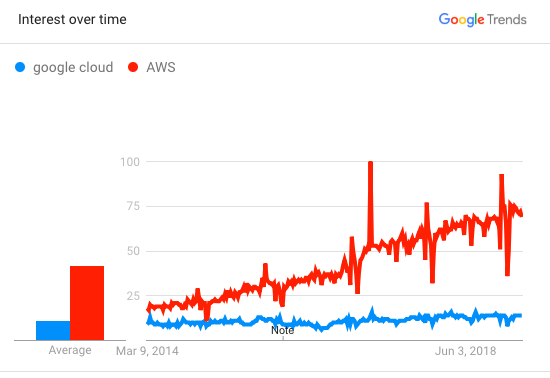 To give you an idea of the scope of these two applications alone, we should mention that the information we are talking about translates to more than 2 trillion searches annually. Working with such a high volume of data has given them the experience necessary to build products that do not have the bugs that plague systems with high traffic volume.
Since this data is generally run through their own Google Fiber system, it helps reduce the latency, which makes for a more reliable and faster experience overall. This edge in speed, combined with its ease of use and Google's great customer services makes it easy to pick the Google Cloud Platform vs AWS.
Google Cloud vs AWS – Network Security
Security is something that you don't realize the need for until it is often too late. With so many stories of cloud data being hacked, the most infamous one being the iCloud hack, we felt the need to protect ourselves with the best possible protection available.
So, we obviously opted for Google Cloud vs AWS, as they offer full-scale encryption of all their data and communication channels. This means that not only is the stored data encrypted, but in fact, all traffic between data centers is also encrypted.
This means that it doesn't matter how many people are connected and from where, everyone will receive the same level of protection, which is a great service for any company to adopt.
AWS has its own Relational Database Service (RDS) that provides data encryption services, but it is quite difficult to configure and can run in to problems with multiple availability zones. Not to mention, if you don't already know about it, you won't get the benefits since it isn't turned on by default. The connections between data centers are also not encrypted by AWS, which is a huge gap in their service if you go about comparing Google Cloud vs AWS.
Google Cloud vs AWS – Pricing
Cloud computing is already the most cost-efficient solution out there, with data services being as cheap as 10 cents for 1GB. This means that both Google Cloud and AWS can offer their services at ridiculously cheap prices. However, where Google gets its edge is how they bill you for their products.
What we mean is that AWS bills its services in a prepaid format, which means that you have to pay for a specific portion of resources, irrespective of how much you use. An easy example of this is that if you are running their system for 1 hour and 5 minutes, it would still cost you the price of 2 full hours to get it done. It is the same for other resources as well. For example, if the task at hand requires only 1.2GB of RAM, you would still have to go for 2GB.

GCP, on the other hand, offers you the option of per-second billing. Which means that the moment you stop using the service, they stop charging you. It is the same with resources as well, as you can configurable the system for any specific figure of RAM, whether it be 1.5 GB, 3.25GB RAM or any other arbitrary figure.
Google Cloud vs AWS – Discounts
Everyone knows that discounts play a big part in attracting and retaining customers. As a startup, it can also mean the difference between being able to afford the service or not. This is another region where the two companies different quite a bit.
AWS falls behind GCP clearly though, as they provide discounts only after you sign for a 1-year term and pay in advance. Not to mention that once you sign, you cannot change the plan.
On the other hand, GCP provides discounts after only a month of usage, and the discount can be applied to any other package, should you need to change your plan or get it adjusted. As you can see, it is significantly more rewarding to go with Google Cloud vs AWS.
Also Check: AWS vs Azure vs Google Cloud
Final Words
Not only Google Cloud offers great services, but it also offers them in a manner that seems inclusive. You do not feel like you are being cheated, or shortchanged. Besides, with such a huge ecosystem and every increasing cloud capacity, you know that once you join their network, you won't ever have to worry about running out of space or resources.
This peace of mind has really given our startup the freedom to explore all the avenues that we want, while still having a strong footing in our core dynamics. Sure, AWS has been one of the first players in the market, and it has an edge due to it in terms of sheer volume of services. But you won't always require every one of those services, and whatever advantage they gained by being first in space has is reducing rapidly thanks to Google's heavy investments in the field of cloud computing.
Though there are great opportunities for the cloud professionals in both AWS and GCP, having certifications from these cloud players open the doors to success. So, if you are aspired to have a bright future in the cloud domain, choose from AWS Certifications and Google Cloud Certifications as per your working domain and level up your career.