The term Cloud Computing was first introduced for the process of moving services and applications to the internet "cloud." It is not something that appeared overnight but it is related to the time when computer systems start sharing computing applications and resources remotely.
Becoming a certified cloud professional makes you stand out of the crowd. Here are the best cloud certifications for the growth of your cloud career!
So, if you want to know what is cloud computing? You've reached the right page. Here you will find the answer to your question and will learn the basics of cloud computing.  In simple terms, cloud computing refers to the different types of applications and services that are delivered in the internet cloud. More important is that the devices that use these applications and services don't require any additional resource.  Let's start with an introduction to Cloud Computing.
Introduction to Cloud Computing
Cloud Computing is an on-demand delivery of database, compute power, storage, applications and other IT resources through cloud services platform over the internet on the pay-as-you-go basis. It is called cloud computing because the information that is to be accessed is found in "the cloud" and it does not require a user to be in particular region to get access to it.
Cloud services provider enables users to store applications and files on remote servers and data can be accessed over the internet. Everyone makes use of cloud services even though they don't realize it. The basic activities of your daily routine such as listening music, watching TV, editing documents, sending emails, playing games, storing and accessing data make the significant use of cloud computing.
It has merely been a decade when first cloud computing service came into existence. But now, a considerable number of organizations, whether big or small, non-profit or government agency, are making use of cloud technology for different purposes. Let's have a look at the things you can do with cloud computing:
Developing new applications and services
Hosting blogs and websites
Storage, back up, and recovery of data
Delivery of software on demand
Streaming videos and audios as well
Analysis of data for predictions
Cloud Computing Services
Cloud Computing Services are used to address different types of applications, unlike a traditional IT environment. These services help organizations to become more agile and handle expenses efficiently. The classification of Cloud Computing Services involves Infrastructure as a Service (IaaS), Software as a Service (SaaS), and Platform as a Service (PaaS).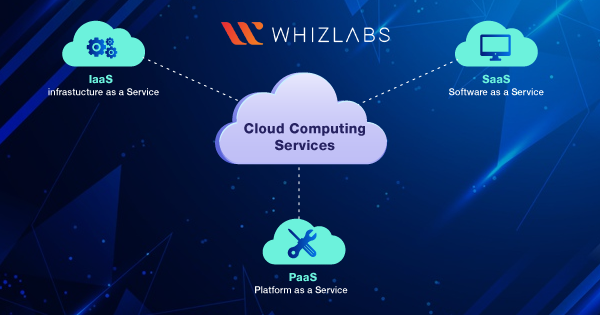 Infrastructure as a Service (IaaS)
Infrastructure as a Service (IaaS) is one of the three main categories of Cloud Computing Services that provides virtualized resources over the network. IaaS provides underlying operating systems, networking, security and servers for developing applications, services for deploying databases, development tools etc. IaaS helps the user to avoid the complexity and expenses of managing and buying datacenters and servers. Each resource is offered as a separate service component and users have to pay only for those resources they consume. IaaS takes the responsibility of hardware and performs all the maintenance to ensure the servers run correctly.
Software as a Service (SaaS)
Software as a Service (SaaS) is a method of delivering software applications over interconnected network i.e. internet on the subscription basis. With SaaS, Cloud Service providers host and manage the software applications and underlying infrastructure with a service agreement. They assure the availability and security of both the data and the application. SaaS provides a complete software solution which you purchase on a pay-as-you-go basis from a cloud service provider. SaaS enables organizations to rise up quickly and go with the applications with minimum initial cost.
Platform as a Service (PaaS)
Platform as a Service (PaaS) is that category of cloud computing services that provide an on-demand environment for testing, developing, managing, and delivering software applications. It is modeled for developers to create web or mobile apps quickly and easily. PaaS supports the whole web application lifecycle: building, testing, deploying, managing, and updating.
Thinking to build a career in MS Azure cloud? Certification will help you to get a bright Azure career. Here are the 7 reasons you should go for Microsoft Azure certifications!
Reasons for Growing Importance of Cloud Computing
Cloud computing is not less than a revolution in IT. It has transformed the way businesses considered IT resources, but how? This question may arise in one's mind while thinking about the changes cloud computing has made. Why has the cloud computing gained so much importance? Here are the 7 reasons for the growing importance of cloud computing –
1. Stop Guessing Capacity
Cloud Computing removes assuming the foundation capacity requirements. If you give priorities to capacity decision to deploy an application, then you either end up sitting idle with expensive resources or dealing with limited sufficiency. Using Cloud computing, all such problems get eliminated itself. You are able to access as much as you need. You can scale up and down as per needs within a few minutes.
2. Go Global: Beyond the Boundaries
Cloud computing technology includes the competency to scale elastically. Cloud computing refers to the delivery of the proper amount of IT resources at right time from right geographic location. It displays the applications in multiple domains all over the world which means you are able to provide a better experience and lower dormancy to your customers at the nominal price.
3. Enhance Speed and Agility
Using cloud computing services, new IT resources can be introduced as fast as a mouse click. Cloud technology has reduced the time it takes to make resources available to the developer which results in histrionic enhanced agility for the business/organization and a decrease in time and cost.
4. Higher Economies of Scale
Cloud technology has the greatest potential to impact small businesses above all others that will boost the growth in the region. Effective implementation of cloud technologies creates a level playing field for all size businesses.With the use of Cloud computing, you can acquire a lower variable cost from what you can achieve on your own.
It is found that all the businesses grow almost twice as fast in terms of job creation – delivering economic and social benefits to local economies in the region.
5. Eliminates Capital Expense
Using Cloud Computing, you need not endow in datacenters and servers massively until you come to know how you can use them. You have to pay only when you start consuming computing resources and also pay only for how much you consume. Thus, Cloud computing eliminates the capital expense of purchasing software and hardware.
Also, Cloud computing helps you to focus on projects that make a distinction between your business, not the infrastructure. You need not spend money on maintaining and running on-site datacenters.
Want to become an AWS certified? Here is the comprehensive guide on which AWS certification you should choose!
6. Invulnerable to Disaster
Sometimes, a disaster or any other unexpected incident i.e. mishappening such as fire can cause loss of the important data.  This data loss at the site of business can ransack the business. The important feature of cloud services is the invulnerability to disaster. With this ability, cloud services become more disaster resistant and thus, the data is safer than ever.
7. Business Competition Advantage
The research report by "Harvard Business Review Analytic Services" on cloud computing revealed that over 74% of businesses contemplate that they have got a competitive advantage with cloud computing. Because of this advantage, they concentrate on grabbing opportunities earlier than the competitors. Cloud technology behaves as a facility provider and makes company develop products and bring them faster to the market. Cloud services give small companies a platform to compete with the big companies.
Conclusion
Over the past years, cloud technology has improved the manner businesses operate. At present, whether big or small, all companies rely on public cloud platforms for hosting and implementing the applications. And the same trend will be followed in the future. Whether you are a beginner in cloud computing domain or want to grow your current cloud career, a cloud computing certification will be helpful for you to adopt latest skills. This will also enable you to contribute to the business of your organization.
Whizlabs is pioneering online certification training industry with its cloud certification online courses and exam simulators. So, prepare now to start your career in cloud computing and get one of the highest paying jobs in the market. If you are already a cloud professional then bring your career one level up with one of the cloud computing certifications such as; AWS Solution Architect, AWS Cloud Practitioner, AWS Solution Architect Associate, AWS Data Science Certification, and the AWS Security Certification etc. 
Wish you the best in your cloud career!