Aspired to become a certified cloud professional? Cloud Certifications whether being AWS, Azure or Google Cloud require that the candidate should have good hands-on experience. We at Whizlabs are aimed to help you in your certification preparation through our high-quality online courses and practice tests. Also, the newly launched Whizlabs labs will help you to get hands-on with the different cloud platforms.
Whizlabs offers the candidates a cloud environment to access and work with cloud resource through Whizlabs practice labs. Whether you want to host a simple application on the cloud or aspired to get some good knowledge of cloud resources, you are required to have a clear understanding of the theoretical as well as practice concepts of the cloud resources.
What are the Whizlabs Labs?
To help you practice different cloud services and resources, we have brought Whizlabs practice labs for you. Whizlabs labs is a learning platform that enables you to play with cloud resources and become an expert in cloud services offered by various cloud providers such as AWS, Azure, Google Cloud, etc. If you are a cloud enthusiast, then come and explore your cloud skills with Whizlabs practice labs.
These hands-on labs give you an additional edge with promising facilities for practical experience in using cloud resources and technologies. The following discussion outlines a step by step guide for AWS labs on Whizlabs.
Importance of Whizlabs Hands-on Labs
Whizlabs hands-on labs provide you the opportunity to get hands-on with the cloud technologies. Cloud certifications require comprehensive preparation of theoretical concepts for qualifying the exam. Candidates have to cover a wide range of domains for each certification exam. However, the most crucial part of different certification exams is practical scenario-based questions. Therefore, labs for AWS/ Azure/ Google Cloud certification exams are important for every candidate.
Candidates could learn firsthand about the different tools and technologies in different cloud service platforms. As a result, they could solve the practical questions in certification exams easily. Whizlabs labs give access to different virtual labs where you can try out learning outcomes from different certification training courses. Let us start our step-by-step guide to access AWS labs.
How to Get Access to Whizlabs Hands-on Labs?
Candidates who have purchased online courses or practice tests from Whizlabs can use the hands-on labs as complimentary services. The courses with which you will get access to the Whizlabs labs are:
The points in your Whizlabs account help in accessing and using the labs. The default number of points allocated for every user is 100 points. Upon purchasing online courses or practice tests, you will receive 100 additional points in the account. The charge for using a particular lab each time is 10 points. Whizlabs support is always at your disposal for purchasing more points to make the most out of labs.
Step to Use Hands-on Labs on Whizlabs Platform
While Whizlabs is planning on launching Azure labs and Google Cloud labs soon, let us go through the steps to use AWS labs on Whizlabs platform.
Step 1: Login into your account on www.whizlabs.com
Step 2: Locate "My Courses" and click on it. You can find the different courses or practice tests that you have purchased in this tab. Let us assume that you have the "AWS Certified Solutions Architect- Associate" online course in your account.
Step 3: Click on "Start" to access the AWS Labs.

Step 4: The dashboard will provide information on the number of Whizlabs points you have in your account.
Step 5: The Whizlabs LMS dashboard would also present a list of different labs for the selected online course. You can also find details about the duration of each lab and points needed for running each lab task.
Step 6: Click on the "Start" button corresponding to the lab that you want to practice. You will then find a new tab that contains all the details of the specific lab.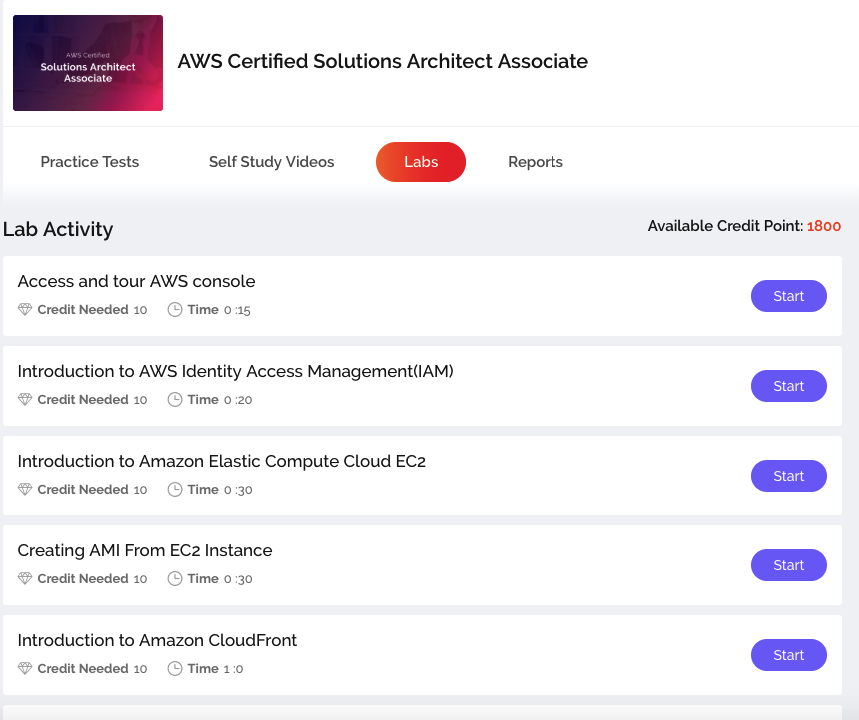 Step 7: You will find the information about lab details and tasks on the page, such as the tasks and different steps involved.

Step 8: After reading the "Lab Details" and the "Tasks" on a particular lab's page, you can click on "Start Lab." Once you click, the required amount of points for the lab will deduct from your account.
Step 9: Generally, you will have to wait for 1 to 2 minutes for the creation of the New Lab Environment. You can see a loading symbol on the screen, and you have to wait for the lab to start.
Step 10: After the lab starts, you can find an active "Open Console," which means that you can use the lab now.
Step 11: Most important of all, you should note that you have an AWS account automatically allocated to you for labs. So, you don't have to open a separate AWS account for practicing in labs.
Step 12: Follow the instructions mentioned and complete the Lab
Step 13: After completing a lab, you have to click on "End Lab."
Step 14: After this, you can take a look at the "Completion and Conclusion" part at the end of the page. This will help you review the topics and concepts learned in the lab.
Step 15: You can also find different support documents by clicking the "Support Documents" button in the right panel. These documents can help considerably in getting the best out of these aws labs.
Step 16: Also, you can get answers to your questions related to labs by clicking the "FAQs and Troubleshooting" button in the right panel.
List of Labs available in Whizlabs
#
Lab Name
Duration (in Minutes)
AWS Certification
Topics
1
Introduction to Amazon Elastic Compute Cloud (EC2)
30
CSAA
CDA
EC2
2
Introduction to Amazon CloudFront
60
CSAA
CDA
CloudFront, S3
3
Introduction to AWS Elastic Beanstalk
30
CSAA
Elastic Beanstalk
4
Introduction to AWS Elastic Load Balancing
30
CSAA
Elastic Load Balancer(ELB), EC2
5
Introduction to AWS Relational Database Service
50
CSAA
RDS
6
Introduction to AWS DynamoDB
30
CDA
DynamoDB
7
Build Amazon VPC with Public and Private Subnets from Scratch
30
CSAA
VPC, Subnets
8
Creating New EC2 Instance using Snapshot
30
CSAA
CDA
EC2
9
Introduction to Amazon Auto Scaling
55
CSAA
Auto Scaling
10
Introduction to Amazon Lambda
30
CDA
Lambda, S3
11
Introduction to Amazon CloudFormation
30
CDA
CloudFormation
12
Introduction to Amazon Simple Storage Service (S3)
30
CSAA
CDA
S3
13
How to enable versioning Amazon S3
30
CSAA
CDA
S3
14
How to Create Virtual Private Cloud (VPC) with AWS CloudFormation
55
CDA
VPC, CloudFormation
15
How to Create a static website using Amazon S3
30
CSAA
CDA
S3
16
Build Your Own New WordPress Website Using AWS Console
60
CDA
EC2, WordPress, MySQL
17
Launch Amazon EC2 instance, Launch Amazon RDS Instance, Connecting RDS from EC2 Instance
60
CDA
EC2, RDS
18
Access and tour AWS console
15
CCP, CSAA
CDA
CSYSOPS
AWS
19
Creating AMI From EC2 Instance
30
CSAA, CSYSOPS
EC2
20
Migrating Database using DMS
75
CSAP
EC2, DMS, RDS
21
Introduction to IAM
20
CSAA, CSYSOPS, CDA
IAM, IAM Policy, IAM User, IAM Group
22
Create an amazon Aurora RDS Database(Mysql Compatible)
60
CSAA, CSYSOPS, CDA
Aurora
23
Creating and subscribing to SNS Topics
30
CSAA, CSYSOPS, CDA
SNS, S3
24
Using CloudWatch for Resource Monitoring, Create CloudWatch Alarms and Dashboards
45
CSAA, CSYSOPS, CDA
Cloudwatch, Alarms, Dashboard
25
Creating Events in Cloudwatch
30
CSAA, CSYSOPS, CDA
CloudWatch, Events
Note : CSAA – Certified Solutions Architect Associate, CDA – Certified Developer Associate, CSYSOPS – Certified SysOps Administrator Associate
Final Words
So, here we have explained the step-by-step guide for using hands-on labs on Whizlabs Platform. We're also about to launch Azure labs and Google Cloud labs soon. Furthermore, the clear description of accessing these labs and the remuneration scheme in the form of points will you a lot to have real-time experience with the AWS platform.
The highlights of each step for using a particular lab on Whizlabs will make it easy for you to access the Whizlabs hands-on labs. The importance of Whizlabs labs lies in the fact that when you gain hands-on experience, you become more confident to answer the questions in a certification exam. 
As we gear up for the launch more labs for AWS/Azure/Google Cloud Certification exams, the opportunities for candidates will be manifold.