This blog post will take you through everything you need to know about Certified Ethical Hacker Certification. You will discover what to expect from this course, who should and why to take this exam, an overview of the exam, prerequisites, domains covered, and what resources to refer to. Let's dive in! 
Certified Ethical Hacker certification is the first step of the three series of comprehensive courses. The other two are ECSA and APT, which will teach you penetration testing. CEH mainly focuses on specialty areas under the NIST/NICE's framework of Protect and Defend job profile. 
In fact, the CEH course is the most extensive ethical hacking certification that will help you know pin to pie about hacking. By becoming CEH certified, you will be eligible to systematically inspect network ecosystems and discover security bottlenecks to exploit your environment. At the end of the course, you will learn how to assess the state of security in infrastructure and determine if there's any scope for unauthorized access.
What's all with the buzzword 'ethical hacking'?
What is the first thing that comes to your mind when you hear "ethical hacker?" Is it a negative expression to say that someone would steal your data? The phrase might sound like an oxymoron, but the label means someone who is supposed to protect your device and personal information and fight "unethical" hacking. The term was coined by the International Council of E-commerce Consultants (EC-Council).
So, to create brains that would function like hackers in times of crisis, the Council introduced the Certified Ethical Hacker (CEH) Certification. The certificate makes professionals capable of applying hacking knowledge and methodology authentically and lawfully.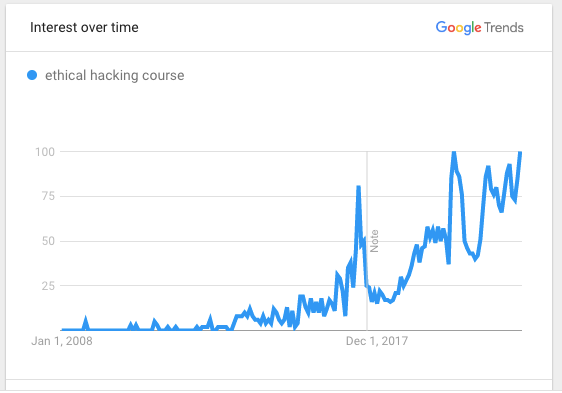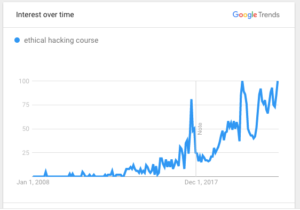 Interestingly, with the advent of new tech concepts and methodologies, the risk of breaking down a network wall is also increasing. There is a constant fear of someone in the crowd barging through the walls and corrupting your infrastructure. Interestingly, if you are an IT professional with the right mindset and considering the CEH certification, you can open your doors to a remuneration that is as high as USD 83000. Not kidding!
What will you learn from the CEH exam?
The Certified Ethical Hacker gives you detailed knowledge of the phases of ethical hacking, attack vectors, and countermeasures to help you prevent crises. You will learn how to put yourself in the shoes of a hacker and act like one. The course helps you build your own network fort and protect it from attackers. Apart from this, here's a list of benefits you get by appearing for the Certified Ethical Hacker certification.
You will develop the brain and characteristics of a hacker but with the right mindset. 

Appearing for CEH certification will help you enter the brains of a cyber attacker and get well-versed with their techniques. You also develop skills and aptitude that further aid you in becoming proactive and dealing with protection issues and be prepared for anything and everything the unethical hackers throw at you.

Get familiar with the Advanced Information Security pathway and consider it as a career option. 

The CEH certification teaches you the fundamentals of network security and makes it crystal clear, which will further help you explore and expand your career gateways and update your portfolio.

You have risks, threats, vulnerabilities, solutions, and tricks at your fingertips.

Technology and threats are directly proportional to each other. The more advanced the network infrastructure gets, the more privacy attacks and information theft will increase manifold.

Interestingly, cybercriminals are the most updated and skilled people in society. They are always up to date and aware of the latest technology developments and immediately upskill themselves. The Certified Ethical Hacker certification makes you equally skilled and capable of sensing attacks and troubleshooting loopholes.
Who can take the CEH exam?
The critical element of the Certified Ethical Hacker exam is to develop a mindset. You will act as a hacker but behave lawfully. You will learn to keep the tricks up your sleeve to protect your network ecosystem but not leverage them for your own benefit. Other than this, like every other certification course, this also has a particular target audience. Are you someone who holds the title of?:
InfoSec Administrator or Analyst

InfoSec Officer

InfoSec Manager

Information Security Engineer

IT Auditor

Risk/Threat Analyst

System/Network Administrator

Network Engineer
This certification is just the right place for you! Along with this, are you considering the following fields as your career options?:
Cybersecurity Audit

IT Security Administration

Systems Security Administration

Cyber defense Assessment

White hat hacking

Security Consultant

Penetration Engineer

Solutions Architect

Security Compliance
This CEH certification is all that you need!
Why you should take the CEH exam?
Apart from the fact that ethical hacking and penetration testing are the hot profiles in almost every industry, be it IT or fintech, ethical hacking is gradually becoming a mandatory skill set for every individual. It also upgrades your resume in the security career. You get to master every aspect of hacking, cybercrime, and cybersecurity. Additionally, you should consider CEH certification as an option because:
CEH is the only globally recognized course that provides expertise in all five phases of ethical hacking and teaches all the indicators used to identify vulnerabilities.
The course of CEH matches with industry frameworks issued by the Department of Homeland Security and the Office of the Director of National Intelligence.
You will get practical exposure to network assessments that are being built and currently undergoing penetration testing.
It will be a stepping stone if you are considering a career in the DoD (Department of Defence) as it requires Information Assurance professionals to handle delicate data and network security.
As a certified hacker, you will learn everything about:
       1. Protecting systems and information
       2. Troubleshoot other hacking threats
       3. Control network assessments
       4. Build and give security awareness
Last but not the least, ethical hacking is the most demanding job today. CEH certification will not only increase your remuneration bar but also provide job security. You can also attempt the practice tests which have Certified Ethical Hacker exam questions and answers.  
Format of CEH exam
The duration of the Certified Ethical Hacker exam is 240 minutes or 4 hours, and it is a computerized test. The exam would contain 125 multiple-choice questions. Passing marks is 70%. The validity of the exam is for three years and would cost USD 100. No prior certification is required, but you would need to have a basic knowledge of network security and infrastructure.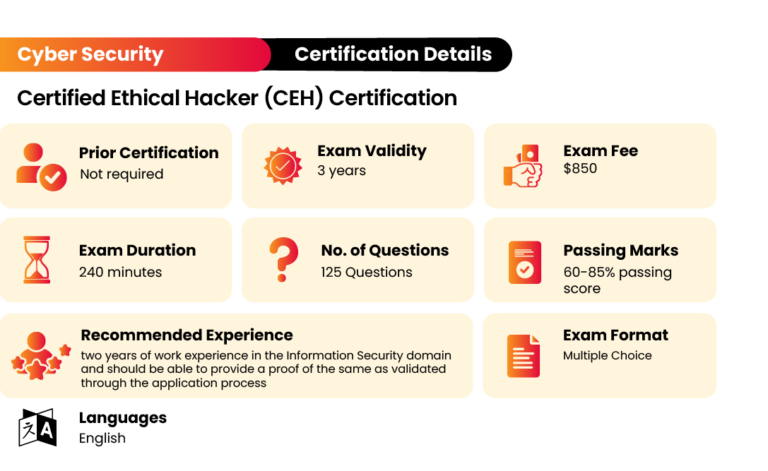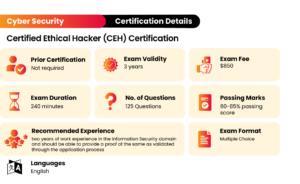 Requirements for CEH exam
The good news here is that there are no dealbreaker requirements to appear for this exam. But still, there are quite a lot of factors you should consider before you jump on the look. If you are attending any official CEH training or learning program or if you decide against any training program.

If you are considering any official training, it should be with an approved trainer. Once you enroll yourself in a course provided by recognized and authentic trainers, there are no further exam requirements to fulfill.

However, if you want to appear for the exam without any official training, then there's one eligibility you will have to be mindful of. Candidates without official training must have two years of experience working in the Information Security division.

While the latter is a hard and fast rule, you will always have time to upgrade yourself and get hands-on experience while you start preparing for the exam.
Domains Covered in the CEH Exam
The Certified Ethical Hacker certification exam is divided into nine domains. Each domain will consist of at least two and a maximum of ten questions, which will cover all the subdomains.
    1. Data security and an overview of ethical hacking (6%): In this domain, you will dive deeper into the fundamentals of ethical hacking.
    2. Techniques of Reconnaissance (21%): In this domain, you will learn about scanning networks and tools, enumeration, and Countermeasures. 
    3. Phases of System Hacking and Techniques of Attack (17%): In this domain, you will learn about hacking a system and Malware attacks. 
    4. Hacking Network and Perimeter (14%): This domain includes sniffing techniques, Identifying DoS attacks, and Evading firewalls. 
    5. Techniques for Hacking Web Apps (16%): In this domain, you dive deeper into hacking web servers, apps, and SQL attack techniques. 
    6. Wireless Network Hacking (6%): This domain is mainly about hacking wireless networks and everything about wireless encryption.
    7. Hacking Techniques for Mobile Platform, IoT, and OT (8%): This domain includes how to hack mobile platforms and IoT hacking. 
    8. Cloud Computing (6%): You will learn about cloud computing and container technologies in detail.
    9. Cryptography (6%): This domain will teach you everything about Public Key Infrastructure (PKI) and cryptographic ciphers.
Resources you can refer to for the CEH exam preparation:
There are myriad pathways and resources that will help you become invincible in the ethical hacker journey. For starters, you can always refer to the EC-Council website. You will discover innumerable courses, training, guides, whitepapers, blogs, videos, and everything. It also offers free assessments and practice papers, which help you analyze your familiarity with the concepts.
Secondly, boot-camp-style courses will also help you learn the concepts and fundamentals of the CEH certification domains.
Also, to make your life stress-free, EC-Council has recently announced that it will collaborate with Nuformat Partner and soon launch instructor-led video training courses, just like Azure and Microsoft certifications. Instructor-led training courses are an excellent way to learn about industry trends and requirements from industry experts. So maybe we can all keep our fingers crossed and hope that they come up with this initiative before appearing for your CEH exam.
Lastly, especially for the Certified Ethical Hacker Certification exam, you will find numerous books and guides. CEH v10 Certified Ethical Hacker Study Guide 1st Edition is one of the book guides you can refer to. 
Summary 
Being a Certified Ethical Hacker is the best way to set yourself apart from the crowd, as you will upgrade yourself with the skills that the industry as a whole and society need right now. And clearly, the demand for white hat hackers is bypassing the supply. So there's a huge institutional gap, leading to a good scope for flourishing as an ethical hacker and streamlining your career.
But wait! Before you jump to the benefits, you need to prepare yourself by getting strategic foresight into information security and having tricks up your sleeves. Whizlabs offers a complete training, study materials, and practice assessments to help you ace the ethical hacking game.
So, kickstart your journey of being a Certified Ethical Hacker and help your people protect their fort.