If you're looking to certify your skills in Microsoft Dynamics 365 Fundamentals (CRM) career, look no further than the MB-910 certification exam. This exam is designed to test your knowledge and mastery of the CRM functionality within Dynamics 365. 
This blog talks about how MB-910 certification can become the right stepping stone in your career. In order to pass the MB-910 certification exam, it's important to be well-prepared. This preparation guide will provide you with all the information you need to know to pass the MB-910 exam. 
You will learn more about why this certification is necessary, detailed syllabus, and materials for preparation. 
Let's dive in. 
What is Microsoft Dynamics 365 Fundamentals (CRM) Certification Exam?
MB-910: Microsoft Dynamics 365 Fundamentals (CRM) Certification is a beginner-level program. It will help you conquer customer engagement bottlenecks and enhance customer relationships using Dynamics 365 solutions and tools. 
You will gain a deeper understanding of Dynamics 365 tools. If you are a tech-savy professional familiar with core business functions like marketing and sales, this is the right step to enhance your skill track. MB-910 exam will test your ability to work with: 
Dynamic 365 Marketing

Dynamic 365 Customer Services

Dynamic 365 Field Service

Dynamic 365 Sales

Dynamic 365 Project Operations
Demand for MB-910:
Microsoft Dynamics 365 Fundamentals (CRM) Certification
Below image shows the recent demand for the Microsoft Dynamics 365: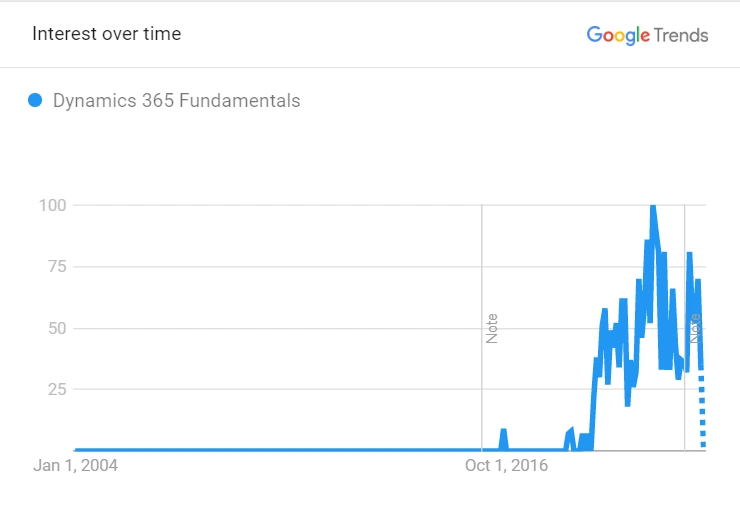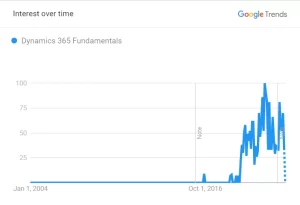 Latest Update:
Note: The MB-910 and MB-920 is the new version of MB-901 exam where it got expired on June 30, 2021.
What will you learn from the Microsoft Dynamics 365 Fundamentals (CRM) certification?
Prepping for the MB-910 exam gives you a comprehensive view of Dynamics 365 offerings. You will learn how to level customer engagement using Dynamics 365 and develop solutions to remove customer relationship bottlenecks. Apart from this, by completing this course, you will learn the functionalities and capabilities for: 
You will dive into orchestrating real-time journeys, designing seamless customer experiences across all channels, and simplifying customer journeys. 
Learn to leverage this tool to propel sales from leads, implement best practices, and automate and forecast sales. 
Dynamic 365 Customer Service
Delve into implementing non-conventional self-service techniques, providing access to knowledge bases to your customers, and keeping portals and communities active for customers. 
Dynamic 365 Field Service
Gain in-depth knowledge on leveraging this tool to personalize customer experiences, fuel productivity, and deliver services proactively and efficiently. 
Who should take the MB-910 certification exam? 
The best part of the MB-910 exam is that anyone with business sales and marketing skills with basic tech knowledge can take this certification. There is no limitation to the qualifications required. You can apply for MB-910 exam if you are involved in:
Finance

Sales

Marketing

Accounting

Management

Consultant

Decision making

End user of Microsoft Dynamics 365

Business owners

Business stakeholders

Customer engagement and service

Commerce and Supply Chain
Along with this, this certification can be a great fit if you wish to: 
Understand the core elements of Dynamics 365 CRM applications

Validate your mastery of Microsoft Dynamics 365 skills

Sharpen your knowledge of business operations

Define and level up customer engagement capabilities
Also Read: MS-900: Microsoft 365 Fundamentals FREE Questions
Why should you go for the Microsoft Dynamics 365 Fundamentals (CRM) certification?
MB-910 certification offers uncountable benefits. The benefits include both professional advancement and business growth. You should consider this certification if you want to: 
Dig deeper and understand the Dynamics 365 customer relationship capabilities

Sharpen your customer management and operational skills

Validate your Dynamics 365 skills and take your credentials one level up

Get the Microsoft badge to your expertise


Additionally, getting Microsoft certified will open doors to myriad opportunities and widen your career avenues. You gain the skills to innovate and implement bespoke solutions that best suit your business needs and improve customer engagement by manifolds. 
Learning from Microsoft Dynamics 365 makes it easier for you and your team to customize and personalize customer journeys and ensure frictionless customer experiences across all channels and devices. 
By eliminating discontinuity, you automatically increase operational efficiency and boost revenues for your organization. 
Further, this certification will help you to add secret sauces to your credentials and accelerate your salary. Professionals with the Microsoft Dynamics 365 expertise badge can earn up to as high as $106,000 p.a. or around $54 per hour! 
Even beginners in the field can enjoy the silver lining and make a salary of up to $81,000 p.a. Nice motivation to kickstart your Dynamics 365 journey. Isn't it? 
Microsoft Certified: MB-910 exam overview
To gain the MB-910 certification no prior certification is required. However, you must be familiar with the principles of customer engagement and relationship and business operations.
Here in the below image shows the MB-910 exam duration, number of questions, passing score, etc..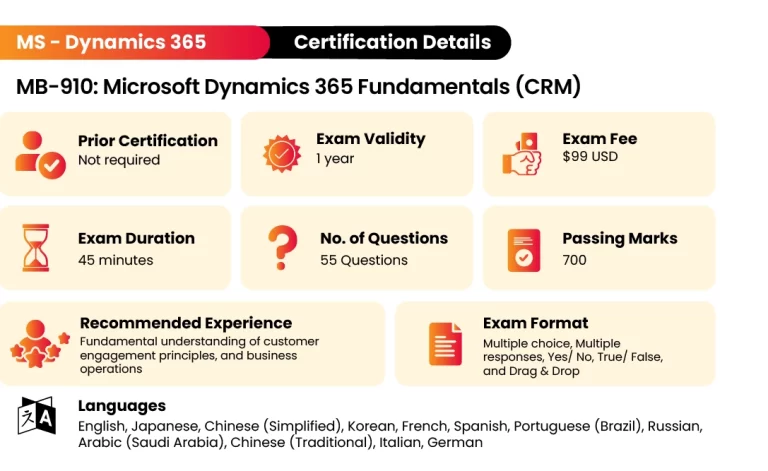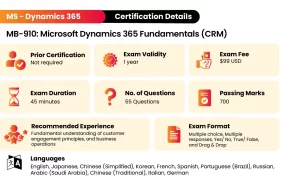 Prerequisites for MB-910 exam
There are no specific requirements to attempt the MB-910 certification exam. However, experts recommend you be well versed in the principles of customer engagement, general computer skills, and business processes. If you are a beginner, getting familiar with cloud computing can be an added advantage.


It would also be beneficial if you have basic knowledge of automating sales processes, understand marketing capabilities, and know support and service lifecycles. 
MB-910 certification exam domains
MB-910 certification includes five domains. Here's a quick view of the detailed exam syllabus:
Demonstrate Dynamics 365 Marketing (15-20%):
– Identifying capabilities of Dynamics 365 Marketing
– Define Dynamics 365 customer voice 
– Define Dynamics 365 Customer insights along with engagement and audience insights
Demonstrate Dynamics 365 Sales (15-20%):
– Identifying capabilities of Dynamics 365 Sales
– Define Dynamics 365 sales insights
– Define Dynamics 365 LinkedIn Sales Navigator
Demonstrate Dynamics 365 Customer Service (15-20%):
– Identifying components of Dynamics 365 Customer service
– Define case lifecycle
– Define managing work using queues
Demonstrate Dynamics 365 Fields Service (15-20%):
– Identifying and defining work orders
– Define the capabilities of the Inspection feature
– Define capabilities for scheduling
Demonstrate Shared Features (20-25%):
– Identifying features of common user engagement
– Define built-in capabilities for reporting
– Using Power BI to analyze data
As you can see, four domains carry precisely the same weightage in the exam. At the top of the pyramid comes Demonstrating Shared Features, carrying 20-25% of the exam weight. Rest all the four domains, viz., Demonstrating Dynamics 365 Marketing, Sales, Customer services and Field Services, cover 15-20% marks each. 
Though, don't miss anything or leave it to fate since these are the way to build your foundation for Power Platforms. Acing them is extremely necessary as you won't be able to advance your profile if you don't understand these fundamentals. 
Study materials to refer to for MB-910 exam
You do not need to lurk aimlessly on the internet to prepare for the MB-910 exam. Microsoft covers it with learning paths, online tutorials, hands-on labs, practice papers, and more. To begin with, Microsoft's learning paths will walk you through all the Dynamics 365 applications and services. It includes five tracks:
Examining core elements of Microsoft Dynamics 365 customer engagement applications

Understanding the basics of Dynamics 365 Marketing

Understanding the basics of Dynamics 365 Sales

Understanding the basics of Dynamics 365 Field service

Understanding the basics of Dynamics 365 Customer service
Second, the paid instructor-led videos are an appropriate way to develop a holistic approach to Dynamics 365 capabilities and delve into the customer engagement approaches. MB-910T00: Microsoft Dynamics 365 Fundamentals (CRM) will guide you through various aspects of customer relationship management and Dynamics 365 applications in detail. 
Third, once you finish with the theoretical study guides and tutorials, you can proceed to attempt practice papers. You will discover numerous exam question dumps published by many institutes. But it is better to start with Microsoft's sample questions.
After you are satisfied with the sample paper results, take the mock test offered by Microsoft's exam sandbox.  The mock exams are nuanced. They offer the actual exam environment, enabling you to assess your performance.
Fourth, if you wish to get hands-on Dynamics 365 applications and CRM capabilities, Github's hands-on labs for MB-910 are a good place to start.
Moreover, Microsoft video courses also involve hands-on labs to help you better understand customer engagement capabilities. You can also check out Microsoft's Learn Community, a forum where you can interact with professionals and experts and clarify doubts. 
How to start preparing for the MB-910 exam? 
Despite a detailed and broad syllabus, it's not hard to ace the MB-910 exam. You can easily win the game with resources in place and a systematic prep plan. Still, if you feel overwhelmed by so many resources and learning paths, here's a quick prep plan to make it easier for you: 
Download the MB-910 study guide and understand the domains and exam structure first.

Go through all the domains in the learning path thoroughly. Watch the tutorials and get the Dynamics 365 app features at your fingertips. 

Gain practical exposure to the Dynamics 365 apps. Be familiar with how they behave in the real world and how to troubleshoot bottlenecks. Practical skills help frame concrete perceptions, and acing theory exams becomes a breeze. 

Complete the practice papers and mock exams. Do a SWOT analysis, fix the weaknesses, and attempt again. When you think errors are minimal, take the actual exam. 
Customers can make or break a business. Any friction in their journey, complicated customer experience, or difficulties in escalating across channels is a deal breaker. A business has no choice but to look for solutions that can help them solve these pitfalls and develop a meaningful relationship with their customers.
Besides, acquiring customers is a far more expensive process than retaining customers. Without a proper customer relationship management resource, achieving this feat is near impossible.
Therefore, the only way out is to be a pro at handling CRM tools like Dynamics 365 and understand the pin-to-pie of such systems. 
Again, if you want to leverage this scope and attract organizations to your credentials, the MB-910 certification is the only gateway. Microsoft's badge highlights your abilities and makes you a valuable asset to a company. You not only influence your credibility but also gain a competitive edge over your peers. If done right, you will get a maximum return on this investment.
Final Word
However, to ace and gamify the entire process on MB-910, you would need reliable resources and a training path that can help you smoothly navigate your prep track. We at Whizlabs offer an MB-910 training to guide you throughout. 
Unlock unlimited benefits with our full-length mock exams, situation-based practice tests, detailed explanations for every answer, and updated study material. 
Whizlabs have Hands-on labs that will guide you through actual real-time experiences in live cloud environments to prepare for your certification.
Please feel free to share your valuable feedback and we would very much welcome it 🙂