Microsoft is committed to helping you grow your career with a variety of learning options. Looking at things from a high level, the Microsoft Power BI Data Analyst certification validates your knowledge and skills in data analysis in the context of Power BI.
This certification will not only help you stand out from the crowd but also increase your operation efficiency manifold by teaching you the skills to increase data assets value.
So this blog will walk you through the nitty-gritty of the PL-300 exam: what it is, who is eligible, the exam overview, benefits, and a lot more.
 Let's dive in.
What is Microsoft Power BI Data Analyst Certification? 
Microsoft Power BI Data Analyst Certification is a professional certification that validates your skills in data analysis using Microsoft Power BI tools. The certification exam covers topics such as data wrangling, data visualization, and report development.
Interestingly, the Power BI tool, introduced by Microsoft, is one solution that teaches and helps you draw relevant managerial information from vast amounts of data and leverages intelligence. Power BI offers myriad features like visual analytics, data visualization, and dashboards. 
By knowing how to operate with Power BI, you help a business not only scale but also eliminate risks like data breaches and malware threats. Power BI gives you complete control over the inflow and outflow of critical business information and provides transparency for real-time data-driven decision-making. 
Conversely, all this will become an elephantine task if you are unfamiliar with Power BI. That's where PL-300 certification comes into play. 
PL-300 is basically the next step on the ladder after Microsoft Certified: Power BI Data Analyst Associate. As a certified Power BI data analyst, you will deliver actionable foresight by using available data to the maximum extent and applying subject matter expertise. You will also: 
Partner with primary stakeholders for various verticals and identify business needs 

Cleanse and transform data to enhance mission-critical and data-driven decisions

Use Power BI to develop and design data models.

Ensure easy-to-decipher data visualizations to provide meaningful business value

Enable your team to perform data analytics efficiently

Configure and implement solutions for data consumption
However, before applying for this exam, you need to have a deeper understanding of Power Query and know how to use DAX to write expressions.  
Demand for Power BI Skills
Below image in google trends shows you that how a Power BI platform has trending in growth: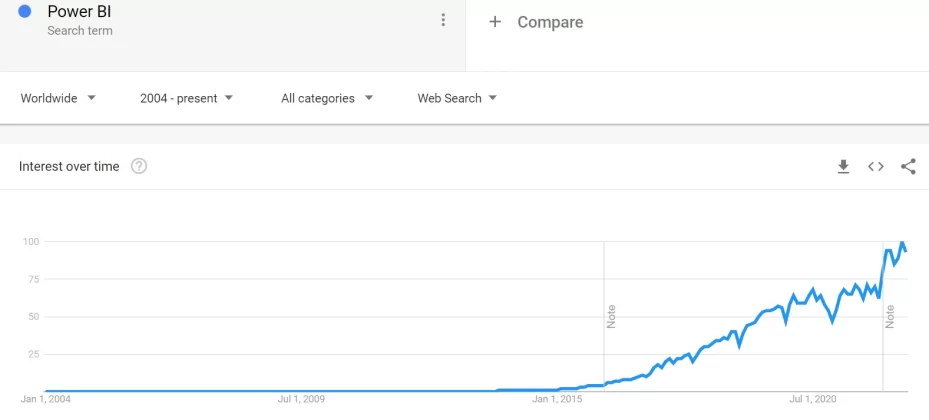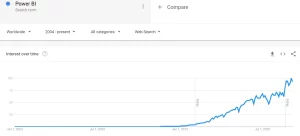 Latest updates:
In this section you will have the latest updates about the PL-300 certification.
Earlier this certification name was referred to as DA-100: Analyzing Data with Microsoft Power BI, which is set to  expire on 31st March 2022. Both these exams cover the same topics, concepts and knowledge domains and only names have been updated.
What will you learn from the PL-300 Certification? 
The PL-300 certification teaches you everything about Power BI. In other words, you become a pro in working with Power BI and give a boost to your data analysis skills. The exclusive features of Power BI make it a unique tool and help you scale your business performance. 
You learn all the techniques to build efficient data models and leverage business info to the full extent. Along with this, you will also learn: 
Modeling data in Power BI:

This covers connecting Power BI to various data sources and using them to create reports. You will find out how to define relationships between data sources. 

Visualizing data in Power BI:

This includes finding when and where to use data visualization and which one to use while solving problems. Also, you will discover using report navigation to deliver potential data-driven scenarios in an engaging manner in Power BI. This further includes details of report formatting and report design. 

How to analyze data in Power BI: 

In this, you will learn about examining your data, and Power BI reports to dig up meaningful value through in-depth analysis. It will also involve sorting and exporting data from Power BI, obtaining a statistical summary, and coherently presenting the same. 
Who should take the Microsoft Power BI Data Analyst Certification Exam? 
Are you a data analyst, developer associate, or business user, wishing to advance in Power BI avenues? Then this is the appropriate certification for you. Again, if you are someone keen to test their abilities in Power BI, PL-300 could be an excellent pick. Apart from this, to be perfectly eligible for the PL-300 exam, you must be able to: 
Deliver actionable foresight by deploying domain expertise. 

Collaborate with relevant stakeholders across verticals to identify business needs.

Use Power BI to clean, modify, design, and develop data.

Develop understandable and decipherable data visualizations to ensure meaningful firm value.

Implement and configure Power BI solutions and tools.
Why should you consider Microsoft Power BI Data Analyst Certification Exam? 
Is the PL-300 certification exam worth your time? Yes, it is. We know that Microsoft-certified professionals enjoy increased preference in jobs. And that businesses are increasingly searching for analysts proficient in Power BI. 
But here are a few more facts to prove why you should go for the PL-300 exam: 
After earning Microsoft certifications, 23% of data science professionals enjoyed a 20% hike in remuneration. 

If you are a Microsoft Power BI certified data analyst, you will earn a salary of $91,000 p.a. Also, with a little more intense practical exposure, you can make it up to as high as $134,000. 

Earning PL-300 certifications helps validate your Power BI expertise and skills, making you a valuable asset to the company. You get complete control over the data flow within the business while leveraging it to maximize profit margins. 

Data analysts are awaiting a surprise! You can expect a massive boost in job opportunities in the coming year as the global business intelligence market size expands incredibly. 

By completing this one certification, you unlock countless career scopes. As a Microsoft-certified Power BI data analyst, you can become a Power BI Business Analyst, Senior Business Intelligence analyst, Power BI developer, etc. 
Microsoft Certified: PL-300 Exam Overview
The PL-300: Microsoft Power BI Data Analyst exam Overview as follows: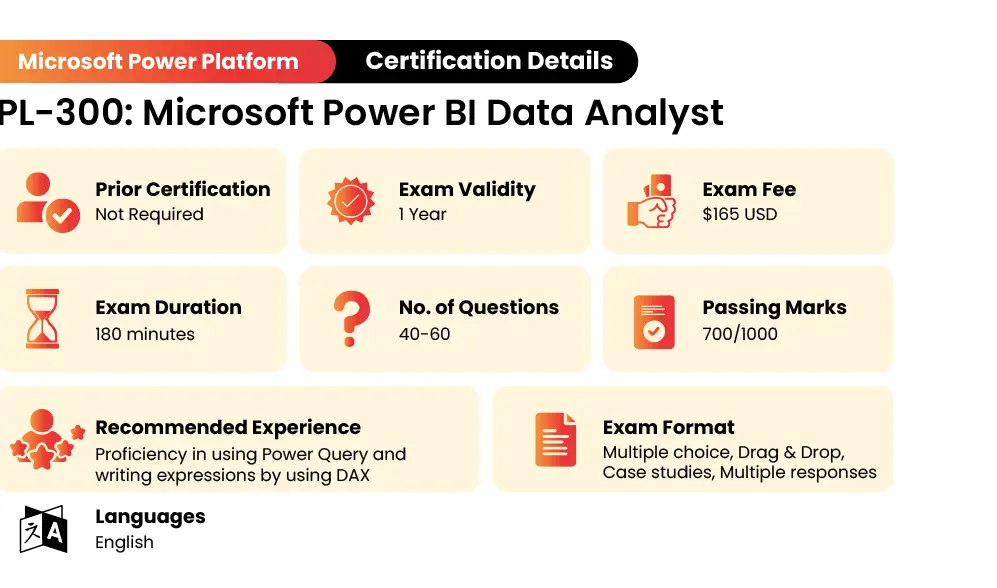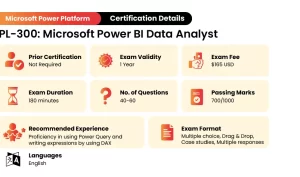 No prior certification is required, but you must be familiar with Power Query and using DAX to write expressions. 
Prerequisites for PL-300 exam
There are no hard and fast prior requirements to attempt the Power BI data analyst exams. However, it's preferable if you get hands-on with the following:
Using Power Query

How to use DAX to write expressions

Fundamentals of data processing 

How to use data repositories in on-premise and cloud infrastructures
Besides, qualifying for the Microsoft Certified: Power BI Data Analyst Associate exam might significantly help in getting into the crux of Power BI and understanding Power BI best practices.  
Domains covered in PL-300 exam
This certification exam covers four domains. Here is a sneak peek of the percentage weightage for all subjects and the subtopics they cover: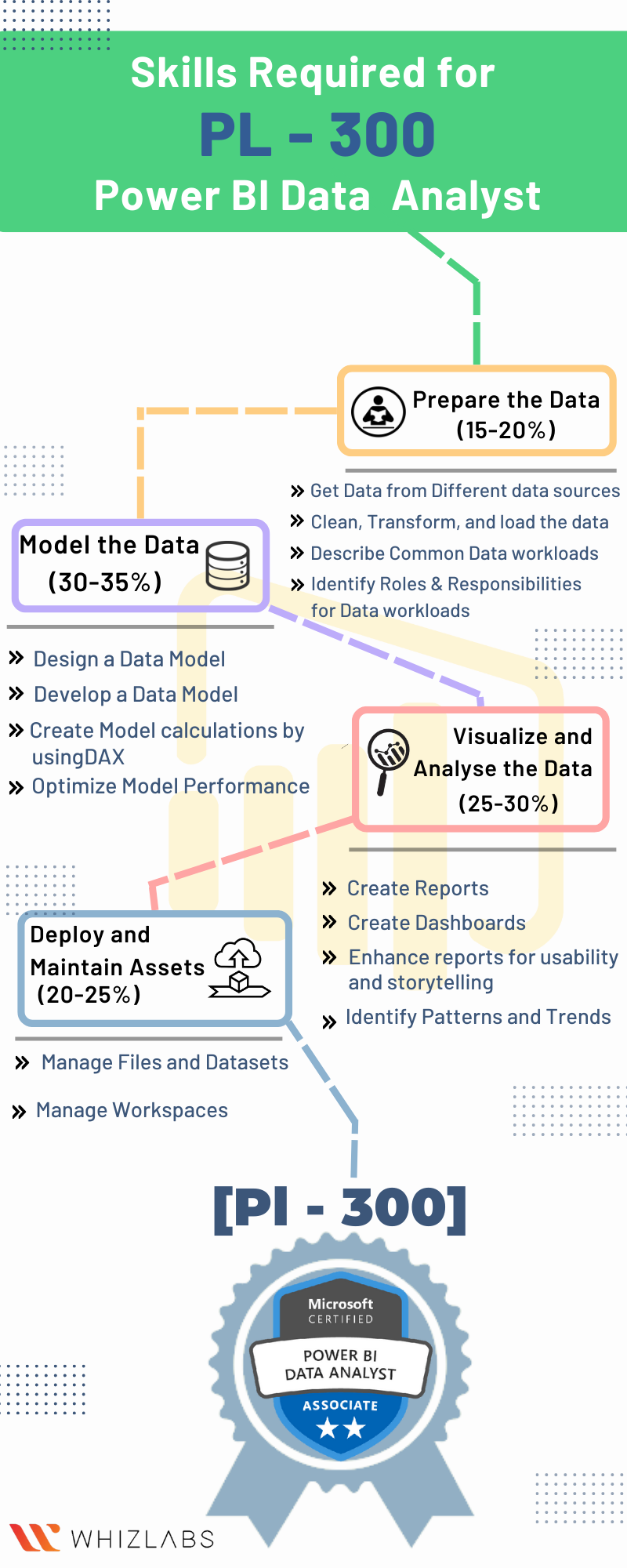 How to prepare data (15-20%):
– How to get data from different sources of information
– How to clean, modify and load the data
Various methods of data modelling (30-35%)
– How to design a data model
– How to create a data model
– How to use DAX to develop model calculations
– Model performance optimization
Analyzing and visualizing data (25-30%)
– How to design and develop reports
– How to create dashboards
– How to ensure nuanced storytelling by enhancing data reports and presentations
– How to recognize trends and patterns
Ways to implement and maintain assets (20-25%)
– How to handle datasets and files
– How to handle workspaces
As you can see, each domain carries a significant weightage in the exam. But don't take the chance of missing anything since all these concepts are fundamentals of data analysis and will help you in the long run. 
To begin with, at the top of the pyramid comes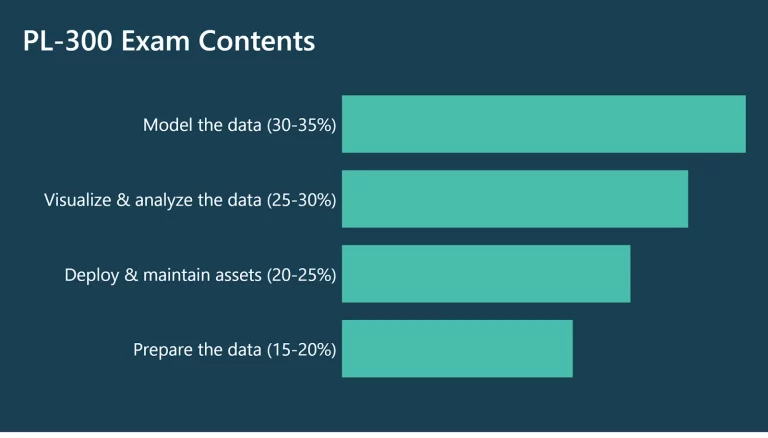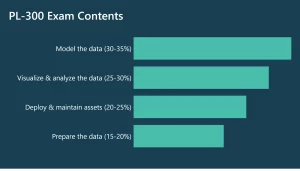 'Methods of Data Modeling', carrying 30-35% of the exam weight. 

Second comes 'Analyzing and Visualizing Data,' carrying 25-30% of total marks. 

Next on the ladder is 'Implementing and Maintaining Assets', with 20-25% of the marks. 

Lastly, you have 'Preparing the Data' at the bottom of the funnel. It weighs in at 15-20% of the exam.  
Also Read: 25 Free Questions – Microsoft Power BI (PL-300)/DA-100 Certification
Study material to refer for Microsoft Power BI Data Analyst exam
Microsoft offers ample study materials, videos, and practice tests. You will find learning paths and paid instructor-led training programs to discover more about the PL-300 syllabus. Beginning with the Microsoft learning paths and study guides, this includes:
Fundamentals of Microsoft data analytics

Preparing data to conduct analysis

Data modelling in Power BI

Data visualization in Power BI

Analyzing data in Power BI

Handle datasets and workspaces in Power BI
Second, Microsoft's instructor-led training videos: PL300T00 Microsoft Power BI Data Analyst is one of the best ways to dive deeper into Power BI concepts. This video course is three days long and teaches you how to process and access data from various sources. Also, Microsoft offers PL-300 exam prep videos to help you understand the exam domains and structure and set the right expectations for the exam. 
Third, you will find countless practice tests to help you assess your skills and knowledge. There are both free and paid practice papers on the internet from various institutes. Along with all this, you may try Microsoft's exam sandbox, which aims to provide an accurate feel of the PL-300 exams and guide you in self-assessment of your preparation. 
Fourth, Microsoft Power Apps documentation is an excellent resource if you want a 360-degree view of how power apps work and get an overall idea of practical avenues of Power BI data analysis. 
Lastly, for hands-on experience with Power BI tools, you can refer to the GitHub Power BI hands-on labs. It consists of myriad open source projects to give maximum practical exposure. Interestingly, in addition to all these resources, Microsoft has recently introduced Microsoft Learn Community, a forum where you can interact with professionals and experts and clarify doubts. 
Watch Video : Getting started with Power BI webinar
How to prepare for the PL-300 certification exam?
Amid uncountable resources, such as guides, blogs, videos, documents, and what not, you may have a hard time setting your learning path. So here are a few quick steps to get you started: 
Identify the main elements of the PL-300 exam. Download Microsoft's study guide, go through it carefully, and then start delving into the domains. 

Find out the list of preferences for the certification. While you prepare for the theory exams, start working on your Power Query and DAX skills. 

Once you complete the theory preparation, go for practice tests and sample papers. Self-assess your weak spots and relearn and bridge the gaps. 

This can be in continuation with Steps 2 and 3 as well. Go for hands-on Power BI labs. Practical exposure not only helps in the long run but also allows you to apply and validate your overall knowledge. 

After mending your gaps, it's time for one final re-evaluation. Attempt the Microsoft exam sandbox and analyze your prep. Once you are satisfied with your scores, take the actual exam. 
Again, acing the Power BI game will depend on how well you leverage the available resources and set an appropriate learning path. 
Is a PL-300 Certification Worth It ?
The PL-300 certification carries significant importance as it validates your expertise in effectively utilizing Power BI for managing reports and dashboards. Additionally, it demonstrates your proficiency in content sharing and distribution, creating paginated reports, and publishing reports to a Power BI workspace. Moreover, obtaining this certification from Microsoft adds to your credibility in the market as it showcases your approval from the very company that developed Power BI.
The Microsoft PL-300 certification serves as concrete proof to potential employers that a candidate possesses a comprehensive understanding of the Microsoft Power Platform and can effectively develop tailored solutions that align with business needs. This certification is specifically designed for professionals such as functional consultants, solution designers, and technical architects who are involved in working with the Microsoft Power Platform.
Obtaining the PL-300 certification in Power BI can bring about numerous advantages, such as:
Provide tangible evidence of your proficiency and readiness for a job in the field
It showcases your value in a highly competitive job market, thus increasing your chances of securing career opportunities Additionally, this certification can open up a plethora of new career options, paving the way for career advancement and growth
Generally, becoming a Microsoft Power BI Data Analyst is the best way to gain the expertise and excel in your data analysis career. As a Power BI expert, you will lead the way to more profit numbers, performance optimization, and cost-effective and real-time strategies and be a valuable asset to the firm. 
Power BI is one of the strongest and unique data analysis tools that can make your life a breeze. By gaining hands-on experience with Power BI, you can solve half of the data-driven problems and help others streamline their day-to-day needs. 
To make the process seamless, we at Whizlabs offer many preparation resources like hands-on labs, cloud sandbox environment  to advance your preparations. We provide free practice and section tests to support assessing your preparation process.
We hope you enjoyed reading the article!! Comment us if you have any further doubts.