Are you looking to become a Microsoft Power Platform Solution Architect? If so, you'll need to pass the PL-600 certification exam. This exam is designed to test your knowledge and skills in designing and deploying Power Platform solutions.
So, this blog will walk you through everything you need to know about the PL 600 exam: what to expect from the certification, exam format and domains covered, materials to refer to, and more. 
Let's explore!
What is Microsoft Power Platform Solution Architect Certification?
Microsoft Power Platform Solution Architect Certificate is an industry-recognized credential that demonstrates your expertise in designing and building applications on the Microsoft Power Platform.
With this certification, you can showcase your ability to design and implement solutions that are scalable, reliable, and secure.
As a Power Platform solution architect, you would help businesses reduce deployment costs, design effective workflows, and allow your team to focus on increasing productivity. 
The best way to validate your Power platform skills is to be a Microsoft Certified Power Platform Solution Architect (PL 600). This certification will improve your Microsoft Power Platform and Dynamic 365 skills.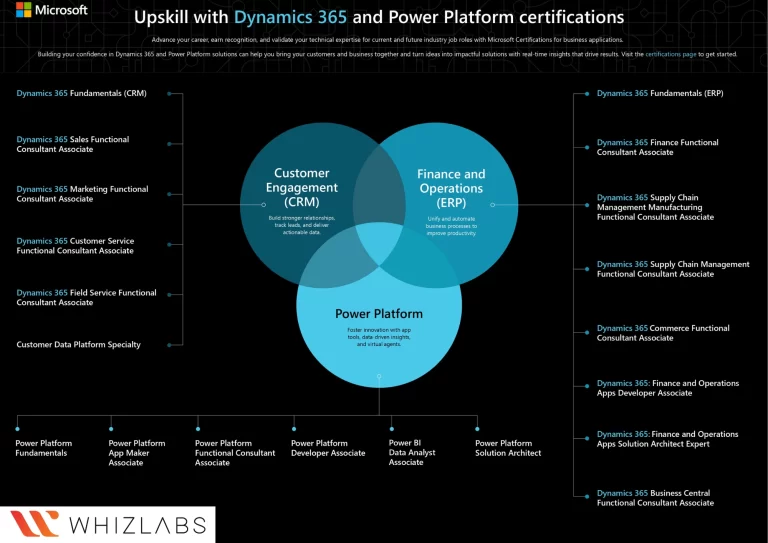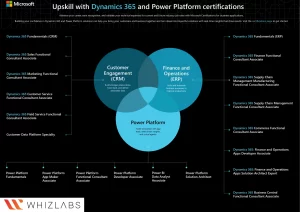 This certification is an advanced course and will validate your skills as a Power Platform Solution expert. It teaches you to lead successful deployments by creating solutions to get business and tech requirements in order. 
Watch Video: Everything you need to know about Microsoft Power platform
The certification will define your ability to perform mission-critical technical actions like: 
Envision solutions for complex business processes

Analyze business requirements.

Design and implement solutions that work efficiently on Dynamic 365

Implement and monitor tools to increase the value of customer investment

Enhance business hygiene and streamline growth trajectory.
What will you learn from Microsoft Power Platform Solution Architect Certification?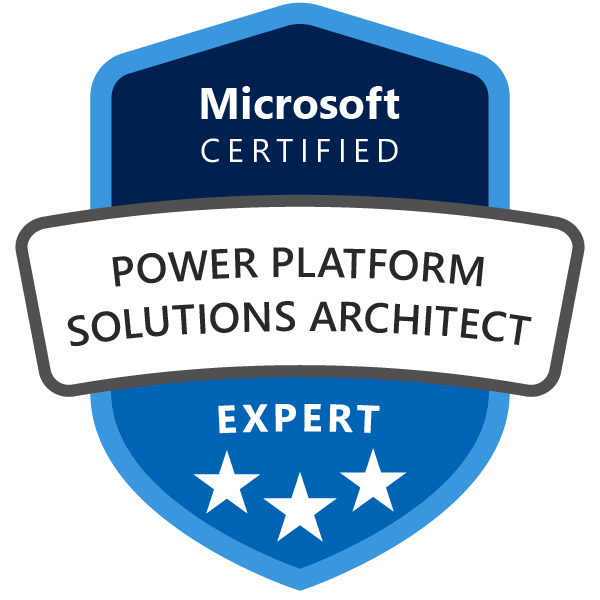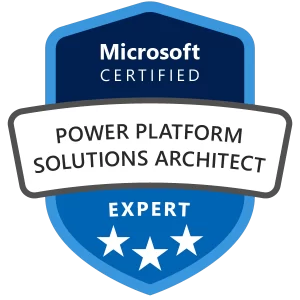 The PL-600 certification will help you dig deeper into Power Platform tools. You will learn how to collaborate with various stakeholders and design solutions that are the best fit for business and tech needs. 
You will also get to work and experiment with Power Platform hands-on projects, which will help you get familiar with real-world challenges. Apart from this, the certification will help you learn more about: 
Architecting, creating, and maintaining scalable Power Platform apps for the business.

Creating Microsoft cloud-based solutions to enable business objectives.

Enable digital transformation by transferring obsolete systems onto the Microsoft Power Platform.

Keep the infrastructure secure and free from security breaches or downtime.

Determine the risks that come with collaboration with third-party solutions or frameworks.

Automating manual tasks to improve operational efficiency

Make sharing critical data and workflows across Microsoft Power Platform seamless

Best practices, tricks, and techniques to handle apps in Power Platforms

Partner with third-party vendors and stakeholders to meet solution needs. 

Achieve buy-in from internal teams

Which external tools and solutions blend with your Power Platform solutions. 
Who should take the PL-600 exam? 
The Microsoft Power Platform Solution Architecture exam is the right career milestone if you are a: 
Developer

Functional consultant

Solution Architect
Besides, you would gain added advantages in acing the PL 600 exam if you are already certified as:
Microsoft Certified: Power Platform Functional Consultant Associate

Microsoft Certified: Power Platform Developer Associate

Apart from this, passing the exam might give you a hard time if you don't have technical and fundamental knowledge of Microsoft Power Platform and Dynamic 365. This means you need to have some years of hands-on experience working with Power Platform tools and Power apps. Along with this, you also need the abilities to:
Configure

Develop

Implement

Integrate

Microsoft Cloud avenues

Secure Infrastructure
Why should you take the PL-600 exam? 
The PL 600 certification allows you to unlock a myriad of benefits. It helps you gain a competitive edge and broadens your horizons and expertise as a solution architect. With the icing on the cake, you increase your value in the market by manifolds. 
Research says that solution architects can lock in a salary of as high as $99,000 p.a. The success of a business lies in the success of implementations and integrations and how efficiently it can address the technological requirements of the firm. Only a highly expert solution architect can satisfy the need. 
Moreover, the main advantage of gaining a Microsoft certification is that you open doors to countless job opportunities. You enhance your biodata while validating your solution architecture skills to potential employers. You have the Microsoft badge to approve your Power Platform capabilities, enabling you to own and manage critical projects. 
Microsoft Certified  PL-600 exam overview
The PL-600:Microsoft Power Solution Architect exam is a computerized test. There is no expiration for this certification. No prior certification is required.
However, you must be able to identify and solve complex business problems and have technical knowledge of Microsoft Power Platform and Dynamic 365. 

Prerequisites for PL-600 exam
There are no such prior requirements or conditions to appear for the Microsoft Power Platform Solution Architect exam. However, to get the badge and title, you have to pass these exam combination of PL-200 and PL-600 or PL-400 and PL-600.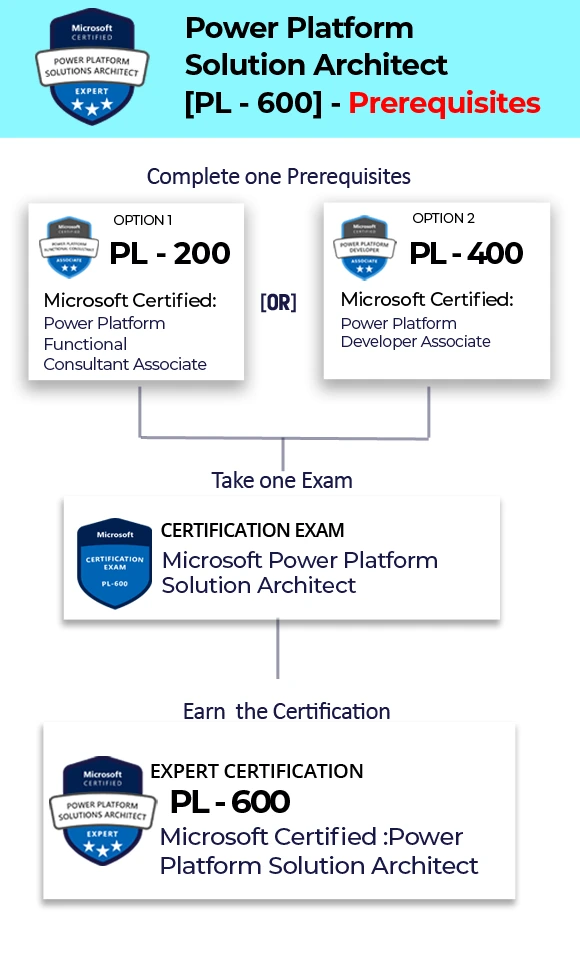 Although, Microsoft recommends you gain the following skills before you kickstart your solution architect journey:
Identify and solve complex business problems.

Functional knowledge of Dynamic 365 and Microsoft Power Platform

Manage Customer engagement apps

Hands-on with various Microsoft cloud solutions and tools

Other third-party solutions

Familiarity with technical and functional aspects of Microsoft Power Platform

Apply design strategies across deployment, implementations, integrations, configurations, security, environment, licensing, change management, and storage. 

Balance project requirements while handling non-functional and functional needs. 
Domains covered in PL-600 exam
This certification exam covers three domains. Here is a sneak peek of the percentage weightage for all subjects and the subtopics they cover: 
Envision solution and analyze requirement (35-40%):
– Assess business requirements
– Identify components of the Power Platform
– Recognize existing solutions, infrastructures, AppSource apps, and third-party service vendors
– Assess migration needs
– Analyze business data and metrics
– Assess high-level and complex business workflows
– Identify areas that require automation
– Analyze risk factors of business
– Recognize functional and non-functional requirements
Solution architecture (40-45%)
– Create solution topologies
– Customize existing apps 
– Create UX prototypes for solutions
– Find opportunities to reuse components
– Create ALM processes
– Design strategy to migrate data
– Build a strategy for data visualization
– Leverage Power Automate by creating automation strategies
– Create an integration and security model
Implementing solutions (15-20%)
– Analyze deployments and designs
– Enhance ecosystem security
– Ensure API limits are adhered to
– Solve automation bottlenecks
– Solve integration pitfalls
As you can see, each domain carries a significant weightage in the exam. But don't take the chance of missing anything since all these concepts are fundamentals of data analysis and will help you in the long run.
| | |
| --- | --- |
| Domain | % Weight |
| Perform solution envisioning and requirement analyses | 35-40% |
| Architect a solution | 40-45% |
| Implement the solution | 15-20% |
Study
materials to refer for PL-600 exam: Microsoft Power Platform Solution Architect
The best thing about the PL 600 exam is that you get everything you need from the Microsoft Portal. Microsoft's learning path is often enough to start preparing for the PL 600 exam. You will find study guides, instructor-led videos, and practice papers. 
To begin with, Microsoft's online learning paths include two short courses:
Architecture Solution for Dynamic 365 and Microsoft Power Platform: covers project phases like pre-sales and analysis like fit/gap.

Designing solutions for Microsoft Power Platform

: covers technical and functional skills required for Microsoft Power Platform.
Second, instructor-led paid video training courses can play a vital role in giving an edge to your preparation. 
PL-600T00: Microsoft Power Platform Solution Architect is an advanced course that captures the roles and responsibilities of a solution architect in terms of ensuring security, efficient integrations, configurations, Power Automate and Power Apps architecture, and more. 
Third, practice papers launched by Microsoft replicate the actual environment of the certification exam and help you assess your overall theoretical preparation. PL-600: Microsoft Power Platform Solution Architect Microsoft Official Practice Test covers simulations based on performance, detailed explanations of answers, instantaneous nuanced evaluation, and scores. 
Fourth, if you want practical exposure and work with Microsoft Power Platform, Github's hands-on labs for PL 600 are a good place to start. You can apply and test your theoretical knowledge and get familiar with real-world scenarios. 
Lastly, you can always refer to books to dive deeper into the Microsoft Power Platform and Dynamic 365 concepts. Microsoft Power Platform Enterprise Architecture is one of them. The book captures various Microsoft cloud components and best practices for designing workflows for complex enterprise processes.
Additionally, Microsoft has recently introduced Microsoft Learn Community, a forum where you can interact with professionals and experts and clarify doubts. 
Do you know, according to research, with the help of Power Platforms, you can save upto 3.2 worker hours in a week? And that, with Power Platforms, you can also save deployment costs by 74%? Interesting, isn't it? 
However, businesses can't do any of these things if they don't have a Power Platform solution architect who has the subject matter expertise and is also highly proficient in handling Microsoft Power Platform tools. 
If you want to make the best out of the opportunities, getting Microsoft certified: Power Platform Solution Architect badge is necessary. You would need to ace the PL 600 exam and delve into all the Microsoft resources by heart. 
Summary
Microsoft's Power Platform is becoming the next big thing for all industries and businesses. Microsoft Power Platforms not enable you to analyze and visualize data and workflows but also allow you to automate processes and reduce operational inefficiency. 
So, to help you level up and gamify your preparations, we at Whizlabs offer a PL 600 course that captures pin to pie of Power Platform and Dynamic 365. You will discover various demonstrations clubbed with lessons, practice papers, and 69 video courses. 
Looking to get started in the cloud? Our hands-on labs and cloud sandbox environment are the perfect place to start. With both options available, you can choose the learning method that best suits your needs. Our labs provide a guided learning experience, while our sandbox environment gives you the freedom to explore on your own.