Artificial Intelligence or AI is the greatest evolution across all industries and sectors. Speaking of which, Azure AI is undoubtedly one of the most popular AI solutions. Organizations are shifting to Azure AI to provide a seamless experience for both customers and employees.
Although, to achieve this feat, an organization needs well-trained AI experts on their team. Professionals should be thoroughly familiar with AI and its implementation bottlenecks to ensure the smooth running of AI features.
This blog will run you through the significance of Azure AI, how learning Azure AI fundamentals helps your team upskill in AI, and the benefits of the Azure AI fundamental courses.
So let's dive in !
Why does your organization need Azure AI in the first place? 
There are a million reasons why your organization needs Azure AI. But let's first start with the benefits of using AI. Implementing Azure AI will help you increase efficiency, make the best use of big data by automating the data processing methods and create frictionless customer and employee experiences.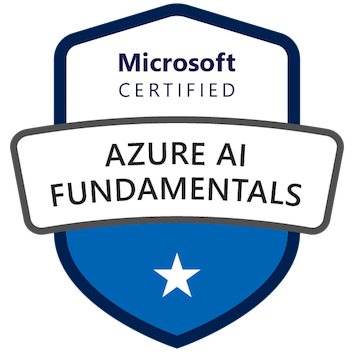 Second, AI can reduce your go-live time by automating time-consuming processes and eliminating human errors. Committing errors or leaving behind glitches is natural when processing large amounts of data and workloads manually. Automating such monotonous data-driven tasks will not only increase efficiency but enhance productivity and outcomes as well.
Lastly, AI can help you make data-driven decisions in real-time. You can create AI solutions to best leverage the collected data and process it to improve internal workflows and ensure better user engagement. 
Speaking of using Azure AI, it can help you integrate numerous applied AI services and deploy AI solutions by clubbing Azure cognitive services, business logic, and action-specific AI. Here are a few Azure AI services that can help your team create seamless channel experiences for users: 
Microsoft Azure Certifications Path in 2022. 
Azure Form Recognizer
It helps you extract structures and texts from digital and offline sources in the most reliable and fastest ways. The Azure Form Recognizer uses advanced machine learning to extract and assess required data from a document that you can further put into data visualization for assessment or store in the cloud environment for future perusal. 
Azure Bot Services
It helps you create and establish conversational AI to improve user engagement across touchpoints. These bots use Azure cognitive services to decipher natural language or build their own brand voice recognition with text-to-speech. You can use Azure Bot Services on Microsoft Teams as an interactive voice response or solve user problems on various digital channels. 
Azure Cognitive Search
It can be a significantly powerful search tool with built-in AI features. This usually mines data from unstructured info, uses ML to translate and filter the input, and converts it into meaningful output that relates to the original query. 
Why do you need to upskill your employees with Azure AI? 
By now, we all know that Azure AI will be the biggest thing for any organization as time flies. You would need AI to solve so many everyday problems. It can improve search queries, initiate data-driven and mission-critical actions, improve outcomes for monotonous and mundane tasks, and so on.
But to make this a reality, your team would need to understand the basics of AI and acknowledge the benefits and usage of the tech component. This means that automating your infrastructure using AI is no longer a choice. 
However, none of this would be possible if your team is inexperienced in implementing AI tools and understands the what's and whys of implementing AI solutions in your infrastructure. Speaking of which, getting Azure AI experts is not an easy task. Organizations, most of the time, face two prime problems: 
Companies often fail to do it with an existing team as employees are already overburdened with their regular responsibilities and don't find suitable ways to upskill themselves. The main barriers include unfamiliarity with the highly available tools and fear of the unknown blockers. 

Even hiring AI professionals is no longer the only solution. Most professionals who claim to be AI experienced have never implemented sustainable AI solutions in an infrastructure. 
Talking about the experienced ones, they are indeed hands-on with implementing ML models and pipelines or executing ML projects within tight deadlines. But they are already earning big bucks and have no plan to switch from their existing projects or their self-made data-science teams. 
So, the only solution here is to upskill your existing employees in your team and provide them with the necessary resources to improve operational efficiency. That said, gaining fundamental knowledge of AI is the best way to start. 
How can Azure AI fundamental courses helps your Teams? 
The easiest way to fill the AI skill gap is to learn the Azure AI fundamentals. Microsoft's Azure AI fundamental certifications will help your team speed up with the advancements in AI and capture all the basics of AI, including practical applications.
By enrolling in Azure AI fundamental cert, your employees will be able to learn the business values that AI solutions bestow while diving deeper into using and integrating AI and ML at all levels of business operations. 
Secondly, your employees do not necessarily need to be from a tech background to gain credentials in Azure AI. People with any tech expertise level can apply for this course and learn the usage of AI and ML to enhance business efficiency. It's the best way to get into the nitty-gritty of Azure AI and learn to leverage it in a real-world scenario. 
Third, this Microsoft certification exam can enable your team to gain a greater level of digital awareness, which is a core part of digital transformation for any organization. The subjects and domains of the cert shed light on the primary apps of AI and describe the benefits it brings to the table. The hands-on skills will help them build AI capabilities and automate workflows for faster go-live time. 
Lastly, allowing your employees to validate and master AI skills can help them explore new avenues and upskill themselves in a different niche, thereby eliminating the monotony of their existing responsibilities.
Further, by automating their mundane yet critical everyday tasks, they will not only reduce error rates but also help innovate techniques and build new brand stories. Whether you are dealing in manufacturing, healthcare, apparel, or hospitality, the contributions of AI can be countless.  
Preparation Guide: Microsoft Azure AI-900 Certification
More about the Azure AI fundamental certification course
The Azure AI Fundamentals course, or AI-900, is a Microsoft-certified course focusing on the fundamentals of Azure AI & ML and capturing practical usage of AI in an organization. You will find the exam here as follows: 
Furthermore, this course will help you gain familiarity with Microsoft Azure cognitive and applied AI services. The cherry on top, you don't need any higher technical expertise for this exam.
You just need to be sure that your team has a basic knowledge of the cloud, data science, and client-server applications. By gaining Azure AI fundamentals certification, your employees will also be able to perform the responsibilities of an Azure AI engineer associate, Azure developer associate, or Azure Data Scientist associate. 
In addition, the advanced portion of the Azure AI Fundamentals certification program will help your team members to: 
Build thorough knowledge of frequently used machine learning and AI workloads and the unique contributions made by Azure. 

Sharpen their understanding of AI and machine learning knick-knacks and Azure cognitive and applied services. 
Next, coming to the exam details, the AI-900 exam costs USD 99 and is 90 minutes long. The certification is valid for a lifetime. You will get 40-60 questions in the form of MCQs, drag and drop, case studies and multiple responses. The exam will test your capabilities to perform technical tasks like: 
Describing AI workloads and considerations.

Defining fundamental principles of Azure ML.

Describing characteristics of computer vision workloads on Azure.

Defining natural language processing (NLP) workload features on Azure. 
Benefits of upskilling your team in Azure AI Fundamentals Certification
We have already discussed why Azure AI is necessary for your organization and why your employees need to upskill themselves with Azure AI skills. If you are still not convinced, here are some more reasons to get your team Azure AI Fundamentals certified: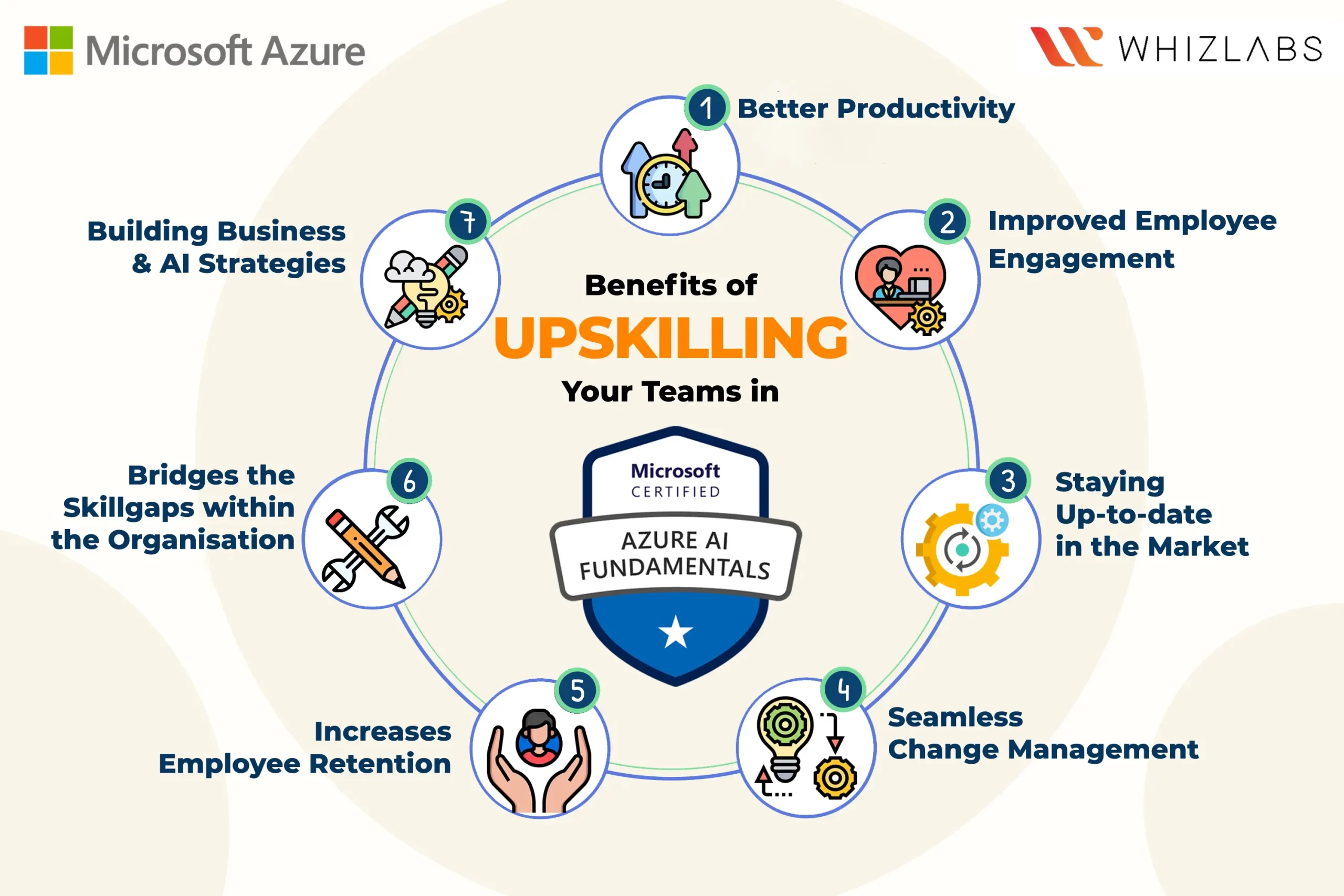 To begin with, getting your team Azure AI skilled will ensure they are not working in a silo from the rest of the company. Half of the time, non-tech departments, like sales, marketing, revenues, etc., are not even aware that they are running behind their competitors in terms of digital transformation. A trained and skilled IT team will be capable of bringing the entire management on the same page and rolling out features easily and efficiently. 

It will help employees upgrade their credentials and appear as thought leaders in the industry. The Azure AI Fundamentals course will help them get into the core of developing and innovating solutions that best suit business requirements. Missions like these increase the value of their resume in the overall market and make them future-ready. 

Third, it can play a great role in retaining employees in your team as well as the organization. Big resignation is still a prominent issue for most organizations, and employees are increasingly focused on escaping their monotonous responsibilities. While your IT team will be engaged in full-fledged creativity to develop new features, employees in the rest of the organization will find it encouraging when their routine jobs are 100% automated and they will be able to focus on more tangible and productive actions. 
All in all, this one course is a win-win for all. The benefits of this course reflect long-term potential and will help organizations and employees grow in their respective areas. 
How can Whizlabs help you? 
Whizlabs can help you with numerous resources, practice materials, and video lectures to ace your team's preparation and accelerate your Azure AI training. Whizlabs also offers special business packages and premium subscriptions, so you can: 
Propel the onboarding process of your team with new features and AI solutions. 

Enable your team to learn from industry and tech experts and clarify their doubts. 

Help your employees dive into subjects in real-time through nuanced and curated practice papers and

hands-on labs

.

Help your team innovate, experiment, and learn to build AI solutions through the

Azure sandbox. 
Not just this, but your team will enjoy: 
Unlimited access for 2 years to Whizlabs resources. 

Reports to self-assess their preparation journeys. 

Scenario-based lab exercise videos. 

Over three hours of

training videos

by our experts. 

Full-length mock exams

with 110+ questions with exhaustive explanations. 
FAQs
What are the Azure AI Fundamentals labs to help your teams kickstart AI journey? 
Here are a few Azure AI Fundamentals hands-on labs to consider: 
Analyzing text with a text analyzer on Azure

Adding a dataset to pipelines in Azure ML Studio

Creating pipelines in Azure ML Studio

Training models in Azure ML Studio

Deploying and testing models
What roles and responsibilities can your employees undertake after qualifying Azure AI fundamentals? 
This course will help your team build their expertise in ML and AI workloads on Azure. They can also perform basic functions of data science and AI engineering. 
Summary
Hope this blog helps you understand the what's and whys of Azure AI fundamentals for your team. Teams need to remember that hiring is no longer the solution to skill gaps.
There are numerous roadblocks to finding skilled AI professionals, starting from acquiring skilled and experienced AI and ML experts who understand AI solutions, filling the vacancies while finding accurate experts, to retaining them after they have joined. The only escape from all these struggles is to motivate your existing team and help them upskill in AI and ML. 
Speaking of which, the AI-900 Azure AI Fundamentals course is just the right milestone for your team, and your organization. It covers pin-to-pie about AI solutions: from getting into the core of AI and machine learning basics to building automation tools and Azure-applied services that best fit the organizational needs.