There are only few books available for the OCPJP 8 exam preparation. In this post we are providing you the information for good books for preparing your OCPJP 8 exam. Note that OCPJP 7 and OCPJP 8 has minor changes with respect to the exam topics, so you will be able to follow the OCPJP 7 books and read only the new topics added in the OCPJP 8 exam if you don't get OCPJP 8 books in your country. Because these books may not be available in your country.
There are two good books available for the OCPJP 8 exam preparation. Here are the details about those two books.
1. Oracle Certified Professional Java SE 8 Programmer II Study Guide: Exam 1Z0-809 eBook: Jeanne Boyarsky, Scott Selikoff
Jeanne Boyarsky's book is well known and has good reviews among the exam takers. The advantage of this book is:
This book contains interactive test bank with 3 bonus practice exams. Practice mock exams would help you to identify areas where further improvement is needed. If you can get more than 90% of the answers correct, then you are ready to take the certification exam. There are total 180 questions in this book!
Comprehensive glossary in PDF format gives you instant access to the key terms so you are fully prepared
You can buy this book from Amazon Website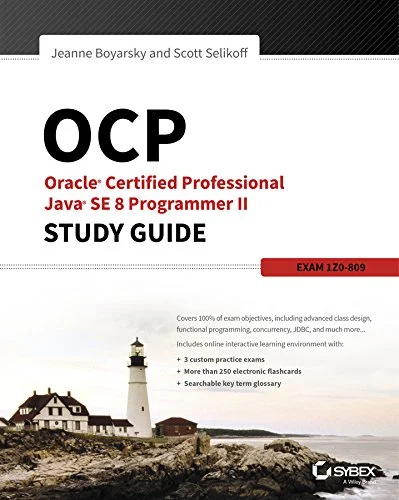 2. Oracle Certified Professional Java SE 8 Programmer Exam 1Z0-809: A Comprehensive OCPJP 8 Certification Guide
This author is relatively new for the certification books. But, now they are gaining positive reviews for their work in OCPJP and OCPJP books. If you look ate the forums and websites, there are good number of exam candidates recommending this book for the OCPJP 8 preparation.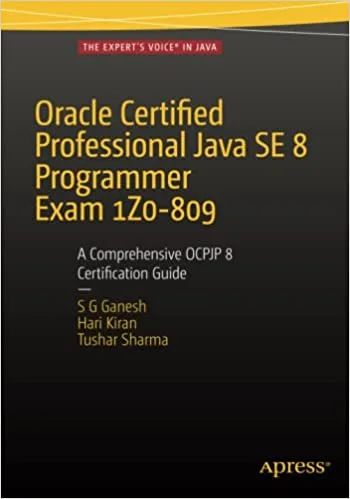 If you are interested in purchasing practice questions or mock exams for preparing OCPJP 8 exam, please look at our free test with 25 questions and full length OCPJP 8 exam with 600+ questions.
Are you looking for any support for OCPJP exam preparation, please send us an email or contact our support. We are happy to guide you for passing OCPJP exam.