Whether you are a business user or an IT professional, it becomes imperative for you to create proficient automated processes to increase productivity using Microsoft Power Automate. It is a no or low code platform. Thus, there are no pre-requirements to understanding the use of Power Automate. 
Microsoft Power Automate is an enterprise that empowers you to integrate all data analysis and applications efficiently. Further, it simplifies automated processes to have a functional flow. Other functions of this tool involve:
Automating tasks from a local device.

Supporting data from API.

Sending reminders about the existing functions.
Power Automate is ideal for the companies such as Retail, Manufacturing, Healthcare, Insurance, and Banking. Microsoft Power Automate was earlier known as Microsoft Flow and served to make automated workflows for a long time. It intends to streamline your daily operational work and manages routine tasks to save you time.
There is more to it, and the organizations that intend to integrate this impeccable tool by Microsoft must get in-depth attributes about it. So, this is the complete guide for you to understand the true potential of Microsoft Power Automate.
Overview of Microsoft Power Automate
Power Automate by Microsoft is a cloud-based system that gives potential to organizational employees for building & working with automated workflows. The workflows are designated to be placed around anywhere across the applications. And the best thing about Microsoft Power Automate is that you don't need to write a single code.
The flows are the working powerhouse of this tool or solution by Microsoft. And all of these flows are termed to be automated workflows. The user or organizational team member will define the action(s) embedded within a workflow. These actions can be called during any specific event occurrence or upon desired instances.
With such potential, employees can seek automation for all of the organizational tasks that require repetitive executions. Hence, it is an ideal approach for not just saving time but also enhancing productivity and efficiency. With Microsoft Power Automate, you can connect one service to another, such as Google, Facebook, Twitter, Gmail & others.
Power Automate allows you to prepare & send notifications, emails, or push alerts to the designated person for the dedicated instances. Moreover, if there is a need for approval from select persons within an organization, then Power Automate can help you with the same. This is just a glimpse of what you can do with this tool, while there is still more to explore.
By using this tool, you will have fewer or no restrictions upon automating any business processes. You need to add the flow actions with steps & stages. Whether you use it for complex applications or just for sending notifications, it is always your call! Data capture, storing email attachments, file copying, and other such services are USPs of this tool.
Different Types of Flows Under Microsoft Power Automate
There are three different categories of flows that can be created under the Microsoft Power Automate tool. These flows serve various purposes for automating different types of repetitive tasks to enhance efficiency upon organizational operations.
To help you understand this better, here is a brief description of Microsoft's different types of flows available within this tool.
1. Cloud Flows
Cloud Flows are created when you want your automation function to get the trigger alert, over a schedule instantly, or automatically. It means that you can create three different types of flows under this category of flow.
You can use it for starting any automation with just a click. You can seek these flows for automating any of the repetitive tasks from mobile or desktop devices. For instance, you can use it to instantly send a reminder to your team by just clicking on a dedicated tab over your mobile phone.
It is more like automation that runs upon a schedule. You need to enable it upon a schedule for work, such as daily upload of data to a database or SharePoint.
This type of flow allows you to create an automation triggered by any specific event set by the user. For instance, you are receiving an email, social media mentions, and others. You will get a notification automatically upon execution of such mentioned actions.
2. Desktop Flows
The purpose of desktop flows is to seek automation of select tasks that are over the web or desktop. You can achieve it with the help of Microsoft Power Automate for Desktop. You can click on the given link to know more about Power Automate for Desktop!
For creating desktop flows, you need to use two legacy methods: Windows Recorder (V1) & Selenium IDE. Click on the hyperlink to get a clear insight into how these methods help support the creation of desktop flows.
3. Business Process Flows
This is the last category of available types of flows that offers you a guide for all users to get the job done. It provides a completely streamlined user experience for leading people to understand & interact with the organizational processes.
In this way, achieving conclusions becomes easy! There is a tailoring feature available for the user experience to make it suitable for different people. There are various security roles for other people to give them the experience to streamline their work.
Working with Microsoft Power Automate
There is no such particular need for installing any software or tool to enable Microsoft Power Automate. You just need a browser and an email address for using Power Automate.
It would help if you kept in mind that Microsoft Power Automate doesn't support .mil or .gov email addresses for now. You can use any of the other email addresses to sign-up for this tool or solution.
Make use of your on-premises data gateway for connecting to the on-premises server of Power Automate. You can also use your mobile application for the purpose of creating flows. Here are the steps to help you create your first flow:
Sign-up to Microsoft Power Automate 

by clicking on this link

 directly. 

After signing in to your Power Automate account, you need to go ahead and select a template that you think is suitable for you. There is a vast number of templates available within the platform for you to choose from & access. For instance, suppose you chose the template of "Notifying & emailing you when a new file gets uploaded to OneDrive.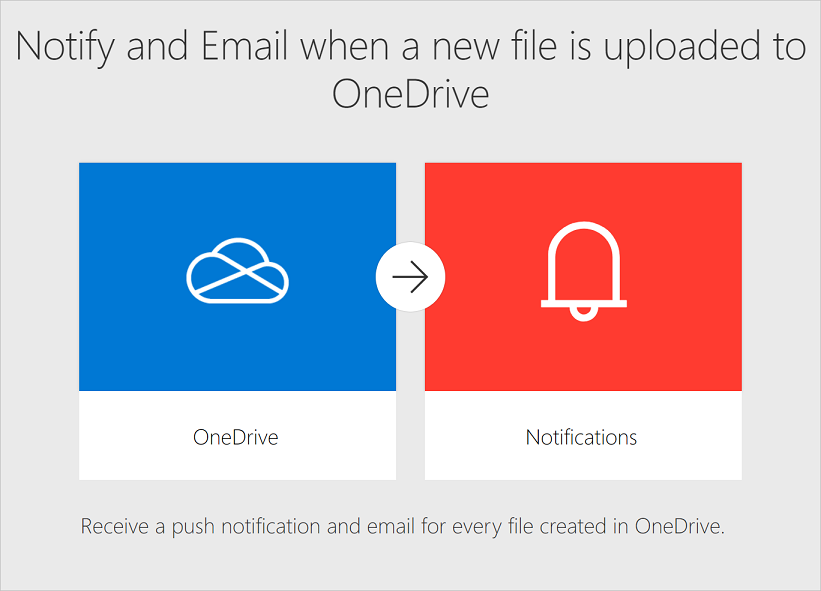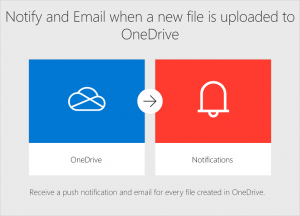 After choosing, you need to click on continue and select the OneDrive folder you wish to monitor. 

Now, save the selection after cross-checking all of the fields. And your flow has been created to automatically send you notifications when you receive any new file uploads on the OneDrive folder. 
You can also avoid using the templates and use 380 data sources available within the tool to create your flow from nothing. Follow this link to get a clear idea!
Pricing of Microsoft Power Automate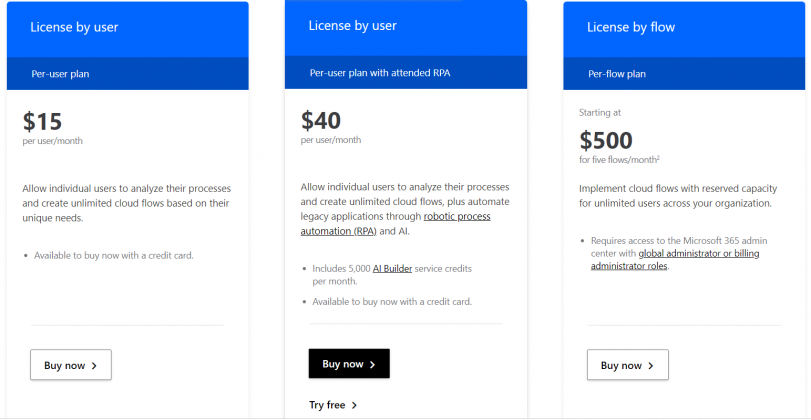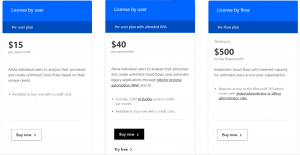 There are three pricing models for you to use Microsoft Power Automate. The organizations of the respective users have the right to choose their select pricing plan, which fits their budget and requirements. The plans are as follows:
License by User- Per-User Plan 
The price for the first plan of Microsoft Power Automate is $15 per user/month. This plan is for the individual users who intend to analyze their operational processes. Along with that, they can also create cloud flows without any count restrictions, depending upon their specific suitable needs.
License by User- Per-User Plan with Attended RPA
The price for this plan by Microsoft Power Automate is $40 per user/month. It intends to allow the users to analyze their processes and create cloud flows. But the additional perk is that you can also automate legacy applications with this plan. There is an RPA (Robotic Process Automation) & AI to help you with the purpose.
This license plan comes with 5000 AI Builder service credits for each month. Hence, it will make the job easier for individuals or organizations. You can try it for free before buying. Visit this link and click on the respective 'Try Free' tab under the plan to know more about it.
License by Flow- Per-Flow Plan
The price for this ultimate flow plan is $500 for five flows/month. It allows you to implement the cloud flows, depending upon the reserved capacity. It is for an unlimited count of users across all of the organization. 
It demands access to Microsoft 365 admin center, with the billing administrator and global administrator roles. Get in touch with the Microsoft officials to know more about this plan.
Take away
So, this is all you need to know to commence with your Microsoft Power Automate attributes. You just need to keep in mind that Microsoft has loads of internal features available with this tool or solution that can be explored only when you get hands-on experience. So, make sure you explore its features right away and give your repetitive organizational tasks some break. Take a step ahead, learn more about Microsoft Power Automate and train yourself to use flows in the Power Automate and build automated processes.
Read more
Why Microsoft Power Platform is a Must Skill in 2021?