With the unexpected global pandemic of 2020, cloud computing has evolved from just being a concept or an experiment. The new normal has made cloud-based software the most relevant, even as we continue in 2021. Objectively analyzing the cloud computing trends will be incomplete without mentioning Microsoft Azure trends for businesses, which almost 95% of Fortune 500 companies trust for their own operations.
While we slowly move towards opening up the world again, the Flexera 2021 State of IT Visibility Report suggests that more than 45% of organizations will increase their IT allocations to support their cloud framework. 60% of businesses are willing to multiply their investments in Microsoft Azure in the coming year, while 25% to 30% of the total budget is likely to be allocated to cloud infrastructure.
To leverage the growth of cloud computing, we must thoroughly understand the need for Microsoft Azure and its top 5 trends in 2021. The following discussion will give a brief insight into Microsoft Azure and then further concentrate on the Azure trends in 2021.

Introducing Microsoft Azure
Before we get started with Azure trends in 2021, let us have a short overview of the technology at hand. Microsoft Azure can be defined as a collection of various cloud computing services along with proprietary and open technologies. Microsoft provides the proprietary technologies and includes the remotely hosted technology as well. On the other hand, the open technologies include the likes of Linux distributions that can be implemented through virtual machines.
One of the most beneficial features of Microsoft Azure is that the pricing is solely dependent on the consumption of resources. To avail of Microsoft Azure trends, you do not need to install or lease physical servers or on-premise servers from the traditional data centers. Several factors like the physical location, storage, type of service, etc. determine the price of Microsoft Azure. Some of the significant features of Azure cloud services are:
HDInsight is provided as a customized Hadoop deployment.

Azure Media Services is a reliable source for cloud-based services for video playing, transcoding, content protection, and indexing.

Azure IoT Suite provides many alternatives for the connection and monitoring of devices and the provision of analytics and telemetry services.

The Azure Redis Cache is a managed variant of the Redis data structure server.

Azure Search provides managed search services based on OData.

Azure Cosmos DB provides the benefit of a hosted NoSQL database.
Have you checked out the 10 Top Paying Cloud Computing Certifications in 2021?
The Microsoft Azure Trends In 2021 To Lookout For
The cloud computing domain is constantly evolving with the changing scenario of technology. Microsoft Azure has also improvised itself with the upcoming new trends. So, be it a business owner or an Azure professional, you should also keep an eye on the Microsoft Azure trends. Let's have a look at the top Azure trends in 2021. 
Microsoft was one of the first significant cloud vendors to embrace hybrid technology. When most people talk about "edge" devices, they refer to Internet of Things (IoT) products. But Microsoft has embraced this concept differently and has been growing its portfolio with edge devices like Azure Stack Edge Pro and Pro R. Microsoft is including all devices with onboard AI-processing capabilities as its intelligent edge device. In line with the Microsoft Azure trends, even the Azure Modular Datacenters are edge devices.
In the top 5 trends of cloud computing, Edge is definitely the new cloud. Forecasters believe that the business models of 2021 will support the deployment of edge on the cloud platforms along with the support of AI and 5G, allowing further expansion.  While the centralized cloud system is here to stay, serverless computing models will slowly take over.
Microsoft is also going to announce an AWS Outposts competitor, which is rumored to be named "Fiji". Fiji will offer Microsoft Azure the capacity to perform as a local cloud, where public Azure manages and delivers it in the form of servers, directly provided by Microsoft. Fiji is yet another extension of the Microsoft intelligent edge family, following Azure trends in 2021. 
With a sudden growth in the cloud infrastructure during the coronavirus pandemic, communication about data security on cloud services has started. Based on the top 5 trends of cloud computing, organizations will continue to ensure secure data migration to their respective cloud platform with the use of data encryption and compliance with data governance protocols.
The forecasters believe that governance tools and data security are now going to be an integral part of all business processes. Based on these Microsoft Azure trends and its wide advocacy for data security, Azure is increasingly getting popular with customers.
All kinds of Azure deployments take precautionary measures to ensure that the customers get effective solutions with zero security threats. The users regularly share a huge amount of data to store, collect, and use on these cloud platforms for their business. And when it comes to security, there is nothing better than Microsoft Azure with its encryption and compliance features.
The Internet of Things (IoT)
The Internet of Things is continually gaining prominence while the world takes further steps towards enhanced connectivity. Cloud computing is also witnessing a revolution with IoT in place. Following the top 5 trends of the global cloud computing industry, Microsoft has announced the Azure Sphere, its very own secure IoT platform. This platform will ensure that your cloud data is completely secure and cannot be accessed by third parties.
Azure Sphere, following the Microsoft Azure trends, is fully established to start functioning today. With the SOCs and production-ready modules, users can build their own hardware around the system and will not require any new application development tools. The development process of Azure Sphere happens in the Visual Studio.
Azure Sphere also gives you the feature to collect need-based customer data and respond to it, accordingly. Microsoft Azure trends also include IoT Hub Device Positioning service that will help the users in configuring and registering their devices on the cloud with zero-touch device provisioning.
Check out the 15 Highest Paying IT Certifications in 2021!
Owing to the evolving Microsoft Azure trends, cloud platforms are growing to handle both the quality and quantity of interconnected services across complex networks. Based on the Azure trends in 2021, performance management and excellent automated service are important factors based on which you can choose your cloud computing platform.
Many enterprises have moved their entire workload to cloud-based systems, and have achieved operational efficiency but their cost has also increased. With Microsoft Azure, you get cost-effective solutions and you only need to pay for the services that you actually use. This also helps in stopping cloud wastage and irrelevant use of system platforms, for better cloud management.
Microsoft Azure also provides various tools and advanced platforms that can rapidly solve the problems cropping up in cloud computing. This enhanced cloud management service with cost-efficient solutions has made Microsoft Azure one of the forerunners of cloud computing platforms.
Artificial Intelligence Engineering
Microsoft Azure is one of the big three cloud computing-based platforms in the world. Alongside Amazon Web Services and Google Cloud, it holds 76% of the market share. Following the Microsoft Azure trends, it is reported that Microsoft will soon launch its own end-to-end machine learning services platform.
Gartner revealed in its "Top Strategic Technology Trends for 2021" that every company needs a strong AI infrastructure to succeed in the digital age. With the help of an accurate AI infrastructure in place, Microsoft Azure can help deal with safety, compliance, accountability, interpretability, AI risk, and trust.
Based on the recent Microsoft Azure trends, AI projects can be successful with better maintenance, scalability, and data governance. 
Estimating The Growth
Microsoft does not release any separate information for Microsoft Azure but bundles it up with its overall cloud services report. In 2020, Microsoft commercial cloud officially reached the $50 billion mark run rate annually. These revenue figures also include Dynamics 365 and Office 365 Commercial as the Microsoft commercial cloud entities. However, Microsoft's IaaS and PaaS services that involve Microsoft Azure registered a growth of 27% in sales revenue, to $12.3 billion in Microsoft's Q3 2020.
Several companies with their existing relationships with Microsoft are choosing Microsoft Azure as their trusted platform for enterprise deals. Some significant deals that Microsoft Azure has landed, are:
NBA made a deal with Microsoft

to use the Surface tablets and Microsoft Azure to provide a unique customer experience to the NBA fans beginning from the 2020-21 season. 

Microsoft also won a

10 billion dollar contract from the Pentagon

to provide them with cloud computing services and consulting in 2019. 

The world's largest asset manager,

BlackRock

also signed a deal with Microsoft to host the Aladdin investment management platform on the Microsoft Azure cloud platform.
Due to such enhanced engagement, even the search engine trends show a positive increase in the usage of Microsoft Azure.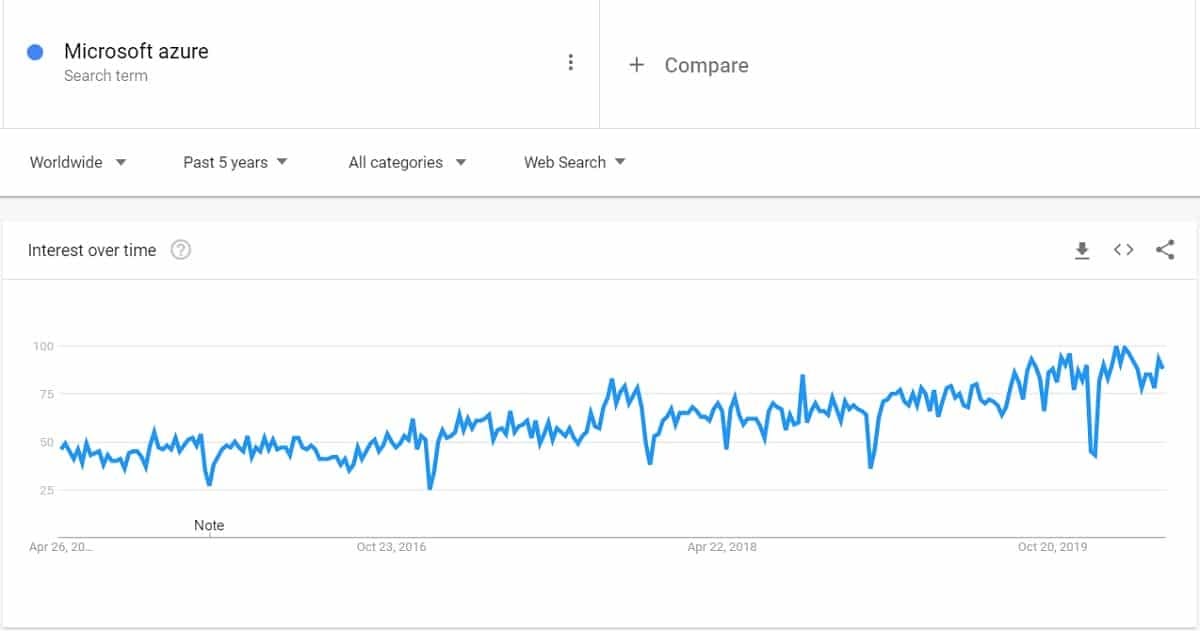 At a glance, the Google search trends for Azure are definitely an upwards one. 
Evolution of The Industry
With elaborate usage and experimentation, Microsoft Azure has also started offering great new features for its customers. The Azure Files allow you to create SMB 2.1 shared folders using PowerShell scripts or .Net code on the storage service by Azure. The Azure Site Recovery feature is also a hit with the users, as it can orchestrate a site-to-site replication and complete recovery, in case of any disaster.
Other facilities for enhancing the security like Azure ExpressRoute, VM extensions, new networking features, Azure RemoteApp is also either in preview or incorporated in the final build.
With such constant improvements in the overall service offered by Microsoft Azure, more businesses and professionals are gravitating towards the Azure trends in 2021. 
Summing Up
With this discussion, we have tried to understand the basics of Microsoft Azure, and its implications in the current times. Focusing on the key Azure trends in 2021, we talked about improvement in machine learning and AI, enhancing the usability of the cloud, and increased security protocols.
We also took a glance at the growth trends for Microsoft Azure that are estimated to follow the top 5 trends of the cloud computing software.
If you believe that Microsoft Azure can take your business to the next level, then you can consider upskilling with Microsoft Azure certification training courses. There are several career-oriented Azure certifications like – Azure DevOps Certification, Microsoft Azure Exam AZ-301 Certification, and Microsoft Azure Exam AZ-104 Certification to consider. Make your pick soon and start learning to be future-ready.