Are you interested in leveling up your skills in cybersecurity? Are you a penetration tester looking to diversify your skillset with CompTIA courses? Or maybe a beginner in cloud security who wishes to dive deeper into the domain? Then the PT0-002: CompTIA PenTest+ certification is just the correct milestone for your resume. 
This blog will take you through everything you need to know about the PT0-002 certification exam course details, learning outcomes, who should take it, whether it is worth it, exam overview and syllabus, materials and resources available, and how to plan your exam prep. 
So let's dive in. 
What is CompTIA PenTest+ Certification? 
The PT0-002: CompTIA PenTest+ certification is one of the intermediate-level CompTIA courses specialized for cybersecurity professionals dealing with vulnerability management and penetration testing. It is considered one of the hardest certification exams compared to other CompTIA courses.
The course covers all penetration testing concepts, viz., planning, reporting, and creating scope to achieve relevant outcomes. The PT0-002 certification will test your ability to perform mission-critical tasks like: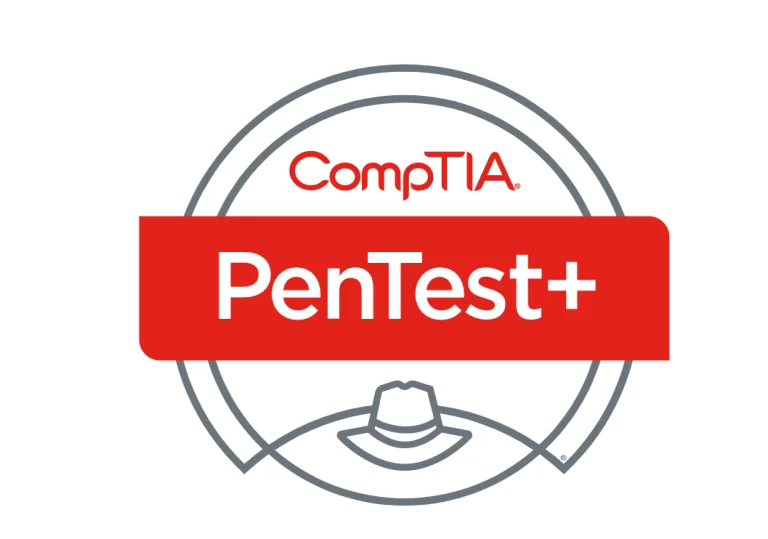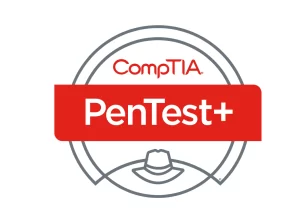 Applying the latest penetration testing methodologies

Conduct vulnerability assessments and scanning

Determine the resiliency of networks against breaches and threats.

Use management skills to plan, scope, and handle weak spots in infrastructure. 

Translate the vulnerability management process to the leadership team and recommend best practices and relevant solutions.
What will you learn from the CompTIA PenTest+ certification?
The PT0-002 certification lets you unlock numerous skills and abilities. The course will teach you how to: 
Scope and plan penetration tests:

Find out the best practices of penetration planning and define the assets and ecosystems to be tested for vulnerability assessment and achieve business outcomes. 

Perform non-technical tests:

Determine the simplicity of websites and provide strategic foresight to enhance the usability of the websites. 

Hold passive reconnaissance:

Learn how to detect passive threats and identify the loopholes that can allow an intruder to gain critical info without disturbing the system.

Hold active reconnaissance:

Identify and remove any open ports available in the infrastructure and prevent port scans. 

Penetrate network systems:

Protect the infrastructure from malicious attacks by identifying exposure to vulnerabilities and security misconfigurations. 

Test applications:

Make the best use of test automation frameworks, tools, and scripts to detect errors in software apps. 

Analyze vulnerabilities:

Troubleshoot cyberattacks beforehand and learn about the best practices for vulnerability assessment. 

Defining host-based vulnerabilities:

Provide visibility to config settings and a fishy history of scanned systems by locating and detecting vulnerabilities in servers and workstations. 

Analyze penetration test results:

Conduct technical risk assessment and enhance the team's vulnerability management process.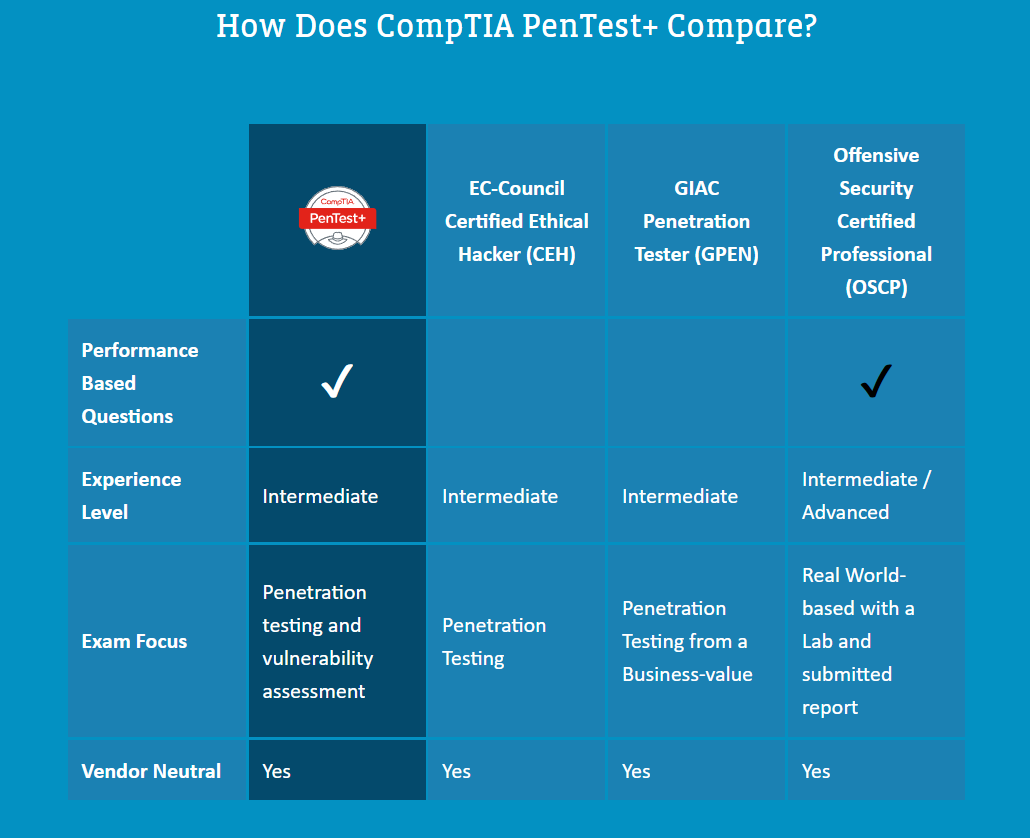 Who should take the
CompTIA PenTest+ (
PT0-002) exam? 
The CompTIA PenTest+ certification can be the right stepping for your work as a: 
Defensive cybersecurity professional

Penetration tester specializing in network security professionals

Professionals dealing in vulnerability assessments

Any position at an intermediate or higher level of security domains. 

Security analyst or App security vulnerability tester
Apart from this, you can consider taking the PT0-002 exam if you think you: 
Need foundational preparation before you appear for advanced CompTIA courses or other pen testing courses like OSCP. 

Want to know ways to upgrade your credentials in Security+ or Network+. 

Need in-depth knowledge on how adversaries affect or tamper with security.
Why should you take the CompTIA PenTest+ (PT0-002) certification exam? 
Are you wondering if the CompTIA PenTest+ course is worth it? Well, the certification can amplify your position in the job market. CompTIA itself lists some of the benefits for your better evaluation of the course. 
Firstly, it is the most comprehensive certification exam. It not only covers all the stages of penetration testing but also involves qualitative, quantitative, and performance-based questions for a better understanding of those stages. 
Second, CompTIA PenTest+ is the only certification exam that helps you specialize in vulnerability assessment and management. You will find hands-on vulnerability analysis, scanning, planning, scoping, and how to manage vulnerabilities while ensuring there's no exploitation. 
Third, this CompTIA pentest+ course is one of the most updated and upgraded pen testing certifications that helps you dive deeper into techniques and skills to troubleshoot expanded attack surfaces. Further, you will also learn about penetration testing abilities to secure cloud and hybrid infrastructures, IoT, web apps, etc. 
Lastly, for the cherry on top, you can work for big-shot companies like Target, U.S. Army, Secureworks, Ricoh, Asics, etc. As a CompTIA PenTest+ certified penetration tester, you can open doors to numerous job profiles like: 
Security Consultant

Cloud and Web App Penetration tester

Cloud security specialist

Network and security specialist
CompTIA PenTest+ (PT0-002) certification exam overview
Here's a quick view of the PT0-002: CompTIA PenTest+ Certification exam format: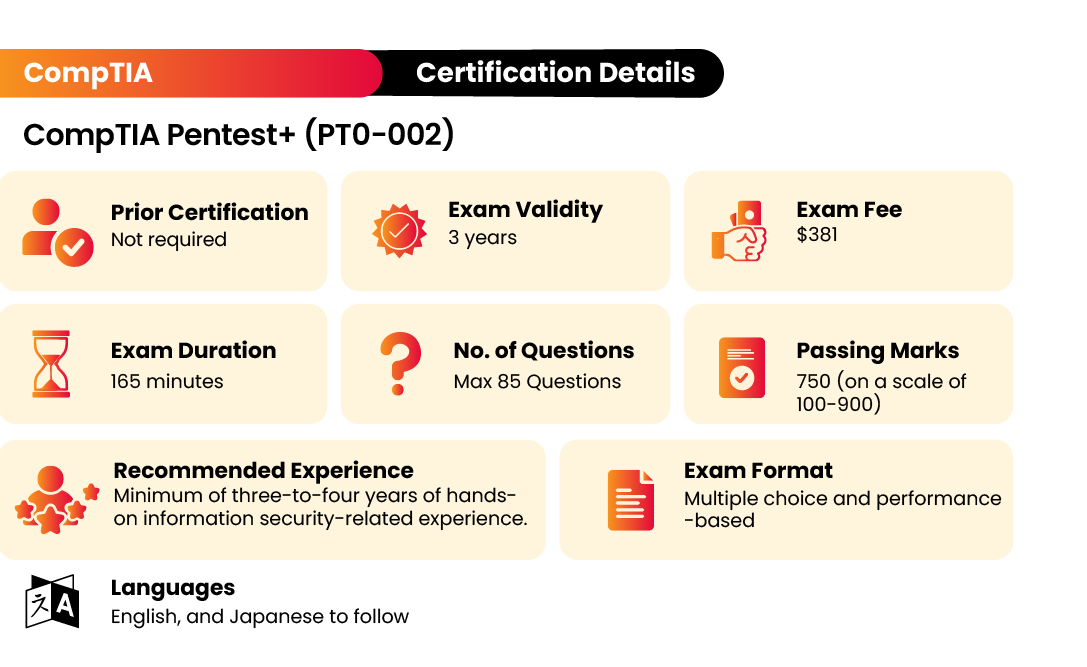 Prerequisites of the
CompTIA PenTest+
 exam
You need at least 3-4 years of work experience in the information security domain. Along with this, you also need to have: 
Hands-on with Network+ and Security+

Qualify the CompTIA's Security+ certification.

Gain technical experience equivalent to the Security+ certification.
DP-203 Exam Domains
The PT0-002 certification exam covers five domains and carries specific weightage in the exam. Here's what the breakup looks like: 
| | |
| --- | --- |
| Domain | Weightage |
| Scoping and planning | 14% |
| Vulnerability scanning and info gathering | 22% |
| Exploits and attacks | 30% |
| Communication and reporting | 18% |
| Analysis of tools and codes | 16% |
Each of these domain has several subtopics that includes: 
– Techniques to handle governance
– Techniques to manage risks and compliance
– Scoping to meet organizational requirements 
– Define the mindset of ethical hacking
Vulnerability scanning and info gathering
– Perform vulnerability scanning
– Perform active and passive reconnaissance
– Fundamentals of vulnerability management
– Assessing the reconnaissance exercise outcomes
– Approaching expanded attack surfaces
– Research social engineering
– Perform network, wireless, app-based attacks
– Analyzing attacks on cloud technologies
– Perform techniques for post-exploitation
Communication and reporting
– Report and communicate in an enhanced regulatory ecosystem.
– Perform penetration testing by analyzing outcomes
– Recommend relevant remedies through a report
Analysis of tools and codes
– Identify scripts during software deployments
– Analyze code and script sample
– Identify and define the use cases of tools that are frequently used during penetration testing
Also Read: Preparation Guide for CompTIA Security+ Certification Exam
Study materials to refer to for PT0-002 exam
CompTIA courses offer numerous materials and resources to enhance your learning. To begin with, CompTIA offers an eLearning path called CertMaster Learn. It's a self-paced course and involves assessment videos, interactive modules, performance-based questions, and a demo experience of the actual exam. 
Second, you have study guides for the CompTIA PenTest+ exam. It contains official CompTIA content, diving deeper into objectives and conceptual details of the certification course. It is available as a paperback as well as an ebook. Along with study guides, you will also find CompTIA bundles to cushion your learning process at every phase of preparation. 
Third, all CompTIA courses offer instructor-led video training programmes. These video courses are two weeks long and will help you: 
Get hands-on exam prep from PT0-002 professionals and experts. 

Clarify your doubts at live sessions directly from the instructors. 
Fourth, to level up your hands-on skills, CertMaster Labs for PenTest+ helps you polish practical aspects of the PT0-002 domains. The hands-on labs cover concepts like: 
Managing servers, workstations, users, and shared resources.

Install, configure, and support the OS.

Troubleshoot networks. 
Lastly, CertMaster Practice for PenTest+ offers you sample papers and practice exams for self-evaluation for your exam preparation. These are regularly updated and provide real-time learning analysis.
How to prepare for the PT0-002 exam?
CompTIA PenTest+ is one of the hardest CompTIA courses and thus requires a lot of practice and demands rigorous preparation. Having said that, you can make this process simpler and engaging by putting the right blocks of learning path at the right place. Here are a few quick steps you can follow: 
Don't jump into the exam domains straightaway. First, visit CompTIA's official website and understand the exam objective. Then be well versed in the syllabus structure. 

At this stage, you must be aware of the prerequisites of the exam. PT0-002 requires a long tenure of work experience. In case you are not hands-on with Network+ or Security+, it's better you gain that practical exposure as it can be a deal breaker at later stages. 

Next, chalk out a timetable while preparing the exam domains. Make sure you don't leave any chapters or subtopics. For better clarity, you can always refer to CompTIA CertMaster study guides, elearning, videos, and YouTube short videos and tutorials.

Once you are halfway through the preparation, take a break and analyze your prep so far. Now match it with the skills and concepts mentioned in the prerequisite list. Gain in-depth knowledge of data processing languages, parallel processing, data architectures, etc. 

For the prerequisite preparations, the best way is to apply your knowledge using CertMaster hands-on labs. You can experiment, test, and play around with the Network+ and Security+ infrastructure and get familiar with real-world security issues and challenges. 

When you think you are confident with your prep, go for practice tests and sample papers. Go for self-assessment, relearn the gaps and errors, and then attempt again. 
Once you are satisfied with the scores on the practice test, apply for the real exam and add a feather to your cap.
Interestingly, certification like PT0-002 plays a prime role in garnishing your credentials and enhancing your value in the job market. As you scale your business, you would need more data and critical information to deal with. This means, organizations are in dire need of professionals who can protect their fort like a ninja.
The demand for pen testing professionals is skyrocketing. So this is the reason, importance of certifications like PT0-002 in huge. In addition to PT0-002, CompTIA offers a bag full of cybersecurity certifications, like SY0-501 and SY0-601. 
FAQs for CompTIA PenTest+ certification exam
What is the scope of CompTIA PenTest+ candidate?
A CompTIA PenTest candidate can perform myriad roles like: 
PenTester

Security Analyst

App security vulnerability

Vulnerability tester

Vulnerability assessment analyst

Network security operations
How long does it take to complete CompTIA PenTest+ exam?
CompTIA PenTest+ certification exam takes around 165 minutes to complete.
How hard is the CompTIA PenTest+ exam?
Well, the short answer is that it depends. If you're already familiar with penetration testing skills and have a good understanding of the concepts, then the exam shouldn't be too difficult. However, if you're new to the field, it could be quite challenging.
Summary
Now, if you are someone wishing to jump-start your career as cybersecurity professional, cloud security specialist, security consultant then CompTIA Pentest+ certification is one of the significant elements to focus on.
We hope this preparation guide for PT0-002 helps you scale up with your exam preparation and provides you a direction to your learning path. Remember that the core trick lies in getting a holistic view of the domains and getting access to the right kind of material and resources.
Speaking of which, finding updated content for such a difficult certification exam can give you a hard time. That's why, we at Whizlabs offer an exhausting training course, practice test, hands-on-labs and cloud sandbox environment to make your PT0-002 preparation a breeze and provide a direction to your learning path.