Every CompTIA Network+ professional is aware of the importance of CompTIA Network+ N10-008 exam questions and answers in the IT industry. The N10 008 certified professional's expectations are pretty high in today's environment, where nearly everything revolves around CompTIA Network+ certification.
Many CompTIA Network+ professionals are now depending on N10-008 exam questions to pass their exams. That is why, if you want to become a CompTIA Network+ certified expert but don't know where to start studying for the CompTIA Network+ N10-008 exam, this page is for you!
What is CompTIA Network+ Certification Exam?
CompTIA's Network+ certification is widely acknowledged in the field of computer networking. Many networking credentials are vendor-specific, but the CompTIA Network+ certification distinguishes out as being vendor-agnostic. In many circumstances, the CompTIA Network+ certification may serve as a stepping stone to more specialized and vendor-specific certifications, such as those offered by Cisco Systems.
CompTIA Network+ exam subjects are mainly generic in the sense that they may be applied to any network equipment, regardless of manufacturer. Even though the CompTIA Network+ certification is vendor-neutral, numerous manufacturers install network software and systems.
Domains Covered in the CompTIA Network+ (N10-008) Exam
The first step in preparing for N10-008 is to understand the Network+ N10-008 objectives:
Networking Fundamentals – 24%:

Give students a basic grasp of networking concepts such as LAN/WAN/CLOUD connection.
Network Implementations – 19%: Deploy Ethernet solutions and wireless technologies; explain routing and networking devices.
Network Operations – 16%: Maintaining and optimizing your network is essential to ensuring that your business runs properly at all times.
Network Security – 19%: Explain security concepts and frequent network attacks to better defend networks from damage.
Network Troubleshooting – 22%:

How to Troubleshoot Common Networking Issues Using Cables, Connections, and Software.
 

Exam Format of

CompTIA Network+ (N10-008)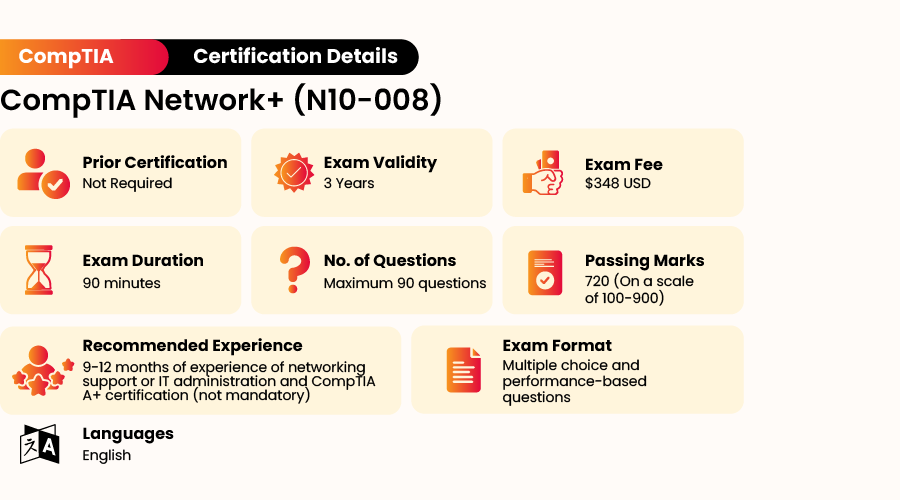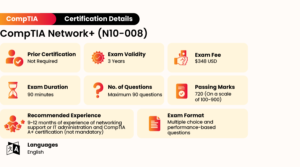 Requirements for

CompTIA Network+ (N10-008) exam
The minimal criteria for completion in this certification program are CompTIA A+ certification and nine to twelve months of experience in networking or IT administration. While completing the A+ examinations is not required before proceeding to Network+ certification, it is strongly advised.
Regardless of whether or not you have A+ certification, you should have the following skills and knowledge before commencing this course:
Configuration and support for PCs, laptops, smartphones/tablets, and printing devices.

You should be acquainted with network terminology and operations (such as TCP/IP, switches, and routers).

Create and manage a simple SOHO network complete with users, groups, and shared resources.

Fundamental access control techniques include security policies, encryption, and firewalls.

Comprehensive understanding of Internet protocol addressing and fundamental protocols and diagnostic tools.
CompTIA Network+ N10-008 Exam Preparation Guide
To get a better knowledge of how to approach the CompTIA Network+ certification exam, use our N10-008 practice test questions and answers and N10-008 study guide. Use the following study tips to assure your success on the N10-008 exam.
Draft an Effective Study Plan
You must develop an effective study approach to guarantee that you cover all of the Network+ N10-008 objectives. It should be functioning. When constructing one, you should keep your professional and social commitments in mind. Delaying or even passing over certain concerns may be intriguing. Most applicants, on average, struggle to keep to their study routines. You must commit to your study plan to get the most out of it. It is not essential to devise a well-thought-out plan just to abandon it.
Allot Sufficient Time for Revision
Even if you have a busy schedule, prioritize your academics. Make time for reflection. Otherwise, you will not have enough time to properly study for the N10-008 exam. Students should set aside two to three months each year to effectively study for the CompTIA exam. You must put in a lot of effort in your exam preparation until you are certain that you have learned and assimilated all of the CompTIA Network+ N10-008 objectives.
Use Appropriate Study Resources
Our video courses are all available to assist you to prepare for the CompTIA Network+ exam. However, not all of them give up-to-date and reliable data. While some of these materials are correct, they do not go into sufficient detail to assist you in understanding Network+ N10-008. Before commencing any course of study, it is essential to have a reliable source of information.
Take Breaks
The CompTIA N10-008 exam is demanding and demands much preparation. It's easy to get into the details of preparation and forget that the brain needs to take a break from time to time. This is a typical and expensive error while preparing for an exam. One of the essential things you can do to maximize your learning capacity is to take breaks and get proper sleep. Your brain will function more effectively if you take a few little rests throughout the day.
Take CompTIA Network+ N10-008 Practice Tests
Taking practice examinations is an excellent way to assess your general understanding of a topic. After learning the Network+ N10-008 objectives, the best approach to measure your degree of preparedness is to take a CompTIA Network+ N10-008 practice test.
A passing score on the CompTIA Network+ practice test will disclose your weak points and whether you're prepared to take the real thing.
We provide you with a practice test for the CompTIA Network+ N10-008 exam, creating an exam-like environment, and making the best utilize out of it! 
Engage in an Online Community
Join an online community where experts and test-takers alike may exchange exam preparation ideas and strategies for success. There are several online forums, clubs, and wikis where you may get answers to your Network+ certification exam preparation questions. Before joining any organization, it's generally a good idea to conduct some research on it. You should also identify the source of any information you get from forum participants.
What are the advantages of having CompTIA Network+ N10-008 Certification? 
A CompTIA certification in your field of expertise is an excellent method to demonstrate to prospective employers that you are an expert in the subject. And CompTIA Network+ is one of the most critical tools wherein it can benefit your future careers. What are the benefits of pursuing this certification?
CompTIA Network+ N10-008 is an internationally recognized certification that validates your advanced networking skills and offers you an edge when applying for networking jobs.

It displays to any future employer that you have been thoroughly investigated and have a solid understanding of how networks operate.

This certification must be renewed annually. As a consequence, certification will expose you to the most recent cutting-edge developments in networking architecture and design.

Companies and hiring managers are looking for candidates that have a strong theoretical background as well as practical problem-solving abilities. The CompTIA Network+ certification validates your expertise in developing network solutions in a large-scale commercial setting.

As a result, to be evaluated for open opportunities, job applicants must show their capacity to network successfully. With a CompTIA certification, you'll be able to wow employers with your expertise in network infrastructure maintenance. As a consequence, your chances of being hired increase.

For example, Network Administrators, Information Security Consultants, and Systems Engineers may all benefit from such certification.

With the CompTIA Network+ certification, you will have more options to work in global corporations and earn higher wages. On Payscale.com, the average CompTIA Network+ income is about $66k.
Summary
Networking is one of the most sought-after professional sectors in the technology business, according to many individuals. Fortunately, owing to certifications such as CompTIA Network+, this goal is easily attained. It might assist you further your profession by confirming a fundamental grasp of network architecture, topologies, and security, to name a few topics. You may get started right immediately if you pass the N10-008 exam.
Happy Learning! Cheers!