Microsoft Azure is a leading cloud service provider worldwide, second only to AWS. Over the years, Microsoft Azure has developed robust cloud services to govern cloud-based products and solutions for enterprises around the globe. In 2021, Azure amassed a 21% global cloud infrastructure market share. 
In the growing cloud market, companies require high-skilled resources to develop and maintain their cloud solutions. Microsoft offers wide-ranging Azure certifications for different products and job roles to validate skillful resources. Microsoft Azure certification learning path serves as the ultimate path for mastering Azure cloud. Azure-certified experts are generally paid more salaries than their non-certified counterparts. 
Benefits of Azure certifications in career growth
In recent years azure has gained growth in cloud computing drastically. Azure cloud is gaining enterprises' attention because of its hybrid compatibility. So choosing a career in this field has many benefits. The following are some of them:
The career in azure is very flexible and you can choose a different career like cloud architect, developer, or solution architect, and also you can also choose to work in different industries.

By earning an azure certification you can enjoy the benefit of an attractive salary package.

Azure certification will help you with career advancement within your organization where you may also land a leadership position in your organization.

By becoming Azure certified you will be able to improve security for your organization as you may be up to date with new technologies and options.
Top Paying Azure Certifications
In India, various software companies are providing Azure Cloud services to their clients and require certified individuals to deliver complex cloud solutions. Companies are now putting in an extra effort to get their employees multiple certifications which not only empowers the employees professionally but also helps the company establish its service specialty. In this article, we'll discuss three of the top-paying Microsoft Azure certifications worldwide and their corresponding salaries for job roles in India. 
Let's begin!

Azure Administrator Associate is one of the top-paying intermediate-level Microsoft Azure certification as reported by Global Knowledge 2021 IT Skills and Salary Survey. An Azure Administrator is responsible for setting up the company's cloud infrastructure based on Azure technologies. This includes provisioning, monitoring, and adjusting virtual networks, cloud storage, and network, along with managing cloud governance and identity.
Candidates are not only expected to have pre-requisite fundamental knowledge about Azure concepts, services, management tools, and core solutions with a hands-on experience of at least six months. But also learn the more advanced Azure cloud skills practically.
The Azure Administrator Associate certification can be earned by passing the AZ-104 Microsoft Azure Administrator exam with a minimum of 700 passing scores. It is a role-based certification, particularly designed to improve and validate the skills of cloud administrators. As Azure cloud is always improving, along with the related exam content, this certification must be renewed every year.
For exam preparation, Azure offers free learning paths for all certifications which covers the exam content in detail. You can also benefit from their paid instructor-led training or any other credible third-party training.
Finally, being one of the top-paying certifications for cloud administrators, Azure Administrator Associate certification has an average annual salary of $121,420 as per Global Knowledge. Azure certification salary estimated by ZipRecruiter lies at $107,683 for Microsoft Azure Administrators that can go up to $163,000. In India, Glassdoor reports an average salary of ₹5,98,362 per year which can go as high as ₹10L.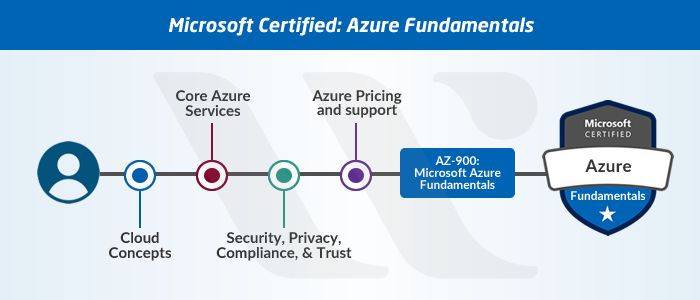 Microsoft Azure Fundamentals is a foundational level certification for aspiring Azure practitioners. It is the direct competitor of AWS Cloud Practitioner and Google Cloud's Cloud Digital Leader certifications. It not only equips candidates with the knowledge of core Azure services as well as general cloud concepts. But also covers Azure management tools and describes the features related to Azure network security, identity, governance, privacy, and compliance.
The Azure Fundamentals certification can be earned by passing the AZ-900 Microsoft Azure Fundamentals exam with a minimum of 700 passing scores. It is a stepping-stone for preparing more advanced Azure role-based and specialty certifications. As this is the entry point for Azure cloud, this certification is suitable for broad-ranging job roles like managers, developers, administrators, and even students. Additionally, as part of Microsoft's policy, fundamental certifications do not expire.
Just like most Microsoft certifications, Azure Fundamentals is available in various languages like:
English,

French,

German,

Spanish,

Korean,

Chinese,

Japanese,

Indonesian,

Italian,

Portuguese,

Russian,

and Arabic.
As a beginner-level certification, it costs relatively less ($99) as compared to the more advanced certifications.
Azure Fundamentals certification holders most likely have more advanced Azure certifications as well which helps them in amassing an average salary of $126,653 as per Global Knowledge 2020 IT Skills and Salary Survey. In general, Glassdoor reports an annual average salary of $108,744 for Azure specialists. As per the Azure certifications salary in India reported by talent, Azure developers are compensated by an annual average salary of ₹1,400,000.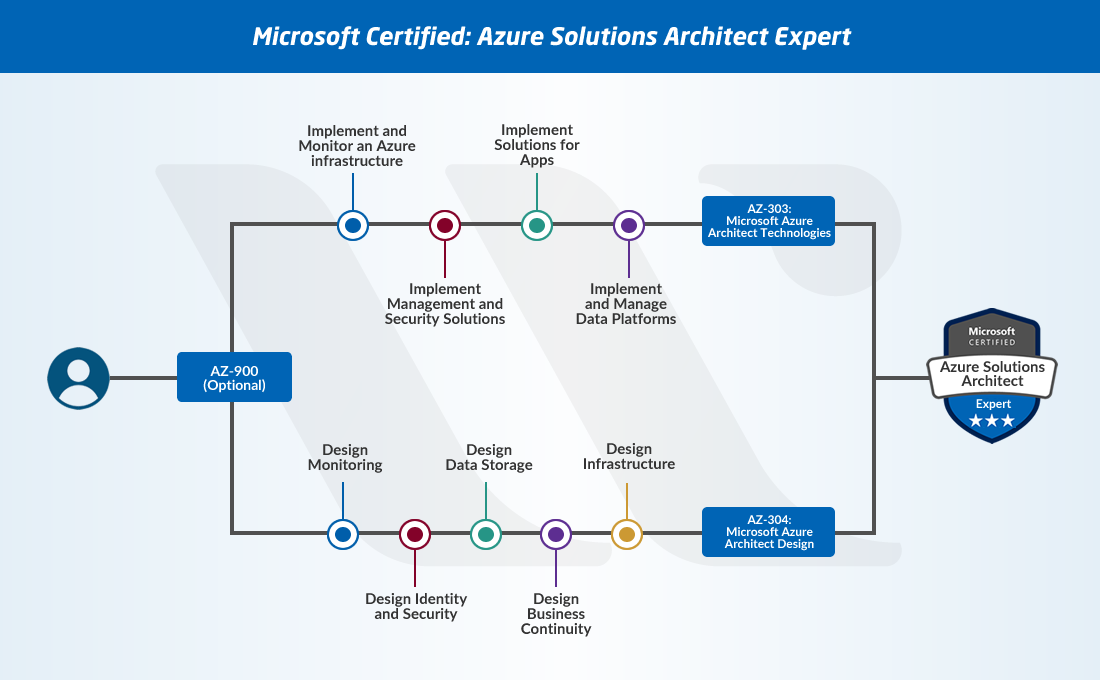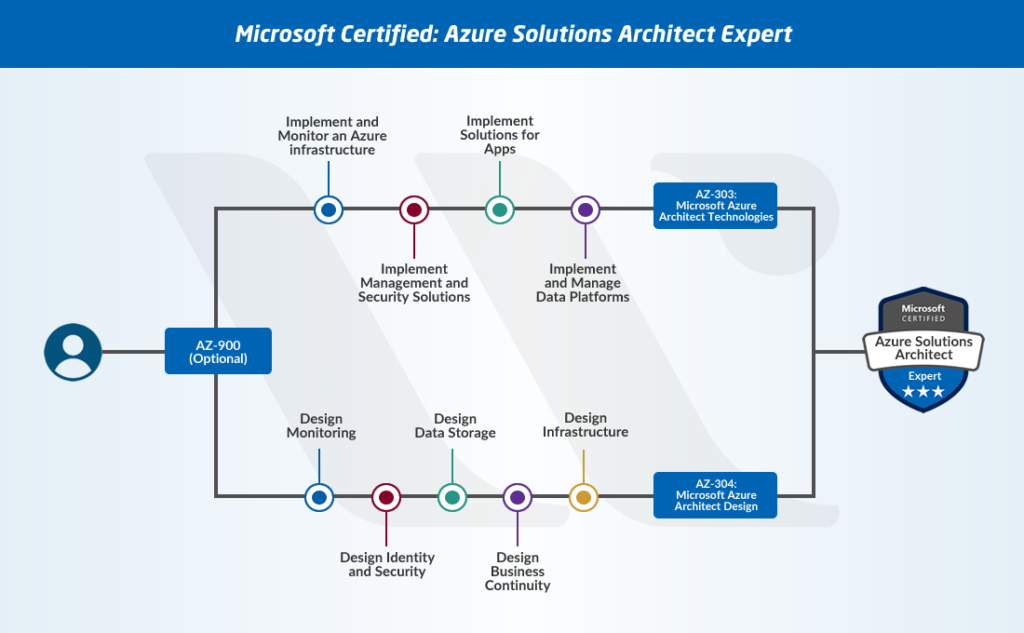 Being one of the most valuable Microsoft certifications, Azure Solutions Architect Expert is an advanced-level certification that requires the candidate to earn the Azure Administrator Associate certification as its pre-requisite. 
Azure Solution Architects are responsible for building reliable and scalable Azure solutions by mapping business requirements into design. They have wide-ranging expertise in Azure cloud and interact with various stakeholders like developers, administrators, and executives to implement cloud solutions.
Their decisions can impact the overall quality of the solutions which can greatly affect business revenue. Solution architects have advanced experience in Azure cloud networking, virtualization, recovery, storage, governance, development, and DevOps processes.
The Azure Solutions Architect Expert certification can be earned by passing AZ-303 and AZ-304 (until March 31, 2022), both with a minimum passing score of 700. Microsoft has launched a new exam AZ-305 to replace these multiple exams, covering all relevant topics. This is a demanding role-based certification, particularly designed for solution architects, and must be renewed every year.
Let's talk about the salary of Azure certified experts in this domain. PayScale reports an average annual salary of $120,718 while CIO names it as one of the most popular certifications based on Robert Half's 2021 IT Salary report. ZipRecruiter estimates an even high annual average salary of $152,142. As per the Azure certifications salary in India reported by Glassdoor, Azure Solution Architects are paid an annual average salary of ₹18,13,202 which can go as high as ₹30L.
Final Words
If you are still wondering whether the cloud is the appropriate career direction or not, Gartner predicts an exponential growth of the global cloud service industry up to $490.3 billion in revenue by 2022 and to grow upto 20.7% to total $591.8 billion in 2023. And, Microsoft Azure has a sizable market cap in cloud services. Becoming an Azure Certified expert can boost professional career development in terms of technical skills, credibility, and salary. Azure has also partnered with Upwork to identify and showcase Azure certified freelancers so that companies can find individual experts easily.
It is also important to note that the salaries reported above are based on various factors like company, experience, number of certifications, and region. Azure practitioners often have multiple certifications which enhances salary compensations significantly. But passing Microsoft Azure certifications are not a walk in the park. It requires high-level dedication and hard work from an aspiring Azure expert to learn each aspect of Azure Cloud technologies in detail. Successful candidates are not only respected professionally but also secure higher paychecks and better job roles.
What are you waiting for? Start your journey to master Microsoft Azure Cloud today.