Whizlab is always one step ahead of understanding the need of our learners and also in introducing the most-awaited and trending courses for the year 2021. Stop researching any further and check out Whizlabs Online Courses that you may have missed at the launch date. The blog is dedicated to breaking down every course into useful and crisp details.
Now, let's look into each course in detail.
1. Homogeneous & Heterogeneous Migrations Using AWS Database migration service (DMS) – Online Course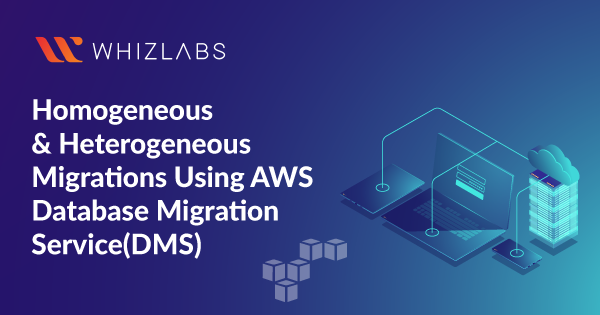 The AWS data migration is a supportive feature created to shift your database to AWS in the easiest way. It's not just about transferring your data to AWS but also having easy control and operation once the data is transferred. The homogeneous migration can vary from Oracle to Microsoft SQL. Right from continuous replication to an easy consolidation of data, the course will introduce you to everything. The division of the course lectures are as follows:
Introduction: 1 Lecture
This is a brush through from the basics of AWS. It will introduce you to the databases and help you find your software and place them on your devices. The lecture will also give you a technical and mechanical brief of what lies ahead in the major lectures and how to prepare for them.
Introduction to AWS Services: 3 Lectures
This will introduce you to the different software and applications or servers through which you can operate and download your data. For example, it gives a briefing about migration from SQL Server to Aurora MySQL. Your introduction and journey to the world of Amazon will start from here.
Basics of Data Migration on Cloud: 3 Lectures
This course introduces you to various application deployments, analytics, workflows and will thoroughly fit the machine learning innovations in your mind. It will introduce you to a variety of partner tools that AWS has to offer.
Migration Hub in AWS: 5 Lectures
These will introduce you to the benefits and running premise conditions of the tools. The knowledge of low latency data and rapid data, concepts like hybrid cloud storage and Use cases of Database migration will be elaborated widely.
MySQL Migration: 2 Lectures
This lecture will introduce you to the concept of SQL Server Constraints. How to shift data by creating tables on SQL Servers and common table expressions will be taught here.
Server migration in AWS: 3 Lectures
This is one of the important and most practical parts of the course. It introduces you to the VMware Cloud on AWS, VM import and export and Different AWS Services for server migration.
Issues in AWS Cloud Migration: 3 Lectures
The last one focuses on the issues in AWS Migration. It not only provides troubleshooting security issues but also teaches you how to use your technical side of the brain and figure out any unknown issue while working independently.
Enroll here: Homogeneous & Heterogeneous Migrations Using AWS Database migration service (DMS) – Online Course
2. Introduction to Azure Resource Manager – Online Course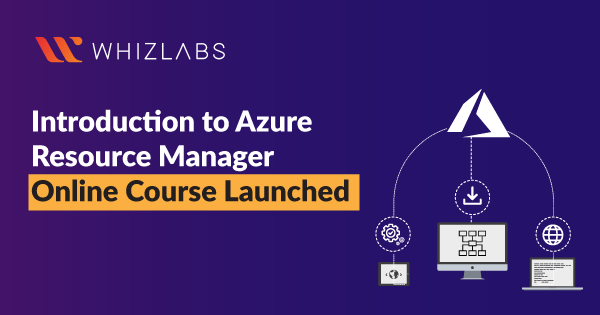 The deployment and management service for Azure is introduced in this course. Things like access control, locks and tags to secure and organise your resources and templates are some of the most useful sources taught in this course. The division of the lectures are as follows:
Introduction: 3 lectures
The introduction involves getting acquainted with the software. It introduces and makes you comfortable with the tools, names and where to find them when needed in the later lectures. It gives you a basic overview and helps you to know what to look forward to in the later lectures.
Azure Resource Manager: 13 Lectures
This is the longest part of the course and is one of the most important parts of the whole course. It will introduce you to the Azure portal, Azure PowerShell, Azure CLI and a lot of other tools. Once you cross this part of the course, you will be very close to being a pro at Azure.
Core Concepts: 8 Lectures
The lecture aims at diving deeper into the concepts which were just touched on in the above lectures. A much deeper information and understanding about resource groups, subscriptions, management groups and a lot of other topics.
Security: 11 lectures
The lecture will train you to prevent, detect and respond to threats. It teaches you how to obtain superior visibility into your resources through the software. Introduction and working of the Security centre console will be a large part of this lecture.
Resource Deployment with Azure manager: 8 lectures
Azure Monitor, Azure Monitor logs and deployment of sources using different templates like ARM is one of the most needed parts of learning the whole software. The lecture will see to it that you are well versed with the topic.
Enroll here: Introduction to Azure Resource Manager – Online Course
3. Microsoft Security, Compliance and Identity Fundamentals (SC-900) Certification – Practice Test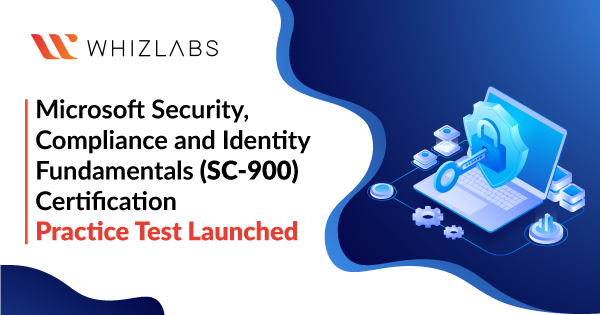 The SC-900 is an exclusive certification exam on Microsoft Security, compliance and identity fundamentals. The course is accompanied by practice exams and free test. The target audience of this exam are people who want to elaborate their career into the nook and corner of security fundamentals and cloud-based Microsoft services. The IT sector-based and built on the work of Professionals and business stakeholders hold security as a need higher than anything else. It's a blooming and demanding field.
The candidates must be well versed with Microsoft Azure and Microsoft 365. That is the basic need for a reason to identify the solution of software, you must know how the software works.
Check out Microsoft Security, Compliance and Identity Fundamentals (SC-900) Certification tests here:
For the Exam you will need:
(a) Concepts of security, compliance and identity.
(b) Good knowledge of access management solution.
(c) How capable are Microsoft security solutions?
(d) How capable are Microsoft compliance solutions?
4. Getting Practical with AWS Organizations – Online Course
The course is a golden package for people who want to be an expert in governing and managing your environment when your scale grows larger. It will teach you to program accounts to allocate your applications or sources.
The following are the main attraction of our course. Let's discuss those areas in details:
Getting started with AWS Organisation: 7 lectures
Creating new accounts, how to create, what exactly is AWS service, why is it useful, group accounts, organisation of workflows and policy applications are the introductory basics in the three lectures. With this, you will have a very strong environment not only for this course but any AWS category course.
Policies and tags: 24 lectures
The lecture will train you for quickly scaling your workloads with custom environment and templates that you will learn to create. Managing your auditing, knowing the scales etc. will be taught in these lectures.
Logging, Monitoring and Compliance: 3 lectures
Defining and using central configurations is one of the main focuses of this lecture. Security mechanisms and audit requirements will be covered to a large extent through this lecture.
Enroll here: Getting Practical with AWS Organizations – Online Course
5. CCA Spark and Hadoop Developer (CCA 175) – Online Course
CCA Spark and Hadoop Developer (CCA 175) is one of the top Big Data certifications. This course is an intensive certificate program with training for this particular exam preparation. The course will help you develop a considerable command of the Hadoop development protocols whilst introducing you to many other useful tools. The course introduces 15 hours 16 minutes of training videos comprising of 97 lectures. The course includes:
Introduction: 2 Lectures
The lectures of 13 minutes will brief you up about the topics that would be covered and how the course will go about the whole portion. It will prepare you as to what to expect out of every lecture and preparation tips. The lecture also aims at giving you a basic idea of being a certified CAA and what it holds.
Big data and Hadoop: 8 Lectures
Your next 52 minutes will be spent on learning big data and Hadoop. It will introduce you and teach you the procedure and working of the Java-based framework. How to store and process big data and how to run them in clusters are some of the questions that will be answered.
Lab setup: 4 Lectures
The next phase of your course will involve you in a process of lab setup. It is the knowledge of the environment you will be setting up for your data. The environment should be as simple and easy for the data to be played and analysed. That will be taught in this lecture. You will be an expert in segregating the most complex data into a format readable to a beginner.
Apache hive: 10 lectures
The former lecture focuses on how you could use different tools and methods to move data from one source to another. The latter teaches how to analyse and go about the data once it is moved. Furthermore, converting different formats of data into one format will be focused on.
Scala Fundamentals: 22 lectures
The lecture is going to touch on topics such as Variables in scala, string interpolation, scala type inference, loops, ranges, pattern matching, enumerations and a lot of other tools. Building a large multi-project with big data is something you will be able to do with your left hand after this.
Spark SQL: 17 lectures
The lectures will be focused on a step to step training on handling and major processing of big data. It helps you cope up with situations like how to process data that are sometimes larger than your aggregate memory. How to segregate data on disk and on memory and a lot more.
Enroll here: CCA Spark and Hadoop Developer (CCA 175) – Online Course