This blog shares everything one needs to know before appearing for the MS-500 exam. The exam overview, significance of this exam, who should take this exam, why you should take this exam, and the prerequisites: this blog will guide you through all the essentials of the MS 500 exam. Let's delve into the details.
Microsoft comes with Associate level administrator certifications. If you are involved in handling security and compliance solutions for Microsoft 365 and hybrid environments, you can then go for the MS-500 Microsoft 365 Administration Exam.
Qualifying this will make you Microsoft 365 Certified: Security Administrator Associate, and you get one step closer to achieving Microsoft 365 Enterprise Administrator Expert. Once qualified for the MS-500 exam, you need to pass the MS-100 and MS-101 exams to get the expert certification.
What will you learn from the MS-500 exam?
Before you jump onto the bandwagon, here's a quick glance at what you can expect to learn from the MS-500 exam certification and what you will achieve once you pass the test.
Deploying and handling Microsoft Cloud App security:

 Microsoft Cloud App Security, recently named as Defender for Cloud Apps helps you leverage the benefits of cloud applications while having complete control over corporate resources. You learn how to improve the visibility of cloud activity and increase the security of corporate data using the Defender for Cloud Apps.
Configuring and Analyzing Security Reporting:

 You will get to know in detail how to manage and monitor device security status using Microsoft Endpoint Manager Admin Center and handle security dashboards through Microsoft 365 Security Center. You also learn how to use compliance as a factor in the Conditional Access policies.
Managing and Analyzing Audit Logs and Reports:

 Microsoft Cloud services include various auditing and reporting features that make it easier to track user and administrative activity within their tenant. MS-500 gives you hands-on experience of this. You can use audit information and reports available in Microsoft cloud services and handle user experiences, combat risks and fulfill compliance obligations more efficiently.
Managing Data Governance and Mitigation:

 With the MS-500 exam, you find out more about how to manage data governance features, including how to deploy retention in email, sensitivity labels, and Windows Information Protection and troubleshoot data loss issues.
Managing search and investigation:

 You discover more about managing content search and investigations in Microsoft 365 and how to search for content in the Security and Compliance Center, hold audit log investigations, and handle advanced eDiscovery.
Managing Data Privacy Regulation Compliance:

 You learn how to leverage Privacy Management for Microsoft 365 and protect corporate data and build an infrastructure resilient to privacy. You get familiar with role-based access controls and data-de identification by default and help your team and organization get end-to-end privacy risks at scale in an automated way.
Who can take the MS-500 exam?
"Is this exam for me?" That's the first thought that might have crossed your mind before going for the MS-500 exam. Let's make it easy to understand. Before you begin with self-analysis, divide your criteria into two baskets.
The first basket should include years of experience. Microsoft level certifications are broadly divided into three divisions, viz Foundational for the beginners, Associate for those having a minimum of two years of experience, and Expert for those with Microsoft 365 experience of 5 years and beyond.
And since MS-500 is an Associate level Administrator Certification, you should have at least two years of experience working with Microsoft 365. However, Microsoft never asks you directly or counts your number of years of experience when you apply. So you would always have time to get acquainted with the prerequisites of the exams while you prepare.
The second basket includes your job specialization. You would need to sit and analyze whether MS-500 will align with your current job profile or not. Microsoft usually expects the candidates for the MS-500 exam to have familiarity and experience in "Securing Microsoft 365 enterprise and hybrid environment and implementing and managing security and compliance solutions."
So long story short, if you have two years of experience in managing security and compliance solutions in Microsoft 365, this certification is just the right fit for your career. Also, if you are just starting with MS 365 administration, you will gradually focus on upgrading your skills for your next-level roles with MS 500 certification and boost your career by 5x times faster than your peers.
Why you should take the MS-500 Exam?
You will get better ROIs once you pass the MS-500 exam and get yourself Microsoft 365 Certified: Security Administrator Associate. That's quite a guarantee, and you would add a feather to your hat, especially if you are a young IT professional. Whether you are a network administrator or a security administrator who's finding yourself falling out of career options, MS-500 is just the best exam for you. In simpler words, there are two main reasons why you should take the MS-500 exam.
First, MS-500 is a great way to get into the crux of associate-level understanding of Microsoft identity management and cybersecurity tools. While preparing for the exam, you will gradually become familiar with the lesser-known and out-of-the-box tools Microsoft stores for authentication, conditional access, and sensitivity labels. Additionally, MS-500 is a great way to know pin to pie about information security inside the Microsoft 365 ecosystem. 
The second benefit is mainly for the averagely experienced professionals looking for ways to validate their skills. If you are a security administrator or a network administrator dealing with bare minimum security responsibilities, MS-500 will help you frame a foundation for your experience and expand your job profile. It will also allow you to document your capabilities with Microsoft native apps and tools for managing and securing data. 
Speaking solely about Microsoft 365, securing your Microsoft 365 deployments is becoming increasingly crucial. It guides you through the security issues and strategies needed to make operations a breeze for you and the IT professionals in your team. The Microsoft 365 security administrator preemptively secures Microsoft enterprise environments, responds to the threats efficiently, performs investigations, and implements data governance.
The Microsoft 365 security administrators partners with Microsoft 365 enterprise administrators, business stakeholders, and other workload administrators to strategize and deploy security measures and make sure that solutions comply with the organizational policies. In Microsoft 365, you cover various products and endpoints. You also get tools up your sleeves that are vital to battle the security threats in your infrastructure. 
Format of MS-500 Exam
The duration of the MS-500 exam is 150 minutes, or 2 hours and 30 minutes, and it is a computerized test. The exam would contain 40-60 questions and multiple-choice, drag-and-drop, case studies, and multiple response questions. On a scale of 1 to 1000, passing marks are 700: The validity of the exam is for 1 year and would cost $165. No prior certification is required, but you would need to have an elaborated familiarity and a minimum of two years of experience in dealing with Microsoft 365 Security and Compliance solutions.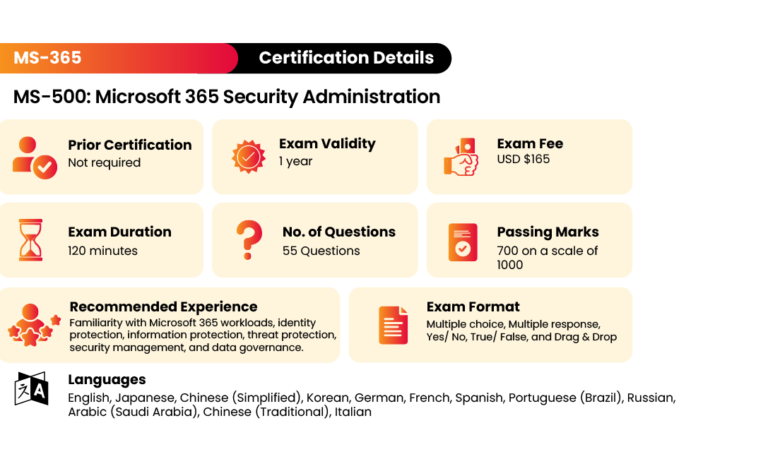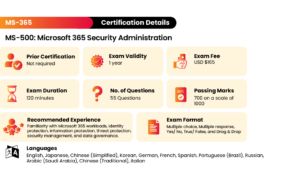 Requirements for MS-500 Exam
As mentioned earlier, the main prerequisite for taking the MS-500 exam is to have two years of experience in managing security and compliance solutions in Microsoft 365. Other than that, Microsoft lays down a list of requirements you should fulfill before you start with the exam prep:
Basic conceptual understanding of Microsoft Azure

Experience with Windows 10 devices

Experience with Office 365

Basic knowledge of Authentication and Authorisation

Familiarity with computer networks

Working knowledge of managing mobile devices
Domains covered in MS-500 exam:
The MS-500 exam includes four domains:
Deploy and handle identity and access (35-40%): 

This domain will mainly cover:
Secure Microsoft 365 hybrid environments

Secure identities

Implement the authentication method

Deploy conditional access

Deploy Role-Based Access Control (RABC)

Deploy Azure AD Privileged Identity Management (PIM)

Deploy Azure AD identity protection
    2. Deploy and ensure security against threats (25-30%): In this domain, you will need to learn:
Develop an enterprise hybrid threat protection solution

Develop device threat protection

Deal with device and application protection

Familiarity Office 365 ATP

Implement Azure Sentinel for Microsoft 365 ATP
    3. Deploy and handle data security (10-15%): This domain will include:
Secure data access with Office 365

Handle Azure Information Protection (AIP)

Handle Data Loss Prevention (DLP)

Develop and handle Microsoft Cloud Data Security App
    4. Implement and maintain governance and compliance features in Microsoft 365 (20-25%): You would need to cover:
Configure and analyze security reporting

Conduct audit logs and reports

Deal with data governance and retention

Handle search and investigation

Familiarity with data privacy regulations and compliance
How to prepare for the MS 500 exam?
Preparing for any exam is no cakewalk. In particular, talking about exams like MS-500, which involve such a deliberate and specific syllabus, you might find things go haywire. To make this journey a breeze for you, we have come up with these few simple steps that will help kickstart your MS-500 certification prep:
Step 1: First, understand the objective of the MS-500 exam. Analyze if your skillset is a match for the certification. If you lack any skills, you can always return and update yourself. You can also take a study guide for the MS-500 exam.
Step 2: Attempt the practice tests which have MS-500 exam questions and answers. Microsoft 365 Security Administration actual exams often tend to surprise you with unique questions, and you would need to learn how to solve them in the given duration.
Step 3: Appearing for practice tests in step 2 will help you know your weaknesses and strengths in terms of subject knowledge. You would need to pick up the ones where you are scoring the lowest and work on that more to fill your skill gaps.
Step 4: Relook at the practice tests time and again. Once you find yourself making zero errors, it's time for you to conquer the actual exam.
Resources you can refer to for MS-500 exam preparation:
There are more than adequate resources to refer to while appearing for the MS-500 exams. But for every Microsoft exam, it's always better, to begin with, the Microsoft Learning Path to get a better grasp of the domains and a better understanding of the subject. You can refer to the Microsoft official page. 
Second, on the list is the security and training labs on GitHub, also referred to as MS-500 Microsoft 365 Security Labs. The labs will help you understand how to manage aspects of Microsoft 365 and get a practical perspective on the skills.
You can also watch the instructor-led training course on Microsoft's official page under the topic: MS-500T00- A Microsoft 365 Security Administration. You will gain strategic foresight into concepts like providing security through passwords and multi-factor authentication, implementing and maintaining Azure AD connect, and learning more about knick-knacks of conditional access in Microsoft 365. 
Last but not the least, you can refer to this book: Exam Ref MS-500, Microsoft 365 Security Administration, authored by Ed Fisher and Nate Chamberlain. The book covers in-depth knowledge of Microsoft 365 security, implementation, and administration, including identity access, threat, and data security, and governance and compliance solutions.
Summary
So before you kickstart with the exam prep, we recommend you deep dive into what you would refer to as the correct guide for the MS-500 exam. Gather as much information as possible from the Microsoft-certified resources and websites, and then decide which one to pursue.
We at Whizlabs are always looking forward to assisting you in getting MS-500 certified. Subscribe to our MS-500 Exam practice test: Microsoft 365 Security Administration Certification, and add another feather to your hat.