A 9-to-5 job isn't for everyone, and as working from home becomes more common, many people are realising that they prefer the flexibility of being able to dictate their own work hours. Freelancing jobs are increasing in the numbers and especially the countries like USA, freelancers are more than other countries.
When done correctly, freelance jobs can be extremely lucrative. They also have the advantage of ensuring that you're not bound to a single location – if you're a freelancer, you're free to go on vacation or even more cities and countries without problems with your professional life. 
Freelancers can be part of any profession, from writing to tech. If you're looking for a limited-time AWS consultant while you get your new business off the ground, you'll easily be able to find a freelancer for even such a technical position. However, like with full-time jobs, different fields have different pay rates and expectations. 
Freelance jobs are a particularly attractive option for people moving to the United States (USA) without an existing job lined up. It doesn't matter if you're moving for studies or on a spousal visa – freelancing will allow you a sense of independence and the ability to earn your own money. If this sounds like something you need, you're in the right place – let's look at the top 11 highest-paying freelance jobs in the USA.
Top 11 Highest Paying Freelance Jobs in the USA
1.
Programming and Software Development
 Average Pay: $150+ per hour
When talking about the highest paying freelance jobs in the USA, programming and software development are at the top of the list. In fact, James Knight, a former Google programmer, has found that his skills are in such demand that he is able to charge over $1,000 per hour for his skills. 
 Of course, not everyone has Knight's resume to help them justify a thousand dollars or more. However, if you've got good coding skills and are fluent in in-demand languages like iOS, you can easily start by charging $150 an hour. 
 The reason behind the demand for programmers and software developers is simple – developing the skills necessary to do the job takes time, and good programmers are hard to find, which is why companies are willing to pay top dollar when they do manage to do so.  
 Additionally, if you keep up with changes in the tech landscape, you'll find that you can easily increase your asking process. For example, one survey found that Bitcoin and blockchain developers are in particularly high demand. If you're able to upgrade your skills to match this demand, you'll be able to ask for more due to the lack of qualified professionals able to fill the demand. 
2.
Business Consultant 
 Average Pay: $100 per hour
 If you've got a background in business consultancy, you'll likely be able to earn a good amount of money as a freelancer. Business consultants work with existing businesses and analyze their current performance through a number of metrics. 
 They use their analysis to identify ways for a business to boost its productivity and profits. They'll be able to identify challenges that are holding a business back and come up with a plan to address them and help the company meet and surpass its goals. 
 If you've got a significant resume of your successes as a business consultant, you'll likely be able to charge significantly more for your time. However, if you've got the skills but don't have as long a CV, don't worry – you'll still be able to charge about $100 per hour. 
3.
Corporate and Contract Law
Average Pay: $75-$95 per hour
When you think of corporate lawyers, you're probably thinking of an in-house lawyer for a multinational company. However, not all businesses have the budget to be able to have a lawyer on staff 24/7. 
 That's where freelance lawyers come in. 
There's a good chance that business owners will have contracts that they'll need drafted and looked over. Additionally, there are times when they'll need legal counsel by your side or someone to help them navigate the technicalities of corporate law. Hiring a freelance lawyer allows them to get the advice they need without the long-term overheads associated with adding a full-time lawyer to their staff. 
 Of course, in order to be a freelance lawyer in the United States, you will need to be cleared to practice law. Unlike many of the other freelance jobs on this list, you will need to have country-specific information. Unless the contract in question is an international one, you won't be able to provide accurate advice if you're qualified as a lawyer in India and not the United States. 
 You will need to have a license to work as a lawyer in the state you're living in. Additionally, while you don't need to have passed the bar to work as a freelance lawyer, having that additional qualification will only make you more attractive to employers and may allow you to increase your charges.  
4.
Web Design and Development
Average Pay: $60 per hour
With the world becoming increasingly digital, being able to create a website is an extremely valuable skill. 
After all, while most businesses need an internet presence, owners generally don't have the time (or skills) to do it themselves. This is especially true for small businesses for whom an internet presence is their lifeblood. 
 Learning web design and coding websites is relatively easy, so it may seem like the field is crowded with people. However, people with the skill and expertise stand out immediately because of the number of novices. Additionally, if you're able to find a specific niche, you'll find it easier to charge more for your services. 
 That said, even if you're building relatively basic websites, you'll find that there's a robust demand for your services. 
5.
Internet Security Specialist
Average Pay: $55 per hour
As mentioned above, the world is increasingly digital today – and that allows malicious actors new ways to attack businesses. That's where an internet security specialist comes in. 
Security specialists don't just consult businesses on what security measures they can take to protect their digital information, they often develop and implement complete security software to meet a company's unique needs. While it may seem like internet security is as simple as changing your passwords frequently, there are a lot more steps involved for a business, and they often need to be proactive (rather than reactive) in preventing data theft – and that's where your skills will come in.  
Specializing in internet security is a good way to increase your per hour rate – for example, if you're an internet security architect, you will have the programming knowledge to build a security system from the ground up and will therefore be able to charge more.  
6.
SEO Specialist
Average Pay: $50 per hour
For businesses, being able to get their website to the front page of Google is an essential part of marketing themselves. There are a number of ways to boost a website's search ranking on Google (and other web engines), and an SEO specialist knows all of them. 
Given the importance of proper marketing to a business's success, an effective SEO marketer is priceless for a company to do well. As an SEO specialist, you'll be expected to be able to navigate everything from keyword planning to Google Analytics. You'll also need to understand what data you get from your existing ad strategy so that you can continue to refine it and make it better. 
One good way to ensure you're attractive to businesses is to build up a portfolio of web pages you have successfully developed and implemented an SEO strategy for. The more comprehensive your portfolio, the more in demand you'll be – and the more you can charge for your services.  
7.
Marketing Strategy 
Average Pay: $50 per hour
As discussed above, marketing is essential to a business's success – and while an SEO specialist will be able to make sure a company's digital marketing strategy is a success, it's the marketing strategist's job to come up with that strategy.  
Like an SEO specialist, you'll be working with more data than you may realize – you'll need to be able to understand how effective each of your strategies is and how you can use the data to improve upon them. You'll need to be familiar with data analytics and competitor analysis so that you can give your clients a heads up against other companies in the same space. 
Additionally, marketing strategists must have an impeccable grasp of social media. In today's world, having an effective social media marketing strategy is necessary for promoting a business, so you'll need to be familiar with social networks such as Instagram, Facebook, Twitter, and more.  
8.
Voice Actors
Average Pay: $50 per hour
Do you have a distinctive voice? Can you modulate the way you speak depending on someone else's wishes? 
If you can covey a lot of emotion with your voice, voice acting may be a good option for you. Unlike many of the other jobs on this list, voice acting doesn't necessarily require formal education or a degree – you'll need the ability to change your voice to meet script demands, but beyond that, there are rarely any education requirements when applying for these jobs.  
Voice acting does not necessarily mean acting in movies – you can find work in other areas as well, including radio productions, advertisements (both radio and television), TV dubbing, and more. You can even find work as a voice actor for large businesses and retail stores that produce their own in-house advertisements. 
9.
Financial Planner/Consultant 
Average Pay: $45-$50 per hour
Just because a person or business is making money does not mean they are spending it wisely. If people are not careful, it's very easy to live above their means – which is why financial planners are in high demand. 
As a financial planner, you'll sit with clients and help them evaluate their existing finances. Once all parties have a better understanding of the current status, you can then help them come up with a plan to live within means. This plan can help ensure they can pay off any existing debts and manage daily expenses while still building up savings. 
Additionally, as a financial planner, you may also be approached for help with estate planning. For individuals looking for help to secure their estate after their death, having the help of a financial planner can prove invaluable. 
As a financial planner, you'll need to know relevant laws. For example, if a client is looking for help with estate planning, you'll need to be able to guide them about necessary contributions they'll have to make and what steps they should take to reduce the risk of their will being challenged. While you will not replace a legal consultant, having this information will make you more attractive to potential clients. 
10.
Copywriter 
Average Pay: $35-$45 an hour
Are you skilled at writing and open to writing about a variety of topics? If so, copywriting may be the perfect field for you. 
Copywriting is another option in which you don't necessarily need to have an academic background – skills at the language and a portfolio of past articles will help you get jobs much faster. 
It's important to note that, unlike many other jobs on this list, copywriters often do not charge by the hour, instead of charging by the article or by word count. Additionally, technical writing or writing in niche fields often costs a premium, as does copywriting in languages other than English. 
Given these factors, it's easy to earn more than average even as a newbie – ultimately, your earning potential will depend on your copywriting niches and your hourly output. So, if you're a fast writer or are able to write extremely technical content accurately, you'll find that your average hourly rate will be much higher than mentioned above.  
11.
Professional Development Writer
Average Pay: $35-$45 per hour
Though this may seem the same as copywriting, the two couldn't be more different. As a professional development writer, you will be helping clients polish their resumes and cover letter, make their LinkedIn profiles more attractive to potential employers, and otherwise boost their appeal when looking for jobs. 
A quality resume and cover letter can help a candidate stand out in a competitive job market. Given the choice of two candidates with the same strengths, a professionally written cover letter boosts a person's chances of getting an interview and even being employed – which is why professional development writers are in demand. 
You will be tasked with helping clients make their past experience sound more attractive to potential employers, help rewrite resumes to focus on relevant experience, cut down on unnecessary fluff in cover letters, and more. You may even be asked to help to tailor a person's LinkedIn profile to meet employer expectations. 
Freelance jobs in the USA can be extremely lucrative if you know where to look and how to use your skills to meet existing demand. While these are the highest paying freelance jobs in general, you may also be able to get a better pay rate than expected in other jobs depending on your past experience and skills. 
If you're looking for a way to get started as a freelancer in the USA, it's best to take stock of your existing skills. You can then use this to find part-time jobs in the USA so that you can build a resume if necessary. If you already have a strong work history or don't have the time for a part-time job, you can always jump right to searching for freelance jobs. Good luck in your search!
In the above article we have listed down the top paying part-time jobs in USA. However, it's important to learn where these jobs will be listed and how freelancers find those jobs.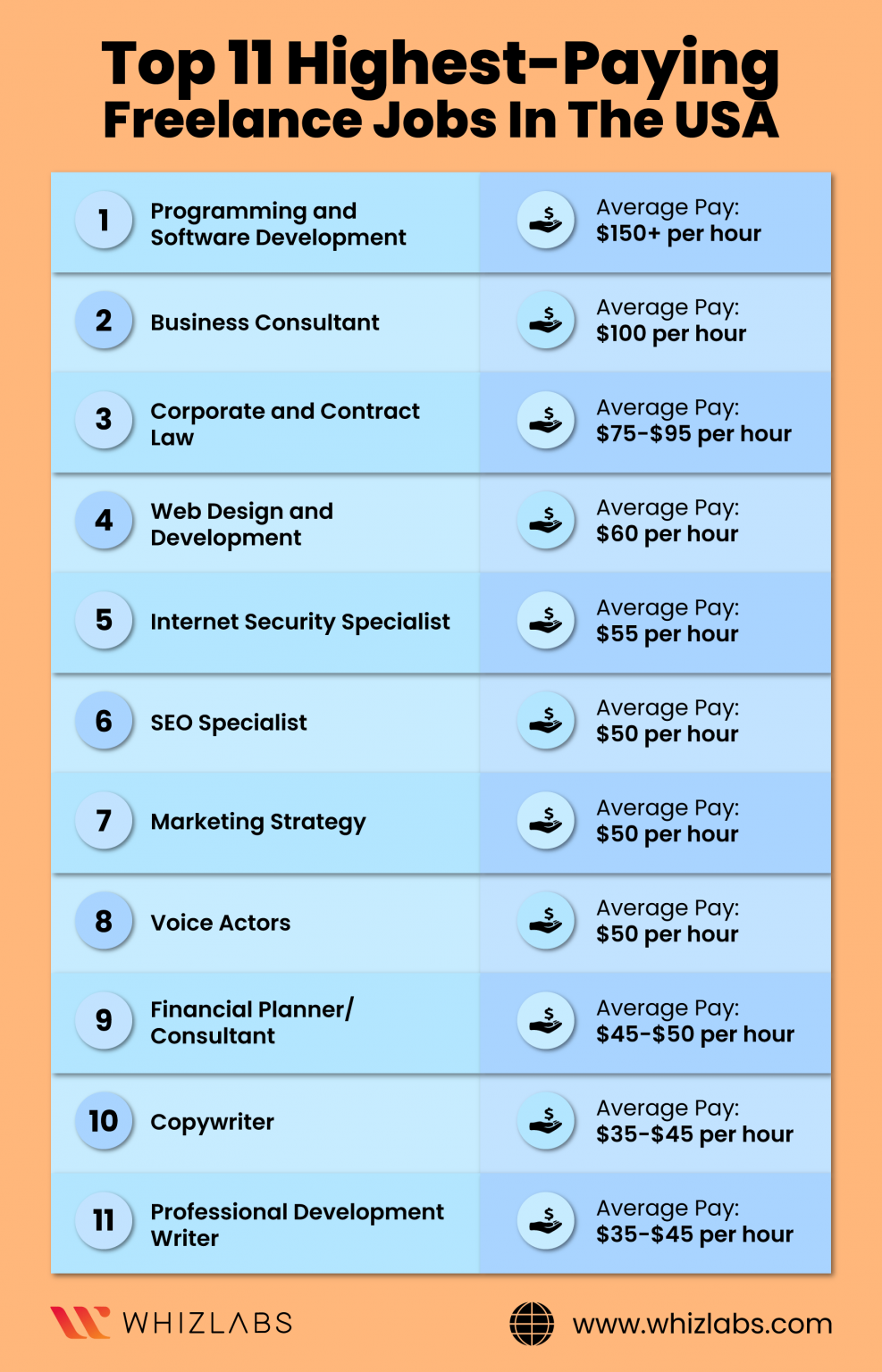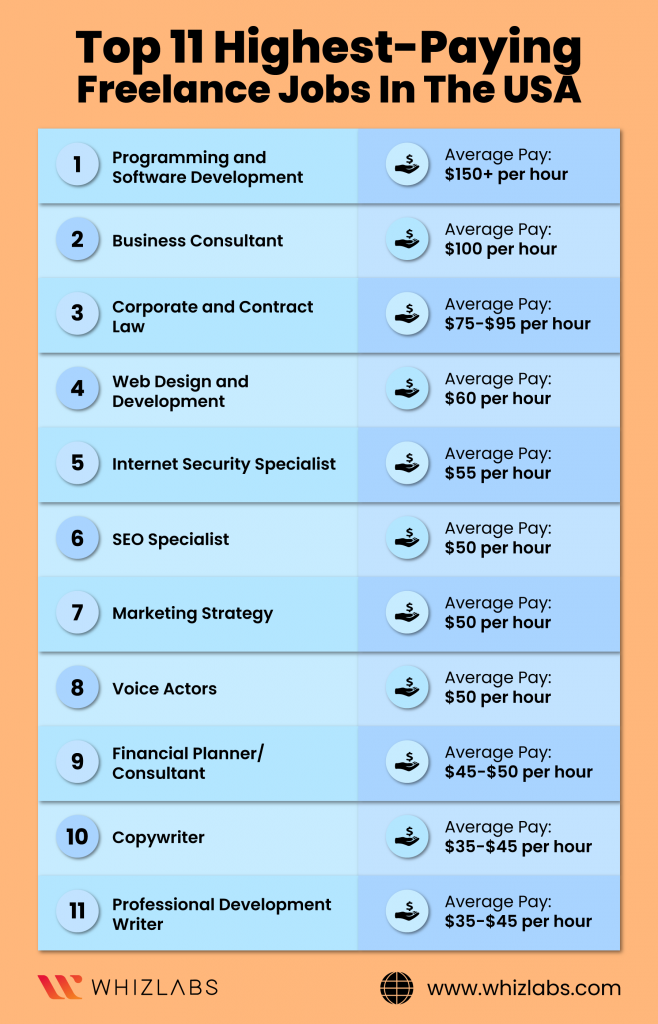 Best Freelancers / Part-time Job Websites
Here is the some of the top or best freelancers websites to search for part-time jobs.
1. Upwork
2. Fiverr
3. Freelancer
4. Toptal
5. We work remotely
References: