Google Workspace is a collection of cloud computing, collaboration and productivity tools, products and software, produced and marketed by Google. Initially this was launched in 2006 by the name Google Apps, which was then coined as the G Suite in 2016. The Google Workspace comprises Gmail, Drive, Contacts, Calendar, Meet and more. The official website for Google Workspace is workspace.google.com .
The Google Cloud Professional Collaboration Engineer Certification is beneficial for anyone looking for a career in Google Workspace(formerly G Suite). A Google Certified role adds a badge to your resume and a star to your skills. This article demonstrates how to prepare for the Google Cloud Professional Collaboration Engineer Certification exam.
Why Should I Get certified?
As per the IT Skills and Salary Report, the tech industry is in need of certified individuals to close the skill gaps, who provide an add on value beyond the cost of certification,helping them fulfil their organisational goals. Google Certifications authenticate your skills in the said field, and you are taken seriously by people and organisations, looking for a candidate who fits in the role.
These Certifications help you take one step ahead in your career, enabling you to demonstrate your worth to employers. When you become Google Cloud Certified, you are:
Able to show your digital badge via email signature, social profile and resume.
So let's start the process with the basics.
Cloud Computing is the on-demand availability of resources wherein data is managed and stored on the remote servers and accessed via the internet, without direct and active management by the user. The resources mainly comprise of data storage and the computing power.
What is Google Cloud?
Google Cloud Platform(GCP) is a collection of Cloud Computing services that run on the exact infrastructure used by Google for its end user products including Google Drive, Youtube, Gmail and Google Search.
Who is a Professional Collaboration Engineer and what does he do?
A Professional Collaboration Engineer carries out the task of transforming the business objectives into visible configurations, security practises and policies. These objectives relate to the users, integration and content. A collaboration Engineer has a thorough understanding of the organisation's infrastructure, through which,
They allow other individuals to collaborate and work together, communicate, and gain access to the data in an efficient and secure way.

Well aware of all the tools, programming languages, and APIs, they operate through an Engineering and solutions mindset to automate workflows.

Explore the opportunities to educate end users and Improve operational efficiency while advising and prescribing Google Toolset and Google Workspace.
What does the Exam assess you for?
The exam tests your ability on:
Planning and implementing of the Google Workspace access and authorisation

Monitoring of the operations of the organisation

Management of the user, resource and shared drive life cycles

Configuration and Management of the endpoint access

Configuration and control of the Google Workspace services

Advance Google Workspace Collaboration and Adoption
Some Job roles offered by the Certification:
Cloud Solutions Engineer

Enterprise Collaboration Engineer

IT Systems Administrator

Systems Engineer
How to Prepare?
1. Learn about the concepts that you need to be well prepared on.
As we have already discussed, exam objectives form a crucial part of your success in GCP certification exams. You can find the domains in almost every Google cloud certified collaboration engineer study guide. The exam objectives and the underlying topics associated with each objective could inform candidates adequately about the ideal choice of learning materials.
Furthermore, candidates could know about specific performance-related tasks that they have to address for each domain in the exam. Also, candidates could ensure better Google cloud professional collaboration engineer certification preparation by finding dependencies among different domains. This surely seems like a way to prepare comprehensively for your certification exam, doesn't it?
The topics you need to have a full understanding on are:
Object Management

Making use of the process of Provisioning and 

Deprovisioning to manage user lifecycles.

Configuration and Management of Google Groups for Businesses

Configuration of the Shared Drives

Managing the Calendar Resources

Service Configuration

Management and Implementation of Google Workspace Configurations on the basis of Corporate Policies

Demonstration of Gmail configuration and setup

Troubleshoot

Troubleshooting of the user reports on the problems of Mail Delivery

Classification and Mitigation of basic Email Attacks

Assimilation of the reports and log files required for support

Workspace Performance and Access Troubleshooting

Data authentication and access

Configuration of policies for multiple devices(Mobile, Desktop, Browser and more)

Implementation of the Data Governance Policies and their Configuration

Management of the third party applications

User Authentication Configuration

Supporting Business Initiatives

Use of Vault in assisting Legal Teams

Knowledge on the import and export of data

Interpreting reports for Business
The Google exam guide further carries the elaborate list of concepts that could be included in the exam.
2. Follow the learning path set by google that includes:
Candidates should also focus on ideal learning materials and resources for Google cloud professional collaboration engineer certification preparation. The best practice would be relying on Google Cloud for official and credible learning resources. You can find "G Suite Home" and "G Suite Admin Help" as some of the promising resources to support your preparations. Also, you can opt for online training courses by reputed platforms such as Whizlabs for additional results.
Learning on how to use Google Workspace

Become well versed in the core apps including Gmail, Google Drive, Google Docs and more.
3. Practice through multiple Hands-on-Labs, wherein you will learn,
Basic Google Workspace Administration tasks

Provisioning users and groups

Managing Google Meet and more applications

These labs are advised to be completed before going through the Google Workspace Administration courses.

This comprises a total of 5 labs
Whizlabs also providing our own hands-on labs to precatice Google Cloud concepts.
4. Go through the Google Workspace Administration Course, wherein you will learn,
The best practises to be followed in the organisation.

The effective use of the Admin Console to manage users

How to control access to services, and more.
5. Go through the Practice Tests containing elaborate explanations on all the important topics of the exam. Here you will get an assessment on the exam, the type of questions that could be asked, where you will get an idea of how the exam is going to be.
Once you are done with the steps mentioned above, you can feel that everything is done, and now you can appear for the certification exam! However, that is not the case. You need to top up your Google Cloud professional collaboration engineer certification preparation with practice tests.
Practice tests are very crucial in helping candidates find out their strengths and weaknesses in the exam topics. Most important of all, the practice tests show a clear and true impression of a candidate's preparation. Therefore, ignoring practice tests can leave you worrying about managing time in the real exam and failure to deal with complex questions.
6. Follow a Webinar, to learn the tips and tricks to be used during the exam.
7. Make registration and schedule your Exam remotely or at a testing centre nearby.
Details of the Exam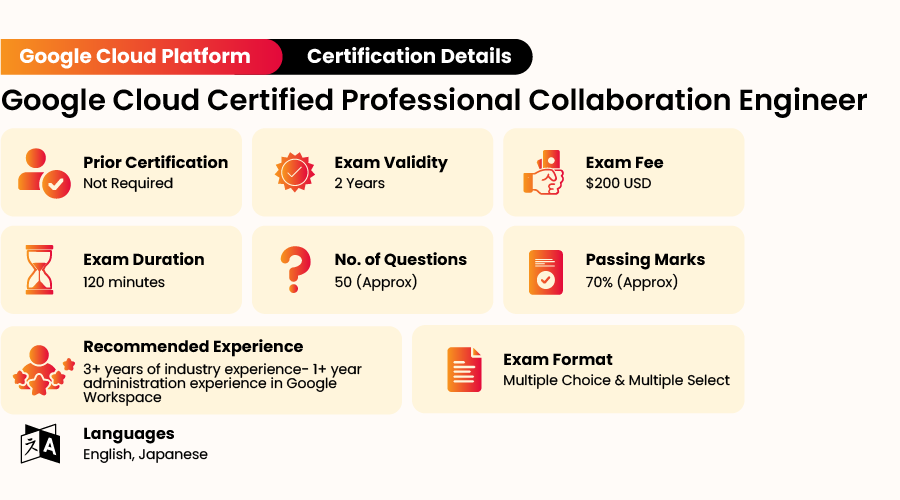 | | |
| --- | --- |
| Mode of Exam | Online Proctored and Onsite Proctored |
| Duration | 2 Hours |
| Languages | English and Japanese |
| Format of Questions | Multiple Choice and Multiple Select |
| Registration Fee | $200 + taxes |
There are no prerequisites for the certification, but it is recommended to have 3+ years of industry experience inclusive of more than one year of experience in Google Workspace Administration.
In online-proctored mode, you can take the exam from a remote location, but you have to adhere to the online testing requirements. While, for the onsite-proctored exam mode, you are supposed to take the exam at a testing centre, and have to locate a nearby test centre .
Unless mentioned, any Google Cloud Certification is valid for 2 years, starting from the date the certification has been taken. 
Recertification could be considered by retaking the exam before the expiry of the valid period and scoring the passing marks.
Important Tips & Tricks
Even if candidates follow all the steps for Google Cloud Professional collaboration engineer certification preparation, they tend to face certain setbacks. Therefore, you need to follow expert pointers to complete your GCP certification exam preparations with ease.
The Google certified professional collaboration engineer study guide should be the anchor of all your preparations. Refer to the study guide when facing doubts regarding the topics for Google cloud professional collaboration engineer certification exam.

Do not mess up with your preparation schedule. If possible, ask a friend or close family member to hold you accountable to your schedule.

Schedule your exam according to your convenience at a nearby test center. Also, keep your ID verification documents handy and remember to take them on the day of the exam.

Do not stick to a particular question for too long. Leave it for now and focus on other questions. You can return to the unsolved ones later if you get time!

Take adequate care of your health with a nutritious diet and an adequate amount of sleep during your preparations. Stressing too much over the exam can lead to undesirable consequences in the end. So, remain calm and focus on your end-goal!

Involvement in a community could get you the necessary support for Google cloud professional collaboration engineer certification preparation. Study groups and GCP community forums can help you interact with other like-minded people. Furthermore, you could also interact with subject matter experts and certified professionals on these platforms for gaining new insights.
If you are taking the exam via the Online-Proctored mode,
Manage your time well. The duration for the exam is 2 hours, so make sure that you finish it within the said time frame.

Check for a high speed Internet Connection. The minimum speed as per the requirements are 1 Mbps for upload and 1 Mbps for download.

Check for the system requirements. You are advised to use a personal computer and a home network.

Make sure that your webcam and microphone is working, since you will be supervised through the camera.

Do not leave the exam while you are in the middle of attempting it.
For Online-Proctored mode,
Locate a test centre that is nearby and easy to reach.

Ensure that you reach the test centre at least 15 minutes before time.

Manage your time well. Do not put too much time into a single question.

Make sure that the webcam and microphone of the system are working properly.

Attempt well.
Feedback from those who have taken the exam
Hands-on experience is a must. Otherwise, it would be difficult to distinguish between the almost correct and the correct answer.

The exam covers the day-to-day scenarios that an admin faces, try to assume yourself as the domain admin for an organisation.

Take an easy and calm approach to the questions, this will help you to focus on their solutions.

It would be good to have knowledge of industry best practises.

Focus on different ways of completing the same task.

Check for any constraints that might change your approach to finding a viable solution.

The MCQs would contain 2 incorrect options, one almost correct and one correct answer. Thorough reading will help you with that.

Spare some time or at least the last 10 minutes to review.
Reasons to Go for Google Cloud Professional Collaboration Engineer Certification
A comprehensive awareness of the reasons to pursue Google Cloud professional cloud collaboration engineer certification preparation can support this discussion further. Here are some of the notable reasons to go after the Google cloud professional collaboration engineer certification.
First of all, a GCP certification gives visual proof of your capabilities for a particular job role to potential employers.

The GCP certification also ensures global recognition for the certificate-holder and gives access to the wider GCP community

GCP certifications present validation for a candidate's thorough understanding of GCP products, technologies, and services. In the case of a professional collaboration engineer certification, the candidate's knowledge of G Suite receives validation.

The GCP certification, as a professional collaboration engineer, shows the dedication of an individual towards continuous learning and professional development. Interestingly, this is one of the foremost skills demanded by employers in potential candidates for various cloud-based IT jobs.
Considering these factors, you can start Google Cloud professional collaboration engineer certification preparation for better salaries, career development, and recognition!
The Average Salary of a Google Cloud Professional Collaboration Engineer
The average Google professional collaboration engineer salary estimates could be easily one of the reasons to pursue relevant certification. The salary prospects associated with a particular job are generally the foremost reasons to drive demand for concerned job roles. The average estimate of Google professional collaboration engineer salary for one year is around $76,340, along with additional benefits.
Frequently Aasked Questions (FAQs)
We strongly recommend you to take a look over the frequently asked questions offered by Google Cloud. Here we enlist some of the common FAQs related to the Google Cloud Professional collaboration engineer certification exam.
What is the Minimum age to take the certification?
Anyone who is at least 18 years of age is eligible to take the Google Cloud Certifications.
When will I receive the exam result?
You will get a provisional pass or fail notification on your test screen, immediately after you submit your exam. The exam record will further be sent to Google Cloud and it will take around 7-10 days to confirm the result.
Will I receive any score for the exam?
No, these exams have been designed to test you on the set passing standards. Scores and feedback are not used as diagnostic tools, or to evaluate the candidates for their ability.
Will I receive any section-wise feedback on my performance in the exam?
These certifications are not intended to evaluate any candidate on the basis of his strengths or weaknesses, and the sections of the exam are broad concept categories.
Where could I take a GCP certification exam?
Candidates could appear for the exam in test centers in nations that are not included in the US Government's list of restricted countries.
What are forms of ID valid at on-site test centers?
The primary ID instruments should be issued by the government and shall have the name, photograph, and signature of the candidate. Examples include passport, government-issued driver's license, or any national/state/country identification card.
What are beta certification exams?
Beta certification exams are assessments that are about to arrive soon. Beta certification exams help in collecting performance statistics for questions and develop certification standards for final exams.
Will I receive notifications to recertify?
Yes, you will receive a reminder email 60 days before the expiration date. Another reminder email would come to you 30 days before the expiration date. The emails will be sent to addresses you state in exam registration.
What are the consequences of violating exam terms and conditions?
Upon discovery of a breach of exam terms and conditions, Google can revoke your certifications and permanently restrict you from reappearing for the exam or other Google Cloud exams. Furthermore, Google could also choose to take the necessary legal action against offenders.
Final Words
This article has been published to provide you with all the necessary details regarding the certification. To inform you on the Dos and Don'ts, and to help you prepare well for the exam.
We hope that we have been able to clear your doubts.
Keep learning!
For a final word, candidates should ensure Google cloud professional collaboration engineer certification preparation with commitment. Most of the time, candidates often follow a unidirectional approach in their preparations that may hamper the overall outcomes. On the other hand, a cyclical approach for preparations could be very helpful for all-round preparations. How?
For instance, you can reiterate your preparation schedule after completing practice tests to work on your areas of weakness. Also, you could opt for proven support by online certification training providers such as Whizlabs. The training courses and practice tests of Whizlabs have helped many candidates secure success in many certification exams.