The demand for a cyber security professional is evident in the case of every modern enterprise. The recent statistics related to cyber security and trends in the industry reveal a substantial rise in the number of data breaches. In addition, companies do not have proper cybersecurity practices and safeguards for their data, thereby increasing their vulnerability to data loss. The cyber security industry would grow substantially in the coming years, with worldwide spending estimates in 2022 at $133.7 billion. 
Try Now: Certified Ethical Hacker Free Test
Around 68% of business leaders perceive the increasing impact of cyber security threats. Data breaches have been responsible for the loss of 4.1 billion records in only the earlier half of 2019. Considering the formidable intensity of the emerging threats in cybersecurity, the need for cyber security professionals is highly evident. The promising career opportunities as a cyber security expert in an emerging industry can easily lead to the dream jobs of many people. 
The following discussion would help you obtain the basic information about how to become certified cyber security professional. The important highlights of the discussion would include the definition of a cyber security professional and their roles and responsibilities. The other crucial aspects of the discussion include references to the necessary tools and technical skills for cyber security experts.
In addition, the discussion also reflects on the non-technical skills that are mandatory for cybersecurity professionals. Finally, the discussion would present an outline of a cyber security career roadmap followed by an estimate of the average salary of cybersecurity professionals. 
Also Check: Cloud Security: A Complete Guide for Beginners
Why Should I Choose a Career in Cyber Security?
So, the first topic on the agenda of this discussion is "who is a cyber security professional?". Actually, let us find out why do we need cyber security professionals! As evident from the introductory paragraph, cybersecurity threats are on the rise. However, the problem's complexities are increasing further with the increase in the number of mobile and IoT (Internet of Things) devices. According to the US Bureau of Labor Statistics (BLS), the jobs in the field of cyber security would increase by 28% by 2026. 
Furthermore, the shortage of qualified candidates has been responsible for increasing the skill gap. Estimates indicate that by 2021, almost 3.5 million job openings in cybersecurity would be vacant. Now that you have a clear impression of the demand for a certified cyber security professional, let us find what exactly cyber security professionals are. 
Who are Cyber Security Professionals?
Defining cyber security professionals is difficult due to the wide variety of roles such as network security professional, network security consultants, security architects, and others. However, the basic function of cyber security professionals is to provide security in the development stages of software, data centers, and network systems. Cybersecurity professionals are also responsible for finding out risks and vulnerabilities in hardware and software. 
The capability of cybersecurity professionals is evident in addressing a potential threat by resolving the vulnerability in security. Cybersecurity professionals are also responsible for developing new layers of safeguards alongside updates for the security systems. The crucial trait for the job roles of cyber security professionals is a keen eye for unusual activities. 
Other crucial responsibilities of cybersecurity professionals include identity and access management alongside reporting the system test results. Let us take a deeper reflection into the available positions in cybersecurity jobs and responsibilities associated with them.
Here is the big picture of security concerns associated with Cloud Services. Get aware of these cloud security risks and keep your data safe in the cloud.
Roles and Responsibilities of Cyber Security Professionals
As discussed earlier, there are various roles for a cyber security professional. The variety of job functions in the field of cybersecurity depends considerably on the differing needs of various enterprises. One of the prominent roles that are in high demand presently is that of penetration testers.
Common Responsibilities of a Cybersecurity Professional
Penetration testers could enter a system or network and find out vulnerabilities alongside resolving them to improve the security posture. Similarly, a network security professional would have to monitor the flow of traffic between different nodes in a network and control access privileges. The common professional responsibilities of cybersecurity professionals would include the following. 
Cybersecurity engineers have fluency in development, and they can investigate into code to find the issues that can influence security.

Security software developers can help in the integration of security into applications and software in the course of the design and development process. 

Computer forensic expert roles involve security incident investigations through collection and analysis of evidence from computers, data storage devices, and networks.

The role of security consultants involves providing recommendations regarding the design and implementation of the best security solutions. 

Chief Information Security Officer (CISO) is one of the highest positions in the career of cybersecurity professional. The CISOs are responsible for the management of the cybersecurity strategy of a company alongside ensuring considerable adaptability to address emerging threats. 
Preparing to become a certified Cloud Security professional? Check our Cloud Security Certifications Training Courses now!
Other Responsibilities of a Cybersecurity Professional
As evident from the above-mentioned roles in cybersecurity jobs, becoming cybersecurity professionals is not easy. Other important roles for cyber security professionals include the following responsibilities.
Monitoring the operations and infrastructure of applications and networks for identifying anomalous activities.

Maintaining security tools and technologies alongside ensuring compliance with best security practices through performing regular audits.

Monitoring internal and external policies for ensuring transparency between vendors and employees.

Working with various departments in an organization for reducing risks. For example, working with the IT operations team for creating a shared disaster recovery plan or working with the HR team for training employees regarding suspicious activities. 

Evaluation of new technology and decide on adoption as well as implement controls for reducing risks with the new technology.

Regular audit of the policies and controls for finding any possible areas of improvement or repairs for cybersecurity vulnerabilities.
Technical Skills for Cyber Security Professionals
The next important concern in the topic of how to become a cybersecurity engineer or a professional is skills. Cybersecurity professionals need technical as well as non-technical skills for excellent performance in their careers. Here is an outline of the most important tools required for cyber security professionals. 
Nmap or Network mapper is one of the reliable open-source tools for scanning networks and systems to find out vulnerabilities. It also supports other activities such as mapping the network attack surfaces and monitoring service or host uptime. Nmap is a trusted option for scanning large as well as small networks alongside supporting all operating systems. 

Metasploit is a popular penetration framework for a cyber security professional. The various functions of Metasploit include identification of vulnerabilities, developing defense methodologies, and management of security tests. 

Nessus is another prominent tool that cybersecurity professionals should specialize in. It provides a premium tool for faster and accurate scanning of computing systems and networks. The primary vulnerabilities that Nessus deals with include improper passwords, open ports, and misconfiguration errors. 

Wireshark serves as a protocol analyzer or network sniffer, thereby providing the benefit of multifunctionality. Wireshark can help in the real-time evaluation of vulnerabilities and intricacies of different levels of network traffic. 
Managing security risks in a DevOps environment can be challenging. Read this article to know more about vulnerability management for DevOps.
Essential Non-Technical Skills for Cyber Security Professionals
Another crucial response to how to become a cybersecurity engineer directs towards the importance of non-technical skills. The role of cybersecurity professionals involves considerable attention to long-sightedness and the identification of potential issues. Therefore, soft skills are also an essential requirement for a cyber security professional. Here is an outline of the non-technical skills for cybersecurity professionals.
Strategic and tactical skills
Cybersecurity professionals have to be excellent strategists with the capabilities to implement security measures and controls proactively in an organization. Cybersecurity professionals should have the capability to develop strategic and tactical reviews of workflows, resources, budgets, and dependencies. A cybersecurity professional should be a critical thinker in order to stay one step ahead of malicious agents. 
Communication and coordination skills
Cybersecurity professionals should also have promising communication and co-ordination skills. Effective management and communication skills are mandatory for working in collaboration with other teams in the organization to ensure security. Furthermore, communication and management skills are essential for a cyber security professional to provide supportive training to employees regarding cybersecurity.      
Continuous learning is another crucial non-technical skill for cybersecurity professionals. The emerging threats in cybersecurity pose the need for continuous research, training, and certification for addressing them. Therefore, the field of cybersecurity offers considerable opportunities for professional development in the long-term. 
Steps to become cybersecurity professionals
The most significant highlight of this discussion is the cybersecurity career roadmap. The guidance regarding the steps to become cyber security professionals can help an individual find a reliable path for developing their career. Here is an outline of the different steps that you can take to establish a career in cybersecurity. 
Earn the basic qualifications
The foremost step is to obtain the qualification by participating in a cybersecurity course. The demand for certified cybersecurity professionals is high, and you would definitely want to capitalize on it. Aspiring candidates for the role of cybersecurity professionals should have a bachelor's degree in an IT-related field. The field could be information security, programming, computer engineering, or computer science. Candidates should look actively for prominent accredited certifications and training programs for staying updated with changes in the field of cybersecurity. 
Certifications for Cybersecurity Professionals
Some of the common certifications for cybersecurity professionals are as follows,
CEH (Certified Ethical Hacker).

Cisco Certified Network Associate (CCNA).

Foundation Certificate in Cyber Security.

Systems Security Certified Practitioner (SSCP).

Certified Information Systems Security Professional (CISSP).

Certified Information Systems Manager (CISM).

GSEC/ GCIH/ GCIA: GIAC Security Certifications.

CompTIA Security+.

Certified Information Systems Auditor (CISA).
The most popular cybersecurity certifications are the CCNA and CISSP certifications. Aspiring candidates can choose the certification according to their field of specialization in cybersecurity. Certification provides an advantage to candidates over other applicants for job openings in cybersecurity. The recommended practice for choosing the ideal cybersecurity certification is to look for accreditation. You can improve your chances of qualifying the certification exams with access to reliable training courses and practice tests. 
Salary of Cybersecurity Professionals
The primary motivation for driving interest in cybersecurity careers is the promising salary estimates for cyber security professionals. As per the Zip Recruiter salary report, the average salary of a cyber security professional is $100,475 in the United States. However, the salary may range from as low as $35,000 to as high as $140,0000 across the country.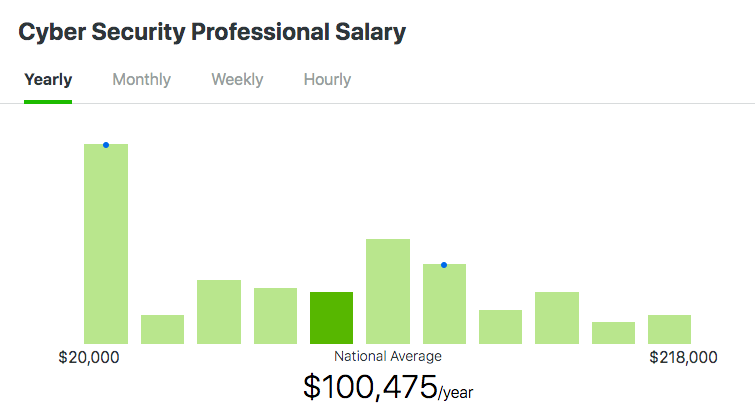 Different organizations in the UK offer average annual salaries of almost £25,000 for entry-level cybersecurity jobs. Subsequently, candidates could earn almost £35,000 after gaining experience. The senior roles related to management and consultancy could earn average annual salaries between £45,000 to £80,000. 
The estimates of the average annual salary for other cybersecurity professional job roles can also pique your interest further. 
An ethical hacker can earn around $79,000 on an average a year. 

The average annual salary of a security consultant is $106,190, and that of a security architect is $118,681. 

The average annual salary of a Chief Information Security Officer (CISO) is $156,000. 
Therefore, a career in cybersecurity definitely seems promising, doesn't it?
It is important to understand the layered security model of Google Cloud Platform. Let's check out the Google Cloud Platform security features.
Final Words
So, if you want to pursue a career in cybersecurity, then the diverse options are ready at your disposal. You need to find the right guidance for becoming a cybersecurity professional. Apart from the information in this discussion, you should move towards the selection of a competent cybersecurity course for increasing the chances of your success.
As we all know, certifications are a significant part of careers in cybersecurity. Therefore, you can choose the relevant training courses for different certifications and establish your niche capability in cybersecurity. The demand for cyber security professionals would continue to increase over time, and qualified professionals would be in demand to save the day. So, get ready for a promising career ahead in cybersecurity! 
Preparing for the Cisco Certified Network Associate (CCNA) certification? Try our CCNA practice tests and get ready to pass the certification in the first attempt. Start now with the CCNA Free Test and check your preparation level for the CCNA certification exam!