Another year has come and gone!
I would like to say thank you for being with us in the year 2020!
May the new year 2021 bring you 12 months of success, 52 weeks of laughter, 365 days of fun, 8760 hours of joy, 525,6000 minutes of luck, and 31,536,000 seconds of happiness..
As we're getting closer to the new year, we decided to take a look back at some of the favorite moments from 2020. 
We're near the end of one of the most eventful years in recent history, I want to take a moment of your time to extend a note of gratitude for your unswerving love for Whizlabs in the year 2020. I wish Happy New Year to all my colleagues, partners, learners, and the whole Whizlabs community as we make an entry into 2021. 
We have been able to navigate through the ups and downs of our business journey with your support. Our growth over the years has been a cumulative outcome of the efforts of every individual associated with us. So, our ventures in the next year will also look forward to your active participation in boosting us further in 2021. 
The year 2020 has been a really fateful year for many while opening up opportunities in digital transformation on the other hand. With the growing demand for online professional certification courses, we have been able to develop in terms of infrastructure, customer reach, product portfolio, and employee onboarding in the course of 2020. Now, we are looking forward to achieving more milestones in our journey in the year 2021 and continue our journey towards success. 
Various notable advancements in the year 2020 have supported our stability and performance during the time of the global pandemic. Every team member, partner, and user involved with Whizlabs deserves a special note of thanks for their role in supporting us through such a tough time. Building on the strengths of our technical capabilities and your support, we want to step in the year 2021 with many new aspirations. 
Our journey would continue further by capitalizing on the various improvements we made in 2020. So, let's have a quick look back at the various events that marked our calendar in the year 2020. 
What Drove Whizlabs Journey in the Year 2020?
2020 was like a surprise or more appropriately, brought surprises no one had ever imagined of. While the global pandemic dominated 2020, we also had wildfires, mass protests all over the world, and possibly even landed upon the brink of World War 3. On one hand, bad news took a major share of 2020 while on the other, many people discovered opportunity in adverse times. 
People stayed home and got closer to their families, many new relationships were developed, and most important of all, people learned many new skills in the confines of their homes in 2020. This is where we have been able to capitalize the most in our ventures in 2020. With a major portion of the world population restricted indoors, we identified the perfect moment for our business objectives. 
It's not wrong to say that difficulties open the new doors of growth. And when you have innovative brains, you don't need to worry about missing any chance. 
As a result, Whizlabs experienced many new events across different areas of operations. Starting from HR and customer support to digital marketing and product launches, Whizlabs had quite notable highlights in the year 2020. Allow me to give you a tour of the advancements we have made in the past year across different operations. 
Enhancement in the Course Library and More!
As the demand for virtual learning increased considerably in the past year, we also tried our best to match that demand. We have come up with many new courses and hands-on labs to help candidates in their pursuits of learning and skill development during the pandemic. Let me shed some light on the achievements we had in the field of product and lab development. 
100+ New Courses Launched
The foremost highlight for our product and lab team in 2020 was the introduction of 100+ training courses across different categories including Cloud Computing, DevOps, IT Ops, and Big Data. The demand for tech professionals with a wide variety of expertise in new and emerging technology domains is the underlying motivation for introducing new courses. With over 100 new courses launched recently, we can definitely cater to the diverse learning and certification requirements of professionals worldwide. 
Introduced Hands-on Labs
Along with courses, we launched 125+ hands-on labs 117 new AWS labs, and around 15 new Azure labs. Furthermore, we also offered 110 new unique validations for the completion of labs in 2020. At the same time, we also have three new labs under development presently. We are currently working on our new Terraform hands-on lab. 
Hands-on experience is a must to become a pro! Whizlabs Hands-on Labs provide the right playground to play with different platforms and gain some real-time experience.
Brought Most-Affordable Subscription Plans
The introduction of the 'Most Affordable Subscription Plans', including an annual subscription plan and a 5-year subscription plan, has been one of the most significant launches of 2020. We always believe that learning should never have any limits and these new subscription plans allow our learners to use our learning resources without any restrictions, with premium support.
New On-demand Offering: WhizCards
We have also launched a new initiative by the name of 'WhizCards'. However, it was introduced with a soft launch of AI-900 WhizCard alongside the AI-900 training course. In addition, we are also planning to launch WhizCards with other courses in AWS and Azure in the pipeline. 
Interestingly, we are also developing another lab for a 'Live Lab Contest'. The new lab would pit the practical skills of professionals against one another to compare their performance. The final lab under development is titled 'New and Better UI'. It will specifically aim at helping learners with the creation of improved UIs for modern applications. 
Catering to the HR Equation in Crisis
The pandemic imposed very heavy burdens on HR departments all over the world. Most prominently, Whizlabs did not experience the troubles with hiring like other enterprises. Many companies had to lay off their employees in large numbers due to the economic pressure of the pandemic. However, Whizlabs took the opposite route towards expansion. 
As I had mentioned earlier, we had identified an opportunity, and we were not going to miss it. We provide e-learning services on a unified platform and the substantial growth in demand for virtual learning in recent times is the perfect opportunity for us. Therefore, we need an additional workforce for catering to the increasing demand for virtual learning resources from our platform. 
We are very happy to welcome new innovative brains to our team in 2020. Furthermore, we are also elated to have more experts with us in recent months during the pandemic. Our improved hiring rate during the pandemic painted us in a good light for the workforce while bringing in new talent into our workforce. 
Also, with our workforce working completely from home, we came up with several tools to track activity, performance, and productivity. With these tools, we could keep our teams aligned and could be able to set up a virtual workplace.
The vices of remote working such as distractions and isolationism did present formidable challenges for all in 2020. To overcome this, we had to come up immediately with virtual employee engagement activities as a feasible solution. The activities were generally casual activities for fun and leisure, to be known as WhizFun.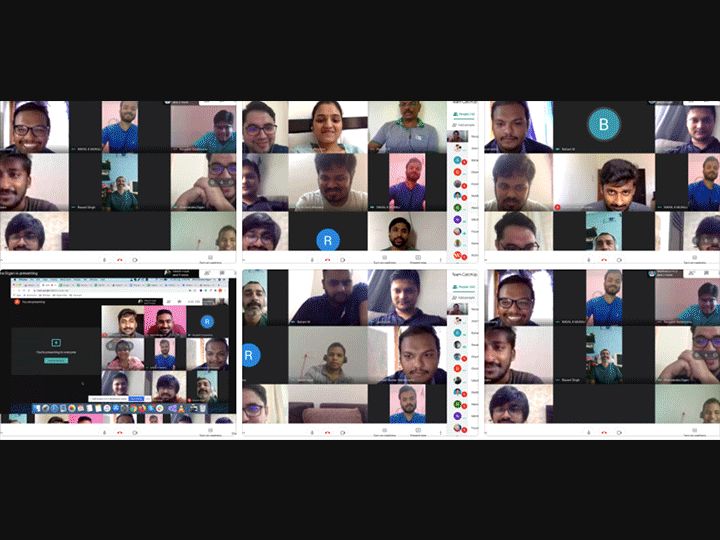 For example, virtual gathering on important occasions in the life of employees and identifying the childhood pictures of colleagues. We also used virtual employee engagement activities as the platform for bringing out the hidden talents of employees beyond the scope of work. 
With a major share of our workforce troubled with uncertainty in the pandemic, we extended a hand of support towards our employees. We conducted a few Knowledge Sharing sessions with finance experts for helping employees navigate their way through managing personal finance. The personalized guidance by finance experts is a promising advantage for all our employees in securing their financial stability. 
Another notable system we have implemented recently involves sending non-technical books to employees on their birthday rather than celebrating with a cake. We have focused on selecting suitable non-technical books based on topics for motivation and self-discovery as tokens of celebration on birthdays of employees. 
"I love reading books. The motivational, spiritual, and self-discovery books are an incredible part of my morning routine. In my opinion, a book that guides people towards their goals and aspirations is more valuable than a cake."
Additionally, we have also extended technical support to our employees working remotely with the help of devices such as Laptops, Wi-Fi power back routers, and more. Technology support served as an important booster for employees to work seamlessly and address their duties efficiently. 
One Striking Achievement
2020 brought us the honor of being placed among the "10 Best Innovative Companies in India 2020". The "CEO Insights India" magazine bestowed us with this honor and also published my interview with them. We were very happy and excited about the achievement of our pursuits in innovation to deal with the drastically changing market environment. 
A Social Cause: Achieving CSR Goals
Whizlabs has been constantly motivated towards uplifting society by spreading education in accordance with our CSR goals. We want to expand the infrastructure for the education in our country, especially in rural areas. In recent years, we have helped many schools in developing the necessary infrastructure required for education.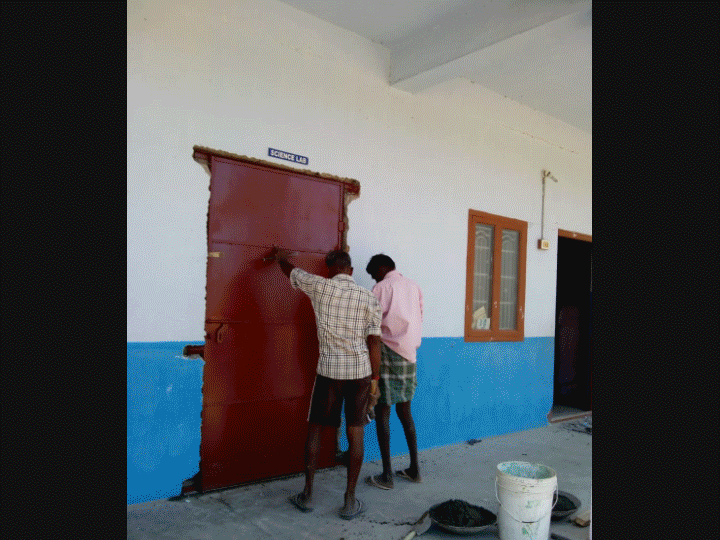 In 2020, we continued our contributions to the school we had included in our CSR program last year i.e., Arunigham. This year, we also took a step forward in improving the infrastructure of another new school. We have donated INR 1,00,000 to the development of the New School  – Panchayat Union Primary School in Nallampalli. 
I strongly believe in the words of Dieter F. Uchtdorf, "As we lose ourselves in the service of others, we discover our own lives and our own happiness".
Helping Community in the Time of Pandemic
We could not emphasize more on the need for personalized marketing initiatives in the existing market scenario. Our marketing initiatives helped us in taking our products and offerings to the notice of learners easily with limited difficulties. Let me put out brief details about the notable advancements that helped us in getting the desired digital marketing outcomes.
Our digital prowess was evident in the effective onboarding of various employees during the pandemic. We were able to provide a seamless transition of employees to remote working with all the necessary facilities and support. Most important of all, we were able to guide our employees towards a highly simple and smooth remote working experience. 
The users of Whizlabs are a critical strength for us. 
The majority of the reviews for our products and services on our own website and trusted third-party review platforms such as TrustPilot and G2 paint us in a good light. Therefore, we can be completely sure that we are moving ahead in the right direction. 
So, what exactly helped us stay on top of our digital marketing game in 2020? In my opinion, the answer to that question lies directly in the human aspect. We perceived the threats and consequences of the pandemic for various professionals.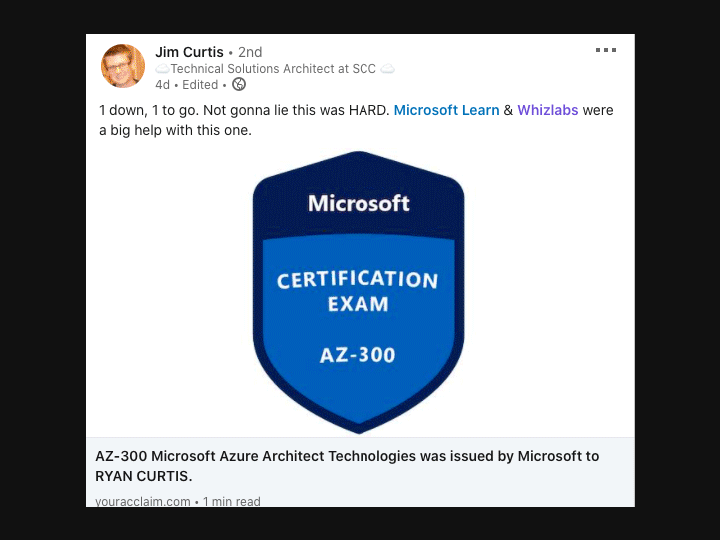 Expenses on education can be unreasonable in times when professionals are struggling to put food on their table. So, we came up with the long-term 50% off on all our courses that helped many professionals address their career development objectives. We provided a 50% discount for more than 6 months to support the career aspirations of many professionals during the pandemic.  
Alongside, our increasing social community keeps us motivated all the way to bring something better. We work desperately to launch new courses at the request of our beloved learners. To engage our users, we keep on spreading knowledge in terms of contests with WhizQuiz on our social channels. Not just a contest, the active participants receive free courses, subscriptions, and even exam vouchers as the prize. This is another way we have chosen to help and reward our community.
Taking Customer-Obsessed Culture One Step Ahead
We are proud to have a flawless customer support mechanism that caters to the needs of our massive community of users. In 2020, we had the opportunity to resolve many user concerns effectively alongside introducing new advancements in customer support. Here are some of the noteworthy achievements by Whizlabs in the domain of customer support. 
Whizlabs was successful in managing more than 35,000 customer queries in 2020 while marking a staggering 93% score in customer satisfaction. 
Obviously, most of them were inquiries, while lesser were complaints. However, we were able to use proactive approaches for understanding customer's complaints to identify the problems efficiently before taking the appropriate remedial action. As a result, we noticed a formidable growth in the client retention ratio. Most important of all, we continued increasing our customer support headcount during the pandemic situation for resolving customer complaints in the least amount of time possible.
We also introduced the facility of calling support in 2020 for our users. Now, customers could call us directly and get the answers to their queries with limited complexity. 
Our customer support approaches also focused on resolving various technical issues related to our LMS platform. We were able to forward many customer complaints to the tech team for resolution, thereby contributing to a better experience for every customer on our platform.
Digitalization also helped us reach our learners with better flexibility and ease in 2020. In the past year, we introduced the Slack community for our learners to provide an easily accessible platform for clarifying their doubts. So, any learner could just join Slack and ask his/her questions to get suitable replies in the limited time possible from our 24/7 available team of experts. 
Technical Advancements for Better Interface to Users
Speaking of technical improvements, we are planning on bringing a completely new website in the early phase of 2021. Whizlabs technical team has been dedicatedly working on the new design and development. has been a trademark for quality and credibility in online learning for around two decades. 
We are ready with a completely new Whizlabs 3.0 design that would most probably come out around the time of April or May in 2021. Now, we are entering into a highly competitive era, with new courses, new skills, and new job roles emerging every day. We must also move, and we must also change! 
Whizlabs is all set to transform into a completely new identity that resonates with our continuously evolving business goals and achievements. 
We have introduced our Business/Corporate Plan to help enterprises with their training and certification initiatives for their teams.  We also extended the functionality of Corp beta, which was launched in the last fiscal year, towards new technologies. Most important of all, Corp beta has developed completely in year 2020, thereby boosting the functionality of many new Whizlabs technologies. 
The striking highlight in the achievements of the tech team would obviously focus on the introduction of various AWS, GCP, and Azure hands-on labs. The lab development team has also introduced a custom terminal that can serve as the ideal platform for cloud or project-related labs. 
Whizlabs Plans for New Year 2021
With so many achievements in a single year, we definitely have a lot of expectations moving towards the next year. The year 2020 helped us expand our wings by riding on the winds favoring digital transformation. Now, we want to take a leap ahead and bring noticeable advancements in our services. 
One of the foremost plans for 2021 on our minds is the launch of the Whizlabs 3.0 website with a more interactive interface. We are also planning on the introduction of a new corporate portal for our existing customers of Business/Corporate plans. 

We're targeted to launch more courses according to the demands of our learners. Plus, the launch of more GCP and Terraform labs and WhizCards for more courses are on the list.

Catering to the demand of our learners and IT enthusiasts, we're all set to launch over 250 new courses in 2021. Besides, our experts will be working on the improvement of existing training courses to keep them up to date.
Targeted, we'll be working

on our extended vision of offering employment assistance to certified professionals. Also, we will e

xpand our teams with experts and innovative brains to bring new ideas and gain additional achievements.

Establishing a great work culture is very important. Considering the safety of our teams as a priority, we'll take the required decisions, with a focus

on the improvement of personal abilities and performance.
Happy New Year Everyone!
On a final note, I thank all of you for your time to read this piece of last year's achievements in the year 2020. As the CEO of Whizlabs, I want to communicate that 2020 brought a lot of opportunities for our progress; and the credit goes to our dedicated team of innovative brains and our invaluable learners who trust us. As we have achieved our 2020 goals successfully, hope 2021 will continue to give us the boost that we need in the long run. Your support will help us settle in as a leader in the online certification training domain. 
Most important of all, we have been successful to maintain our resilience during tough times. At the same time, we have also strengthened our resolve to fight against all odds. Furthermore, our focus on creating value for our learners always kept us motivated for the better. This spirit underlying our operations will continue to motivate us for the same in the future. 
So, I would like to wish you, your family, and all your loved ones a very Happy New Year 2021.
May the New Year bring new wonders into your life!