Microsoft Azure's dominance in the cloud computing industry continues to grow. And with it, certifications such as the Azure AI-900 exam (Microsoft Azure AI Fundamentals) are becoming more valuable. To stay ahead of the curve, it's important to prepare, take the exam, and gain a competitive advantage within the industry. 
The Microsoft Certified: Azure AI Fundamentals exam requires basic knowledge of Artificial Intelligence (AI) and Machine Learning (ML) concepts. Besides the exam structure, it's also wise to familiarize yourself with the Microsoft Azure portal. 
Passing the Azure AI Fundamentals AI-900 certification exam also proves you understand the fundamentals of building and deploying AI solutions. To explain how to prepare, what to expect, and how to pass the exam, we've broken down the entire process in this blog post. 
About Microsoft Azure AI-900 Certification
For Microsoft, this certification is part of a set of programs that include the Azure AI certification. A comprehensive list of Azure certifications is available on Microsoft's official website.
To pass the test, you must score at least 700 out of 1000. This could suggest a passing score of 70%. However, in order to get a score of 700, Microsoft uses a standardized scoring system.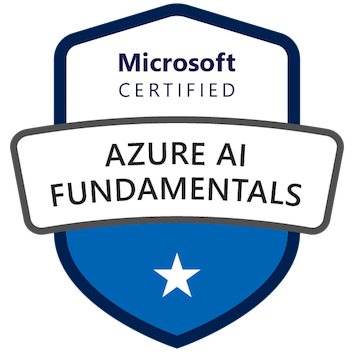 It is intended both for technical and non-technical people. So, anyone can prepare and take the exam even if they don't have a detailed background in AI. Preparing for the exam gets you up to speed on the AI basics. 
Preparation Method for Azure AI Fundamentals Exam
There are several ways to prepare for the Microsoft Certified Azure AI-900 exam. These include:
Using the right resources
Many online resources can help you prepare for this certification. Microsoft provides study guides and other resources to help you understand what you should anticipate. Whizlabs also has practice tests and Azure AI-900 exam questions to help you prepare for the exam. 
Understand the Exam Structure
 Understanding the format of the questions, passing marks required, total exam time, recommended experience, and overall exam structure is essential. 
Follow Public Forums
Quora, Reddit, Stackoverflow, and other related public forums can help you connect with certified Microsoft professionals. Forums can help you understand how to prepare on a more human level.
Understand Major Concepts
The Azure AI 900 certification is an excellent way to demonstrate that you have a solid foundation in AI concepts. So, what exactly are we talking about here?
Before you set for the test, you'll need to know the following:
Implementing Computer Vision (CV) workloads using Azure

Implementing conversational AI workloads using Azure

Implementing Natural Language Processing (NLP) workloads using Azure

Identifying and implementing the necessary security requirements of an AI solution using Azure
Video Course 
Whizlab's video courses are a great way to familiarize yourself with the necessary concepts required for any exam. Especially for people with a non-technical background, the courses provide a detailed breakdown of what you should know. 
The video course includes mock exams, customized reports highlighting your strengths and weaknesses, objective-based practice tests, and many other features. 
People who've taken the video course have only positive things to say:
Microsoft Documentation 
Official Microsoft resources are available on their site to help people prepare for this certification. If you visit the Microsoft certifications website, you'll see study guides, sample questions, and an exam sandbox provided to help you prepare for the exam.
Here is a list of all the official information that Microsoft has about the Azure AI certification exam:
Practical Exposure
You've read all of the study guides and theoretical resources you could find. But at the end of the day, it all boils down to taking the exam practically. To get practical exposure, we recommend using Hands-On Labs. 
The Hands-On Labs platform allows you to practice using the Azure AI platform on another cloud console. The Guided Labs allow you to play around in a real-time environment. 
In our case, the Hands-On Labs platform has guided labs explicitly required for the Microsoft Certified Azure AI Fundamentals certification exam. You can visit the Whizlabs Hands-on Labs page and filter specifically for the Guided Labs you need. 
Whizlabs Practice Tests 
Whizlabs practice tests allow you to assess where you stand before taking the exam. As a rule of thumb, try to ensure you can score at least 90% before taking the exam. 
If you took the Whizlabs practice tests and scored below 60%, try watching the video courses, Hands-On Labs, and try the AI-900 sandbox. 
Revision of the Concepts
Revision means practice, practice, and more practice. Revising concepts means rereading study guides and building on critical theoretical concepts related to the exam. 
Practice tests, video courses, and Hands-On Labs also solidify your Azure AI exam concepts before starting the exam. It's best to take as many mock exams (available on Whizlabs) as possible, as they will help you revise key concepts. 
Exam Format for Microsoft Azure  AI-900 exam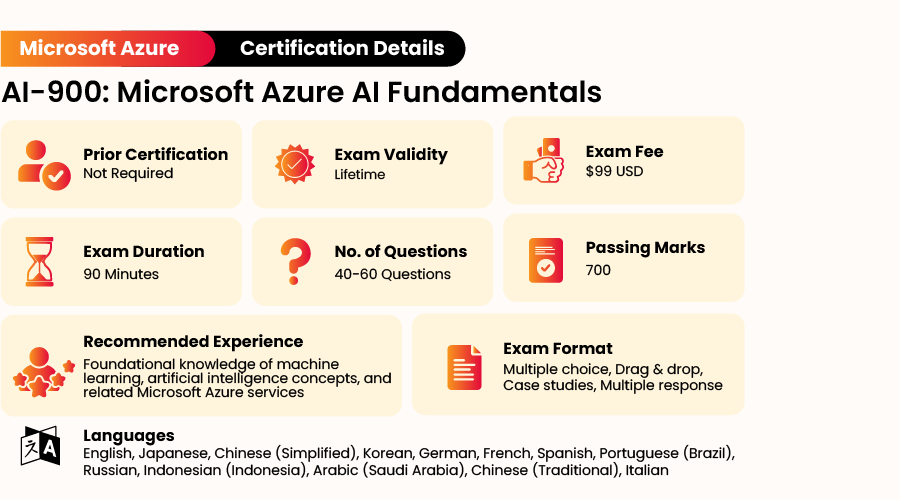 Exam Domain for  Microsoft Azure AI-900 Certification Exam
| | |
| --- | --- |
| Domain | Weightage |
| Describe Artificial Intelligence workloads and considerations | (20-25%) |
| Describe fundamental principles of machine learning on Azure | (25-30%) |
| Describe features of computer vision workloads on Azure | (15-20%) |
| Describe features of Natural Language Processing (NLP) workloads on Azure | (25-30%) |
Benefits of passing Azure AI Fundamentals Certification Exam
By passing the Azure AI Fundamentals certification exam you can benefit by:
Building a solid foundation of AI and ML concepts.

Starting a career in Artificial Intelligence (AI) using the Azure platform

Show proof that you're capable of deploying common AI and machine learning workloads in Microsoft Azure
Summary
To wrap everything up, there are a couple of essential factors you should keep in mind before taking the AI-900 exam: Microsoft Certified Azure AI Fundamentals certification. First, it is crucial to understand the certification requirements and the exam structure.
Then, you must familiarize yourself with all the study guides and related documentation available online. Practical assessments and mock exams are the next steps once you've mastered all of the theoretical concepts.
Keep in mind that the real certification test requires a score of 700/100 to pass. As a result, the more you study, the better your chances are of passing the Azure AI-900 exam. If you're looking for a comprehensive study aid, look no further than the Whizlabs video tutorials, Hands-On Labs, and Azure sandbox.