Cloudera is one of the leading vendors of Big Data Certifications of the present time, and thus there is great value of a Cloudera certification. With its specialization in mega data collections on Apache Hadoop platform called an enterprise data hub, Cloudera provides features like security, system management, and integration, etc. to the open source Hadoop platform.
With its focus on building a skilled and well-qualified workforce in Big data tools and technologies, Cloudera has a comprehensive certification program for the professionals. Hence, the demand for Cloudera certifications has increased significantly in the field of big data today. It allows you to showcase your talent and skills in techniques and tools of Hadoop with advanced certifications.
Cloudera Certification and It's Value in the Market
The set of certifications by Cloudera is well recognized across the industry, and more and more professionals are appearing for them.
Furthermore, since Big data industry is growing every year, it is increasing the need for skilled big data talent. Also, Cloudera certifications allow you to become certified professionals with excellent Hadoop and analytics skills recognized by employers everywhere.
Hence, carrying a Big data certification from such a leading vendor helps you in grabbing job you are looking for. Cloudera proves a Hadoop professional as a qualified and skilled professional, and thus adds value to his resume.
While it is important to get certified with top Cloudera certification, it is equally important to know the best Cloudera certification that is relevant to you according to your skills and expertise. Following is the list of top Cloudera certifications which are quite popular among the professionals today.
CCA Spark and Hadoop Developer

CCA Administrator

CCA Data Analyst

CCP Data Engineer
In the next section, we will discuss the certifications mentioned above in detail.
Still in doubt, while going for Cloudera Administrator certification? Read now – Is CCA Administrator certification worth investment?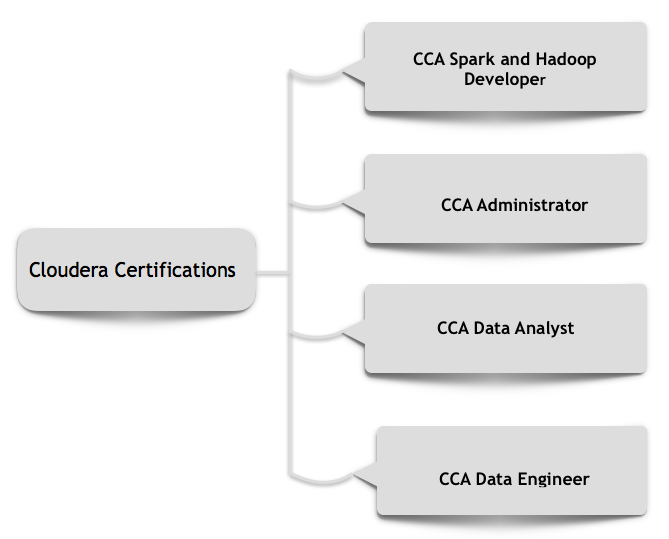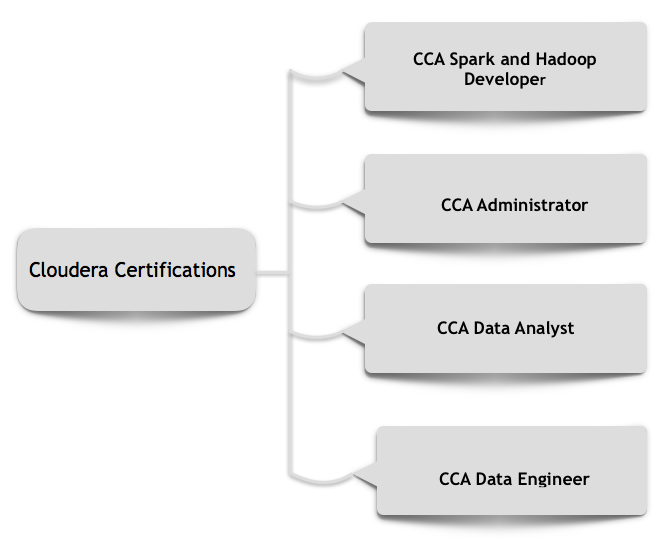 Cloudera Certified Associate (CCA) Spark and Hadoop Developer (CCA175)
Targeted Role
This is one of the most popular certifications for Hadoop developers who are looking for a credible certification in the field. Moreover, the professionals working in Spark and Hadoop opt for this certification to demonstrate their expertise.
Pattern and other details
CCA Spark and Developer certification test the core skills of the candidate in Apache Spark along with core Enterprise tools of Cloudera. As a result, the certified professionals are adept at transforming, processing, and ingesting data using these tools.
This certification is a hands-on, performance-based exam with 8 to 12 tasks that you have to perform on a Cloudera Enterprise cluster. The test is a 120 minutes exam in English, and 70% marks are needed to pass the exam. The cost of the certification exam is USD 295.
You need to solve particular scenarios using tools like Impala and Hive and the languages like Python and Scala.
Preparation
For this particular Cloudera certification preparation, you shall prepare the following skills:
Data Transformation, Storage, and Staging: This involves converting data values in a format stored in HDFS to a new form or new data values and writing them into HDFS. You need Spark and ETL (Extract, transform and load) skills for this part.
Data Ingest: HDFA and Sqoop skills to transfer data between the cluster and external systems.
Data Analysis: Spark SQL skills for interaction with Metastore programming for your applications.
Configuration: Command line options for configuration of applications.
Cloudera Certified Associate (CCA) Administrator (CCA131)
Targeted Role
This certification is suitable for the role of System Administrators handling Hadoop systems on a day to day basis.
Pattern and Other Details
CCA Administrator certification allows individuals to demonstrate the cluster administrator skills and core systems skills. Not to mention, this is one of the best Cloudera certifications and is highly sought after certification today. As many of the organizations deploying Cloudera are looking for system administration experts for their cluster management.
The exam consists of 8 to 12 hands-on tasks that the candidate has to perform on real Cloudera Enterprise Cluster. The cost of the exam is USD 295 and duration is 2 hours. The passing score for this exam is 70%, and the language of the test in English. System administration professionals generally take the test.
The question in this exam comes in the form of a particular scenario like service and configuration changes to make via Cloudera Manager. Questions requiring knowledge of Linux environment and command line Hadoop utilities can be there too.
Preparation
For this Cloudera certification preparation, following skills are required:
Install: Setting up and installation of Cloudera manager, ecosystem projects, and CDH.
Manage: Modify and maintain the cluster for everyday operations of an enterprise.
Configure Basic as well as advanced configuration for administering Hadoop cluster.
Test: Benchmarking the operational metrics and test system's operation and efficiency
Secure: Knowledge of Security policy and security practices.
Troubleshoot: To resolve the issues with finding the cause of issues.
Preparing to become Cloudera Certified Administrator (CCA 131)? Here is the complete preparation guide for Cloudera Administration Certification.
Cloudera Certified Associate (CCA) Data Analyst (CCA159)
Targeted Role
This certification is suitable for data analysts, developers, database administrators, SQL developers, etc.
Pattern and Other Details
CCA159 certification is for testing the core skills of data analysts for loading, modeling, and transforming Hadoop data. The test requires the ability to extract results from the inputs and define meaningful relationships.
The exam is a performance-based exam with 8-12 hands-on tasks to be carried out on a Cloudera Enterprise Cluster. It is a 2 hours exam with 70% passing score, and the cost of certification is USD 295.
The candidate has to work on customer issues using large data sets and a CDH cluster where a correct technical solution is needed. Usually the data analysts, developers, database administrators, SQL developers, etc. take the CCA Data analyst exam.
Preparation
For the preparation of this top Cloudera certification, the required skills are:
Preparation of Data: Usage of ETL (Extract, Transfer, and Load) processes for data queries.

Providing Data Structure: Usage of DDL (Data Definition Language) statements in Metastore and use of Impala and Hive

Analysis of Data: Usage of QL (Query Language) statements of Impala and Hive for data analysis.
Cloudera Certified Professional (CCP) Data Engineer (DE575)
Targeted Role
This certification is for the data engineers looking for recognized certifications in Hadoop.
Pattern and Other Details
This is one of the best Cloudera certifications that checks the skills and abilities of data engineers. Furthermore, this certification is very commonly opted by many professionals. It tests the skills for developing autonomous, scalable, and reliable data pipelines resulting in optimized data sets.
CCP Data Engineer Exam provides credentials to the open source developers who can perform core functions and competencies for data analysis and transformation. Additionally, it validates that the candidate is an expert of handling the Cloudera's CDH environment successfully.
This is 240 minutes exam in English where the passing score is 70%. The cost of the certification is USD 400. There are around 5-10 hands-on tasks for a configured Cloudera Enterprise cluster as it is a performance-based exam. The candidate of CCP Data engineer exam shall carry in-depth knowledge. Moreover, the experience of development of data engineering solutions with expertise in the skills is added advantage.
Preparation
The skills required for the preparation of this Cloudera certification exam are:
Data ingest Transfer of data between your cluster and external systems.
Data Analysis: Usage of various queries in complex data types using Hive or HCatalog on data stored in HDFS
Transform, Store and Stage: Conversion of data values set stored in HDFS to new values or formats and writing into Hive/HCatalog or HDFS
Workflow: Creation and execution of different actions and jobs for data usage in the system.
Hortonworks is a competitor vendor of Cloudera for Big Data Certifications. Let's find out which one is better for Big Data Certifications – Cloudera or Hortonworks!
Conclusion
When you have stepped into Hadoop world and decided to become a certified Hadoop professional, no doubt Cloudera is the most recognized. However, Cloudera certification exams are the toughest ones among others. Hence, proper preparation is the key to success.
Whizlabs has launched CCA131 online course – one of the most sought-after certifications in the market which will comprehensively help any level of professional to pursue an administrative career in Hadoop on Cloudera platform.
Have any questions/concerns? Just right down in the comment box and we'll get back to you in no time!
Join us today and explore the world of Big Data!