Snowflake Solutions are one of the go-to resources for managing data on the cloud. But organizations need professionals with a stronghold of the Snowflake resources and can conduct seamless migration and implementation of Snowflake.
Speaking of which, professionals these days are highly relying on COF-C02 Snowflake SnowPro Core Certification to upskill themselves in Snowflake and ensure business excellence.
However, certifications like SnowPro core need a deeper understanding of the domain, and you need to have solid hands-on with planning, developing, and handling reliable and scalable Snowflake solutions. If you want to leverage this demand-supply gap by passing this exam, this blog is just the right place for you.
This blog will cover a quick overview of Snowflake SnowPro core certification and exam tips to level up your prep for the exam. Time to dig in!
SnowPro Core certification exam overview
The SnowPro Core certification exam aims at building the skills required to migrate and deploy Snowflake resources. As a Snowflake-certified tech professional, you will build abilities to control and maintain the Snowflake Cloud Information platform. You will also learn how to design, create, and strategize scalable Snowflake solutions that best-fit business solutions.
Also Read:  Which snowflake certification is best for you?
Besides, you will tackle topics like loading and transforming data in Snowflake, crushing it with virtual warehouse concurrency, crafting killer data manipulation queries, mastering the art of working with unstructured and semi-structured data, time travel, cloning, managing your Snowflake account, and more.
Apart from this, this exam will test your understanding for:
Implementing and administering Snowflake data warehouses efficiently.
Storing, retrieving, and assessing massive data from various sources in a cloud-based data warehousing system.
Optimizing, developing, and maintaining a Snowflake data warehouse.
Loading and transforming data in Snowflake Virtual warehouse concurrency and performance.
Using data cloning and time-variant data sharing on unstructured and semistructured data.
Why is Snowflake SnowPro Core Certification important?
Everyone wants to have a hands-on with Snowflake resources these days. It's no wonder that this popular platform lets businesses easily scale up their storage and processing resources on the fly. That's why Snowflake-certified experts are in super high demand right now.
Read More: Study guide on Snowflake SnowPro Advanced Architect certification
The more Snowflake grows in popularity; the more companies need skilled professionals who know how to use it. Companies are looking for people who have expertise in efficient SQL queries, building and deploying data models, and creating top-notch data pipelines.
Other than this, you get an edge in your job search or pay negotiation with a Snowflake certification. It boosts your chances of landing a role at a Snowflake-focused company and deepens your understanding of the platform. Through Snowflake certification courses, you gain a better grasp of the architecture, design, and management of solutions and data warehousing. Stay ahead of the competition by becoming a Snowflake expert.
Pro Tips to Prepare for SnowPro Core Certification
The SnowPro Core Certification exam is not as hard as it seems. But it does include gaining an in-depth knowledge of every intricate element of Snowflake resources, especially how the data warehouse system works. If you are naive with Snowflake resources, diving into one right a few days before the exam can cause sheer stress and anxiety. Time to avoid that and include these few tips and tricks in your prep strategy.
Step 1: Study the COF-C02 exam guide carefully
The SnowPro Core Exam Study Guide covers everything you need to know, including test domains, objectives, and exam topics. Plus, there are additional resources like videos, documents, blogs, and exercises to help you understand Snowflake. Remember that the Study Guide won't cover everything on the exam and won't guarantee certification success. But it is still a significant resource to help you prepare for the cert exam.
Step 2: Prepare a calendar
When you're a working professional, paying equal attention to every detail can be a tedious and challenging task. A helpful approach is creating a calendar and devising a plan encompassing all aspects and practical skills. This method ensures that you will notice all subtopics and concepts and allows you to give undivided attention to each one, leaving ample time for revisions and practical sessions.
Step 3: Develop a holistic view with Instruction-led videos
One of the best ways to get familiarity with Snowflake resources is, to begin with instruction-led videos. Snowflake Foundation is a four-day course that covers all nitty-gritty of the SnowPro Core Certification. You will learn fundamental concepts, design considerations, and best practices you need to follow to align with stakeholders' needs. The course will delve deeper into the Snowflake Data Warehouse Platform. Moreover, these videos will also have lectures, demos, and labs on a myriad range of fundamental concepts.
Step 4: Self-paced course by Snowflake
Snowflake's free-on-demand, self-paced course is an excellent way to dive deeper into cert domains. These are mostly workshops for the vital topics included in the cert syllabus. As you complete one workshop, you get one badge. You also get to give an edge to your prep through the level-up series. These on-demand training sessions mostly include: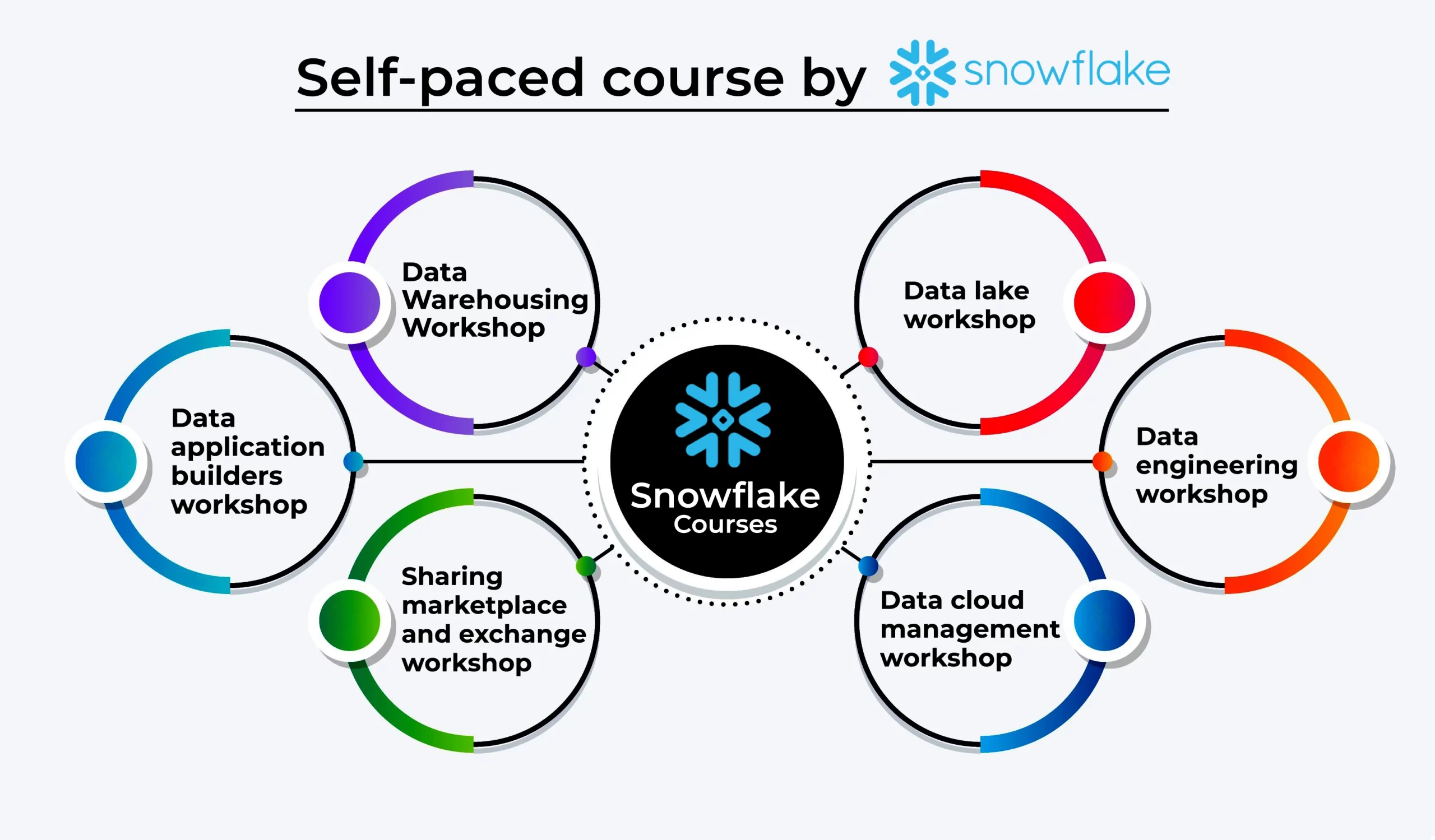 Data warehousing workshop
Data application builders workshop
Sharing marketplace and exchange workshop
Data lake workshop
Data engineering workshop
Data cloud management workshop
Step 5: Private courses
You will find innumerable full-fledged private courses for you and your group to kickstart your SnowPro core certification journey. If you are new to Snowflake and need resources, this is the best way to get hands-on with the Snowflake fundamentals. These courses mostly focus on providing the following:
Assess the impact of the newest functionalities on the augmentation, enhancement, and acceleration of Snowflake's existing solutions.
Elaborate on the areas where these features can be utilized within an end-to-end, governed solution.
Identify and express the recommended practices for utilizing the new Snowflake features.
Illustrate the essential benefits of the latest features and their applicability in developing data applications and constructing and administering a resilient and effective Data Cloud implementation.
Step 6: Some more training and learning paths
Snowflake SnowPro Certification comes with numerous training and learning other than paid and free on-demand training. These training programs dive down into individual concepts of Snowflake platforms and resources. Here are a few learning paths you should include in your preparation chart.
Custom Features
Whether your team is embarking on a new Snowflake implementation or preparing to initiate data-driven projects, our proficient Snowflake trainers can provide on-site instruction to equip you with the necessary skills for triumph.
Snowflake Features
In this intensive, single-day workshop, you will enhance your Snowflake proficiency and deepen your familiarity with the platform. Take advantage of the opportunity to fully engage with the functionalities introduced to the Snowflake Cloud Data Platform within the previous year. The program encompasses lectures, demonstrations, practical exercises, and collaborative dialogues.
Administering Snowflake
This three-day, role-based course provides a comprehensive overview of the responsibilities of a Snowflake Cloud Data Platform database administrator. Topics covered include optimizing data loading performance, designing an effective role hierarchy, implementing agile development, and advanced performance tuning. The training program includes lectures, practical labs, and group discussions.
Step 7: Keep the special focus on these pointers when preparing
As per the certification exam guide, you should prepare for the exam by combining hands-on experience with instructor-led training. You should have at least six months, if not one year, of hands-on experience. Equally important is being exposed to typical issues, such as considerations pertaining to:
Controlling access – For instance, establishing personalized role hierarchies and defining permissions essential to reach specific objects.
Loading/unloading data – For instance, secure techniques for importing/exporting data from cloud providers.
Designing the warehouse – Considerations such as the number of warehouses, their size, and whether they are multi-clustered. Deciding between scaling out and scaling up is also crucial.
Additionally, being familiar with everyday tasks like:
The Limitations of Materialized Views in Snowflake
Using the SnowSQL command-line tool
The purpose and limitations of employing Snowflake Tasks.
Step 8: Documentations you must refer to
Bookmark pages of critical Snowflake SnowPro Core certification documentation and keep it handy, especially when reviewing the level-up series content. As you browse the reference documentation, which includes code examples, there is a lot of detailed information to cover, and you may not comprehend everything on the first pass. Besides, iteratively review the reference documentation as you encounter topics that you only partially understand. Here are a few documents you can skim through:
Snowflake editions matrix
Data Loading
Grants and Privileges
Hands-on Lab
Materialized Views
Data Governance matrix
Caching
GRANT syntax
Multi-Cluster Warehouses
Step 9: What to practice before your exam?
Reviewing the Level Up courses and the Getting Started guides, you will be on a good path. To excel on the core exam, you likely only need a little hands-on experience with Snowflake, but I recommend spending some time completing labs and experimenting with your data. It's important not to overlook understanding:
View types and benefits
Differences in Snowflake Editions
Roles and Users
ACCOUNT_USAGE views and INFORMATION_SCHEMA views
Table types and benefits
Semi-structured data
GRANT syntax
Multi-cluster warehouses and options
Data Loading and Transformation in Snowflake.
DDL and DML Queries
Cloning and Time Travel
Snowflake Account Structure and Management
Virtual Warehouse Performance and Concurrency
Using Semi-Structured and Unstructured Data
Data Sharing
Step 10: Practice papers and revision exams
Putting all the theoretical and practical knowledge you have gained so far into practice is a crucial phase of your preparation strategy. You can start by attempting Snowflake official practice tests and the demo exams, which will provide you with a demo experience of the Snowflake SnowPro Core certification and exhaustive answers to all the questions. Additionally, you will find numerous cert question dumps and sample papers to assess your knowledge. Conduct a SWOT analysis to identify weak spots, relearn them, fill in gaps, and attempt again.
Bonus step: Consider building examples
Building examples is a crucial step toward success. Not only does it help you to practice and apply the knowledge you have gained, but it also demonstrates your competency to others. Building examples shows that you can use your knowledge to solve real-world problems, which is an essential skill for any data professional. It also prepares you for the exam by testing your practical understanding of the material covered.
Additionally, building examples is a valuable skill for professional development that can help advance your career in the data industry. For instance: You may have come across the statement that "Users can assign a resource monitor to multiple Snowflake Warehouses", but from first-hand experience, you know this isn't true. Similarly, you may have heard that "A Snowflake task can execute multiple SQL commands," but from first-hand experience, you know this isn't possible.
FAQs
What is the validity of the COF-C02 exam?
The exam is valid for 2 years.
How many questions are there in the COF-C02 exam, and what is the pattern?
The exam has 115 questions in the form of multiple select and multiple choice.
What are the passing marks?
On a scale of 0-1000, 750 is the qualifying mark.
How much does the exam cost?
The exam costs USD 175.
What is the syllabus of the COF-C02 exam?
The AZ-500 exam covers four domains:
| | |
| --- | --- |
| Domain | Weightage |
| Account and security | 10-15% |
| Virtual warehouse | 11-20% |
| Data movement | 5-10% |
| Performance management | 25-35% |
| Storage and protection | 10-15% |
How hard is the SnowPro core exam?
Without a doubt, the SnowPro Core certification exam should not be underestimated, as it demands a significant level of preparation. On a difficulty scale ranging from 1 to 10, we would classify this certification process as a challenging 7! It is crucial to allocate around 15-20 hours of dedicated study time to adequately prepare yourself before attempting the exam.
How many attempts for Snowflake certification?
Indeed, there is no limit to the number of attempts you can make on the exam as long as you pay the associated fee. However, we strongly advise that after three (3) unsuccessful attempts, it would be beneficial for you to participate in one of the onsite Snowflake training courses. Moreover, as a gesture of support, you will qualify for a 10% discount on a course following three (3) failed attempts.
Is Snowflake difficult to learn?
Snowflake is incredibly user-friendly and straightforward to learn, requiring minimal administrative effort. Its streamlined design allows for a nearly negligible administrative footprint.
Summary
Hope this blog helps you get clarity for the Snowflake SnowPro Core Certification exam and prepare an effective prepping strategy. However, remember that one of the vital elements for passing the exam includes getting access to the right, authentic, and updated resources. Besides Snowflake training programs, you must be careful when referring to external material.
With this in mind, Whizlabs brings you the most updated training resources, specially curated by industry experts. You will find many practice tests and video lectures which are designed by domain experts and will best fit your prep needs. Wish to learn more about how you can level up your certification exam preparation? Reach out to us today.