The Snowflake SnowPro Advanced Architect Certification is the highest level of certification offered by Snowflake. This article will shed light on the Snowflake SnowPro Advanced Architect certification detailedly and why you should go for it.
This certification is intended for experienced professionals who have in-depth knowledge of Snowflake architecture and can design and optimize Snowflake solutions for their organizations.
So let's hash it out!
What exactly is Snowflake Certification?
What is the most important thing for any business today? Of course, profits and revenues are, but what else?
It is data. 
In fact, data might have incredibly multiplied as you sit and read this blog. And success depends on how efficiently a business leverages data to increase operational efficiency. Again, this would be impossible without an effective data architecture in place.
Interestingly, this is where a data architect comes into play. So, as a data architect, you can be at the heart of the success of a business. You will guide business operations and decisions by managing, designing, and deploying data architecture and defining data flows.
You will also create blueprints to help management ensure that data is clean, unadulterated, and secure. Having said all this, research says, by 2028, the demand for data architects will rise by 8%, higher than almost all other professions.
Now, the question is: how can you start your journey as a data architect? There are countless certifications, courses, and training programs to help you kickstart your career as a data architect and land the perfect job. Snowflake SnowPro Advanced Architect Certification is one of them. 
This Snowflake certification is one of the most promising programs, helping you advance as a data architect. 
What is a  Snowflake SnowPro Advanced Architect Certification? 
The Snowflake Snowpro Advanced Advanced Architect certification is a certification for data architects. This certification exam is tailor-made to validate your skills and knowledge in using Snowflake solutions and tools to design, develop, implement, and manage dataflows.
Qualifying for this certification would also indicate that you have an in-depth understanding of Snowflake solutions. And that you know the best use of these tools to combat real-world data challenges.
Additionally, this advanced Snowflake certification will test your skills to:
Use Snowflake data platform to design a path for data to flow from source to consumption.

Identify business needs in terms of security, compliance and design & implementation of a data architecture that matches them.

Understand how Snowflake solutions work and choose the one that best fits the architecture's performance.

Use Snowflake Data Exchange and Data Marketplace to design and implement shared datasets.
What will you learn from the  Snowflake SnowPro Advanced Architect Certification?
You will bag myriad skills once you pass the Snowflake Certification. You will be able to dive deeper into Snowflake solutions while learning to define and apply Snowflake best practices.
Along with this, you will also learn advanced tuning and how to deploy data architectures in a real-world scenario. Here's the complete list of skills you will earn after completing the certification:
   

Cloud

   

Database

   

Data architect

   

Data engineering

   

Data governance

   

Information system

   

Data management

   

Data security

   

Data modeling

   

IT account management

   

Snowflake architecture

   

Performance optimization

   

Python

   

Snowflake Data Exchange

   

Snowflake Data Marketplace

   

Snowflake Database

   

Snowflake Data Warehouse

   

Snowflake Data sharing

   

Software development lifecycle

   

SQL

   

Solutions architect
Why should you go for  Snowflake SnowPro Advanced Architect Certification?
The Snowflake SnowPro Advanced Architect Certification is one of the most promising data architecture certifications. By learning how to use Snowflake solutions, you can upskill yourself for:
Operating Snowflake solutions on various cloud environments like Microsoft Azure and AWS

Scaling your business by handling data via Snowflake solutions.

Adjusting Snowflake solutions like Snowflake Data Warehouses according to company needs.

Securing your mission-critical data with Snowflake solutions.

Advanced tuning of your business performance using Snowflake Databases.

Preventing data threats and recovering lost data using Snowflake disaster recovery.

Leveraging Snowflake schema in the data warehouse to design data architectures.
Apart from this, Snowpro Advanced certification will also increase your ability to:
   

Capture and access data on-premise and from data lakes and API's.

   

Evolve, replicate, and exchange data across cloud platforms.

   

Design and complete data streams in real time.

   

Implement scalable and computable data workflows using DE tools.

   

Assessing data performance metrics.
Who can take the  Snowflake SnowPro Advanced Architect Certification?
So, who can take the Snowflake SnowPro Advanced Architect Certification? 
In order to be eligible, you must have at least five years of experience working with data in a professional capacity.
You must also have a strong understanding of data warehousing and ETL principles. Additionally, it is recommended that you have experience using Snowflake in a production environment.
If you meet all of these requirements, then you should definitely consider taking the Snowflake SnowPro Advanced Architect Certification. It will allow you to develop even deeper expertise in Snowflake and how to design and implement complex data architectures.
In addition to this, you can apply for Snowflake SnowPro Advanced Architect Certification if you are:
   

Data Architect

   

Solution Architect

   

System Architect

   

Having a good understanding of designing with DevOps/DataOps and SQL

   

Expert in SQL analytics

   

Experience in coding

   

Experienced in creating ETL/ELT pipelines

   

Familiar with deploying compliance measures

   

Well-versed with various data modeling techniques
Snowflake Snowpro Advanced Architect Certification Exam Overview 
You should be Snowpro Core certified before applying for this exam and must have practical experience in dealing with Snowflake solutions and tools.
Below image shows the ARA-C01: Snowflake SnowPro Advanced Architect Certification exam overview: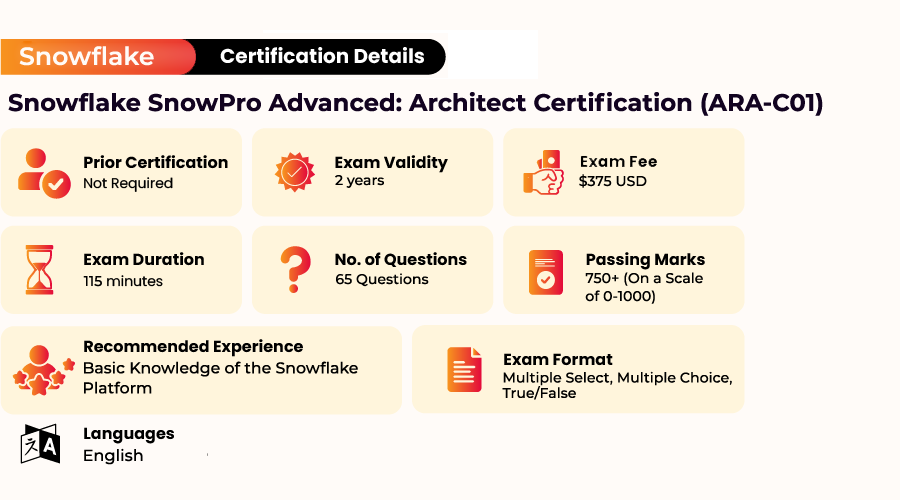 Moreover, the exam may also contain uncensored questions to obtain statistical information. But, you won't need to worry about them since they are not recognized on the form and don't affect your scores. You will get extra time to attempt these questions.
| | |
| --- | --- |
| Exam Name | ARA-C01 |
| Exam Format | Multiple choice and Multiple Select and  True/False |
| Duration of the exam | 115 minutes |
| Number of questions | 65 |
| Passing scores | 750 (out of 1000 points) |
| Language | English |
| Exam Fees | $375 USD |
Also Read: How to Prepare for the Snowflake SnowPro Core Certification Exam?
What are the prerequisites for Snowflake SnowPro Advanced Architect Certification?
Since it is an advanced course, you will find a pretty big list of requirements to fulfill before diving headlong into preparing for the certification exam. While some of the elements of the list are already covered in the audience subhead, here's a complete view of the certification prerequisite:
Before applying for any Snowpro advanced certification (including this one), you must qualify for Snowflake Snowpro Core Certification.
You need at least two years of experience working with Snowflake solutions.

You must also have relevant hands-on experience working as an architect in a production environment.

You should have basic knowledge in designing and deploying system and solution architecture.

You need to have hands-on experience with
– SQL and SQL analytics
– Designing complex ETL/ELT flows
– Implementing security solutions
– Implementing compliance and regulatory solutions
– Coding using sources other than SQL, DevOps, and DataOps design
Domains Covered in  Snowflake SnowPro Advanced Architect Certification
The Snowflake Advanced certification covers four domains:
   

Security and Account: Covers 30% of the weightage and includes:
– Designing Snowflake accounts and database strategies to best fit the business requirements.
– Designing architecture to meet data privacy, protection, and compliance needs.
– Outlining Snowflake security norms and analyzing use cases to battle real-world scenarios.
   

Snowflake architecture: Covers 25% of the total marks and includes:
– Defining merits and demerits of using various data models in a Snowflake environment.
– Creating data exchange solutions and methods based on use cases.
– Designing architecture solutions to support development lifecycles
– Defining Snowflake object hierarchy and its implication on an architecture
– Determining relevant data recovery tools in Snowflake and using them to restore data
   

Data engineering: Covers 20% of total marks and captures:
– Determining accurate data loading and unloading tools to meet business requirements
– Identifying primary elements of Snowflake's environment and how they collaborate with Snowflake
– Determining business-relevant data transformation solution
   

Optimizing performance: Covers 25% of the exam and includes:
– Defining performance solutions, best practices, and situations where to implement them.
– Combat performance issues by leveraging existing infrastructures.
Each of the domains mentioned in the above list carries a specific weight in the exam. Security and Account come at the top of the pyramid. 
Next in line is Snowflake architecture and performance optimization. It carries almost equal weightage of around 25% of marks. Lastly, data engineering is at the bottom of the funnel, accounting for 20% of the exam weight.
Study materials to refer for  Snowflake SnowPro Advanced Architect Certification
Snowflake provides ample resources and study guides to kickstart your advanced architect certification journey. To ace this exam, Snowflake recommends including hands-on experience, instructor-led video courses, and self-study resources in your learning path.
To begin with, Snowflake offers instructor-led training programs which are nuanced and covers all concepts in detail. These programs are demonstrated on the latest Snowflake versions and involve instructor-led demos and hands-on exercises. You will find two programs that are relevant for this certification:
Snowflake Advanced Training: This is a three-day program that will cover concepts like data security, performance, data movement, agile development, designing data sharing, and leveraging the Snowflake Cloud Data platform.
This program will also help you:
– Assess advanced architectural concepts in the backdrop of Snowflakes
– Implement best practices for agile development
– Implement processes for advanced performance tuning
– Design a comprehensive ecosystem to ensure data security
Snowflake Performance Tuning and Automation: This program will take you through the common pitfalls and design errors while implementing features to workloads. It will help you:
– Understand the Snowflake Cloud Data environment's three-tiered architecture and leverage them to scale performance.
– Use appropriate Snowflake solutions to assess and optimize performance
– Deploy efficient and high-performance workloads to transform and share data
– Leveraging the Snowflake Cloud Data platform to optimize costs
Second, SPSG-ARA: Snowflake's self-paced and self-learning study guide comes after the instructor-led training. It is a comprehensive collection of all the domains, topics, and sub-topics captured in the certification exam. Along with exam subjects, the study guide also offers:
Links to Snowflake documentation for all topics

Additional material like blogs, articles, videos, and exercises to ensure an in-depth understanding of Snowflake.
How to prepare for  Snowflake SnowPro Advanced Architect Certification?
Preparing for any certification can be a little overwhelming if you don't have a definite learning path. Also, it is vital to know when and how to navigate from one learning process to another. 
So, here's a quick four-step guide to make your preparation a breeze :
Step 1: Prepare for the Snowpro Core Certification exam first since it's a deal breaker to appear for the advanced certification. Once you pass the exam, ensure that you fulfill the rest of the eligibility criteria. If not, then start acquiring those skills before delving into theoretical preparations.
Step 2: After attaining all the skills and getting familiar with the exam objectives and domains, start with the instructor-led videos and study guides offered by Snowflake. Be well-versed with them and gain a complete understanding of how Snowflake solutions work.
Step 3: Once you feel confident about domains and theory subjects, it's time for the practice tests. You can begin with Whizlabs' practice tests and identify prep gaps. Go for SWOT analysis and re-strategize your learning plans to focus on the weak spots.
Step 4: Re-attempt for certification practice papers and quizzes once you finish the last bit of step 3. Repeat till there are no errors, and then apply for the final certification exam.
As mentioned earlier, data architect profiles will grow incredibly in the coming days. So, it is probably needless to say why you need to care about certifications like Snowflake Snowpro Advanced Architect.
In fact, more big-shot names in the industries are increasingly looking for data architects specifically catering to Snowflake platforms. They want professionals who are pro in migrating on-prem data warehouses to cloud platforms and products like Snowflake.
Moreover, skills like deploying cloud data architectures and Snowflake best practices are in high demand. Unfortunately, this demand surpasses the supply since there aren't enough data architects specializing in Snowflake capabilities. That's where this certification comes into play. This certification guarantees an all-around development and lets you unlock long-term career benefits.
How hard is Snowflake certification?
Your familiarity and hands-on experience with the Snowflake Cloud Data Platform are key determinants for success in the certification exam. If you have prior experience with the platform, the exam should be relatively easy for you to clear.
However, if you are not well-versed with the Snowflake platform, the exam can be challenging. The good news is that you can access online training platforms to learn and understand the basics and advanced aspects of the Snowflake Cloud Data Platform. This will equip you with the necessary skills to excel in the exam and utilize the platform effectively for your data projects.
In addition, there are several Snowflake tutorials and practice examinations available online to aid in your exam preparation.
Overall, the Snowflake certification exams are both straightforward and complex. It requires a deep understanding of the Snowflake Cloud Data Platform, as well as dedicated effort and practice. With the right amount of time and effort, you can pass the exams and attain your certification.
Summary
Now, if you are someone wishing to jump-start their career as data architect, Snowflake Snowpro Advanced Architect certification is one of the significant elements to focus on. 
Interestingly, you don't have to go places searching for resources and study material. Whizlabs has got everything covered for you. The cherry on the top is that we at Whizlabs offer many preparation resources like hands-on labs, cloud sandbox environment  to level up your preparations. 
We hope you enjoyed reading the article, and if you need future update about the certification, keep an eye on our blog updates. We do update our blog frequently!