Are you dedicated to your project management career? Are you eager to earn credibility as an aspiring project manager by learning desired knowledge? If yes, then CAPM Certification (Certified Associate in Project Management) could help you to climb the corporate ladder quickly. CAPM Certification works as an essential stepping-stone for the project managers as well for the executive-level professionals.
As per the market research, project management skill is in higher demand in almost all organizations, and by 2020, nearly 1.57 million new positions will be created globally. Thus, qualified project management practitioners are in need. To meet this rising demand and skills gap, experienced and new project management professionals are advised to take the industry-recognized certifications and PMI's Certified Associate in Project Management (CAPM) certification is one among them.


However, when PMP and PRINCE2 certifications are there, it must be an essential doubt in your mind that – is CAPM Certification worth it? To answer this, let's take a deep dive into the details by evaluating the benefits of CAPM certification, CAPM certification cost, CAPM certification requirements, etc.
Hence, let's go through this blog to unveil these important facts and figures of this Certification.
What is CAPM Certification?
The CAPM Certification is an entry-level certification organized by PMI for associates who want to become a certified associate in project management. This globally recognized certification provided by the Project Management Institute (PMI) covers all the fundamental knowledge, processes, terminology associated with effective project management.
Moreover, CAPM certification is designed based on the PMI framework and follows the standards as mentioned in the PMBOK Guide (A Guide to the Project Management Body of Knowledge). The exam tests a candidate's knowledge of different project management knowledge areas and process groups.
Successful completion of CAPM Certification ensures that a candidate possesses the necessary skills and knowledge about the principles of project management. Besides, this certification enables individuals to handle the primary challenges of project management.
The CAPM Certification course outline is as follows:
| | |
| --- | --- |
| Knowledge Areas Covered | Percentage of Exam |
| Introduction to Project Management | 6% |
| Project Environment | 6% |
| Role of the Project Manager | 7% |
| Project Integration Management | 9% |
| Project Scope Management | 9% |
| Project Schedule Management | 9% |
| Project Cost Management | 8% |
| Project Quality Management | 7% |
| Project Resource Management | 8% |
| Project Communication Management | 10% |
| Project Risk Management | 8% |
| Project Procurement Management | 4% |
| Project Stakeholder Management | 9% |
Benefits of CAPM Certification
The best reply to the dilemma "is CAPM certification worth it?" Is understanding the benefits of CAPM certification. Gaining a CAPM certification can advance your career in multiple ways. Let's have a look at the benefits of CAPM certification.
Establishes Project Management Credibility and Knowledge
CAPM certification assesses a candidate with PMI specified stringent guidelines which require the candidate to meet specific measures of the candidate's experience, professional knowledge, and education. The evaluation process of CAPM certification enforces the candidate to abide by the industry-standard ethics and code along with the professional conduct. Thus, CAPM certified associate is highly proficient and trained on project management disciple. Consequently, this certification undoubtedly boosts the professional credibility of a candidate.

Help You Become a Confident Project Lead
CAPM certification not only boosts the project management knowledge of a candidate but also infuses the leadership skills into them to lead in the workplace. As this is an entry-level project management certification, it also helps new bees in project management to learn how to manage a team effectively in a variety of working environments. A CAPM certified associate in project management can thus play as a vital resource in any business function.
Understand the Best Project Management Practices
The PMI PMBOK guidelines as provided through the CAPM certification makes a professional get acquainted with the best project management skill sets practices. It offers professionals to obtain necessary skills related to project management activities like project planning, execution, monitoring, and controlling a project towards successful completion.
Also Read: Top 10 Project Management Certifications
Better Career Opportunities
Like all the professional fields, project management is also a field of competition. As the demand for the certified associate in project management is on a continuous rise so as the CAPM certification around the world. CAPM certification is a globally recognized certification and recognized by all major companies.
The most exciting part of this certification is even if a candidate has little project management experience, this certification helps to meet the gap of project management skills and have understanding related to managerial roles. Hence, a CAPM certified professional gets increased opportunities in the job market.
Opportunity in Versatile Job Profiles
CAPM is an entry-level certification in project management which is designed for professionals with little or no experience in the project management field. As the CAPM curriculum explains the fundamental concepts of project management, its terminologies, and best practices. Thus, it opens up many job profiles for them beyond project management.
Some of the job profiles that a CAPM certified professionals can apply for are:
Consultants

Business Analyst

Relational Administrator

Operational Support associate

PMO

Senior Project Manager in IT

Marketing Coordinator for Communications
and many more.
Increased Salary Prospects
As the CAPM certification proves a candidate's project management credentials with PMI standards, no doubt, it works as a bonus and sometimes helps to increase the salary up to 25%. Even in the same organization, a CAPM certified professional can demand a higher salary than the non-certified professionals due to the increased demand for CAPM certification among the employers.
Additionally, as accredited by PMI, CAPM certification is considered as one of the highest paying certifications in project management stream.
So, have you decided to take the CAPM certification exam? Just go through the CAPM Exam Preparation Guide and go ahead.

CAPM Certification Exam Information
The next immediate question that comes into a candidate's mind is – what is the eligibility criteria and cost to take CAPM certification? Here are the details:
CAPM Certification Requirements:
As guided by PMI to appear for CAPM certification a candidate must meet the following criteria:
An educational background with a secondary degree that could be a high school diploma, an associate degree or the global equivalent

1500 hours of professional experience on a project team which consists of 5 process groups –

 

Initiating Process, Planning Process, Executing Process, Monitoring/Controlling Process, and Closing Process

Or have 23 contact hours of formal project management education to fulfill the prerequisite requirements
CAPM Certification Exam Pattern:
Number of questions in the exam: 150 multiple choice questions

Duration: 3 hours

Maintenance period: The candidate must retake the exam every five years.

No negative marking
CAPM Certification Cost:
CAPM certification cost can be evaluated in two categories –
Training cost:
If a candidate does not meet the 1500 hours professional experience criteria, then he needs to take online training from PMI which costs for –
Non-member: $400

PMI member: $350
Moreover, this training cost may vary based on the locations.
Exam cost:
According to PMI's CAPM Handbook, the CAPM is a computer-based training (CBT) test which costs
For PMI members: $225

For non-PMI members $300.
Additionally, the candidate might also have to pay renewal charge for CAPM certification in every five years.
Preparing for CAPM certification? Check your current level of preparation with CAPM practice tests.
CAPM Certification Salary – A Positive Boost for Career
As mentioned earlier, PMI Certified Associate in Project Management (CAPM) is considered as one of the highest paying certifications in the industry. As per the PayScale report, a CAPM associate can draw an average annual salary of up to $101,103.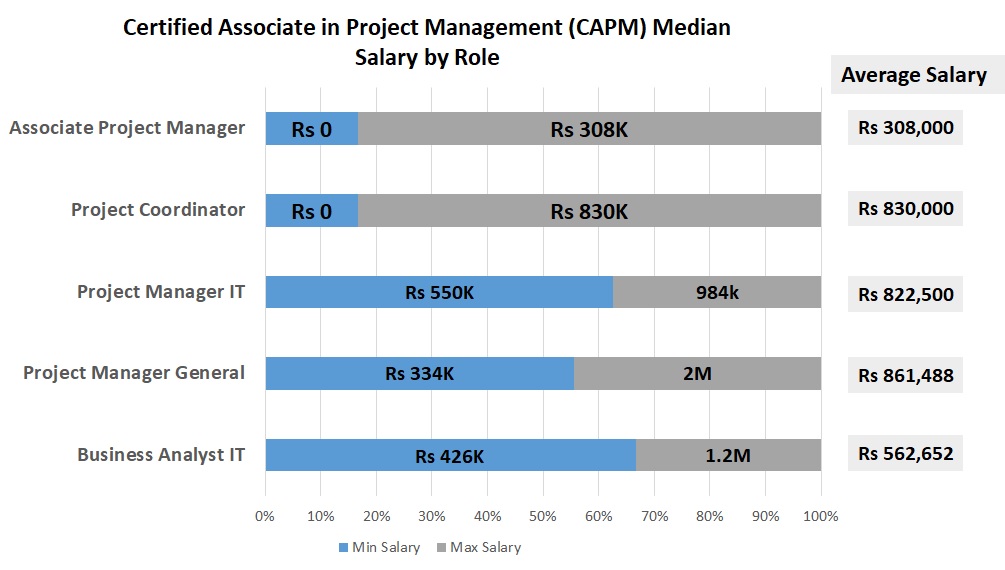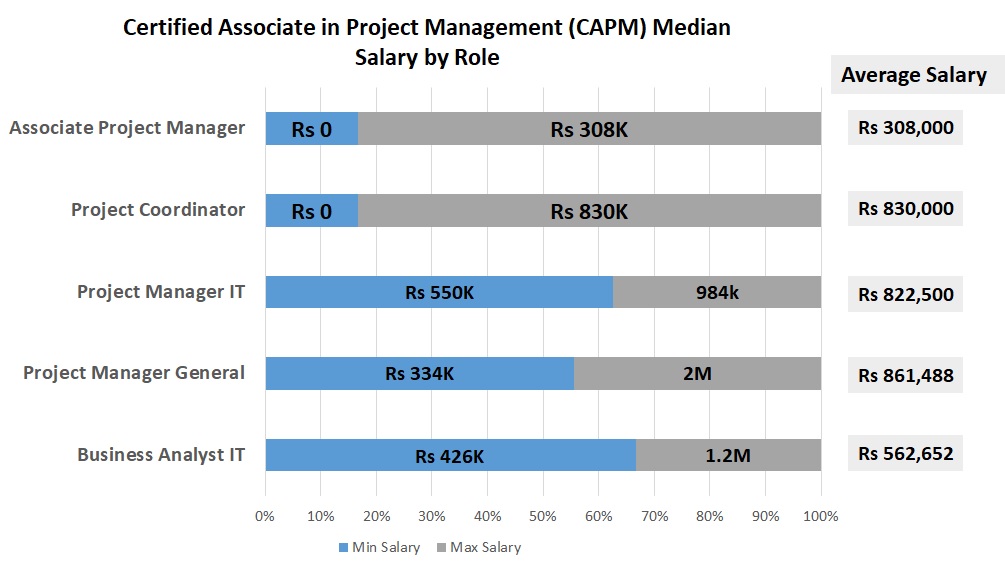 However, the salary of candidates varies based on their job role and experience. A CAPM certified candidate with less than one year experience will have a median annual salary of $45,611.
Eventually, this increases to $77,914 within ten years or even more.
Is it worth considering CAPM vs. PMP?
From the above-mentioned discussion points, we can conclude that from the job, salary and career perspectives CAPM certification is a positive move for the project management career. However, when we talk about project management certification, no doubt PMP is the most powerful one. Hence, considering PMP if you still have doubt whether CAPM certification is worth investment, then also we would say, yes, it is.
Also Read: PMP vs CAPM vs PRINCE2
Though we are not saying CAPM is a substitute for PMP, however, it adds a positive impact in your project management career. Additionally, it has the following advantages over PMP –
PMP may not be within your reach when you are in the starting phase of your project management career. Not only PMP is a huge undertaking, but also it needs continuous education like 60 professional development units along with every three years to maintain the PMP. Additionally, you should have 35 hours of project management education and 4500 hours of project management experience as an eligibility criterion for PMP.
Hence, if you are a professional who needs to prove your project management skill but doesn't have the eligibility as mentioned above; will you wait till that long? In this scenario, CAPM certification works best. So, even with a less project management experience, you can show your dedication towards project management within the same PMI framework. A CAPM certification in a resume definitely gives an edge over a non-certified candidate in the job market.
Furthermore, PMP is a tough exam which tests a candidate with many tricky questions, and that much complexity level is not present in the CAPM exam. However, as the CAPM is designed based on the same PMI framework as PMP, it will leave you one step ahead if you plan for PMP in the future.
Also Read: Which PMI certification to choose?
Final Words
Are you still in dilemma whether you should go for CAPM certification? Well, from knowledge and career perspective, it is an advantage at any level of project management profession. However, like any other certifications, CAPM certification also need good preparation as you are going to invest a good amount of money and cover a broad curriculum. Besides PMBOK guide, good training along with sample questions make sense in this perspective. Also, time-bound exam simulators like practice test series can be very much helpful to qualify the exam without much trouble.
Have any query regarding CAPM or any other project management certifications? Just write in the comment below and we'll get back to you in no time.