Amazon Web Services, or AWS, is undoubtedly a real deal for organizations across industries and sectors. The word cloud computing has become synonymous with a few names, AWS being at the top. Now, this also means that organizations need professionals who are good at handling AWS services and help elevate outcomes by building relevant business solutions.
Speaking of which, AWS solutions architect is one of the most demanding career roles gaining a lot of traction these days. Managing and controlling cloud-related activities calls for designing, implementing, and deploying tools and solutions that best suit business requirements.
But the question of the hour is: "How to become an AWS solutions architect?"
This blog will take a deep dive into the answer and cover all the know-how of an AWS-certified solutions architect: who are they, who can become one, do they need coding, and so on.
So let's dig in.
Who Is an AWS Solutions Architect, and What Do They Do?
Before we dive headlong into how to become one, let's first understand who is an AWS solutions architect and what they do.
AWS solutions architect is a domain expert responsible for creating and implementing business apps and environments within the AWS cloud platform. As an AWS solutions architect, you will also plan, scale, and design AWS Cloud implementation based on Amazon's best practices. You will be establishing connections between the company's objectives and technology-based outcomes to ensure optimal results.
Also Read: Free AWS Solutions Architect Certification Exam Questions
Additionally, you will use your expertise to create innovative cloud-based solutions, migrate heavy workloads to the cloud, and safeguard your organization from circulation errors, online breaches, and software or application-related downtime risks.
Apart from this, you will also help the company reduce costs and minimize incidental threats or attacks your network system might face. This also calls for an in-depth understanding of AWS infrastructure to make it a secure place to store sensitive, business-critical data and other assets.
Besides, other roles and responsibilities for AWS solutions architect include:
Establishing links between business goals and technology-driven results.
Developing cutting-edge cloud solutions and migrating existing workloads to the cloud
Protecting an organization against application and software downtime risks, and data. Breaches, circulation errors, and other potential threats.
Can I Become an AWS Solutions Architect?
No rocket science is involved in the process of becoming an AWS Solutions Architect. The easiest way though is to pass the AWS Solutions Architect- Associate certification. The course is tailor-made to give you a comprehensive view of the AWS infrastructure. However, coming from an IT background gives you an edge over those who are new to the field.
Know More: How to Prepare for AWS Solutions Architect Associate Exam?
In addition, you need to ensure you have the following:
Experience working with AWS technology
Strong hands-on with IT avenues
In-depth understanding of mapping on-premise cloud requirements
Familiarity with other cloud environments and their services
How to Become an AWS Solutions Architect?
Remember that the most important element to becoming an AWS solutions architect is to have a keen interest in the cloud computing domain. Without an elaborate and clear understanding of AWS infrastructure, it's not possible to design, implement, and manage solutions that meet the requirements of both cloud and business. So consider following these steps in the same chronology to become a proficient AWS solutions architect.
●      Learn cloud fundamentals
To become an AWS Solutions Architect, one must first acquire fundamental cloud skills to pass the Associate level examination. If someone lacks this knowledge, they may require some time to learn it. Fortunately, there are comprehensive courses available that can teach the basics of cloud computing. Those who already have cloud computing knowledge can refresh their skills before joining a training class.
●      Pass the AWS Certified Solutions Architect Associate Certification
The best way to enter the AWS domain is to become an AWS-certified solutions architect. In other words, the AWS-certified solutions architect associate certification should be a vital checkbox in your list.
When preparing for the course, you should direct every effort towards passing the AWS Certified Solutions Architect – Associate cert. This course validates your solutions architect skills and can make your resume shine when you apply for AWS Solutions Architect jobs. Excelling in the exam signifies your understanding and proficiency in AWS Cloud Architecture, thereby enhancing your chances of securing your desired job in the company of your choice.
The certification exam consists of 60-70 questions in the form of MCQs and multiple selections. The exam is 130  minutes long and costs USD 150. The certification will be valid for 3 years. To be eligible, you must have at least a year's experience in building high-performing, cost-effective, scalable, available, and secure systems on the AWS cloud.
●      Choose a relevant and updated training program for the AWS-certified solutions architect associate cert
If you want to become a skilled AWS Solutions Architect, you cannot overlook Digital Cloud Training. Numerous organizations and online training and tutorials provide AWS certification courses. But it's critical that you join a high-quality training program to gain the best skills and knowledge, that provides updated and authentic resources and enables you to ace the cert exam. An ideal training platform prepares you for exams and equips you with job-ready skills to stand out from the competition.
To find the best platform, you can research online for recommendations from reliable sources. Join AWS-related groups on social media platforms like Facebook, LinkedIn, or Slack Channel, and request referrals from cloud training experts. However, it is crucial to perform due diligence before joining any recommended platform.
Besides, whichever platform you choose should provide in-depth knowledge of basic and advanced AWS concepts to pass the certification exam, hands-on practical exercises to prepare for the job market, and an active community of AWS learners as study buddies. Some platforms and training providers offer scheduled training classes, but online training modules on-demand may be a better option as they are often cheaper and allow flexible study times.
●      Sharpen your claws with relevant skills
Next up on your "How to become an AWS Solutions Architect" list, you need to brush up on some relevant skills to increase your chances of getting hired after passing the test. Apart from cloud computing fundamentals, you should also have other basic IT skills that may be useful in the future. You can always search for crash courses or work on small projects to hone these skills.
●      Get a holistic view of cloud tools and services
Suppose you want to become better at cloud-related problem-solving as a professional. In that case, you should have a basic knowledge of other cloud tools in addition to AWS, which is probably the best cloud computing tool in the world right now.
●      Taking up solutions architect projects
Before you apply for a job as an AWS Solutions Architect with your new certificate and skillset, you must take up projects in the industry to build your resume and increase your chances of landing a better job offer in the future. By working on different projects, you will gain more confidence in the field and create a portfolio that could impress your future employers.
Once you have gained experience and confidence by working on a few projects, you can start looking for jobs that suit your skillset and start working as a professional AWS Solutions Architect.
Skills Required in an AWS Solutions Architect's Job
Now that you comprehensively understand how to become an AWS architect let's discuss the skills you need to master to work as a professional in this field. Although these skills are not specific to the field, you need to master them to excel in any work you choose to do. Let's have a sneak peek into them.
●      Communication skills
To work as an AWS Solutions Architect, you need to have great communication skills. This domain is highly interaction-centric. This means you have to communicate with myriad stakeholders to understand and explain your solution needs. Ensure you are strong with both verbal and non-verbal interpersonal skills to succeed in this field.
●      Problem-solving skills
To succeed in this profession, you need to have exceptional problem-solving skills. As an AWS Solutions Architect, you will face complex problems regularly, and you will be expected to provide your clients with creative solutions. This requires you to think on your feet and come up with innovative solutions to all the challenges that come your way.
●      Adaptability skills
As a professional in an IT-related field, your work life is likely to come with a cluttered schedule. You will have a lot of tasks to take care of, attend meetings, write scripts, and work on migration. Additionally, you must be ready to face any new company problems and offer them cloud-based solutions after consulting your team. This work can be tiring, so you need to be really adaptable to survive in this field.
●      Time management skills
To juggle all the tasks but wear many hats, you will need to have great time management skills and adaptability. Demonstrating your time management skills to your employers can help you land a good job in the field. You can build this skill by working on different projects.
●      Keeping abreast of trends and developments
Lastly, you need to stay updated on the latest trends and changes in the AWS tech arena, as it is a rapidly evolving field. Keeping yourself informed of new developments is crucial to ensure you stay relevant and competitive in your profession.
Is coding knowledge compulsory to become an AWS solutions architect?
The answer is no if you're wondering whether you need in-depth coding knowledge to become an AWS cloud professional. However, remember that coding is an essential skill in today's IT field. Learning at least one coding language can help you significantly when developing and deploying apps to the AWS cloud. So, while not necessary, it can be helpful to learn to code.
Moreover, you will benefit from having coding skills if you want to get a job as an AWS Architect. Although coding is not an AWS Architect's main focus, you still need a strong foundation in programming concepts and languages.
Many tasks in cloud computing require scripting and automation, so having coding skills is important. Knowing programming languages like Python, Java, or Ruby can also be useful when working with AWS services. However, keep in mind that not all AWS Architect positions require coding skills, as the job requirements may vary based on the company and project.
AWS Solutions Architect Salary and Job Growth
Based on roles, here's what you can expect: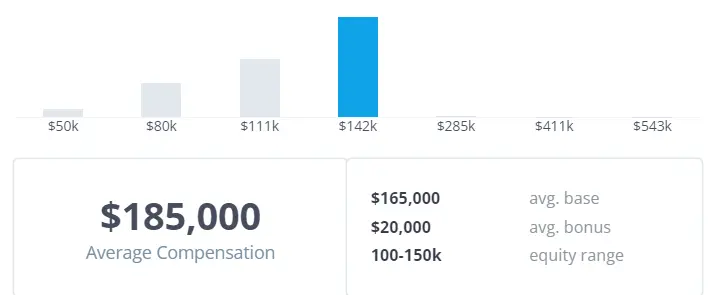 As an entry-level or AWS solutions architect associate, you can earn an average of $78,000-$90,000 p.a. with over two years of experience.
As a senior solutions architect with over 14 years of experience, you can earn as high as USD 139,430 to USD 175,000 annually.
Speaking of job growth, you can expect strong job growth if you are an AWS-certified Solutions Architect.
Owing to the rising demand for cloud solutions, there is a growing need for professionals who can design and implement AWS-based infrastructure. This indicates that the job market for AWS-certified Solutions Architects will probably keep growing in the coming years.
Summary
Hope this blog answers the vital question: How to become an AWS solutions architect? Keep in mind that certifications are always the best and most accurate way to delve deeper into domains and upskill. Moreover, getting AWS certified will play a crucial role in leveling up your credentials and grabbing recruiters' attention instantly.
Whizlabs offers all the resources necessary to prepare for the AWS-certified solutions architect associate certification exam. You will find innumerable practice tests with unique questions and over 225 video lectures designed by industry experts. The cherry on top: you get over 65 hands-on labs to get familiar with AWS infrastructure and a sandbox to experiment with solutions you design in a demo AWS environment.
If you have any doubts or queries, please feel free to ping us!