The cloud market has gained immense popularity in the past few years. Cloud computing is now one of the biggest ecosystems of top-notch technologies, and the providers are running endless expansions to increase market shares. There are many possible reasons why enterprises are now adopting the cloud services, and this article will help elaborate on such reasons for your clarity. Want to understand the fundamental of cloud technology? Start with the AWS cloud practitioner practice exam. 
The best cloud service providers in 2021 are AWS, Microsoft Azure, Alibaba, and Google. They are the industry giants for cloud ecosystems, and there is no big name that can compete with them. In this article, you will get the significance of each of these industry giants and other such associated details on cloud computing. 
Before moving to the discussion on which cloud service is best, let's understand the reasons for choosing a cloud service platform.
Reasons of Choosing a Cloud Service Platform
Before you go ahead and explore the efficacy of specified cloud computing service providers of 2021, it is quite important for you to go through the reasons that motivate enterprises to adopt cloud computing. The reasons include:
Cut down operational costs- 

The businesses get the opportunity to cut down their fixed costs and operations costs upon databases, software licenses, hardware, servers, and others. The need for several resources and workforce will be reduced, which will help the company save salary expenses. All the web servers, database servers, hardware, services, software, and other essentials are hosted within the cloud.

Higher Uptime up to 99.99%- 

Cloud Computing can assure you of higher uptime of up to 99.99% without any time barrier. Your business and work operations will get this uptime for 24 hours a day. The data centers and the cloud servers are completely managed by the respective cloud providers, for which employee management aspects are not required anymore.

Reliable & Scalable-

 There is no limit to implementing resources onto the cloud as you can always scale up or down based upon your requirements. Moreover, the cloud increases the processing abilities and demands for resources as per the need.

Worldwide Data Centers-

 The top cloud service providers such as AWS have data centers all across the world. As a result of which, cloud computing becomes faster and more efficient for integrating it into work operations.
The Best Providers of Cloud Services in 2021!
As you have understood the reasons or perks of cloud computing and why enterprises are going gaga over it, now it is time for you to understand the attributes of the big cloud providers with immense popularity across the globe. The cloud services have implemented IaaS, PaaS, and SaaS for developing a virtual IT space. It is then used for delivering software and services through the use of cloud space instead of any OS.
Many new businesses want to leverage upon cloud services' potential as it is cost-efficient and highly productive. Most people are quite aware of the few big names within the industry that are offering cloud services, such as AWS, Microsoft Azure, Alibaba, and Google. So, to help businesses choose the best, here are the service offerings enlightened below for these big names:
AWS (Amazon Web Services)
When you talk about cloud services, there is no individual who has not heard about the perks and efficacy of AWS. It is probably the best cloud platform in 2021 and is continuously evolving to stay ahead in the race. It consists of integrated web services that can be used for building several business solutions. There are a plethora of PaaS and IaaS services embedded with AWS.
The AWS services include Elastic Cloud Compute, Simple Storage Service, Relational Database Service, and Elastic Beanstalk. There are immense administrative controls within AWS that are made available through the secure Web client. Moreover, the users can gain access to impeccable features such as auditing and encryption key creation. It is customizable for diverse infrastructure requirements, which is the core selling USP of AWS. You can take up the 12-month free AWS subscription to check on the features all by yourself!
Want to become AWS Cloud certified? Check out Whizlabs courses and practice tests here!
AWS holds 32% of the world's cloud market share and is termed to be the leader in the industry. It generated revenue of $125.56 billion by hitting the mark of $100 billion with a growth of 42% in 2020.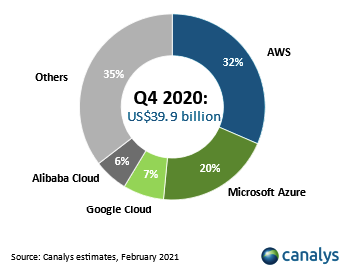 Microsoft Azure
Microsoft Azure is yet another popular provider for cloud services. It was released back in 2010 and has grown its popularity since then. Under the Microsoft Azure cloud services, you can run any service or software upon the cloud. It consists of several definite solutions meant for different industries. Every bit of the business needs of the clients is taken into consideration under Microsoft Azure. Therefore, it is considered the 2nd best cloud platform in 2021.
Furthermore, Azure also forces on eradicating all the physical services from the site. With it, you will eventually save your cost of hiring an onsite support team for managing the servers. There is an Azure Migration Center that is destined to speed up the cloud transfers and eventually make it easier. Moreover, this solution is also compatible with Linux.
The best part is that Microsoft Azure also offers a free trial to the clients or users to access the popular services. On completion of the free trial, one has to take up the paid subscription for continuing with the cloud services of Azure.
What to become Microsoft Azure Certified? Check out Whizlabs courses and practice tests here!
As per Gartner, Microsoft Azure holds a cloud market share of 20%. The Azure annual revenue generated in 2020 hit the mark of $50 billion, with a growth of 42%.
Google Cloud
Google needs no definition to prove its efficacy in diverse sectors. Google cloud is a very powerful cloud computing service provider. It helps the users create diverse business solutions distinguished in terms of complexities through Google's modular web services. It offers services associated with PaaS and IaaS.
Google Cloud has a secure infrastructure that is embedded with multiple layers. It means that the users can be assured of anything they create, code, store, or build. And it is protected within this cloud space. Google has a highly trained and skilled team for handling the engineering of Google cloud services.
There are several tools and features that are responsible for the consistent and streamlined performance of Google cloud. Some of the tools are App Engine, Big Query, Cloud Storage, Container Engine, and Compute Engine. The best part about Google cloud services is that it offers easy migration and a free trial for a year.
What to become Google Cloud Certified? Check out Whizlabs courses and practice tests here!
Google Cloud holds a public share of 7% and generated annual revenue of $13 billion with a growth rate of 47% in 2020.
Alibaba Cloud
Alibaba cloud came into play in 2009 and is a Chinese web hosting service provider that has a strong zone in cloud computing. Alibaba has a lot of enterprise-level cloud services such as storage hosting, domain solutions, relational databases, and others.
Preparation Guide for Alibaba Cloud Certified Professional Big Data Certification
The interface is pretty user-friendly as it was designed to give professional users ease of access to cloud services. Alibaba is also offering a free trial for its services over the platform for the users to try and understand its potential. Upon completion of the trial, the users will have to take up the paid subscription for the same.
What to become Alibaba Cloud Certified? Check out Whizlabs courses and practice tests here!
As per Gartner, Alibaba holds a 6% public share of the cloud market with annual revenues of $2.47 billion in Q4, 2020 and a high growth rate of 50% year by year. The growth has continued since then!
Conclusion
As per the insights highlighted above, you can conclude that almost all cloud platforms are booming on a larger scale. But AWS is the clear leader in the cloud market if we look at the market share. But overall, it is not possible to name one cloud service among these top four. One offers the best cloud services while other wins the security part. One leads in terms of support while other wins on the part of performance and pricing. So, it totally depends on your  business requirements to choose one that fits you the best.
Not sure which cloud certification suits you? Try our Annual Subscription here and get access to all courses!
If you are willing to migrate your business services to the cloud, check on all the top providers' pricing plans and service facilities before you can finalize one. However, for the beginners and professionals who aspire to get ahead in the cloud domain, there are several opportunities with all these cloud service providers. You can choose one as per your interest and get started. If you're preparing for a cloud certification, we recommend you to check out cloud certification training courses and get ahead to become a certified cloud professional!