Both Amazon Glacier and AWS S3 are storage solutions of Amazon that help you stay safe from data loss. Whenever you commence with your first AWS-hosted application for your business start-up, the first thing that comes to your mind is to preserve frequent and inactive data on priority.
There are many such critical situations that businesses go through while running operations online, such as data corruption, administrative errors, malware attacks, and others. Even though you have a proficient and durable system, storage of all types of data is quite important to have a backup ready at all times.
Amazon S3 exists in the market for a long time, while Amazon Glacier has entered later with impeccable features and facilities. Both of them are rightful services that are meant to offer you an ideal backup solution at the time of crisis. But, people are curious to know the differences between the two. It is because if both are the same in terms of service offerings, why should people prefer one over the other.
Therefore, this article is here to explain to you the actual differences in the comparison between Amazon Glacier vs S3.
What is Amazon Glacier?
If you are looking for an affordable storage service for creating a backup of your most inactive data, then Amazon Glacier is the perfect option for you. It is highly being used for data archiving and backup. Customers can expect to store their crucial data for the long-term at a rate of approximately $0.004 per GB every month.
The best part about Amazon Glacier is that it is a managed service and relaxes the burden of managing or maintaining the data stored within it. The main USP of Amazon Glacier is to store data for the long term that is not frequently used. The pricing model of Glacier has been stated according to the model.
The use cases of Amazon Glacier are much more targeted as compared to S3. Therefore, it is considered a more powerful implementation for businesses that want to keep their sensitive and inactive data safe. You can store your source data, log files, or enterprise backup data according to your needs with Amazon Glacier.
Amazon Glacier is not meant for frequent retrievals as the sole purpose of its development is to handle long-term storage of data. Therefore, the speed of retrieval might be slow with Glacier. But, if you keep that aside, the low-price aspect of Amazon Glacier is what attracts the enterprises more than S3.
Read more on What Is Amazon Glacier?
What is Amazon S3?
Amazon S3, also known as Amazon Simple Storage Service, exists for a long time within businesses worldwide. It is known to be one of the most adopted cloud storage services offered by AWS. It has features that allow you to store or retrieve any amount of data to/from it without any time limit or barrier. There is no location barrier to the retrieval or upload of data with S3. But, the pricing model is decided according to the frequent retrieval facilities of it.
Amazon S3 stores data within logical buckets that make it quite easy and convenient for people to navigate their stored data. S3 also consists of an object storage facility that stores the files or data along with metadata. It intends to make it easy for people to find the data or files at the time of retrieval. S3 is a highly reliable, scalable, and secure storage solution that operates overcloud.
Best Performing AWS Free Tests
| Sl No | Certification | Questions | Rating | Link to the Test |
| --- | --- | --- | --- | --- |
| 1 | AWS Certified Cloud Practitioner | 55 Practice Questions | 4.72 (29235) | Try Now |
| 2 | AWS Certified Solutions Architect Associate | 20 Practice Questions | 4.72 (93418) | Try Now |
| 3 | AWS Certified Developer Associate | 25 Practice Questions | 4.67 (29669) | Try Now |
| 4 | AWS Certified SysOps Administrator Associate | 20 Practice Questions | 4.69 (17143) | Try Now |
| 5 | AWS Certified Solutions Architect Professional | 15 Practice Questions | 4.71 (20740) | Try Now |
| 6 | AWS Certified DevOps Engineer Professional | 15 Practice Questions | 4.56 (10809) | Try Now |
| 7 | AWS Certified Advanced Networking – Specialty | 15 Practice Questions | 4.41 (3894) | Try Now |
| 8 | AWS Certified Security - Specialty | 15 Practice Questions | 4.49 (8650) | Try Now |
| 9 | AWS Certified Alexa Skill Builder - Specialty | 15 Practice Questions | 4.58 (972) | Try Now |
| 10 | AWS Certified Machine Learning - Specialty | 15 Practice Questions | 4.81 (3157) | Try Now |
| 11 | AWS Certified Database - Specialty | 15 Practice Questions | 4.67 (1005) | Try Now |
| 12 | AWS Certified Data Analytics - Specialty | 20 Practice Questions | 4.55 (2000) | Try Now |
As it allows frequent upload and retrieval, it intends to work on increasing the speed of retrieving the data from storage. Hence, it gets one plus point here under the comparison battle between Amazon Glacier vs S3. But, S3 has a legacy to carry and is existing among the business owners for a long time. As a result, it has several use cases that include:
It acts as a host for several files and documents. Moreover, it is usually mapped as a file server.

S3 can be used for storing database backup and snapshots to stay prepared.

It can be used with websites, mobile applications, IoT device data, log files, big data analysis, and corporate applications at ease.

KMS Keys can be used for encrypting the files stored over S3.
Amazon S3 is used for storing data that has frequent utilization over time. Therefore, it is quite expensive as compared to Amazon Glacier. Therefore, the people who wish to store files for the long term cannot afford the pricing structure of S3.
How is Amazon Glacier Used with Amazon S3 in Conjunction?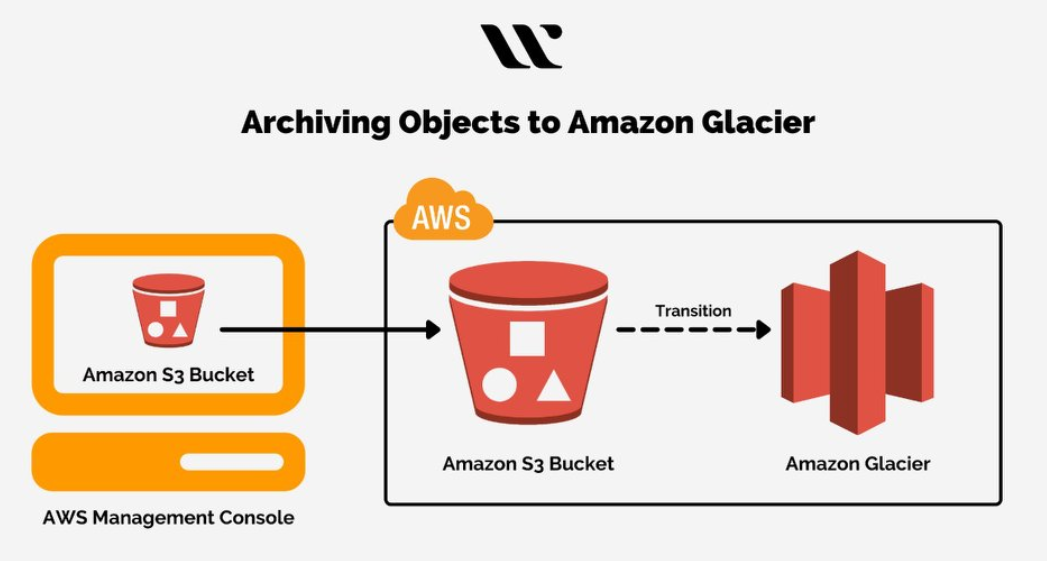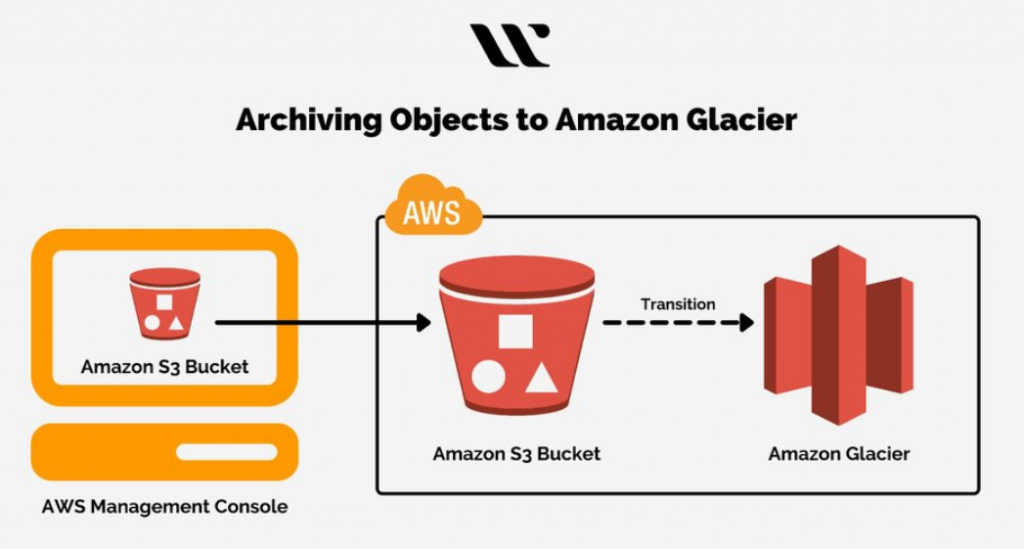 There are specific organizations that intend to use both S3 and Glacier altogether in conjunction by implementing their functionalities. The organizations have plans to store the data initially in the S3 bucket for frequent retrievals and configure it to execute the transition of certain files directly onto Glacier for long-term storage after it completes a specific age cycle.
The AWS storage umbrella has been configured with lifecycle policies to integrate them both for streamlined storage and retrieval functionality within the business workflow. It is the perfect combination for organizations that intend to archive data for a longer time span to meet the compliance requirements.
Even though they have certain differences between their functions and features, they are perfect when used under a single AWS umbrella with integrated functionalities.
Read more on What Are The Uses Of Amazon Glacier?
Amazon Glacier vs Amazon S3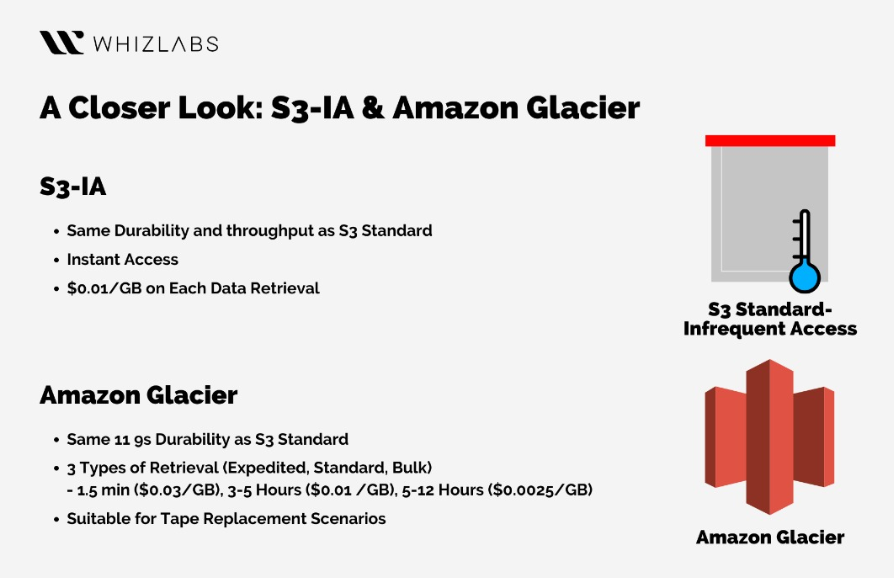 In the battle, Amazon Glacier vs S3, there are quite common and basic differences only because the major operational aspects are the same in both of them. But, still, people need to understand every possible difference between these two storage solutions by Amazon to ensure that they pick the right one that meets their needs.
The possible differences that are found by initiating the battle of Amazon Glacier vs S3 are:
S3 is used mostly for frequent data access, while Amazon Glacier is used for long-term storage.

S3 is used for hosting static web content, whereas Amazon Glacier lacks this facility.

Over S3, the data is stored within the logical buckets. But, with Amazon Glacier, the data is stored in the form of archives and in vaults.

Object transitioning is permissible with S3 from its storage classes to another. But, the Glacier objects are destined to be transitioned only to the Deep Archive storage class.

The price of Amazon S3 is high as compared to Amazon Glacier. This difference is due to the diverse retrieval options embedded within each of these storage solutions.

With S3, the minimum day of storage is 30 days, while with Glacier, the minimum storage is 90 days.

Setup with Amazon Glacier is easy, while setup is complex with S3.

Creating and organizing archives or vaults with Glacier is faster and easier, while it takes time to create folders or buckets properly within S3.
Along with the differences, you need to know some of the similarities within the comparison of Amazon Glacier vs S3. The similarities include:
Both Amazon Glacier and Amazon S3 are destined to offer the durability of the stored objects across diverse availability zones at 99.99%.

The availability is high for both S3 and Amazon Glacier.

There is no virtual limit of data that you can store for both Glacier and S3.

Direct uploading of objects is enabled with both Glacier and S3.

Both Glacier and S3 are backed with an SLA.
Comparison Table for Amazon Glacier vs S3
Here is the comparison table to give you a brief insight into the criteria-wise difference and similarity between Amazon Glacier vs S3.
| | | |
| --- | --- | --- |
| Category | Amazon Glacier | Amazon S3 |
| Storage Type | Frequent retrieval or low latency storage solution. | Long-term storage solution. |
| Retrieval Speed/Process | There are three retrieval options with Glacier and is comparatively slow than S3 | It allows retrieval of files or data within milliseconds. |
| Availability | High Availability | High Availability |
| Data Storage Logic | Data is stored in archives, and the archives are stored in vaults. | Logic buckets are created within S3.  |
| Data Storage Limits | Unlimited data can be stored | Unlimited data can be stored |
| Minimum Storage Duration | 90 Days  | 30 days  |
| Transition | Transition from Glacier to only Deep Archive Storage Class | Transition from S3 to all other storage classes. |
Conclusion
These are a few of the explanatory attributes that explain the differences and similarities between AWS Glacier and S3. If you were confused about the functionalities and operations of them both, then this article would have given clarity to you regarding the same. 
Therefore, make sure you pick the right storage solution offered by AWS to meet your business needs for storing and retrieving data. If you want to learn more about AWS services and solutions, check out our AWS training courses and enroll to advance your knowledge.