Whizlabs offers premium subscription plans that provide access to a variety of features and benefits, including course content, practice exams, and support services. Plans are available for individuals or teams, and pricing is based on the number of users and features desired.
In this blog post, we'll give you a detailed overview of Whizlabs' premium subscription plans, so you can choose the best option for your needs.
Let's dive in.
A Brief Overview Of Whizlabs
Whizlabs is the pioneer in online training platforms throughout the world. Ever since we launched this platform in the year 2000, for over two decades now, we have been helping more than 5+ million professionals and 100+ companies across the world with our best-in-industry online training. 
We provide certification training across various disciplines such as Cloud Computing, DevOps, Cyber Security, Java, Microsoft, Big Data, Agile, Linux, IT Ops, Business Analysis, Blockchain, Blue Prism, and many more.
We provide over 4500+ training videos from experts, practice tests that allow learners to get a deep dive into the exam questions format, Hands-on Labs to gain practical skills that are mandatory, and finally, the free tests that are almost equivalent to practice tests in terms of the quality at free of cost.
By using modern technology, innovative training approaches, and partnering with experts, we are delivering high-quality industry-standard certification exam training. Through our platform, professionals have learned and got excellent results in their certification exams.
Not only are we contributing and transforming online education but also building a platform that delivers high-quality content for individual aspirants as well as business professionals to upskill drastically.
Explore the Whizlabs platform to see the multiple learning options.
How can you start learning with Whizlabs?
On the Whizlabs platform as we have already discussed, you can find learning resources such as Online Courses, Practice Tests, Hands-on Labs, and Free Tests.
Out of the four options, as the name suggests the free tests are completely free for everyone. You can simply sign up, create an account and take up the free tests for any certification of your choice.
However, the other three options come with a very affordable premium for the top-notch content that you get.
There are two ways to access the learning resources on the Whizlabs platform:
You can directly purchase an individual Online Course or Practice Tests and get a certain number of Hands-on Labs with them. The prices of the individual learning resources are fixed and you can access the content for a lifetime . Keep an eye out for the seasonal offers to get excellent offers that we promote to help and encourage aspirants.

You can also enroll to Whizlabs Premium Subscription plans through which you can access the entire Whizlabs training library consisting of 4500+ training videos, 25,000 practice tests, and 700+ Hands-on Labs for the duration of your plan.
Read further to know the benefits of the Whizlabs Premium Subscription, the different plans and their features.
Introducing the whizlabs subscription plan
The whizlabs subscription plan offers access to a range of online training courses for IT professionals. The courses are designed to help you improve your skills and stay up-to-date with the latest technologies.
The plan also includes access to practice exams and quizzes, so you can test your knowledge and identify any areas that need further development.
Also, we'll briefly discuss the various career-related factors that demand a systematic learning approach.  You will read about some of the important aspects of the certification exams and how they impact your career and the industry.
Explore how you can easily avail yourself of the option to choose your preferred certification material from hundreds of resources on the Whizlabs platform.
Subscription Plans at Whizlabs
Whizlabs provides four different subscription plans for individual aspirants and one subscription plan for business or team accounts. The subscription plans are divided into two categories, Monthly and Yearly.
Whizlabs offers two types of plans with standard,premium & premium plus to begin with:
3 month subscription plan where you are invoiced quarterly.
1 year subscription plan for annually.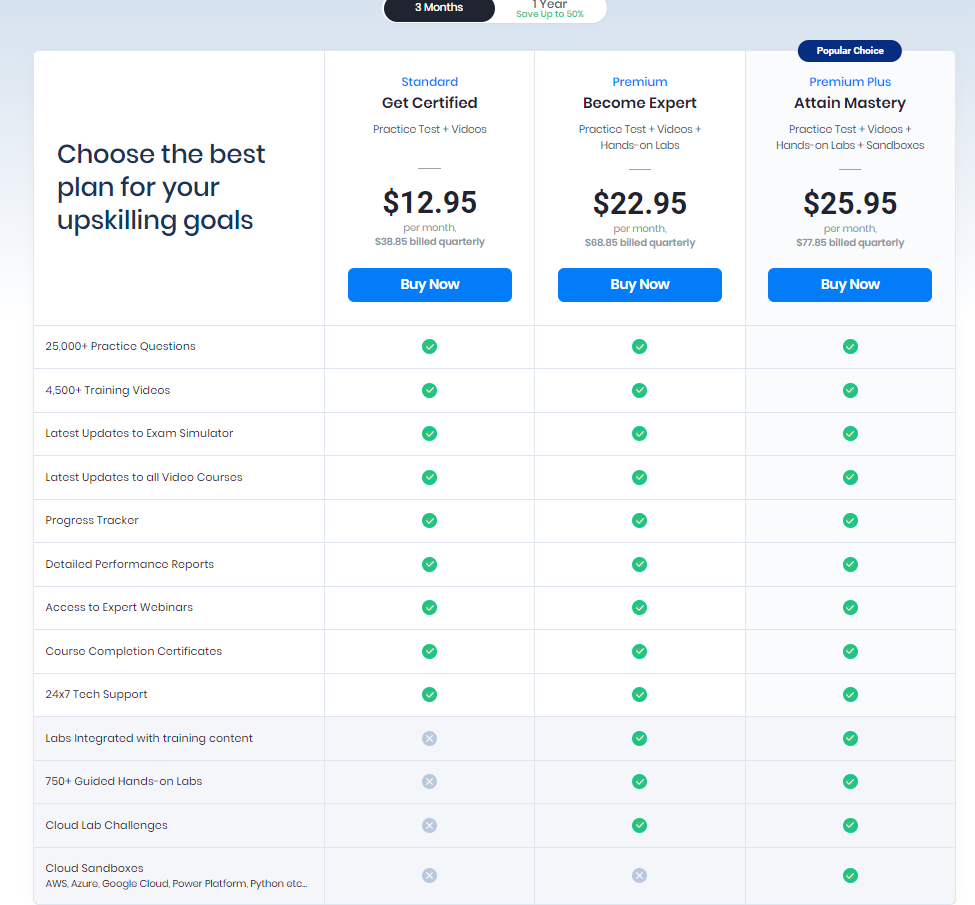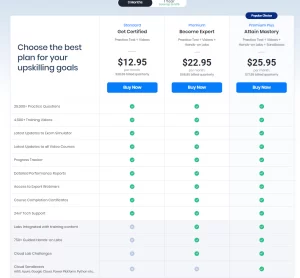 Further, we provide a business account that helps companies to use our platform for their employees to grow and demonstrate in-demand industry skills.
Now that you know about the different subscription plans from Whizlabs, let us look at the various features we offer.
Features Of The Whizlabs Premium Subscription Plans
Whizlabs offers a range of subscription plans to suit your needs, whether you are an individual learner or a corporate training organization. All of our plans include access to our extensive library of online training courses, practice exams, and support resources.
If you're looking for the best way to prepare for your exams, you can't go wrong with Whizlabs Premium.
Here's a look at some of the features of our Premium subscription plans:
– 25,000+ exam questions: With over 25,000+ practice exam questions, you'll be able to test your knowledge and ensure you're fully prepared for your exams.
– 4500+ training video content: With over 4500+ training video content, you can learn at your own pace and review key concepts whenever you need.
– Access to our experts: With our Premium subscription, you'll have access to our team of experts who can help you with any questions you have.
– Enjoy access to cloud sandboxes and lab challenges
So, if you're looking for the best way to prepare for your exams, be sure to check out our Premium subscription plans. With all of the features we offer, you'll be able to get the most out of your study time and ace your exams!
Why Get the Whizlabs Premium Subscription?
In today's world, staying safe, healthy, and growing professionally has become prominent. With most of the IT professionals working from home, the option to learn is growing online. Many thought leaders in the areas of cloud and other domains have emerged because of their learnings and efforts.
Someday, you can be a major contributor to the world in any possible way, hence you must be resourceful.
High demand for certified professionals
The demand for professionals with industry-recognized certifications is extremely high. If you have been in the industry for some time then you would know the market value of certified professionals. Companies are looking for professionals with talent, technical skills, and validation in the form of certifications.
Access superior quality content at an affordable premium
Studying for certification exams requires proper learning resources with comprehensive content with quality and promising results. Finding such high-quality resources online may sound like a daunting task, but it is not so if you have been our learner.
We, at Whizlabs. have got you covered by providing the best learning resources at an unmatched premium and subscription plans.
Learn anywhere, anytime:
If you subscribe to the Premium Subscription plan then you could prepare and learn for just about any certification exam from your home. There are absolutely no restrictions as to when, where, or how you study. You can prepare your schedule and then learn diligently from online courses.
You get online videos from our expert partners with up-to-date content at your convenience. You don't have to go through the trouble of traveling to offline classes. Also, you wouldn't miss any classes or sessions, as you can access any lecture on any training course anytime with the subscription plan.
Explore multiple areas of interest:
If you are a constant learner and want to explore multiple disciplines initially, for instance, cybersecurity and blockchain together then you can easily do so with the subscription plan. You would eventually find your area of interest as you explore and then can continue with that particular discipline without any additional cost.
Test your skills with Practice Tests and Hands-On Labs:
You can utilize the Premium Subscription to try out practice tests and hands-on labs that are tremendously helpful for technical and practical skill development. Regardless of your career status or interests, if you are an aspiring certification candidate or an IT professional, using these two learning resources along with online courses adds great knowledge and value to your career and individual development.
There is no hassle to access multiple things on different platforms when you can find everything from your account.
Benefits Of Annual Subscription Plan
Although all 3 Whizlabs Premium Subscription plans have the same benefits, choosing the 1-year/Annual subscription plan would be the smartest choice for you as a learner. Keep reading to know why!
Value for money:
Having a period of one year to access the entire course we provides you great value for money. See, purchasing an individual learning resource at a premium is undoubtedly a good choice if you aim to get a certification that has no certification path or subsequent levels.
However, if you want to switch your career to a new IT domain altogether, such as cloud computing, then a strategy is essential. Under such circumstances, you must take up multiple certifications designated by their levels.
For instance, Amazon Web Services (AWS) provides 11 certifications distributed across 4 different certification categories or levels. Now if you are aspiring to become an AWS certified professional you would choose multiple certifications from multiple levels as you develop your skills.
In this case, the Annual Subscription plan greatly benefits you, as you would have access to multiple certification exam resources for one year. So, there is no need to purchase multiple training resources over and over again.
Longer duration to explore everything:
Aspiring students or entry-level candidates could greatly benefit by saving up a lot with this subscription plan. IT professionals can utilize this opportunity to efficiently decide the best certifications to earn and grow in their careers.
One year is ample time to take up multiple certification exams and get immense industry-recognized credentials and skills. Adding more certifications into your profile brings great opportunities and benefits equally, that is, career growth would happen swiftly.
Check out the 150+ Cloud Thought Leaders and New Generation Leaders you must follow in 2022! Find out who they are, their social media account links. Directly follow them and learn from them!
During this time,  you can also boost your confidence in clearing the exams even if you have a fear of failing them. While preparing for certification exams, it is quite natural to feel uneasy and clueless at times.
To cope up with such situations, you would need appropriate learning resources and support. With our Annual Subscription plan, you get both, in fact, more valuable resources that bring the confidence and the ability to deal with them.
When you subscribe to the Annual Subscription plan then you save a lot in total cost when compared to buying individual courses. The value is cumulative in the long term as there is no stop to learning and growing in your career.
Certification exams cost a significant amount, on top of which the training cost has to be efficient and slim.
Conclusion
These are the benefits that you get with our Premium Subscription Plan. Take your time to explore and research thoroughly the learning resources and purchase options on our platform. Have a look on the page and view all our subscription plans.