Are you planning to take the SK0-005: CompTIA Server+ Certification Exam? If so, then you'll need to make sure you're adequately prepared.
The CompTIA Server+ Certification exam (SK0-005) is one of the few recognized courses that teach you pin to pie about working with data and cloud environments. It's a mid-level exam and covers all the pillars of handling ecosystems.
This blog will walk you through all that you need to learn about the SK0-005 exam: starting from what it is, what you will learn, why you should take it, the syllabus, prerequisites, exam resources, preparation strategy, etc. 
Time to delve in !
What is the CompTIA Server+ Certification exam? 
The SK0-005, or the CompTIA Server+, is a global certification exam that helps you validate primary IT skills like managing, deploying, and troubleshooting servers in on-prem, hybrid, and cloud environments and data centers. In fact, it's the only certification course in the industry that helps you become an all-rounder and perform all types of IT administration work in any environment with ease since the certification is not restricted to just one task.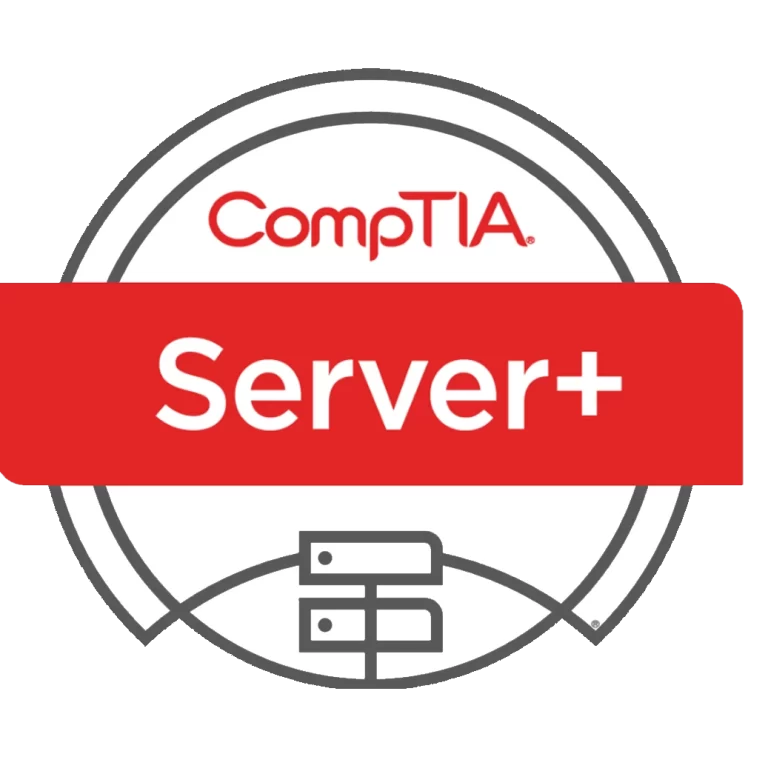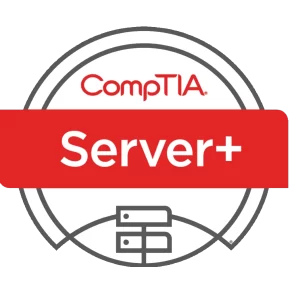 In addition, the certification exam captures all the necessary software and hardware technologies for hybrid and on-premise server infrastructures like cloud computing, high availability, and scripting. This certification includes performance-based questions and tests your ability to perform mission-critical tasks like: 
Server Security

Virtualization

Storage configuring

Server hardware installation

Maintaining and troubleshooting a server OS

Service and data availability

Server decommissioning

Managing and protecting data, physical assets, etc. 
Also Read: Beginner's Guide on CompTIA Cloud+ Certification
What are the skills you will learn from the CompTIA Server+ Certification exam?
The SK0-005 certification exam helps understand all the concepts and knick-knacks of server management and administration. You will learn in-depth about hardware management, server administration, disaster recovery, troubleshooting, and so on. Other skills and abilities that you will be gaining from the CompTIA Server+ exam involve: 
Installing hardware physically

Setting up and controlling server storage

Maintaining the hardware in servers

Server operating system installation

Putting servers into network service configuration

Setting up and maintaining server features and functions

Defining high availability for servers' main principles

Describing the intent and workings of virtualization

Who should take the CompTIA Server+ certification exam?
The CompTIA Server+ course and SK0-005 certification exam is for all the IT professionals and administrators responsible for:
Managing physical and virtual servers.

Handling, setting up, and troubleshooting server issues in data centers.

Installing servers in on-premises and hybrid infrastructures.

Remotely handle physical and virtual servers.

Handle industry standards for adopting cloud-based solutions.

Manage essential hardware and software technologies in server environments (both on-prem and hybrid).

Manage high availability, cloud computing and scripting.

Fine-tuning server environments to scale up and meet business needs.

Automate and virtualize workflows to optimize server environments.
Secondly, if you are looking for one single course that teaches you how to manage, install, and troubleshoot in both on-premise and hybrid server environments like a pro on all platforms, this is one of the best certification exams to kickstart your administrator journey. Moreover, the course is updated periodically to help you stay relevant to the industry. 
Why should you take the CompTIA Server+ certification exam?
For starters, the SK0-005 is a perfect place to kickstart your progress journey if you want to establish a career in server support.
The CompTIA Server+ certification is even more relevant if you are pursuing a job as a system administrator as it gives you both the technical knowledge and training essential to develop and maintain the server software and hardware, design and maintain the server software and hardware, and troubleshoot and support it.
Moreover, this mid-level course captures advanced computing skills, making it the best fit for everyone, not necessarily training for beginners. Therefore, if you are an expert with between 18 and 24 months of experience working in or around the server environment, this course is a must for you.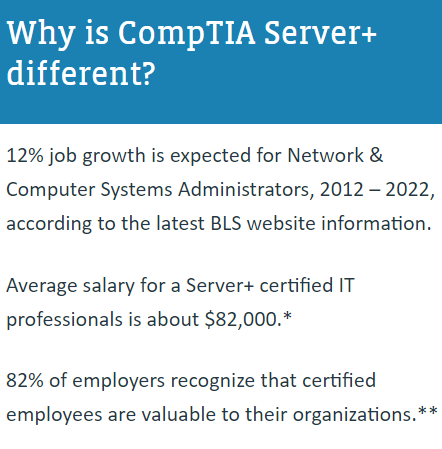 Though CompTIA says that before starting the SK0-005 certification course, it is preferable to obtain a server+ certification. You can skip the Server+ if you have the necessary computer skills, but it provides a solid foundation for other CompTIA certifications like A+.
Third, the CompTIA Server+ certification is a mixture of CompTIA A+ and Network+, making Server+ an excellent way to validate your vast server administration skills and in-depth knowledge to employers. You get a strong foundation in IT with a top-tier CompTIA certification like the SK0-005, which also boosts your marketability. This might help you pave the way for pursuing advanced courses like the Microsoft MCSA certification.
Apart from this, the SK0-005 will help you discover myriad IT roles: 
System Administrator

Server Administrator

Data center technician

Network Administrator

Data center engineer

Field service engineer

IT technician
In fact, CompTIA says the SK0-005 certification course will help boost jobs by 12% for all computer system and network administrators shortly. And that the average salary of a Server+ certified professional will be as high as $82000 p.a. Some of the leading companies who prefer hiring Server+ certified candidates are:
Lenovo 

Intel 

Microsoft

Dell

Xerox

HP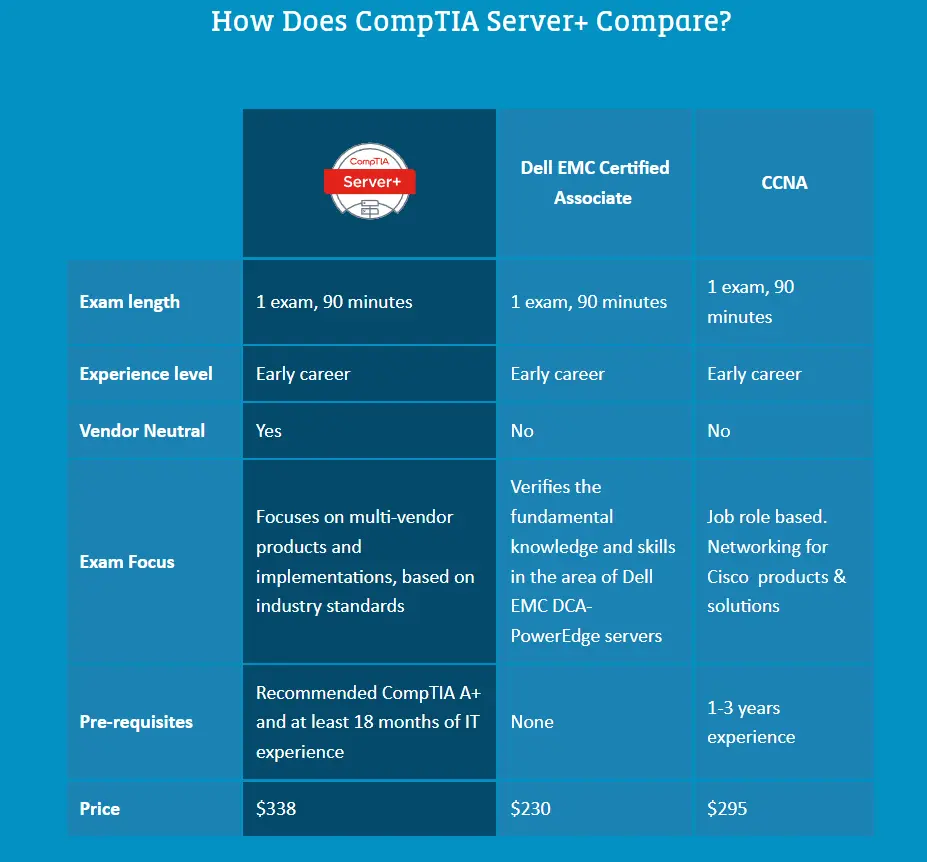 Pre-requisites for CompTIA Server+ certification
To be eligible for the SK0-005 certification exam, you need to have: 
At least two years of experience working in server infrastructures.

CompTIA A+ certification or equivalent knowledge and in-depth understanding of the subject. 
Exam Format of CompTIA Server+ SK0-005 exam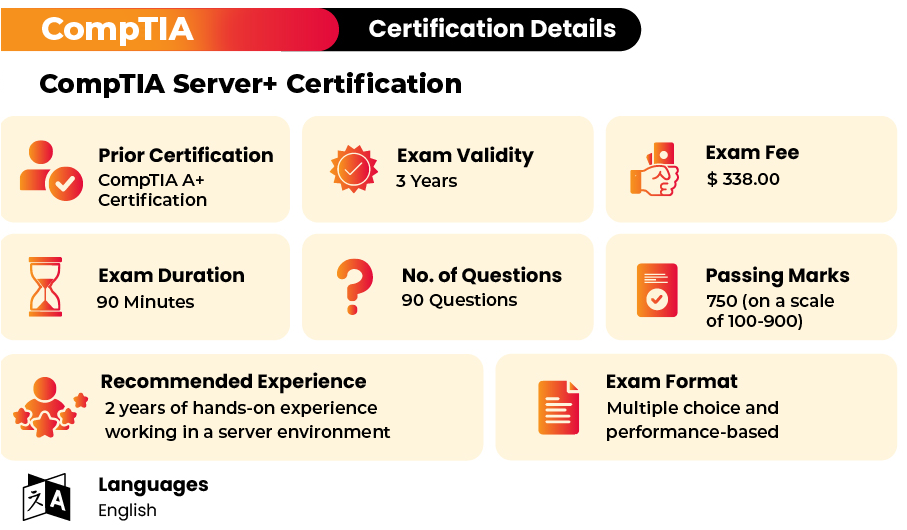 Domains covered in the CompTIA Server+ Certification Exam
The SK0-005 certification exam covers four domains and carries specific weightage in the exam. Here's what the breakup looks like: 
| | |
| --- | --- |
| Domain | Weightage |
| Installing and managing server hardware | 18% |
| Server administration  | 30% |
| Disaster recovery and security | 24% |
| Troubleshooting | 28% |
Each of these domain has several subtopics that includes: 
Installing and managing server hardware
– Install and maintain physical hardware and storage in data centers and hybrid infrastructures.
– Manage and maintain servers
– OS configuration
– Access control and virtualization
Disaster recovery and security
– Applying physical and network data security techniques
– Understand disaster recovery
– Implement backup techniques
– Detect and resolve software connectivity, hardware issues, connectivity, storage and other security bottlenecks. 
Study materials to refer for the CompTIA Server+ certification exam?
The CompTIA Server+ certification covers everything you need to kickstart your SK0-005 journey. Here's a complete list:
CompTIA CertMaster Learn
For starters, you have CompTIA CertMaster Learn for Server+. It's an interactive and self-paced eLearning path, combining instructional lessons with videos, assessments, and performance-based questions. It also offers:
Countdown calendar to maintain your speed.

Narrative images, videos, instruction, and games to keep you engaged. 

Personalized dashboard to highlight the flashcards, badges, achievements, etc.

Practice questions to enhance theoretical knowledge. 
Study Guide
Second, you have study guides for Server+. It's official CompTIA content designed to help master the Server+ concepts and subjects and includes lessons, topics, and aligned training work in real-world scenarios. It is built around the day-to-day responsibilities of a server administrator or data center technician, including installing, maintaining, and troubleshooting server environments. 
Instructor-led training
Third, you will find instructor-led training. The instructor-led training program best ows two main advantages:
Flexible course: Get practical test preparation for CompTIA certifications. The two-week training sessions help you receive live, in-person training from a CompTIA-certified teacher while enjoying the convenience and flexibility of the internet. The online instructor-led test preparation resembles the typical classroom learning environment and provides you with the training you need to pass your CompTIA certification exam while saving time and money.

Live hands-on instruction: You will be instructed by one of our highly qualified CompTIA teachers. Each educator has real-world IT experience and possesses the certification being taught. To achieve results, CompTIA teachers adhere to accepted industry best practices for IT training. Due to the two-way communication capabilities of our unique platform, you have the chance to interact with the instructor, ask questions, seek clarification, and receive training from a location of your choosing!
CertMaster Hands-on Labs
The interactive CertMaster Labs for Server+ helps you sharpen your practical skills and work in a demo server environment. This will help you level up your theoretical knowledge and identify to ace the practical aspects of the software environments and equipment. There are two types of labs:
Assisted Labs: They take the learner through tasks step-by-step, providing evaluation and feedback throughout a 10-15 minute session, and allow the learner to clear up any ambiguities as they go.

Applied Labs: This lab covers several concepts in a series of goal-oriented situations that last 20 to 30 minutes. The learner's work is graded at the end of the activity based on how well they handled each scenario. This further makes it easier for you to use critical thought while deciding how to approach issues without following a predetermined path.
Practice Exams
The CertMaster Practice for Server+ is a great way to inch up your last-moment preparations and build confidence. It's a question-first-design sample paper and helps you get the feel of a demo exam. You also have content refreshers and real-time learning analytics, which will help you close the prep gaps. 
The SK0-005 book
The CompTIA Server+ Certification All-In-One Book by Daniel Lachance is an exam-focused study guide that covers every domain in detail. It's a highly effective self-study resource that: 
Shows how to implement server-based hardware and software.

Includes sections like On The Job, Exam Watch, and Two Minutes Drill to reinforce practical skills. 
Preparing for the CompTIA Server+ certification exam
By now, you already have all the resources up your sleeves to start preparing for the SK0-005 exam. In case you still find it overwhelming and don't know where to start, follow these few quick steps to give a headstart to the Server+ journey:
Get the SK-005 study guide to understand the exam objectives and domains. 

Prepare a calendar and make sure you equal days and hours to each subtopic. Don't leave any topic or subject. 

The exam demands at least two year's work experience with a server environment or knowledge equivalent to CompTIA A+ certification. If you don't have it, then start preparing for A+ certification first and gain the relevant knowledge.

Similarly, ensure you are hands-on with server infrastructure techniques and skills. You can start with the SK0-005 hands-on labs or instructor-led videos. 

When you are done with gaining the recommended and domain knowledge, it's time to assess and apply your understanding in practice. Go through the SK0-005 sample papers and question dumps and assess your prep level. Identify the gaps, relearn them, and then attempt the sample papers again. 
Once you feel fully prepared with no errors in the tests, it's to ace the final exam and adds a milestone to your credentials. 
Working at a data center or administering and managing cloud environments calls for learning innumerable skills, viz., virtualization, installation, server hardware, troubleshooting, configuring storage, and so on. In other words, it's not just about upskilling. You need to know all the aspects of infrastructure if you want to manage systems like a pro. 
FAQs
Do you need any prior certification to appear for the SK0-005 exam? 
If you don't have two years of work experience in server environments, then you need to qualify in CompTIA's A+ certification. 
How many questions are there in the SK0-005 certification exam? What is the pattern? 
There are 90 questions in the SK0-005 exam in the form of performance-based questions and MCQs. 
What is the validity of the SK0-005 exam? 
The SK0-005 certification is valid for three years.
What are the passing marks for the SK0-005 exam?
On the scale of 0-1000, the passing marks is 750. 
Summary
Hope this blog helps you understand the SK0-005 certification exam, its objectives, and its significance in the job market. However, in the course of your certification journey, you might find it hard to gather updated and authentic resources.
So, to level up your preparation strategy, Whizlabs offers sorted and updated resources on the SK0-005 exam. You will find mock tests, scenario-based comptia server+ practice test, auto updates on the SK0-005 course, and unlimited access to the Whizlabs resources for 2 years.
If you have further clarification on CompTIA Server+ SK0-005 exam, please feel free to comment us !