The robust and scalable systems, agile infrastructures, connected and shared experiences, and continuous data exchange are undoubtedly the keys to survival for any organization today. However, keeping these resources safe and secure is no walk in the park. Unethical hackers and misusers of sensitive info can knock at your doors anytime. And that's where cybersecurity comes into play. 
Speaking of which, Microsoft SC-100 exam, one of the pioneers of cloud infrastructure, also comes up with various tools and solutions to keep its cloud platform safe. If you want to dive deeper into the domain, then SC-100: Microsoft cybersecurity certification is the best way to kickstart your journey.
However, to qualify for the certification and gain the expertise of a cybersecurity architect, you need to have an SC-100 exam preparation guide. To help you create one, this blog will run you through all the pointers to include in your prep strategy. But before we dive into the Microsoft cybersecurity certification path, let's take a quick look at the cert overview. 
Time to dig in!
SC-100 Certification Overview
The SC-100 certification, provided by Microsoft Azure, is an advanced-level exam for individuals aiming to become Microsoft Cybersecurity Architects. This exam, SC-100, assesses your proficiency in designing and deploying Microsoft security solutions within enterprise architecture. It covers various topics, including Azure security, identity and access management, data protection, and other related areas.
Upon becoming a certified Microsoft Cybersecurity Architect, you will be responsible for:
Devising and executing cybersecurity strategies

Crafting zero-trust strategies

Assessing the effectiveness of security approaches

Providing recommendations for security solutions and best practices
Why is the SC-100 certification an important stepping stone for your cybersecurity career?
The SC-100 certification is essential for those aiming to make a mark in cybersecurity, especially within the realm of Microsoft. This certification validates your top-tier skills and knowledge in developing cybersecurity solutions using Microsoft Azure technologies. Here are some key reasons that underscore why the SC-100 certification is a big deal: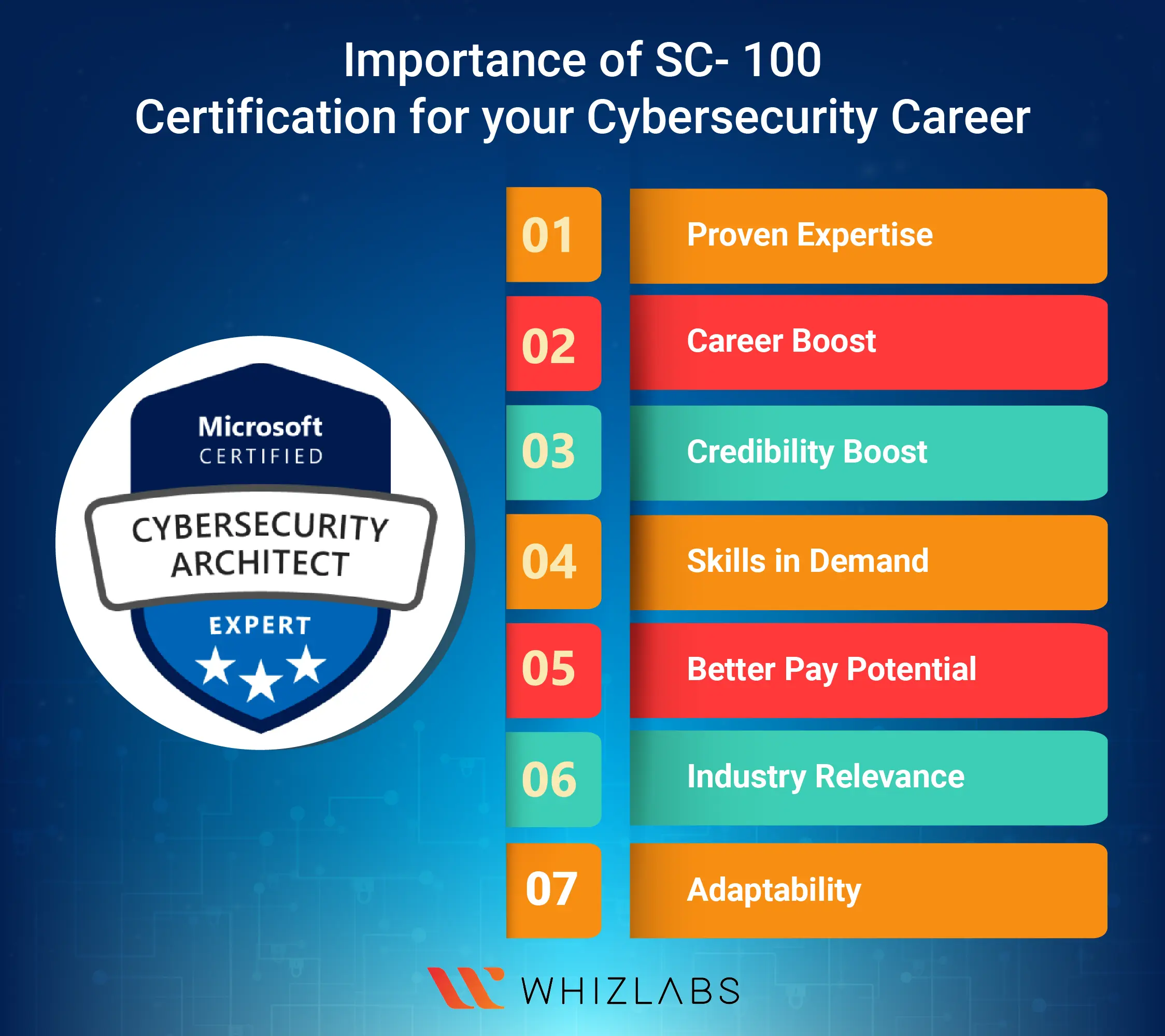 Proven Expertise:

Getting the SC-100 certification shows you're a pro at designing and rolling out cybersecurity solutions for Microsoft setups. Employers are actively hunting for this expertise to secure their Azure-based systems.

Career Boost:

Having the SC-100 certification can kick open doors to higher-level job roles and better career opportunities. Employers often lean toward candidates with specialized certifications to fill crucial cybersecurity architect positions.

Credibility Boost:

The certification comes straight from Microsoft, a massive player in the tech world. This recognition adds severe credibility to your skills and can win over clients, employers, and colleagues.

Skills in Demand:

As cyber threats keep changing, companies are searching for pros with the latest knowledge and skills to safeguard their digital assets. SC-100 certification holders are armed with the newest tools and strategies to tackle these challenges head-on.

Better Pay Potential:

Certified folks earn more money due to their specialized know-how. The SC-100 certification can play a role in negotiating a sweeter compensation package.

Industry Relevance:

The SC-100 certification aligns with industry best practices and standards, making you a prized catch for companies that must keep up with rules and robust security measures.

Adaptability:

The SC-100 certification equips you with skills that can be used across different industries and sectors. This flexibility makes you more hirable and lets you take on various projects.
Microsoft Cybersecurity Certification Path: Why Do You Need It? 
The SC-100 certification roadmap outlines the path to getting the SC-100: Microsoft Cybersecurity Architect certification from Microsoft Azure. This roadmap shows why snagging this certification is excellent for cybersecurity pros. Here's why you need the SC-100 certification:
Unique Skills: The SC-100 certification hones your chops in crafting and executing cybersecurity solutions in Microsoft Azure setups. Following this roadmap gets you some excellent skills that bosses are after.
Stay Ahead of Hackers: The SC-100 certification arms you with the latest tools and tactics to tackle the newest cybersecurity threats. You'll be ready to fend off all kinds of digital bad guys.
Superior Problem-Solving: Following the certification roadmap sharpens your problem-solving skills. You'll be able to dissect complex security problems and whip up solutions that play by the rules.
Security MVP: With the SC-100 certification, you're the security MVP. Your knack for crafting and deploying effective security strategies can seriously level your company's cybersecurity game.
Now that we have context about the SC-100 certification and the SC-100 certification roadmap, let's delve deeper into the cert path elements in detail. 
Prerequisites for the Microsoft Cybersecurity Architect Solution
To prepare for the SC-100 exam, Microsoft has laid out a set of prerequisites you must consider before diving in. Here they are:
Deep Expertise:

You should be a seasoned pro with extensive know-how in various security engineering aspects. This includes nailing down identity and access, beefing up platform protection, handling security operations, and locking down data and applications.

Hybrid and Cloud Skills:

You must have hands-on experience with hybrid setups and cloud deployments. Familiarity with both of these is a must.

Certifications:

To be eligible to appear for the SC-100 exam, you need to qualify for at least one of these certifications. 
SC-200: Security Operations Analyst Associate
The Microsoft Security Operations Analyst teams up with key players within the organization to safeguard its IT systems. They aim to cut down on risk by swiftly dealing with active attacks, suggesting ways to beef up threat protection, and flagging policy breaches to the users.
SC-300: Identity and Access Administrator Associate 
This intermediate-level Microsoft Identity and Access Administrator (SC-300) training prepares participants to set up and oversee identity and access management solutions in various setups, whether small businesses or larger enterprises. If you're part of a Microsoft Azure network, particularly as a systems or network administrator, consider getting the Identity and Access Administrator Associate certification. 
AZ-500: Azure Security Engineer Associate 
Test takers of this exam set up, oversee, and watch over security measures for assets in Azure, multi-cloud setups, and mixed environments, all as part of an entire infrastructure setup. They advise on security setups and configurations to shield identity, access, data, apps, and networks. They also chip in when it comes securing server and client endpoints. 
MS-500 Microsoft 365 Security Administrator
This training covers securing user access, including passwords and multi-factor authentication. It introduces Azure Identity Protection, Azure AD Connect, and conditional access in Microsoft 365. You'll delve into threat protection tools like Secure Score, Exchange Online Protection, Azure Advanced Threat Protection, and more. 
Hands-on Experience 
While theoretical understanding is essential, practical hands-on experience holds its weight. Microsoft Azure provides various cybersecurity services; getting hands-on with these tools is seriously advantageous. You can make the most of Azure's free trial or set up a sandbox environment to try your hand at setting up security solutions, adjusting firewalls, and handling identities. This hands-on practice will give you a deeper grasp of real-life situations and solidify what you know. Here are a few products you must focus on when gaining practical skills:
Microsoft Azure

Azure active directory

Microsoft Defender for cloud

Microsoft sentinel

Microsoft 365 defender 
Also Read : Top Cybersecurity Career Path
Microsoft Resources
You will find infinite resources to kickstart your preparation for the Microsoft cybersecurity certification. But before you dive into them, it's best first to check out the Microsoft resources: documentation, learning paths, and instructor-led videos. 
Beginning with Microsoft documentation, you will find in-depth concept notes on Azure services, which include detailed guides, whitepapers, and real-world case studies. These materials will help you dig into different security aspects and top-notch practices. Give particular focus to subjects like Azure Active Directory, Azure Security Center, Azure Sentinel, and Azure Information Protection.
Next is the Microsoft learning path. It includes carefully chosen online courses, modules, and interactive labs. By following the Learning Paths, you can steer your learning process, ensuring you hit all the essential subjects and develop a comprehensive grasp of cybersecurity architecture on Azure. On the other hand, instructor-led videos are a three-day course that gives a comprehensive overview of the development of the cybersecurity strategy. 
Practice tests: A critical element of the Microsoft Cybersecurity Certification Path
Practice or sample tests are one of the most crucial elements of the SC-100 certification roadmap. It helps you dive deeper into the strengths and gaps in your preparation and conduct a holistic assessment of your understanding of the cybersecurity domain and Azure infrastructure. Microsoft provides official practice tests that closely mimic the real exam setup. Furthermore, various third-party platforms offer practice questions and exams. Reviewing your performance in these tests can help you pinpoint weak spots and concentrate your efforts accordingly.
Job and salary outlook for the SC-100 Certification 
Cybersecurity is an expanding field with a demand for competent experts across entry, mid, and advanced levels. These roles are highly sought after, and the market is projected to increase by 18% in the next five years. According to Ziprecruiter, Microsoft Cybersecurity's salary averages around $107,000 at the 25th percentile, and at the 75th percentile, the figure rises to $147,000.
How to approach the exam? 
Approach the SC-100 exam by studying the official objectives, using Microsoft's resources, practicing with hands-on experience, and taking practice exams. Join study groups or forums for discussion and time management during the exam is crucial. You can retake the exam after 24 hours for the first attempt, with a 14-day gap for subsequent shots. The passing score may vary, and Microsoft certifications are generally valid for 12 months, requiring recertification afterward. 
Know More : How to Become a Cybersecurity Architect in 2023?
The path ahead for SC-100 certification
Now that we have come to the end of the Microsoft Cybersecurity certification path, a common question you may have is: What is the road ahead after completing the Microsoft Cybersecurity Certification Path? 
After obtaining the SC-100 certification, there are several options to consider for advancing your cybersecurity career within Microsoft's realm:
Narrow Down:

Depending on your preferences, you can delve deeper into specific cybersecurity areas. Look into certifications like Microsoft Certified: Azure Security Engineer Associate (AZ-500) to focus on securing Azure environments.

Microsoft 365 Security:

Broaden your skills by pursuing certifications tied to Microsoft 365 security. For example, Microsoft 365 Certified: Security Administrator Associate covers security and compliance tasks in Microsoft 365.

Azure Architect:

The Microsoft Certified: Azure Solutions Architect Expert certification could be next if you're into designing secure solutions. It focuses on robust Azure solutions with security in mind.

Threat Handling:

If threat response intrigues you, check out certifications like Microsoft Certified: Security Operations Analyst Associate (SC-200). It's all about managing security incidents and threats.

Hybrid Setups:

For those in hybrid environments, consider Microsoft Certified: Identity and Access Administrator Associate (SC-300). It tackles identity and access management solutions.

Azure DevOps Security:

Microsoft Certified: DevOps Engineer Expert certification fits in DevOps settings. It merges DevOps practices with security.

Compliance and Governance:

Compliance and governance enthusiasts might like Microsoft Certified: Compliance Administrator Associate. It handles compliance solutions in Microsoft 365.

Consulting:

With your know-how, you could dive into cybersecurity consulting, guiding companies in securing their systems and data.

Keep Learning:

No matter your pick, staying updated on cybersecurity trends and snagging relevant certifications is vital for maintaining your expertise.
Conclusion
I hope this blog helps you understand the Microsoft Cybersecurity Certification path and how you can proceed with the SC-100 exam. However, remember that as your exam date approaches, you must consolidate and review all the elements of the SC-100 certification roadmap and assess how many more steps you need to take for 360-degree preparation. 
Speaking of which, one of the crucial elements of preparation involves referring to the right resources. While Microsoft's materials and guides are suitable, you might need access to more advanced and updated materials for holistic prep. With this in mind, Whizlabs brings you everything you need to enhance your SC-100 certification roadmap.
You get Azure hands-on labs & sandboxes, lifetime access to exclusive resources, round assistance, and more. Need to know more about how you can leverage our resources to begin your SC-100 journey? Reach out to us today!