MD-101: Managing Modern Desktop certification is a great way to get started in your Microsoft 365 Career !
This certification validates your ability to manage and support modern desktop environments, including Windows 10 and Office 365. With this certification, you'll be able to demonstrate your skills to potential employers and show them that you're ready to take on a challenging role in IT.
This blog will guide you through all the nitty-gritty of the MD-101 certification exam: certification overview, detailed syllabus, learning outcomes, benefits, prior requirements, and so on. 
Let's dig in! 
All about MD-101 Managing Modern Desktops Certification exam 
The MD-101: Managing Modern Desktops certification will help enhance and sharpen your skills in handling, implementing and configuring Windows Clients inside a domain environment, configuring policy management, handling AD DS and Azure AD users and groups, and similar activities. As an MD-101 certified professional, you will be responsible for: 
Maintain and secure Windows Devices and information stored there. 

Administering Windows Clients in Azure Active Directory environment

Configure policies management

Complying with policy management

Manage and maintain devices

Manage applications and policies

Handle Azure AD users and groups and AD DS

Deploy PXE boot

Partner with Microsoft 365 security administrator, Microsoft 365 enterprise administrator, and Windows server administrators to deploy the modern device and desktop strategy to meet business requirements. 
The MD-101 exam will test your abilities to perform mission-critical actions like: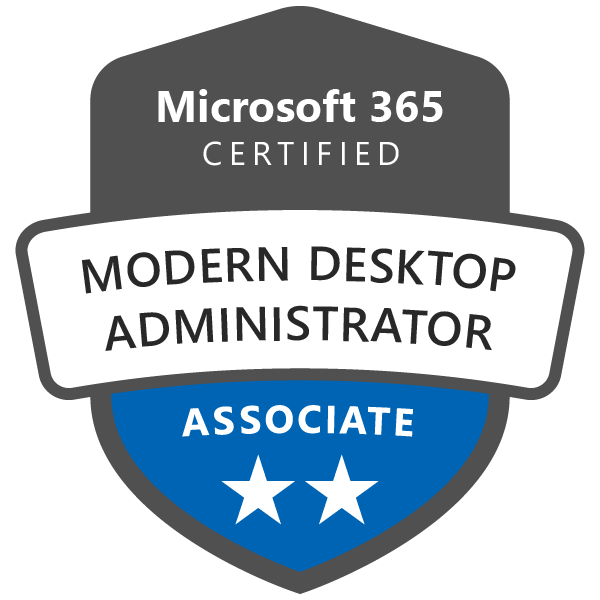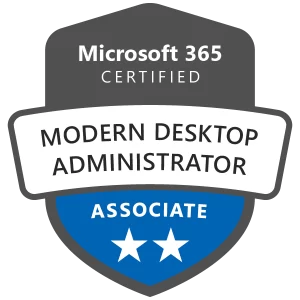 Implement Windows clients

Handle access and identity

Manage compliance policies

Handle config profiles

Secure, maintain and handle devices

Handle applications
Know About: Microsoft 365 Certification Path
What are the skills you learn from the MD-101 certification exam? 
This certification will help you unlock numerous skills and abilities and become a pro at managing Windows Desktop. To name some, here are a few learning outcomes of the MD-101 certification: 
Upgrading and implementing Windows OS
Here, you will learn how to:
Plan and deploy Windows 10 using dynamic deployment. 

Assess, select and evaluate relevant alternatives for deployment, troubleshoot packages of provisioning, pilot installation and so on. 

Plan and deploy Windows 10 through Windows AutoPilot

Use deployment profile creation, piloting deployment, extract, validate and assign hardware info to CSV files.

Import device hardware info into cloud services and use troubleshooting techniques.

Upgrade existing systems to Windows 10.

Manage upgrades of devices

Configure Windows Analytics infrastructures

Migrate a user profile

Configure Windows update for business

Optimize Windows 10 delivery

Implement feature updates

Build capacity to handle device authentication

Handle sign-on options and implement Azure AD joined devices.
Handle profiles and policies
Here you will dive deeper into skills like: 
Co-managing strategy recommendation and precedence deployment

Migrate group policy into MDM policies.

Plan, deploy and handle conditional access policies

Configure device profiles

Handle and configure user profiles

Deploy OneDrive and sync settings

Handle Enterprise State Roaming in Azure AD domain.
Securing devices
Here, you will delve into how to: 
Handle Windows Defender and Windows Defender Application Guard, Exploit guard and Credential guard.

Deploy WD advanced threat protection

Handle and integrate WD application control

Handle Intune device enrolment

Configure enrolment setting, Intune automatic and non-Windows device enrolment settings. 

Create custom device inventory reports

Review device inventory

Monitor health of Windows and log analytics

Control device protection
Managing apps and data
You will take a deep dive into: 
Implement and update apps

Assign apps into groups

Install apps into Intune

Integrate Office 365 Pro Plus

Enable side-loading of images and apps

Generate Office data

Configure assigned access

Configure IE enterprise mode

Deploy Mobile app management

Install MAM policies

Deploy AIP templates
Who should take this exam? 
The MD-101 exam is especially for those who want to introduce Windows best practices and make the employee experience working with Windows apps and devices. Other than this, this certification can be a relevant career milestone for you if you are a: 
IT administrator

IT manager

System administrator

IT asset management professional

CIOs

Network engineers

Enterprise architects

Any other IT professionals having expertise in implementing, maintaining and configuring Windows Client.
Why should you go for the MD-101 certification?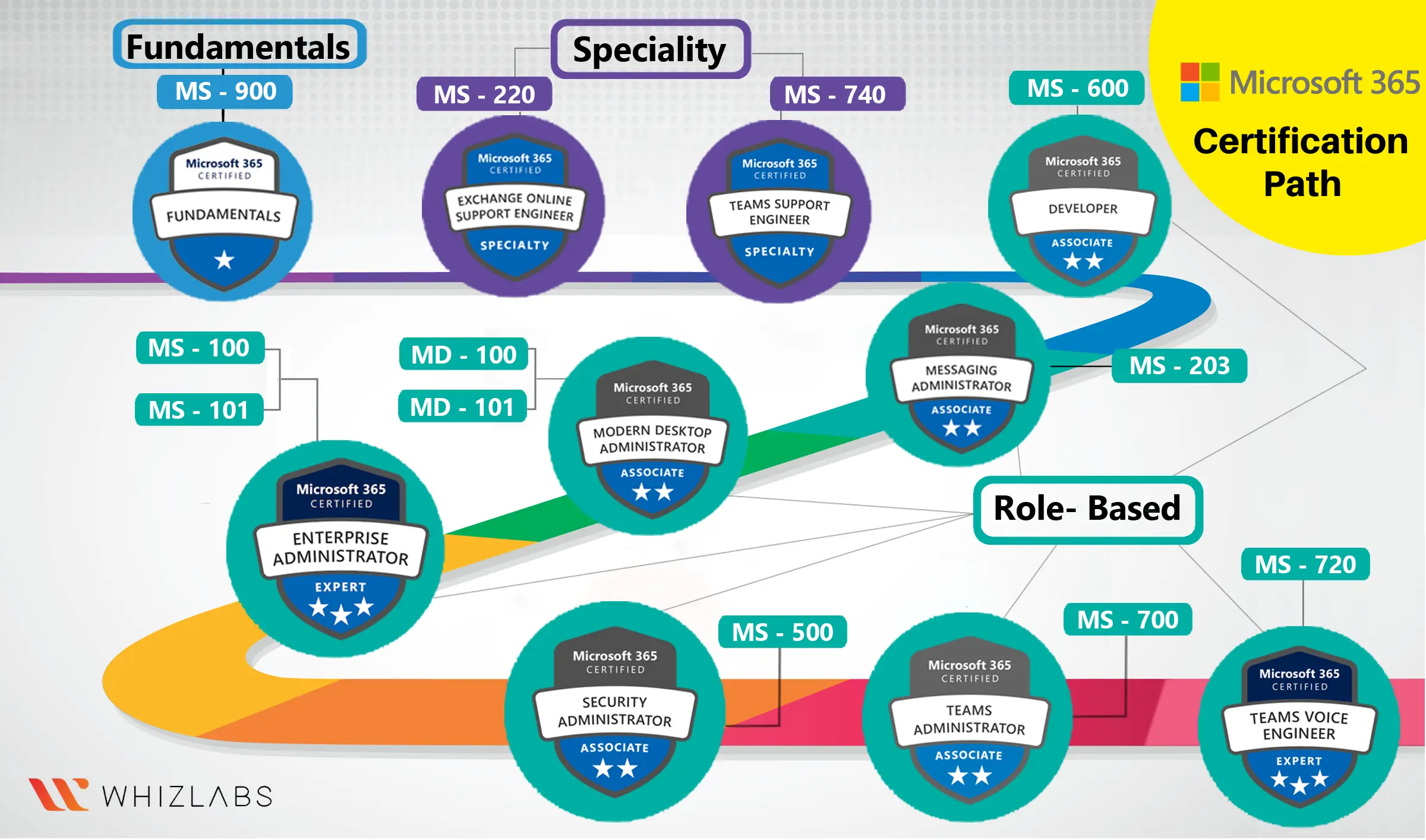 There are countless reasons why you should go for the MD-101 Managing Modern Desktops certification. For starters: 
Working with Microsoft 365 and Windows ensures smooth employee experiences and enhanced business outcomes. But to keep the pace up in the long run, businesses would need to regularly keep in touch with the vendors and pay hefty amounts to maintain the system.

So, organizations are increasingly hiring professionals who are a pro at handling and maintaining Windows devices and troubleshooting issues. And the best way to leverage this opportunity is to get MD-101 certified.

Secondly, MD-101 is a great stepping stone if you want to get specialized in Microsoft. You may be already working as an infrastructure administrator, but tailoring those skills for the most industry-relevant domain can open doors to many opportunities in the future.

You increase your market value by becoming MD-101 certified. A highly skilled Windows Desktops professional can earn upto as high as USD 60,000 to USD 80,000 in a year. 

You increase your chances of working for some of the most reputed global organizations. Some big-shot names actively hiring Microsoft professionals are Bank of America, FirstEnergy, Echostar, Healthstream, Baer Group, Intel, Leidos, etc. 
Exam Format of MD-101 Managing Modern Desktop Certification
Below image shows the overview of MD-101 Managing Modern Desktop Certification exam duration, passing score, etc,.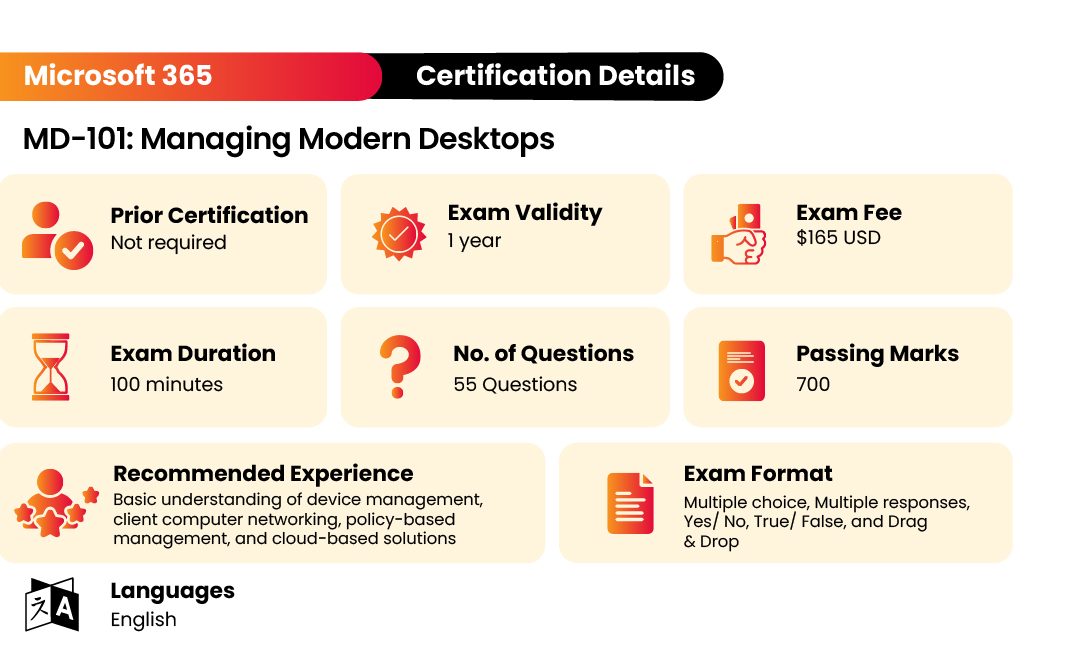 Prerequisites of the MD-101 exam
The good news is that you don't need any prior work experience to be eligible for this exam. However, you need to have a better understanding of the following concepts: 
Client computer networking

Cloud-based solutions

Device management

Policy-based management 
Domains for the MD-101 certification exam
The MD-101 certification exam covers five domains and carries specific weightage in the exam. Here's what the breakup looks like:
| | |
| --- | --- |
| Domain | Weightage |
| Implementing Windows Client  | 25-30% |
| Managing identity and access | 10-15% |
| Handling compliance policies and config profiles | 10-15% |
| Securing, handling, and maintaining devices | 25-30% |
| Manage applications | 10-15% |
Each of these domain has several subtopics that includes: 
Implementing Windows Client 
– Planning Windows Client implementation
– Use Windows AutoPilot to implement Windows client provisioning
– Utilize the Microsoft Deployment Toolkit (MDT) to plan and carry out Windows client deployment 
Managing identity and access
– Handle identity
– Plan and deploy conditional access
Handling compliance policies and config profiles
– Deploy device compliance policies
– Implement device config profiles
Securing, handling, and maintaining devices
– Handle life cycle of devices
– Monitor device and handle device updates
– Plan and secure endpoints
– Implement and update apps
– Enable app configuration and app protection policies
Study materials to refer for MD-101 certification exam
Microsoft offers almost everything you need to kickstart your certification journey. Similarly, for MD-101 exams, Microsoft resources will help you strategize a systematic preparation path. For starters, the MD-101 learning path which includes nine chapters: 
Exploring modern management

Implementing device enrolment

Configuring device and user profiles

Exploring app management

Handle compliance and authentication

Managing and securing Windows Client

Implement on-prem tools

Leveraging analytics and handling updates
Second, you have instruction-led video courses. The MD 101T00: Managing Modern Desktops is a five-day instructor-led training capturing technologies and tools like Azure Active Directory, Microsoft Defender for EndPoint, Azure Information Protection, integrating existing systems into Microsoft Intune, and so on. 
Third, you can notch up your final prep phases by attempting the Microsoft's exam sandbox and official practice papers. These are nuanced exam papers with exhaustive explanations of answers and will help you get the demo experience of the actual exam. 
Additionally, if you want to increase your practical exposure in this domain, you can use GitHub's hands-on labs and apply your theoretical knowledge to understand real-world challenges. You can also explore Microsoft Learn, the tech community where you can network with MD-101 experts and clarify your doubts. 
How to prepare for the MD-101 exam?
The good part about the MD-101 exam is that it's not complicated. The domains are pretty much the foundational blocks, so you don't need any rigorous or in-depth knowledge to appear for this exam. To make the prep even more frictionless, here are a few pro tips you can include in your prep strategy: 
Go through the Microsoft study guide. Understand the exam objectives and prepare a calendar. This way, you won't leave anything for the last moment. 

Start with the topics included in the prerequisites and recommendations. Delve deeper into client computer networking, policy-based and device management rules and cloud solutions. 

Then pick up Microsoft's learning path and start diving deeper into the domains and subtopics. Watch the instructor-led videos for better clarity on the subject. 

When you feel confident about your preparation, then go for md-101 practice test and md-101 sample questions. You will find innumerable question dumps for Microsoft certifications. Go for self-evaluation, bridge the learning gaps, and attempt again.
Check for errors again. When you see not a single one, register for the main exam and add a milestone to your credentials.
If you want to learn more about how Microsoft 365 works and how it can help your career, read our blogs:
FAQs
What is the process to get MD-101 certified? 
It's similar to any other Microsoft certification exam.
Create an account or log in to the Microsoft Portal.

Choose the course (MD-101) and schedule for the exam.

Select the delivery mode: Pearson center or any other.

Enroll for the cert course.

Go through the learning path, instructor-led training videos and sample papers.

Attempt the exam and receive certification after successful completion of the program.
What is the cost of the MD-101 exam? 
To apply for the MD-101 exams, you have to pay USD 165 or INR 4800. 
What is the length of the MD-101 exam?
The MD-101 exam is 100 minutes long. 
How many questions are there in the MD-101 exam? What are the question formats? 
The MD-101 certification exam has 55 questions in the form of multiple responses, MCQs, true/false, yes/no, case studies and drag and drop. 
What are the passing marks?
On a scale of 1-1000, the passing mark for the MD-101 exam is 700. 
What is the validity of the MD-101 certification? 
The certification will be valid for one year from the date of passing. 
What is the MD-101 exam retake policy?
Microsoft will allow you five attempts every year to clear the MD-101 exam. The retake policy states that: 
You have to wait for one day before applying for a re-attempt. 

If you cannot qualify for the second attempt, you have to wait for more than 14 days to reapply.

The same applies for the other three reattempts. 
What is the rescheduled policy for the MD-101 exam? 
You can apply for a free cancellation till the next twenty four hours or one day before the exam date and apply for the next one. However, if you fail to appear for the exam without rescheduling, your entire registration ammount can be forfeited. 
Is there any book I can refer to for preparing for the MD-101 exam? 
You can check out Exam Ref MD-101 Managing Modern Desktops book by Andrew Warren and Andrew Bettany. It is available as an eBook on the Microsoft Press Store by Pearson. The book describes the knowledge and skills required to master modern Windows 10 desktops. It is specifically designed for Windows Desktops administrators and helps them develop a holistic view and heuristics to ace their responsibilities as an MD-101 certified professional. 
What could be the next step after the MD-101 certification? 
After the MD-101 exam, you can try the Microsoft 365 Certified: Modern Desktop Administrator Associate program. You can take your modern Windows 10 desktop administration skills one level up with the help of this certification.
Summary
Hope this blog helps you strategize your learning process and make the MD-101 certification journey a breeze. Apart from this, if you want to notch up your preparation by a mile, check out Whizlabs' resources, tailor-made for the MD-101 exam. You will find: 
Free tests

and practice tests

Azure sandbox

to play around and experiment in the virtual Azure environment

Azure hands-on labs

to level up your hands-on skills and experience.
If you have any doubts on this preparatory guide, then feel free to comment us!!