DevOps is one of the revolutionary events in the history of computing. The pathbreaking philosophy has brought new changes that can reframe the IT industry as we see it today. Presently, the demand for DevOps engineers on the Microsoft Azure Platform clearly shows the popularity of DevOps in the case of industrial applications. Developed as a combination of traditionally distinct development and operations aspects in IT, DevOps aims at delivering better value.
DevOps is not the collective term assigned for new tools and technologies that can facilitate the integration of development and operations. On the contrary, DevOps is a cultural change or paradigm shift for taking a detour from the traditional approaches for development. Teams become capable of improving responsiveness to customer needs and achieve business objectives faster, with so many other benefits of DevOps.

Considering the wide variety of potential applications for DevOps, many individuals want to know how to become a DevOps Engineer. So, the following discussion aims to present a credible insight into the basics of becoming an Azure DevOps engineer. Starting from the basics and reasons for becoming a DevOps engineer on the Azure platform, the discussion would cover extensive details. The important highlights of the discussion would also include details about basic and role-specific skills needed for DevOps engineers.
Also, the discussion would reflect on the job description and salary expectations for a DevOps engineer expert. However, the formidable element in the discussion on how to become a DevOps Engineer would refer to Azure certification. The discussion would outline the prerequisites for the examination, exam information and the abilities tested in this DevOps certification exam.
Path to Become Azure DevOps Engineer
Before starting on your quest to become an Azure DevOps engineer, you should know about the path! You cannot just qualify as a DevOps engineer expert just by qualifying one certification. Candidates should note that they need to have a clear idea about the fundamentals of Azure. You have two possible scenarios in which you can apply for the DevOps engineer expert certification from Azure.
A candidate should have an associate-level certification either as an Azure administrator or Azure developer. So, if you are new to the Azure learning path, then opt for the Microsoft Azure Fundamentals exam i.e. AZ-900 exam preparation first. Then, you can proceed towards an associate-level Azure certification as Azure Administrator or Azure Developer.
The Microsoft Azure administrator associate certification exam has the title AZ-103 while the Microsoft Azure Developer Associate certification exam has the title AZ-203. You can choose either one of them for obtaining eligibility to appear for the Azure DevOps certification AZ-400 exam.
Check out our previous articles on How to become Azure Administrator and How to become Azure Developer.
Reasons to Choose DevOps Jobs in Azure
The foremost reason to become an Azure DevOps engineer is the fact that DevOps is a consistently evolving paradigm. Various DevOps experts start as sysadmin operators or multilingual programmers with limited experience in infrastructure management. So, a career in DevOps will constantly test your potential to learn about the top DevOps tools. DevOps experts should constantly train outside the comfort zone of their existing roles. As a result, DevOps can help in opening new avenues in your career path rather than restricting to a particular skill set.
The diversity of Azure DevOps engineer roles and responsibilities is another prominent reason to become a DevOps engineer expert on the Azure platform. You can be an automation engineer, an integration specialist, release manager, DevOps architect, system engineer, or a security engineer. The opportunities are plenty, and no one would ignore them, would you?
Based on these two prominent benefits, you can also find another reason to start a career in Azure DevOps. DevOps prepares individuals for adapting to changes in the development of the lifecycle or the whole IT landscape. As a result, you can find a sustainable career in DevOps after thorough training and certification.
Finally, you can present viable evidence of your expertise as an Azure DevOps engineer to potential employers. The demand for DevOps engineers is at an all-time high and presents better salary prospects as compared to other jobs. Have a look at the Google trends, giving an insight into the increasing demand for the Microsoft Azure DevOps Engineer role.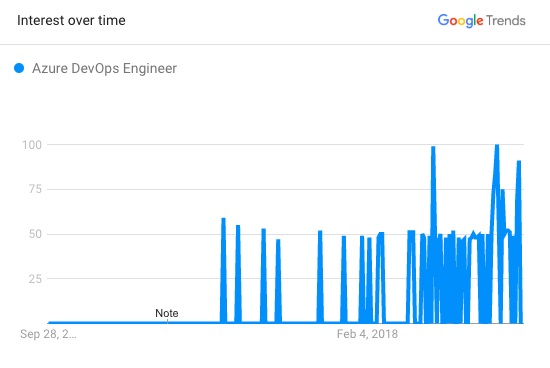 Basic Skills for Azure DevOps Professionals
Candidates should also take note of Azure DevOps engineer skills for better preparation for the job role. The foremost requirement for the job role of DevOps engineer is the development of basic skills. Here is an outline of the basic skills that candidates should develop for becoming an Azure DevOps expert.
Flexibility is one of the basic tenets in the principles of DevOps. Candidates should have the ability to move comfortably from one area of software development to another.
Collaboration skills are another important mention among the basic skills required for DevOps engineers. Successful DevOps professionals have the right skills for ensuring collaboration for bringing software development and operation on a single page.
High-quality skills for scripting code are also basic skills for Azure DevOps experts. Candidates should have fluency in at least one scripting language such as Ruby, JavaScript, Python, or Perl.
Decision making is also one of the prominent requisites among Azure DevOps engineer skills. DevOps engineers have the confidence to make decisions in chaotic environments and so, decisiveness is a mandatory requirement.
Finally, DevOps Engineers should also have soft skills for understanding other individuals and communication with them. Effective communication and understanding are the keys to the delivery of projects in a limited time possible.
Preparing for AZ-400 Microsoft Azure DevOps Engineer certification exam? Follow this comprehensive AZ-400 exam preparation guide and get ready to pass the exam.
Focusing on Role-specific Skills
The job-specific skills for an Azure DevOps Engineer also matter a lot for candidates. The role-based certification model of Azure clearly shows the need for learning skills specific to a specific job role. Here are some of the role-specific skills that you need for becoming an Azure DevOps professional.
Certification or valid experience with MS Azure in a production environment.

Comprehensive understanding of Azure computing, auditing, storage, security, and monitoring service.

Experience in the implementation of containerized solutions through Azure Kubernetes Service and Docker.

Solid fluency in continuous integration and continuous delivery of best practices.

Practical experience in building servers such as Jenkins.

Hands-on experience in Azure administration and the use of version control systems such as Git.

Practical experience in the development and maintenance of automated operational infrastructure.
Certification Needed for a Job in Azure DevOps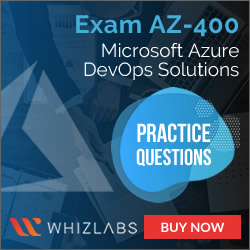 The role of Azure DevOps certification AZ-400 exam in your career as an Azure DevOps expert is very crucial. The certification provides tangible evidence about your capabilities to address the demands of Azure DevOps engineer job description. The exam titled AZ-400 is known as Microsoft Azure DevOps Solutions. AZ-400 certification exam is ideal for DevOps professionals involved in a combination of people, processes, and technologies for constantly delivering value to the end-user. The certification can also show your commitment as a DevOps professional to potential employers.
Prerequisites of the Azure DevOps Engineer Certification
Candidates who want to pursue a career in Azure DevOps should also know the prerequisites for the AZ-400 certification exam. They should have at least one year of experience in developing and deploying best practices with a focus on change. Candidates should have a bachelor's degree in computing science or related fields.
Another important prerequisite for the certification is at least one year of experience in system administration. However, you do not have to fulfill these prerequisites on a mandatory basis. These criteria are preferable conditions to appear for the AZ-400 certification. On the other hand, the important and mandatory prerequisite for the Azure DevOps certification AZ-400 exam is an associate-level certification.
Did you know? Microsoft has brought major changes in the AZ-400 certification exam, effective from June 15, 2020. So, to align our practice material with those changes, we've updated AZ-400 Practice Tests with the addition of 3 new practice tests.
Objectives of the AZ-400 Certification Exam
An outline of the exam objectives or the abilities tested in the AZ-400 certification exam is important for every candidate. Candidates could learn more about Azure DevOps engineer certification exam and prepare according to the weight of individual objectives. Here is an outline of the various exam objectives with their respective weight in the AZ-400 certification exam.
Designing a DevOps Strategy: 20-25%.

Implementing DevOps development process: 20-25%.

Implementation of continuous integration: 10-15%.

Implementing continuous delivery: 10-15%.

Implementation of dependency management: 5-10%.

Implementing application infrastructure: 15-20%.

Implementation of continuous feedback: 10-15%.
The certification exam is available in four languages such as English, Korean, Japanese, and simplified Chinese. The registration fees for the exam is USD 165.
Try Now: AZ-400 Free Test
Job Description of Azure DevOps Professionals
The Azure DevOps engineer job description is an important addition in every discussion on career prospects in Azure DevOps. The job description can also provide clear insights into the various Azure DevOps Engineer roles and responsibilities. Here is a basic job description for an Azure DevOps expert.
Writing software for scaling delivery of system automation and automated deployments.

Leveraging continuous deployment practices for enhancing the agile posture of a business.

Imagining, architecting, developing, deploying and evolving CI and CD systems for emerging data analytics platforms on the cloud.

Participation in the design and implementation of new system layers through the first-principles understanding about computing environments with higher complexity.

Working with developers for identifying necessary Azure resources and automation of provisioning.

Developing and documentation of the disaster recovery plan.

Working in collaboration with crucial stakeholders for capturing, analysis and identification of DevOps requirements.
Salary of Microsoft Certified Azure DevOps Engineer
The career opportunities as an Azure DevOps engineer are also known for promising Azure DevOps engineer salary estimates. The salary estimates could also serve as reliable motivation for candidates to strengthen their preparation for a career in Azure DevOps. As per Nigel Frank's Microsoft Azure DevOps Engineer salary survey, the average salary of an Azure DevOps engineer is USD 125,000 per annum in the US. The estimates for Azure DevOps engineer salary in the mid-range reach USD 145,000 and the salary estimates in high-range can reach USD 185,000.

Final Words
Based on an observation of the above discussion, you could pursue your dreams of becoming an Azure DevOps engineer now! Indeed, the path would not be easy, and many obstacles are bound to arrive on the way. Therefore, you can use this discussion as a guide for creating the foundation for your career in Azure DevOps.
Candidates can use the information about examination objectives and basic skills for the certification exam for strengthening their preparations. Also, the most interesting highlight of a DevOps career is the underlying philosophy of DevOps. DevOps relies on a never-depleting value proposition, i.e., better value to end-users. Also, DevOps emphasizes collaboration and culture change, thereby implying alignment with the ever-changing dynamics of the IT sector.