Microsoft Azure Fundamentals: AZ-900 certification exam is picking up the pace within the industry, in terms of demands. It is because people can now start their Azure journey, by completing this certification exam successfully. As the name suggests, Azure Fundamentals AZ-900 elaborates upon the fundamental and basic concept of Azure, before entering into the complex functionalities or operations associated with it. It is termed to be an optional certification exam for all of the other Azure paths.
It is recommended for individuals to take up this course on priority, before taking up any of the other Azure Certification paths. This AZ-900 certification is for candidates from both non-technical and technical backgrounds. People who have subtle knowledge upon selling cloud-based services or have some form of involvement with it, can take up this certification for better knowledge. Apart from that, people who want to gain expertise in understanding Azure cloud operations, but want to master fundamentals, must also take up this exam.
Hence, this is the complete AZ-900 preparation guide for you to analyze the topics, direct your preparation and clear the certification exam.
Why Choose Microsoft Azure Fundamentals Certification?
The Microsoft AZ-900 Azure Fundamentals Certification exam elaborates upon how the cloud services are offered within Microsoft Azure. It is for the candidates who intend to work with cloud-based services and solutions as a beginner, and are willing to build a career in it in the future. Candidates who decide upon taking the Microsoft Azure Fundamentals Certification exam, get the opportunity to showcase their understanding of different areas of Azure Cloud, which includes cloud concepts, cloud services, cloud security, Azure privacy, Azure pricing, and cloud workloads.
Candidates who are keen to learn and showcase knowledge upon networking concepts, computing, application development, application support, and others. Here are some of the other crucial reasons for which you should choose Azure Fundamental Certification:
Gain knowledge on different use cases of Azure cloud services within enterprises.

Understand the probable differences between Platform as a Service (PaaS), Software as a Service (SaaS), or Infrastructure as a Service (IaaS).

Learn about the Core Azure services that include architectural components, management tools, and products & solutions of Azure.

Get insight into the privacy, security, and compliance embedded within the Azure solutions.
Around 80% of all Fortune 500 companies make use of the Microsoft Azure Platform for running their business operations. Cloud operations have experienced an immense demand hike amongst industries such as education, healthcare, banking, and others. Moreover, it is being preferred for its potential to lower IT and infrastructure costs. Therefore, choosing the Azure fundamentals certification exam, is what will help you put your foot into this arena.
The crucial offerings of this certification exam, make it clear for individuals about what they are about to gain by this exam. Therefore, career opportunities are booming within this sector. Azure oriented career has immense scope of high earnings. You can expect a pay-out ranging from USD 70,000 to USD 200,000 per year, with Azure certifications. And, for that, you need to blend your Azure Fundamentals knowledge with other core certifications. When you head out seeking a job, these certifications will help make you stand out in the crowd. And, possibly this is the greatest reason why people are choosing Azure Fundamentals as their initial certification to enter the world of Azure Cloud.
The roles and responsibilities of Certified Microsoft Azure practitioner are as follows
Developing cloud solutions to resolve business demands and issue challenges.

Constructing trustworthy cloud solutions and implementing them.

Adapting cloud technologies to the organization's shifting needs.

Maintaining information in a backup copy and ensuring access to it when required.

Securing cloud solutions to only allow authorised employees access.

Keeping an eye on and managing the cloud to ensure everything is running well.

Working on concepts, methods, and services for public, private, and hybrid clouds as well as infrastructure as a service (IaaS), platform as a service (PaaS), and software as a service (SaaS) (SaaS).
Exam Overview Of AZ-900 Microsoft Azure Fundamentals Certification
AZ-900 is the beginner's exam and is not specified to any of the Azure roles. There are other dedicated certifications that you can take up after completing AZ-900. There is no mandatory prerequisite in most of the Azure role certifications for clearing Azure Fundamentals. But, it is advisable to master all of the certifications. Therefore, before you can head towards the step-by-step guide to preparing for this examination, it is better if you have some brief exam overview for the same.
AZ-900 examination will have around 40 to 60 questions, which you have to appear in 85 minutes. The passing mark for the examination will be 700, and you have no penalty for any incorrect answer. So, it is better to appear for all the questions in the examination. The questions will be of types such as, MCQ, mark review, short answers, case study, and drag & drop.
Any candidate who is scoring less than that of 700 in the examination will be considered 'Fail'. Right after you submit your paper, your results will be declared within the next few minutes. You will only get the marks that you have scored, but for a complete report of the assessment, you will have to wait for the next few days. The complete report of your exam will consist of information such as the status of PASS or FAIL, key performance chart, and result in interpretation instructions.
There is a dedicated exam retake policy that allows you to retake the exam, in case you fail it on the first attempt. But, you will have to wait for at least 24 hours to retake the exam. In case, you could not clear the examination even on the second attempt, then you will have to wait for 14 days before you can retake the examination. You can take up a maximum of 5 retake attempts of clearing the AZ-900 examination in a year.
The price for the Microsoft Azure AZ-900 examination is $99 USD. In case you are a member of Microsoft Imagine Academy Program, or are a Certified Microsoft Trainer, then you can get some fee reduction, as per specified policies.
In case you want to cancel or reschedule your examination appointment, you can do it before 6 days of the scheduled exam date. In that way, there will be no charges for cancellation. But, in case you are canceling or rescheduling the exam when there are only five days to the exam day, then a nominal cancellation charge will be dedicated. But, if you try to cancel the examination or reschedule it, when only 24 hours are left for the exam appointment, then the entire fee will be non-refundable.
Topics Covered Within The Azure Fundamentals Certification
Within the Azure Fundamentals AZ-900 examination, you can expect questions from different modules, specified as the curriculum for this certification. Therefore, the candidates are advised to gain enough knowledge of the below-mentioned modules to ensure better preparation for the exam. The Microsoft Azure AZ-900 Exam consists of 6 domains. Here is the list of domains and subdomains, along with their weightage, that will help you streamline your preparation for the exam.
Describe Cloud Concepts

– The weightage for this domain is

25-30%

.

Describe the Azure architecture and Services

– The weightage of this domain in the examination is 35-40%.

Describe Azure management and governance

– The weightage of this domain in the examination is 30-35 %.
How to Prepare for AZ-900 Microsoft Azure Fundamentals Certification Exam?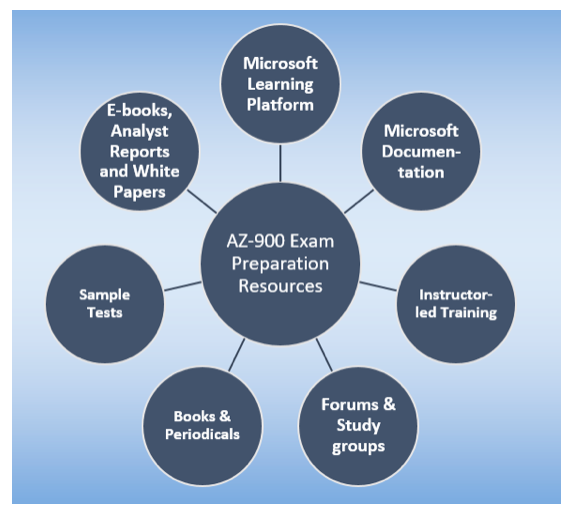 If you intend to start your preparations for the AZ-900 examination, then you need to start it by either picking up the free online learning path or instructor-led training, offered by Microsoft.
Here are the associated steps that you must adapt in order to prepare thoroughly for the AZ-900 examination.
Take up the Microsoft Learning Path
As stated above, the first step to consider while preparing for the AZ-900 examination is the Microsoft Learning Path. In these free online learning modules for AZ-900, you will get different chapters listed over the page, with their specified modules. Each of the chapters covers a different learning section that helps you clear your concepts and fundamentals to pass the exam.
Explore the Microsoft Documentations
Microsoft has listed endless documentations on AZ-900 and Azure Fundamentals. Therefore, it is important for you to consider them on priority while you are preparing for the examination or certification. These documentations explain the in-depth application and concepts of Azure Cloud and all services associated with it. The documentation will help you get all of the theoretical knowledge important for clearing the examination.
Take up the Instructor-Led Training
On completing these modules, you will be mastering all of the domains required for clearing the AZ-900 examination. But, if you want in-depth learning, then you can turn up to instructor-led courses offered by Microsoft. They have two instructor-led courses, for one day and two days respectively, for the Microsoft Azure Fundamental Certification. These courses will enlighten you with more understandable clarity on concepts. Moreover, you can get your doubts cleared as well. You can either turn up to Microsoft for such courses or prefer any reputed expert for the same.
Whizlabs Online Course offers 100% Syllabus coverage with 80+ videos. Check out the course today!
Explore the Study Groups and Forums
Join quite a few study groups or forums for AZ-900 to get a chance to be part of collective learning. Share and gain knowledge from widely shared resources over those groups and forums. Gain insight into complex concepts and prepare yourself for the certification exam.
Learn from the Informative Books
Look for the physical books or e-books filled with AZ-900 concepts. Azure Fundamentals might be the basic certification to enter the Azure world, but you still need to learn a lot about Azure to clear it in one go. Therefore, along with all the online preparation resources, books can be of best help to get you the topics revised before the examination.
Take up the AZ-900 Practice Exam
Finally, before you attend the examination, you need to make sure that you are aware of the exam pattern and are prepared enough for clearing it. And for that, you need to go for practice tests over an online medium to ensure that you know your status of preparation. You can improve or maintain your preparation pattern accordingly. Therefore, appear for the practice exam with ample time in hand.
Whizlabs Microsoft Azure AZ-900 Microsoft Azure Fundamentals Practice Test contains 350+ questions and 13 tests! Try it out today!
This is the sequence of preparation that you must follow in order to help yourself clear the AZ-900 examination. Every bit of the knowledge you gain will help you not just in getting this certification but also in building your career. So, once you are halfway prepared for the AZ-900 examination, you can definitely go ahead and schedule your exam date. Once scheduled, you need to continue your preparation to evolve your expertise.
How to Schedule the AZ-900 Examination?
Here are the steps that you need to follow in order to schedule your AZ-900 examination:
You need to visit the Microsoft Portal. 

Click on this link,

to redirect yourself to the dedicated page, once you have understood all of the preparation strategies.

When you are done with your preparations, you can schedule your exam by clicking on the dedicated section highlighted below, 'schedule exam'.

Choose the category under which you want to register for the exam. You get to choose between Schedule with Pearson VUE, Schedule with Certiport, and Schedule for USD15. The categories are for non-students having an interest in technology, for existing students or instructors, and for students & job seekers who are impacted by COVID 19, respectively.

Log into your Microsoft Account, and fill in all the asked details.

Select the exam delivery option, whether online or at the physical center.

Complete the registration, select the exam date and make the payment for confirmation.
Salary trends for AZ-900 candidate
Your job chances get increased and it opens a wide range of opportunities after you have earned your Azure Fundamentals certification like AZ-900. 
Azure fundamental certification holders can get a chance to explore more specialized Azure certificates, which helps in their ability to earn an average income of $126,653 according to the payscale.com.
Companies hire AZ-900 candidate
The top companies that are looking for individuals with the Azure Fundamentals certification exam include:
Accenture

Microsoft

Hitachi

TCS

Infosys

Tata Group

Amazon

Dell
Summary
Now, you have a brief knowledge about how to approach the Microsoft Azure AZ-900 examination. You need to understand the details associated with this exam, before you can plan on attempting it. When you are not aware of what it means to be Azure certified, you will never have the motivation to give your utmost effort to clear it.
Therefore, this article was a complete AZ-900 preparation guide for you to educate yourself about the right approach to appear in this examination. We recommend you to enroll in the AZ-900 training course and practice tests to start your preparation for the Azure fundamentals exam.
Finally, approach the exam with confidence, trust in your preparation, and remain calm during the test. Remember that the AZ-900 exam is not only a measure of your knowledge but also an opportunity to showcase your skills and dedication to Azure.
If you intend to pursue a career with Azure Cloud, then this certification might be the best start!