Previously we've covered a guide on how to become an Azure Developer, now we move to the Azure Architect role. Talking about Azure architect, it is one of the most popular and demanding jobs in the IT industry. The reason behind this is the salary of Azure architects is proliferating. Experts suggest that it will grow by around 88 percent by the end of 2019. For this, most of the youngsters are now moving toward this. Azure also offer one of the best course for Azure Devops Certification for the higher career growth in the IT industry. 
Microsoft Azure Architect certification can even increase the chances of getting higher pay. But it is not easy to get a Microsoft Azure certification. As a fresher, you may be worried about how to become an Azure architect. In this article, you will get you all the information you should have to start your career as an Azure architect.

How can one Become an Azure Architect?
With the evolution and adoption of cloud computing services, Microsoft Azure has emerged as a demanded and popular cloud service provider. Some experts suggest that it is much better than Amazon Web Services, in terms of many aspects. It comes with different useful resources like storage, networking, databases, servers, and more. Now talking about Azure solution architect, he develops effective solutions based on customer's need for Azure Cloud.
With the help of Azure, one can effectively avoid massive investment in purchasing different equipment and maintenance. That's why there is a great demand for Azure cloud as well as Azure architects.
An architect carefully analyzes and understands an application project life cycle, team roles, and makes the project successful. The expert also understands storage, networking, data management, virtualization, testing, development, and more. Before discussing how to become an azure architect, let's know why to choose Azure architect job and the required skills for this job role.
Also Read: Role-based Azure Certification Path
Why Choose Architect Jobs in Microsoft Azure?
You might be wondering why you should choose to be an Azure solution architect. As per the information discussed above, this incredible platform offers advanced features and services. These are the factors behind its popularity. The platform is now enjoying around 100,00 new customers visit every month.
Talking about its features, it offers ease of scalability, affordable pricing, and an effective cloud service. All these show the increasing demand for Azure architects and thus the certification among professionals. If you look at the current trend, you will find exciting career opportunities in the field of Azure.
Moreover, with the certification, you can add value and increase the credibility of your resume. Google trends also show a regular increase in Azure Architect jobs. Below is the insight of Azure Architect trends in the United States for over the last 5 years. So, go for it as a bright future is waiting for you.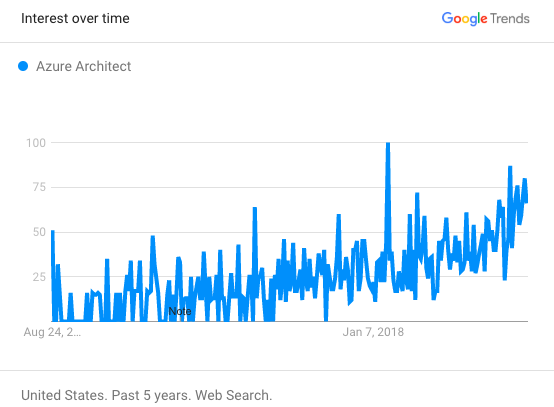 Skills You must have to Become an Azure Architect
To understand the process of becoming an azure architect, you first need to understand the required skills. Before you start your preparation, you should acquire the skills and knowledge. When it comes with understanding Azure architect skills, we can look into three necessary skills. If you can obtain these basic skills, then you can get ahead to achieve your dream job.
The basic skill is your awareness in the field of Microsoft Azure and its products. Remember that on Azure, you will work with different Microsoft products. So, enhance your skills on this.

Another important skill that you will need is about cloud infrastructure and operation. You need to learn all the things about Azure's cloud infrastructure solutions. For example, PaaS, IaaS, BCDR, OSS, Infra, and more.

The third and most important skill is the knowledge of cloud computing. If you have experience in working with different cloud computing platform, then it's good. Besides, you need to learn about Azure infrastructure design methodologies.
Add Some Specific Skills for Better Opportunities
Above mentioned ones are only the basic Azure architect skills that you will need to obtain to become an Azure architect. Apart from that, there are some other specific skills that you need to gain.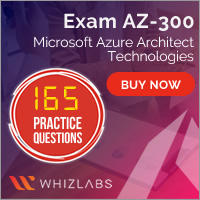 When you go through any azure architect job description, you will find a term scaling different applications. When it comes to cloud computing, you can't ignore the process of scaling. In short, it helps in improving the application's flexibility. If you know how to make the application scalable, then you are ready to go for it.

You must have heard about resource effectiveness. In detail, most of the businesses choose cloud platform to reduce their resource allocation cost. A good architect always designs and develop an application with minimal resources.

One of the essential skills is the selection of perfect services for the project. Azure comes with more than 80 different services, and it can create confusion. So, you need to obtain sufficient knowledge about the services to choose the right one as per client's requirements. Always try to expand your knowledge base as the platform is evolving rapidly.
Understanding the Job Description of Azure Architect Role
When you get the certificate, you become ready to meet the requirements of an Azure architect job description. It includes a number of responsibilities. Let's have a look into these:
Commencing different application development stages and design effective solutions.

Expertise and experience in building, deploying and managing applications on the platform.

Examining and application maintenance.

Skill in using tools and services on Azure.

Working with different cloud and automation software.
Importance of Certification in Getting an Azure Architect Job
There is one major factor that drives cloud architects to get a job in this is the Azure architect certification. With this, you can flaunt your Azure kills and potentiality in this field. Besides, it proves that you can work with Azure cloud services.
Talking more about the Azure architect certification, it works like a proof of your knowledge and skills on the Azure platform. Furthermore, it increases your hiring chances as an Azure architect. So, if you want to enjoy a better career in the future, try your best to get the certification.

Details about the Microsoft Certified Azure Architect Expert Certification
If you have years of experience in application development or administration and know Microsoft Azure, you can become an Azure Architect. Microsoft offers two significant exams to become an Azure Architect expert. By qualifying these Microsoft Exams, you can become a Microsoft Certified Azure Solutions Architect Expert. However, before appearing for the exam, make sure that you know about network, security, compute, and storage structure related to Azure. The exams are Exam AZ-300: Architect Technologies, and Exam AZ-301: Architect Design. You can go for the AZ-301 exam, only after qualifying the AZ -300 Azure Architect Technologies exam.
Skills Measured in the AZ-300 Exam
Implement security and workloads
To cover this domain, you need to learn the process of connecting the existing network to an Azure network. Besides, you must know about the server migration process.
Deploy and configure cloud infrastructure
Deploy and configure cloud infrastructure covers a number of topics. The list may include virtual machines, networking, storage and more. For the exam, you need to cover all these topics and make sure to learn about them in details. Also, you should know to make the software safe through different authentication processes.
Develop for the Azure and cloud storage
Do you know what the critical feature of cloud is? That is the autoscaling feature. In detail, one can program Azure to add and remove resources based on the project demand. However, here you should act carefully and develop useful autoscaling configuration. The reason is, if you fail to configure it correctly, then it can affect the performance of the application.
One of the shortest sections is creating and deploying software and applications. You need to know how to do this through Azure App Service as well as Azure Container Service
Implement authentication and secure data
Here you will deal with two essential topics. One is the process of implementing authentication through different methods. Another one is the process of encrypting the data or software. In general, here you need to know about the process of using Azure Key Vault.
Preparing for exam AZ-300: Microsoft Azure technologies exam? Follow this comprehensive guide for AZ-300 Exam Preparation and get ready to pass the exam.
Skills Measured in the AZ-301 Exam
Determining the workload requirements
If you compare, you will find AZ-301 exam is quite difficult than the AZ-300 exam. Because here you need to show your real skill in designing effective IT architecture and Azure solution. Make sure that you know about creating an IT environment
Security and identity designing
In general, in a large-scale business, there are lots of identities to manage. For example, users as well as the applications. So, for effective and secure management of such identities, you need to come up with an effective identity management system
Data platform solution designing
The Azure platform comes with various data services. For example, relational and non-rational databases, data lakes, data warehouse, and more. So, here you need to tell you about when to choose a particular data service.
Business continuity strategy designing
A per this domain, you must know the significant concepts of such designing. These are high availability and disaster recovery.  In general, for high availability design, you can use different levels of redundancy. On the other side, for disaster recovery designing, you use services like Azure Backup and Site Recovery.
Design for migration, deployment, and integration
You need to know about the process of migrating from an existing environment to an Azure cloud environment. Also, you must know the process of integration through Azure API Management.
Infrastructure strategy designing
Here you need to explain about the process of designing strategies for computing, networking, and storage.
Preparing for exam AZ-301: Microsoft Azure Design? Follow this comprehensive guide for AZ-301 Exam Preparation and get ready to pass the exam.
Salary of Azure Solutions Architect Experts
One of the important factors that make this job popular is Azure architect salary. As per the ZipRecruiter Salary Report, the average yearly Azure architect salary is around $150,087. The salary for an entry-level position is around $97,000 per year, while experienced architects can even earn as high as $$201,500 per annum. It suggests that you can enjoy a better career in this filed. Such figures can motivate you to start your preparation to become an Azure Architect now.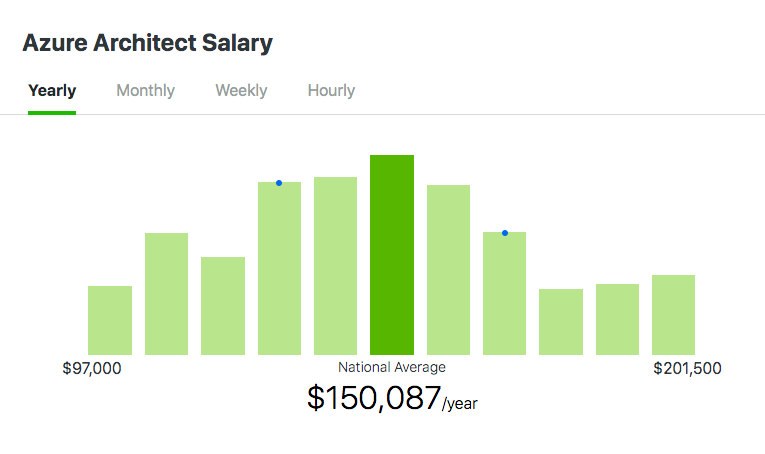 Final Words
There is a great demand in the market for a professional Azure solution architect, and you can enjoy a lot of opportunities. Remember that certifications for Azure hold immense value in the cloud service industry. The discussion has covered answers to some of the questions related to Azure. For example, reasons to choose Azure architect career, Azure architect job description, and skills required.
Besides, you get to know about the certification exam required for this role and the average salary for this job role. On passing the Azure architect certification exam, you can get higher pay. So, if you are aspired to have a successful career, check out our training courses for AZ-300 exam and AZ-301 exam to become certified.
It can be said that the Azure cloud architect role offers a promising career option. So, start your preparation from now and get ready to become an Azure cloud solutions architect.