Are you going to handle an agile project but new with the term agile contracts? Or not sure about key factors of agile contracts? Then it's the high time for you as a project manager or business analyst or even as an agile team member to know the basics of this agile project management term – Agile Contracts.
Agile contracts is an innovative and evolving area which should be created in a way so that it becomes a win-win situation for both the supplier and the customer. Also, it is a matter of fact that, if we want to obtain the maximum benefit out of it then we rethink about the agile contracts. And that's why organizations are in search for new models for agile contracts for the real world. 
Whizlabs Grand Sale (Limited Period Offer)

Share this article on any Social Media Platform and get PMI ACP® Practice Tests Free. Share it now and send us a mail to pmexperts@whizlabs.com with your Social Media post link.
But what are the types of agile contracts for the real world that works effectively, what are their characteristics and how do we decide agile contracting principles along with agile contract management?
If you want to know all this, read on this blog to explore more on agile contracts.
Why do we Need Agile Contracts?
Whether it is a small or medium organization, in desperations, it is common to end up with an agile contract template that follows the Waterfall model in an agile work strategy. But does it work appropriately in an agile model? No doubt it will not give the expected benefit and may jeopardize the situation. And that's where agile contracts come into the picture. (Do you know why?)
In agile methodology, every iteration follows requirement gathering, development, and testing cycles which typically follows agile pyramid model. This is inverse of traditional pyramid model of Waterfall methodology. Interestingly, the traditional pyramid considers fixed scope whereas agile pyramid follows estimated scope during agile contracts negotiations.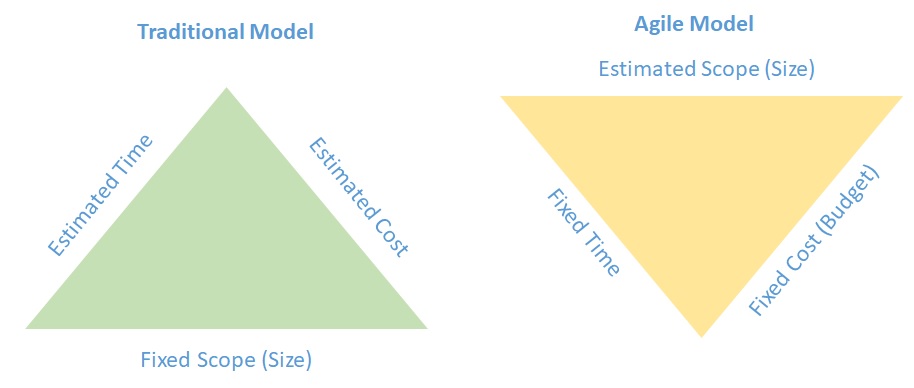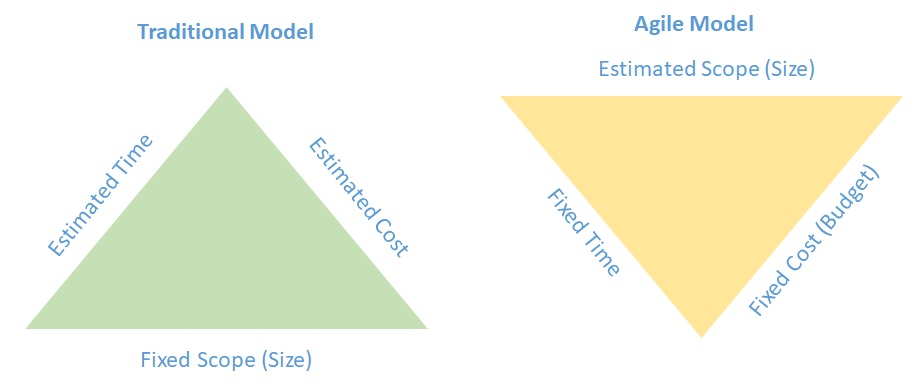 Hence, in traditional contracting, both the parties need to determine on the deliverables and follow end to end delivery pattern. This, in turn, requires service descriptions in detail at the beginning. On the contrary, this is not the case in agile contracts as Agile contracts methodology gets around some of the real world issues which the traditional waterfall methodology fails to. For example:
In agile methodology, we can evolve services at the same pace with today's ever-changing technology which is not possible in the Waterfall model.

As agile methodology follows iterative deliveries, it can meet the customers' requirements although they may not have the resources or capability to define end results.

As there is no need on pre-agreement on deliverables, agile contracts accept changes throughout the project lifecycle.
As a whole, agile methodology follows collaborative working principles which are not aligned with the traditional Waterfall model. Hence, from the customers' perspective, agile contracts are much more resource intensive which is not supported in traditional contracts modeling.

What are the Different Types of Agile Contracts?
The pricing mechanism of agile contracts for the real world is time and material basis. Mainly three types of agile contracts are practiced in the industry, and these are as follows:
1. Capped Time and Materials Contracts
Capped Time and Materials Contracts work like traditional Time and Materials contracts. However, in this agile contract management, an upper limit on customers' payment is set. As a result, suppliers get benefit in case of early time-frame changes. On the other hand, customers need to pay up for the capped cost limit.
2. Target Cost Contracts
In this type of agile contracts, supplier and customer agrees on a final price during project cost negotiation. These agile contracts work as a mean of cost savings for both customer and supplier if contracts value run below budget. However, these agile contracts may allow both parties to face additional costs if it runs above budget.
3. Incremental Delivery Contracts
In these agile contracts, customers can review contracts during the contract lifecycle at pre-negotiated designated points of the contract lifecycle. These are the points where customers can make required changes, continue or terminate the project.
Getting Agile Certified gives you a distinct edge over your peers. Read this article to know the best 5 Agile Certifications.
Characteristics of an Agile Contract
Let's check out the main characteristics of the Agile Contract to understand it better.
Effective handling of failures by using spikes
Agile development is unpredictable by nature. Hence unlike traditional development contracts supplier's breach of contracts or sudden terminations are not applicable to agile contracts. Additionally, agile contracts provide the flexible scope of evolution for resolving issues upfront which is also cost effective.
For example, if the project has high-risk elements like technical or business challenges which have never been encountered before, that can be included in the contract. As a result, customers get a realistic view of the project regarding its complexity. Also, it helps to uncover the hiccup areas of a project which again removes the conditions like "Fast failures" in a contract.
Ensuring the accountability of the supplier
Though agile contracts do not define any pre-defined deliverables, however, supplier accountability is always a vital criterion for the success of a project. Hence, a well-drafted agile contract must include the clauses that will ensure the accountability of the supplier. For example, it should include:
A clear view of the working principles of the project including roles and responsibilities.

How to manage the backlog, i.e. list of items to be completed, their priority and also an estimation of effort required to clear the backlog.

Ensuring an appropriate governance structure which will include the health metrics of the project and checkpoints to measure those metrics.

Establishing 'Definition of Done' to avoid any future contractual disputes.

Providing warranty protection to ensure that the final product will meet the product description.

Assurance of effective dispute resolution
Agile contracts for the real world must be ready to handle the dispute that may raise apart from the spikes mentioned in the agile contracts. Thus the agile contract management must emphasize on –
Quick resolution process.

Removal of disputed items from the sprint to ensure smooth delivery of remaining sprints.
Ensuring a transparent pricing model
It is a known fact that with the change in the project or product scope the budget may slip from the estimated one. Hence, no project is ideally a fixed price project. However, a fixed budget can be managed through agile contracts if priorities are appropriately set. In this scenario, development of high priority items can be focused by removing the low priority items from the scope.
Most importantly, this must be done during the negotiation of the pricing model for the project. Below pricing models are usually followed in agile contracts:
Fixed Price per user story – Too long user stories should be avoided.

Fixed Price per iteration- All iterations must range to similar story points. It will create a win-win situation for both the parties.

Fixed Price for the agreed number of features – To describe the feature in advance.

Time and Material – As mentioned in the above section under capped time and material.
Though agile projects scopes are variable high-level scopes must be included in the contract. However, emphasis should be put on the process rather than the delivery timeline.
Focus on the business values
The agile contracts should be tailored in a way so that they emphasize on the business values. As a result, it automatically focuses on quality, value and end users which creates a win-win situation.

Preparing for an Agile interview? Here we've compiled the complete set of Top 25 Agile interview questions that will help you crack the interview.
Benefits of Agile Contract Management
Contract management between supplier and customer is a sensitive area which needs harmony for long-term success. In a recent market scenario when technology and demands change frequently, agile contract management works better than the traditional contract model.
Here are some benefits of agile contracts –
Flexibility

Breaks Projects into Shorter sprints – Easier to Handle Pieces 

Frequent collaboration

Focuses on the win-win situation for both the parties
To be more specific we can say the benefits of agile contract management lies into agile contracting principles which follows specific criteria such as:
Encourage incentives
Encourages pay for output, and not for effort – This ultimately encourages vendors to focus on creating business values.

Offer Money for nothing – Provides a fair way to end the contract before time in case the key value has been delivered

Accept Change request for free – Provides the opportunity to update scope avoiding "scope creep."
Collaboration and transparency
Benefits of continuous improvement – Vendors receive improved efficiency

Maintaining trust – Both the parties must be fair in business and good in faith.




Repercussions from contractual and market for breaking trust

Regular meeting and action items for the backlog 

Tracking the right metrics to ensure continuous improvement

Flexibility and adaptability
Focus on the vision and not process – Make goals specific in contract and reference backlog for detailed scope

Establish regular feedback processes- Specify Sprint cycle along with meetings for review and backlog refinement.

Specify the engagement rules- Identify roles and processes to provide feedback, accept work, refine backlog,




Include language to govern contract extensions
Agile Contract Management in Mitigating Risks
Agile contracts associate some inherent risks with it. There are mainly two reasons behind it:
The outcomes of projects using agile methodologies are unpredictable and cannot be defined in advance.

It is possible that the customers may get a partial solution or even no solution.

The project cost is uncertain in time and materials pricing model
Then what could be the possible solutions for the risks mentioned above? Well, in agile project management the risks can be mitigated in various ways. Here are some of the resolutions:
The inclusion of termination clause per iteration basis if it does not match with the acceptance criteria

Adopting one of the above-mentioned pricing models.

An effective governance mechanism to ensure transparent communication channels among project team and stakeholders.

Implementing clawback mechanisms for payment in advance for unfinished deliverable or iteration or that has no business value.

Controlling changes of agreed terms through appropriate management arrangements for documentation, development, maintenance of status, actions or logs issues.
Also Read: Factors to Choose the Right Agile Development Method
Agile Contract Template
An agile contract template should include all the criteria as mentioned in the characteristics of an agile contract. A standard agile contract template is expected to include all the sections as mentioned in the below table.
Sr No

Description

1

Definitions and Interpretations

2

Project approach

3

The Services

4

Feasibility Phase

5

Foundation phase

6

Project Planning

7

Evolutionary Development Phase

8

Deployment Phase

9

Change Management Process

10

Project Managers

11

Personnel

12

Charges

13

Confidentiality

14

Data Protection

15

Warranties

16

Intellectual Property

17

IPR Indemnity

18

Limitation of liability

19

Insurance

20

Terms and Termination

21

Dispute Resolution

22

Notices

23

General Provisions

Definitions

Terms of reference

Solution Architecture definition

Development approach definition

Management approach definition

Delivery Plan

Charges

Roles and Responsibility
Bottom Line
Agile contract management follows the approach that uses the agile methodology. So, whether you are going to play the role of project manager, a scrum master or a business analyst in an agile project, knowledge of agile methodologies is essential to understand or build the agile contracts. And nothing works better than certification in professional perspective, not only for gaining knowledge but also for professional achievement agile certification is a solid move in today's market.
Whizlabs offers you to explore agile through its PMI-ACP, Professional Scrum Master certification guides, PMI ACP Practice Exam, and Scrum practice test. These certification guides provide self-paced study materials as well as practice test series.
Join us today and experience the success as a certified agile professional.