If you are preparing for the Tableau Desktop Specialist Certification Exam then you are in the right place. In this article, you will understand how to prepare for this certification exam.
What are the preparation tips given for the Tableau Desktop Specialist Certification Exam?        
When you are going to attempt the exam, the preparation tips are most helpful for the exam. We are here to provide some ideas about this Tableau Certification exam:        
Learn the Objectives:

Go through the study guide. Understand the concepts and information given in the guide. And understand the fundamentals of visualizations.

Choosing the Right resources:

A perfect training resource is most important for a learner's objectives. Instead of good resources, you won't get a good preparation.

Video course learning:

Well-versed videos help the users more in their preparation. Instead of studying the wall of content, the simple explanation video is more attractive and easy to observe. Having experts' thoughts by watching videos is very easy for learning.

Observe the Forums:

Discussing the thoughts and ideas of the exam through forums will make you grow together and interact with more & more learners.

Try our Practice tests:

Attempting the practice tests gives an understanding of their learning, how they covered the study guide and what they missed to study. You can access it multiple times until you get a clear absorption for the exam.

Practice with Hands-on Labs:

Hands-on labs are the best way for easy learning. labs give you the experience along with the knowledge that you learned in the practice tests multiple times
What is the role of a 
Tableau Desktop Specialist?
Tableau is a Business and data visualization tool. It Validates technical analytical skills, data Virtualization skills, and expertise in analysis. Tableau data visualization applications allow the users to organize and present the data information and it examines all the structured data visually through graphs, reports, stats, and data dashboards.

I

t is a speed alternative to the slow process of business intelligence software. Also, it

is a browser-type online solution for the public. So, anyone can access it.
Who should take this Tableau Desktop Specialist exam?
This certification exam mainly is focused on foundational skills. Who is interested in observing the product & basic knowledge in Tableau Desktop? This is a beginning level of Tableau with at least 3 months of preparation and understanding in this course recommended for this examination.
It helps you to solve the issues with a user-friendly software tool. If you are a data analyst or a developer, you will surely get benefits.
What do the Tableau Desktop Specialist Experts say?
Tableau Desktop Specialist experts say, this certification is a feather in the cap, it is actually worth taking this exam because it helps you measure your knowledge in tableau desktop and configure your skills to work with data and data visualization ideas. It also guides you to know business intelligence (BI) and helps you understand what you know and what else you need to know.
What are the measured skills and study guides taken for the Tableau Desktop Specialist exam?
1. Connecting and Preparing the Data-(25% of the exam content)
 

Create live connections and extracts:

Produces a live connection to the data source and live connection versus extracts. It creates an extraction & data source that uses multiple connections and saves metadata properties.
 Create and Manage the Data Model: Build relationships, Joins, and unions and understand when to use a joint versus in a relationship.
 

Data Properties Management:

Create an alias and the geographical role of the data values. Changing the data name, data type, and default properties for the data field.
2. Analyzing the Data & explore – (35% of the exam content)
Creating Basic Charts:

Create a bar chart, line chart, scatterplot, map using geographic data, combined axis chart, stacked bar, density map, and chart to show some specific values.

Organize data and apply filters:

Make groups and sets by using marks & data panes. Hierarchy and add data align dimensions into it.
3. Insights Sharing – (25% of the exam content)
Format view for presentation:

Put color and format the marks card. Configuring the fonts, viz animations, size of marks, etc.

Create and Modify a dashboard:

Join worksheets to a dashboard, interactive elements for consumers, and dashboard actions. Choose a dashboard layout, and create a story with a story point and device-specific dashboard.

View and share Workbook data:

Take a workbook, make a view, and export underlying data to Microsoft PowerPoint.
4. Understanding Tableau Concepts – (15% of exam content) 
Understand Dimensions and measures:

Observe what kind of information dimensions & their usual contents and differences.

Understand discrete and continuous fields:

Observe how the discrete & continuous fields are displayed and the differences between discrete date parts and continuous date values.

Understand Aggregations:

Observe the default aggregation for measures and understand how the aggregated measure changes when dimensions are added to the view.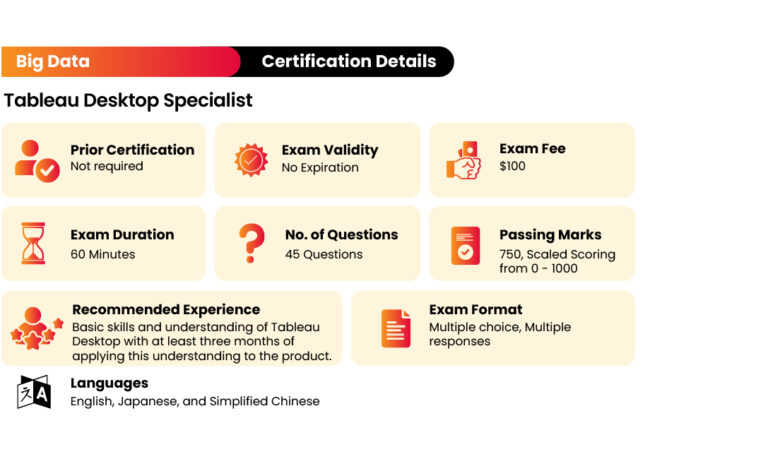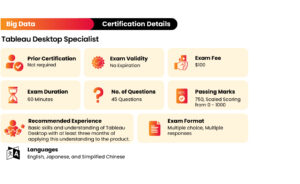 Why Should I choose this
 Tableau Desktop Specialist Certification exam?
Tableau Desktop Specialist exam is a most basic certification, It has no expiration date. Getting certified in this course is a way to exhibit the expert skills in Tableau and it gives a comprehensive understanding of tableau.
This certification demonstrates you as a professional in advanced business analytics and helps you stand out in the job market. This certification for data analytics professionals is a plus and they get paid more than the market competitive rate.
In the past 10 years, Users opting for the Tableau Desktop certification have made more impact than ever, with the rise in data jobs, etc. Check the stats given below for the proof: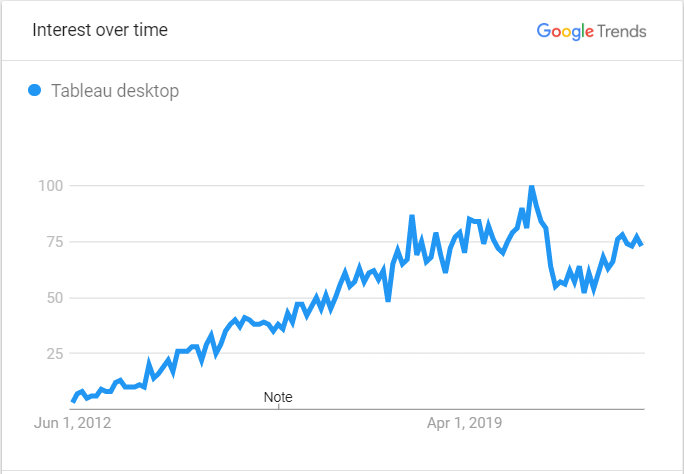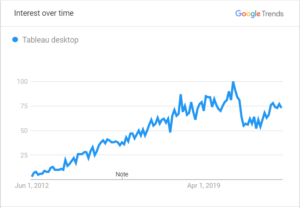 Can you get a job & How much do you earn with tableau desktop certification?
If you get certified as a Tableau Desktop Specialist, you can create a new career job development & opportunities. HR professionals get certified and this course gives more possibilities for their careers.
Getting a job is more difficult without experience, otherwise, you need to prove your ability or skills. If you get certified in this course you are eligible to apply for Data Analyst, Business analyst, etc.
The Tableau developer has a higher demand than the other jobs and it has a high salary package. Tableau specification data analyst or data scientist gets the highest salary packages. Take a look at the stats given below.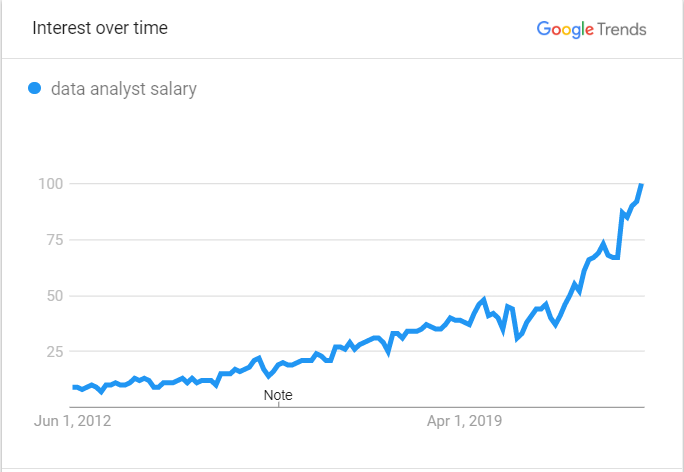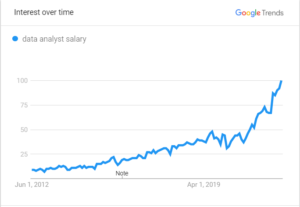 Frequently Asked Questions about the Tableau Desktop Specialist certification exam.
1. How long does it take to prepare for Tableau Desktop Specialist?
You have to experience the product for at least three months before the exam for a deep understanding.
2. Is the Tableau certification worth pursuing?
Yes, It is the beginner course of the other tableau courses and it brings the fundamental skills. So, this exam is absolutely worth it.
3. Does this Tableau certification exam require coding?
There is no coding required for this course. Because it is a BI data visualization software tool and is used for creating interactive visualizations with dashboards.
4. What jobs can I get after learning Tableau?
A fresher who has knowledge in the tableau has got many jobs like data analyst, Business analyst, and tableau consultant.
5. Do I pay for every attempt at the exam?
Yes, you are liable to pay for every attempt you make for an exam.
6. When will I get my score reports for the exam?
 Score reports are sent only to candidates who fail the exam.
7. How difficult is this course?
Choosing the right resources and training materials, no exam is difficult. Practice & hard work always pays-off.
8. Is the exam follow the scaling scores?
Yes, the exam uses scaled scores to assess candidates.
9. How many languages are available in this exam?
You can take the exams in Chinese, Japanese, and English.
10. What can I do in case I fail the exam?
 You can retry after 24 hours of the first attempt. However, for the third attempt, you will have to wait for a period of 14 days. After that, you will have to wait for 6 months until you can retake the exam.
Summary:
We have tried our best possible way to help you prepare for the Tableau Desktop Specialist certification exam through this article. We hope this article gives the perfect information for preparing for this certification exam and helps to pass the exam on the first attempt.
Stay tuned with us for more, Cheers!