Whether you are already working in the cloud security domain or seeking to enhance your overall information security skill set, understanding the distinctions between CCSP and CISSP certifications will empower you to take the next step in your cybersecurity career. 
While making a comparison between CCSP and CISSP, you may come up with questions like: What are the variations in skill sets? Which fits with your long-term professional objectives? Which one pays more? And maybe most significantly, which will remain relevant in the future as traditional networks are dramatically replaced by cloud infrastructure?
We simply come up with answers to the above questions. In this blog, we will explore the differences between CCSP and CISSP certifications, helping you make an informed decision about which certification aligns best with your career aspirations and professional goals. 
We will delve into their respective focus areas, domains of knowledge, and the specific industry needs they cater to, equipping you with the necessary insights to choose the certification that suits your expertise and interests.
Let's dive into the details and find out which certification is the right fit for you.
CCSP Vs CISSP: A Comparative Study
The International Information System Security Certification Consortium offers the advanced credentials CISSP and CCSP, however as we'll discuss below, they do have somewhat different objective.
 Certified Cloud Security Professional
CSSP certification can be taken by the candidate who intends to enhance their skills on cloud security, cloud architecture, design, and operations and it is also desired for security professionals, system architects and enterprises.
Opting for a CCSP certification can provide you with instant credibility and recognition as it signifies your expertise in cloud security. This highly regarded accreditation demonstrates your up-to-date knowledge of the latest technologies, emerging threats, and effective prevention methods. By pursuing a CCSP certification, you can position yourself ahead of the competition and open doors to new and exciting job opportunities that align with your career goals.
Also Read: How to Prepare for Certified Cloud Security Professional (CCSP) Exam?
 Certified Cloud Security Professional E
xam Format
To earn the CCSP certification, candidates must pass a four-hour multiple-choice test with 150 questions and four possible answers. It does not presently have any Advanced Innovative Questions, unlike CISSP. The CCSP exam requires a 700 out of 1000 passing score.
 Certified Cloud Security Professional P
rerequisites
Before taking the CCSP exam, the candidate must meet the below listed prerequisites:
A minimum of five years of working experience in the information technology which includes:
Three years in information security

One year in any one or two of the CCSP CBK six domains in the CCSP:

Cloud Concepts, Architecture, and Design

Cloud Data Security

 Cloud Platform & Infrastructure Security

Cloud Application Security

Cloud Security Operations

Legal, Risk, and Compliance
If you already have the CISSP credential, then you do not want to meet any of the above prerequisites.
CCSP Target Audience
The CCSP certified candidate can also hold the job title as:
Enterprise Architect

Security Administrator

Security Architect

Security Consultant

Security Engineer

Security Manager

Systems Architect

Systems Engineer
Certified Information Systems Security Professional 
Certified Information Systems Security Professional (CISSP) helps to assess individual expertise and capability to design,deploy, and manage a cybersecurity program.
Obtaining a CISSP certification offers numerous benefits, including instant recognition from prominent organizations. Research from the Global Information Security and Workforce survey indicates that CISSP professionals earn significantly higher salaries, with a difference of approximately a quarter of a million dollars compared to non-certified individuals. 
Moreover, the rate at which compensation increases for CISSP specialists surpasses that of many other IT fields.
Certified Information Systems Security Professional 
Exam Format
The four-hour CISSP exam consists of multiple choice and advanced creative questions, which we shall go into more detail about. A 700 out of 1000 score is needed to pass the CISSP exam.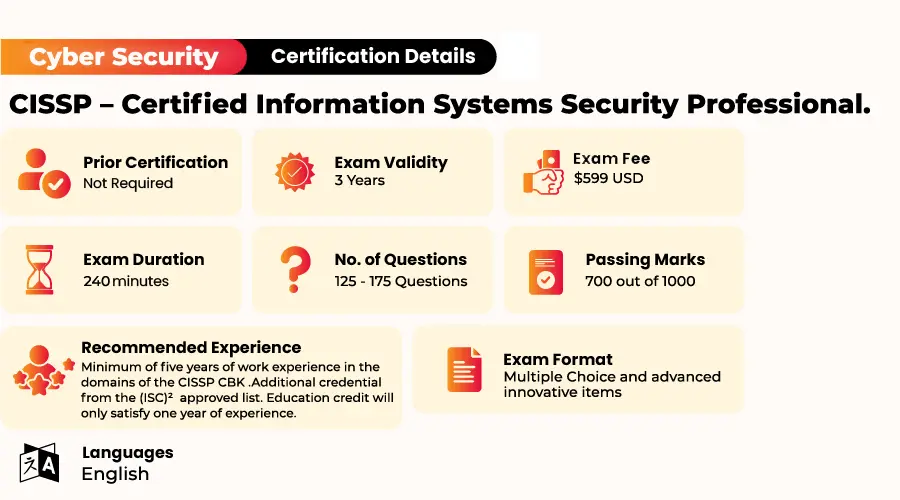 Certified Information Systems Security Professional P
rerequisites
The prerequisites required for taking the CISSP exam are a little bit more rigorous than requirements mentioned for the CCSP exam. And they are:
A minimum of

five years

of working experience in two or more of eight domains of the CISSP exam such as:
 Security and Risk Management

Asset Security

Security Architecture and Engineering

Communication and Network Security

 Identity and Access Management (IAM)

 Security Assessment and Testing

Security Operations

 Software Development Security
2. One more requirement such as the candidate must complete four-year college degree or an approved certification from the ISC2's list
Certified Information Systems Security Professional
Target Audience
The target audience for taking CISSP certification include:
Chief Information Security Officer

Director of Security

Chief Information Officer

IT Director/Manager

Security Systems Engineer

Security Analyst

Security Consulta nt

Security Auditor

Security Manager

Security Architect

Network Architect
CCSP Vs CISSP:
Salary comparison 
According to Glassdoor.com, CCSP certified candidates can get an annual pay of USD100,800. Meanwhile, CISSP certified candidates can earn an average salary of USD80,540. The experienced CISSP candidate salary can range from $149,690 to $137,110. 
Opportunities in CCSP and CISSP
Let's get into the wide range of job offers exists by taking CCSP and CISSP certification:
Certified Cloud Security Professional
You may start along the road to becoming a cloud security expert by earning the (ISC)2 Certified Cloud Security Professional (CCSP) credential. The greatest level of cloud security expertise is made available to individuals and enterprises through the CCSP certification. 
You'll learn the technical skills required to effectively build, manage, and protect data, applications, and infrastructures in the cloud using the best practises, guidelines, and policies established by the cybersecurity authorities at (ISC)2. 
The CCSP differs from acquiring broad information in that it requires practitioners to choose how to apply what they have learned in particular circumstances. The CCSP test examines practitioners' ability to apply their knowledge rather than merely knowing it as information.
Experts claim that security analysts or specialists looking to enter the field of cloud security typically become certified in the open-source cloud platform used by their present or potential employers. But because the CCSP is not affiliated with any one organisation, it sends a security professional onto a separate career path
When competing for a job with another security practitioner, having a CCSP certification can make a big difference because it denotes a certain degree of competence and professionalism. Every three years, the CCSP is modified to reflect changes in the real world. In recent years, the certification has placed increasing emphasis on demonstrating that professionals understand the distinctions between software as a service and infrastructure as a service.
Popular vendor-based certifications enable security specialists to work at a particular company. Vendor-based certificates can only be used in certain situations, though. For instance, if an organization uses AWS, having a Microsoft Azure certification is useless. The vendor-neutral CCSP certification can complement certificates for Azure, AWS, or GCP and is more blending-friendly than competitive with platform-based qualifications.
Certified Information Systems Security Professional
A non-discriminatory employer is CISSP (ISC)2. Irrespective to ethnic background, all qualified applicants will be given equal consideration for employment. Under Executive Order 11246, the CISSP members are required to use affirmative action when employing suitable candidates to fill positions as federal contractors and to provide statistical data about our hiring practices to various government organizations.
As a result, while completing the employment application, candidates need to fill out and complete the Voluntary Self-Identification Data form with information about their gender, race, and ethnicity. The disclosure of this information is voluntary, and it will be kept private as required by law. 
The number of people with the CISSP credential is much less than the need for skilled personnel. There has never been a better moment to jumpstart your career growth with a CISSP certification, as the (ISC)2 Cyber security industry Study revealed a global shortfall of more than 2.9 million men and women in the cyber industry. 
Additionally, you can continue to build on the CISSP by pursuing the CISSP specializations CISSP-ISSMP for Administration, CISSP-ISSEP for Engineering professionals, and CISSP-ISSAP for Architects, which will improve your job chances.
You must have demonstrated years of practical experience in cyber security. And also you must undergo paid, hands-on expertise in cyber security for the CISSP examination. An equivalent of four years of full-time work must be submitted. 
Additionally, you require the recommendation of an active holder of the (ISC)2 credential who is able to attest to your qualifications and moral integrity. Last but not least, to keep their CISSP credentials current, holders must finish a 120-credit program of continuing professional education over a three-year period.
CCSP Vs CISSP: Which one to select?
After analyzing the comparison between CCSP and CISSP certification, it has been found that both CISSP and CCSP are significant for an InfoSec professional. However, it is recommended to take CISSP certification before going for CCSP certification. By comparing CCSP and CISSP, CCSP certification seems better than CISSP certification.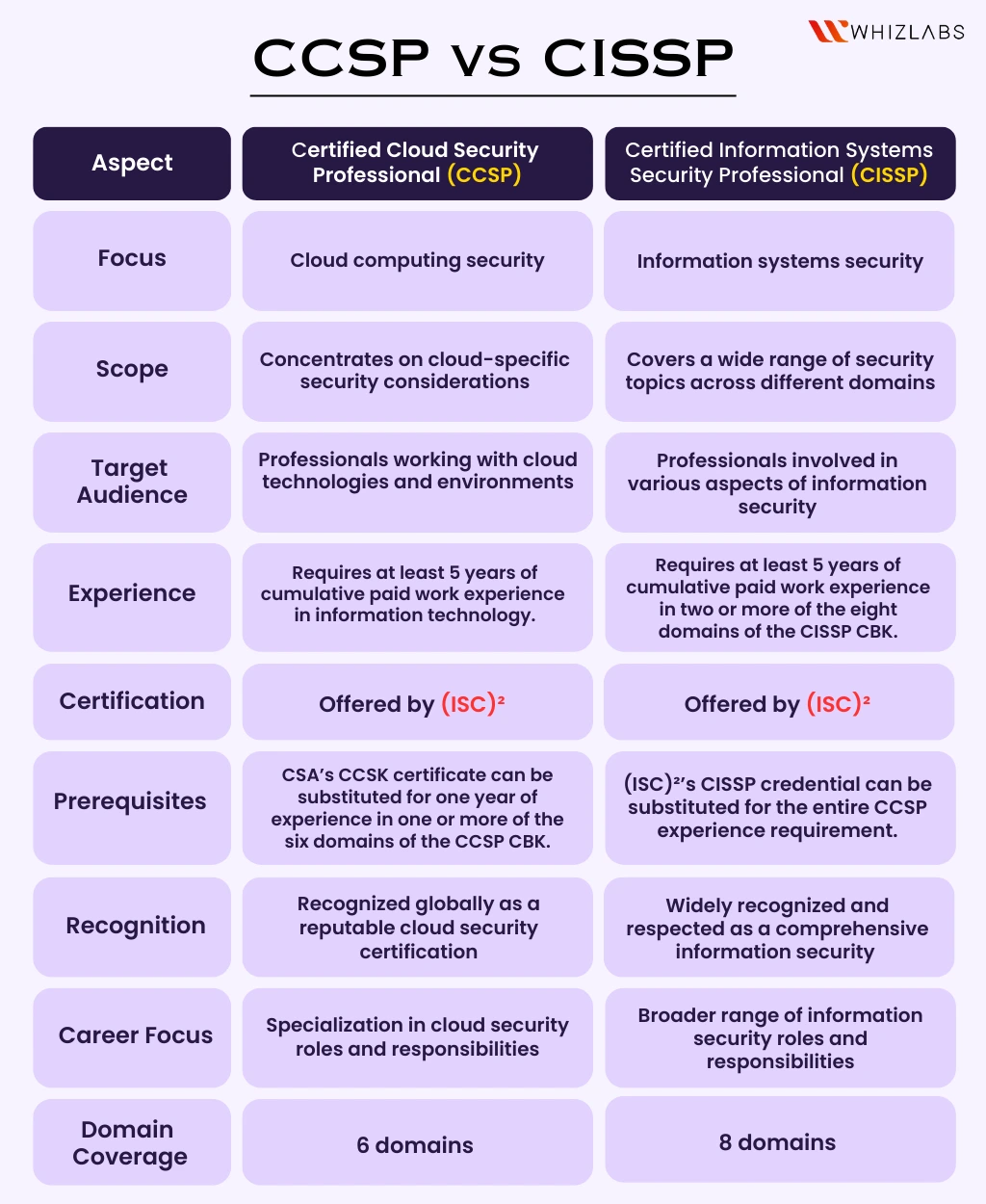 As mentioned earlier, CISSP certification equips candidates with a solid foundation in designing, implementing, and managing cybersecurity programs, which serves as a fundamental requirement for CCSP certification. 
CCSP builds upon the knowledge and principles gained from CISSP and incorporates specific procedures, policies, and practices established by (ISC)²'s cloud computing security experts. 
By pursuing CCSP, professionals can further enhance their expertise and specialize in areas that are not extensively covered in CISSP, including cloud data security, cloud infrastructure security, and application security. If you already hold a CISSP certification and these areas align with your career goals and interests, taking CCSP can be an ideal next step for you.
FAQs
Should I pursue CCSP or CISSP first?
It should come as expected that you should obtain SSCP first if you intend to obtain all three certifications since CCSP and CISSP both demand at least 5 years of paid job experience. At least 95% of people pursuing these certifications should obtain CISSP last.
Is CCSP certification worth IT?
You might rise into a better, higher-paying position by becoming a CCSP. However, it might potentially have other advantages. Obtain new abilities suh  vendor-neutral security in the cloud skills could be developed more systematically by studying for the CCSP accreditation exam.
Is CCSP more difficult than CISSP?
Considering that the CISSP is thought to be the more challenging of the two, the CCSP certification exam is not harder than the CISSP. Additionally, they perceive CISSP as being more difficult than CCSP and testing deeper knowledge.
Does the CISSP expire?
The CISSP certificate is valid for three years and certification holders may renew by retaking the exam or by completing 40 credits of Continuing Professional Education (CPE) annually for three years. The completion of pertinent professional education results in CPE credits.
Summary
If you have a strong inclination towards cloud security and want to specialize in this rapidly expanding domain, pursuing a CCSP certification can provide you with instant credibility and expertise in the latest cloud technologies.
On the other hand, if you seek a broader understanding of information security principles and want to establish yourself as a well-rounded professional in the industry, CISSP certification is the preferred option. 
It offers comprehensive knowledge and opens doors to a wide range of job roles. Consider your career aspirations, the skills you wish to acquire, and the specific areas of security that resonate with you to make an informed decision that aligns with your professional journey.
If you need any clarification on this blog post, please feel free to comment us!