Are you interested in obtaining your AZ-104 certification? If so, in this blog post, we'll provide you with all the information you need to know about the AZ-104 Microsoft Azure Administrator certification exam. 
It sheds light on what the certification is about, the learning outcomes, who should go for the AZ-104, why you should go for it, the exam overview and detailed syllabus, and finally, exam materials available at your disposal. 
So, if you're ready to learn everything there is to know about the AZ-104 certification exam, keep reading!
Let's dig in! 
All About AZ-104 Certification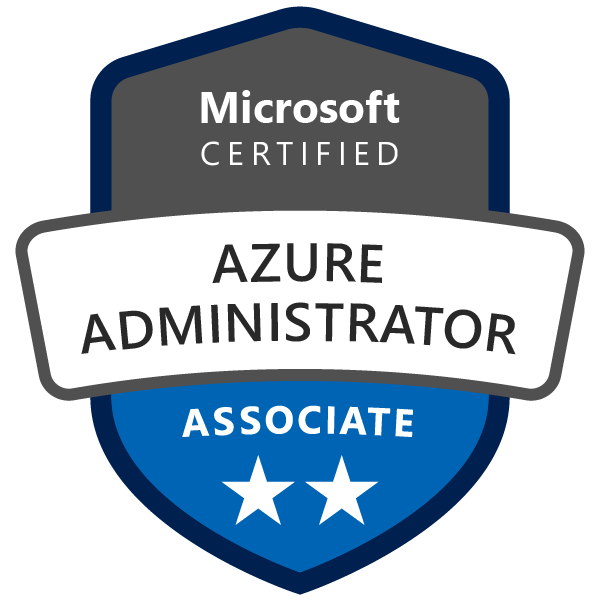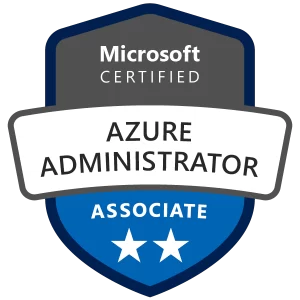 The AZ-104: Microsoft Azure Administrator certification validates your skills and domain expertise in handling, implementing, and monitoring the Microsoft Azure ecosystem. You will learn how to deal with networking, identity, security, storage, computation, and compliance for Azure infrastructure.
This certification teaches how to perform an Azure Administrator's core responsibilities, implement the Azure cloud ecosystem, and coordinate with other stakeholders to develop Azure-friendly apps and deploy DevOps solutions. This is a beginner's level certification and is a mandatory criterion for Microsoft Certified: Azure Administrator Associate. Further, this exam will test your abilities to perform mission-critical technical tasks like: 
Handle Azure identities and compliance

Deploy and handle data storage

Implement Azure compute resources

Configure and handle virtual networking

Monitor and handle Azure resources
What will you learn from the AZ-104 certification exam? 
The AZ-104 exam will help you gain an in-depth knowledge of Azure cloud infrastructure. You can delve deeper into nuances of Azure environments like virtual networks, plus provision, adjustment of resources when required, governance, management, monitoring identity, and more. Here's a list of the skills you will bag once you finish the AZ-104 certification: 
Hands-on with Azure Active Directory (AD) objects

: Develop intranet networks, access external resources like Azure Portal, Microsoft 365, and other SaaS apps using Azure AD. 

Role-based access control

: Find out how to leverage Azure RBAC to manage and monitor Azure resources. 

Storage services

: Learn how to scale and secure storage for data objects in the Azure cloud. 

Azure application gateway

: Make routing decisions and balance website traffic using the Azure application gateway. 

App service

: Create a faster and more seamless cloud service using the Azure app service. This learning path will also teach you how to deploy device agnostic apps and integrate them with Azure infrastructure. 

Application insight

: Use this Azure Monitor feature to control web apps, detect performance bottlenecks, troubleshoot the same using analytics and improve app usability. 

Azure Monitor:

This Azure magic tool will enable you to: 
– Detect bottlenecks across apps
– Use VM and Container insights to correlate environment issues
– Leverage Log Analytics for detailed diagnostics
– Use Azure Monitor Metrics to collect data
Apart from this, the AZ-104 exam will also help you develop role-specific skills like: 
– Implement virtual networks
– Orchestrate routing path in hybrid environments
Monitor log analytics and resource
– Write a query using log analytics
– Sort, filter and group results
Compute using Microsoft Hyper V and VMware vSphere

Deploy protecting identities and enhance security
– Encrypt data at rest, in transit and use
– Secure Azure AD accounts
– Prevent Azure resources from attacking the surface. 


Who should take the AZ-104 exam? 
If you are someone: 
Dealing with cloud infrastructure services and cloud-based solutions 

Having a tech background and wanting to upgrade their professional credentials by upgrading their administrator skills and getting hands-on with the Azure cloud services,
Then this certification is the perfect career path for you. Along with this, if you think you are a subject matter expert in Azure cloud administration and wish to dive deeper into the implementation, management, and monitoring of Azure infrastructure, this certification is the best way.
This certification will give a comprehensive view of the Azure cloud infrastructure and help you enhance your domain knowledge. 
AZ-104 exam preparation guide – Microsoft Azure Administrator Associate
Role of Azure Administrator in an Organization
Azure administrator is responsible for deploying and maintaining Azure resources.

He/she resolves and troubleshoots issues related to azure service.

Azure administrator configures and manages azure resources according to organizational needs

He/she is responsible for monitoring and optimizing azure resources to enhance performance.

Administrator is responsible to secure azure resources by taking several security measures.
Why should you go for the AZ-104 exam? 
Any Microsoft certification is a sure-shot way to gain a strong foothold and differentiation in the industry. With AZ-104 certification, you will unlock myriad benefits and advance your career towards your desired aims. 
Interestingly, 70% of people said they amplified their earnings after finishing the certification. And 84% of people discovered better job opportunities. Broadly, you can divide the benefits of AZ-104 certification into two buckets. 
For starters, this certification increases your market value by manifolds and makes you a valuable asset for your organization. It can broaden your horizons as an all-rounder Azure expert. It will help you gain exclusive skills like: 
Ability to restart Azure clusters, components, and virtual tools.

Develop and manage cloud infrastructure that best fits customer policies in cloud infrastructure. 

Automate support processes through custom scripts

Handle Azure subscriptions and identify Azure issues.
Second, you can amplify your salary up to $100,000 as an Azure administrator. Further, AZ-104 is one of the most reputed and top-paying information-tech certifications. Some of the top companies hiring professionals with AZ-104 certification include Accenture, Wipro, Capgemini, Aptean, etc. 
Format of AZ-104 Microsoft Azure Administrator exam
The AZ-104: Microsoft Azure Administrator certification exam format as follows: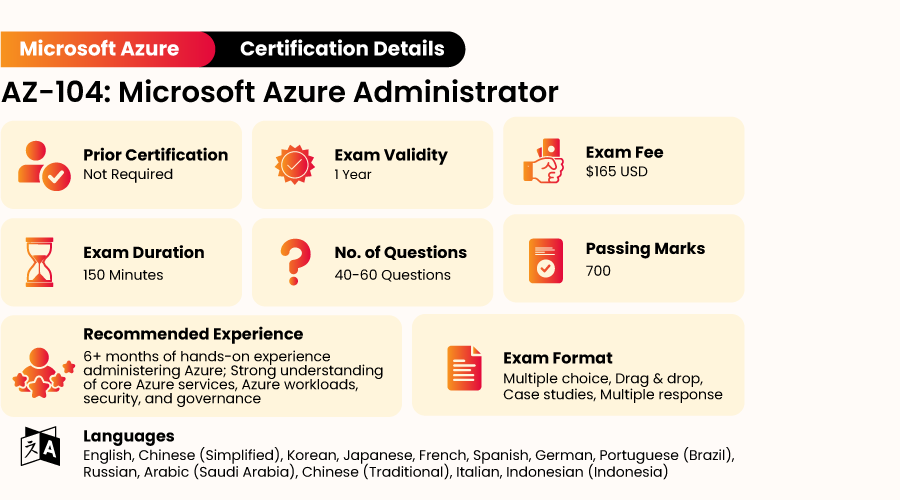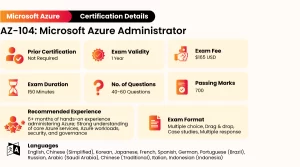 This certification is valid for one year. No prior certification is required. However, you need at least six or more months of experience in Azure administration and hands-on with core Azure services. 
Prerequisites for the AZ-104 exam
You need to fulfill some prior requirements before diving headlong into the AZ-104 certification exam. Firstly, you need at least six months of experience in Azure administration, PowerShell, Azure Portal, Azure CLI, Azure resource manager, Azure workloads, and compliance. 

In addition to this, you need to be familiar with technical concepts like virtualization, networking servers, and operating systems. 
Furthermore, it would be beneficial to gain in-depth knowledge on the following domains before you start your prep journey: 
Understanding of VMS, virtual hard disks, and virtual networking

Configure network along with TCP/IP, VPNs, DNS, firewalls, and encryption tools

Azure Active Directories including LDAP, forest domains, domain controllers, Kerberos protocol, etc. 

Disaster recovery and backup solutions
AZ 104 Microsoft Azure Administrator exam domains
The AZ-104 certification exam covers five domains and carries specific weightage in the exam. Along with the syllabus, you also need to develop a comprehensive view of Azure services, workloads, compliance, and security. Here's what the breakup looks like: 
| | |
| --- | --- |
| Domain | Weightage |
| Handle Azure Governance and Identities | 15-20% |
| Manage and implement storage | 15-20% |
| Implement Azure compute resources | 20-25% |
| Handle and configure virtual networking | 20-25% |
| Maintain and monitor Azure resources | 10-15% |
Each of these domain has several subtopics that includes: 
Handle Azure Governance and Identities
– Handle Azure AD objects
– Handle RBAC
– Handle compliance and subscriptions
Manage and implement storage
– Handle storage accounts
– Handle Azure data storage
– Configure Azure blob storage and Azure files
Handle and implement Azure compute resources
– Configuring VMs for scalability
– Automate deployment
– Configure VMs, web apps, and containers
Manage and configure virtual networking
– Manage virtual network
– Configuring name resolution
– Safe access to virtual networking 
– Troubleshoot virtual network issues
– Deploy an on-premise network with an Azure virtual network
Maintain and monitor Azure resources
– Use Azure monitor to monitor resources
– Setup actions and alerts
– App insights
– Deploy recovery and backup
– Azure site recovery
Study materials to refer for AZ-104 Microsoft Azure Administrator exam
Like all other Microsoft certifications, the AZ-104 exam has got everything covered from scratch for you. To begin with, Microsoft offers a Learning Path that captures all the domains in detail. Here's a sneak peek of the syllabus covered: 
Prior requirements for Azure administrators

Manage governance and identities in Azure

Handle storage in Azure

Implement Azure compute resources

Manage virtual networks for Azure administrators

Backup and maintain Azure resources
Second, the paid instructor-led video tutorials are a great way to delve into the nitty-gritty of the Azure cloud infrastructure and administration. The AZ-104T00: Microsoft Administrator video course covers managing Azure subscriptions, securing identities, administering environments, creating and scaling virtual machines, and so on.
Third, Microsoft's Azure Documentation will help you delve deeper into the Azure concepts. They will help you develop a holistic approach to Azure services, workloads, and designing Azure apps.
Try these Free AZ-104 exam questions
Fourth, if you want to get hands-on with the Azure cloud infrastructure and learn how to use them in a real-world scenario, go for Github's AZ-104 hands-on labs. They have updated content and help you learn Azure infrastructure inside out. 
Fifth, once you finish the practical and theoretical aspects of the exam, you can go for practice papers and Microsoft's Exam Sandbox. These highly nuanced mock-up tests will help you evaluate and gamify your preparations. Lastly, if you want to know more about exam objectives or network with professionals, you can explore Microsoft Learn Community.
How to prepare for the AZ-104 exam?
Preparing for any certification or exam can be hard sometimes. But with a proper strategy in hand, you can ace the AZ-104 exam like a breeze. Here are a few steps to get you started: 
Go through the AZ-104 study and understand the exam objectives. Skim through the syllabus carefully and chalk out a plan. 

The AZ-104 exam has numerous prerequisites, as mentioned above. Find out the knowledge gaps and sharpen your understanding of those concepts. 

This certification needs six months of experience working with Azure infrastructure. So before you apply for the exam, find an internship as an Azure administrator with some good company. 

Once you feel confident with your practical and theoretical prep, go for practice papers. Relearn the topics where you didn't perform well and attempt again. 

If you are satisfied with the scores in practice papers, go for the exam sandbox. Get the feel of the real exam and go for a detailed assessment. 
When all is set, apply for the final exam and win the game. 
FAQ for AZ-104 Exam
Here are some frequently asked questions that can help you prepare for the exam.
1. What is the AZ-104 exam?
The AZ-104 exam is a Microsoft Azure Administrator certification exam. It is designed to assess your skills and knowledge in managing Azure resources.
2. What are the prerequisites for the AZ-104 exam?
There are no specific prerequisites for the AZ-104 exam, but it is recommended that you have prior experience working with Azure.
3. What topics are covered on the AZ-104 exam?
The AZ-104 exam covers a variety of topics, including: Azure resource management, Azure networking, Azure storage, and Azure security.
4. How long will the AZ-104 exam take?
The AZ-104 exam is a two-hour exam.
5. How much does the AZ-104 exam cost?
The AZ-104 exam costs $165.
6. What is the passing score for the AZ-104 exam?
The passing score for the AZ-104 exam is 700 out of 1000.
7. What are the retake policies for the AZ-104 exam?
If you do not pass the AZ-104 exam, you may retake the exam after 14 days. You can take the exam up to three times within one year of the initial exam date.
8. What resources are available to help me prepare for the AZ-104 exam?
Microsoft offers a variety of resources to help you prepare for the AZ-104 exam, including: training courses, practice tests, and study guides.
9. Is AZ-104 for beginners?
The Microsoft Azure Administrator AZ-104 exam is an associate level certification exam and is not specifically designed for beginners, but it can be taken by individuals who have basic knowledge of Azure services and administration. It is recommended to have some practical experience with Azure and related technologies before attempting the AZ-104 exam.
Summary
With more companies replacing their legacy cloud solutions with Azure, there will be more demand for Azure administrators. But you cannot jump onto this further blindly without leveling up your preparations and practical exposure.
Therefore, we at Whizlabs offer a comprehensive package to help you advance your exam preparations. For theoretical prep, you will find full-length mock exams, SWOT analysis reports, exhaustive explanations to answers, and more than nine hours of training videos. 
Moreover, you can access our Microsoft Azure sandbox to learn, experiment, and play around with Azure infrastructure. For exam purposes, We also provide azure labs and 42 scenario-based lab exercise videos. The cherry on top, you will have complete tech support and unlimited access for a year to these resources once you enroll.