With impending rage among buyers of the smart personal assistant, Google Home and Amazon Alexa are two big names. How can you split the best out of Google home vs Amazon Alexa? With Google Home and Amazon Alexa gaining maturity every day never looking out of space at your home. Both Amazon Alexa and Google home can perfectly be a better companion with setting up features like alarms, smart device controls, vocal commands and more.
But how good is their stability to determine which the best is? Both Amazon Alexa vs Google home are equally good and leave no stones unturned to grab the best. Let's find out which virtual assistant is reliable.
Preparing for Alexa Skill Builder Specialty certification exam? Try AWS Certified Alexa Skill Builder Specialty Free Test now!
If you are looking for a smart speaker to buy, then you might certainly be confused about what to buy. Both Google Home vs Amazon Alexa is built to perform almost the same activities but in a similar way with similar situations. But there are few of the key differences that make them stand apart. Both of these go with smart speakers, but it's difficult to start with decisions.
Google Home vs Amazon Alexa: A Comparison
It all started back with tiny speakers that could speak out the desired information as an aid to assist humans. Back then, the developers had crucial paths to define its existence, the way in which a smart speaker works is completely changed. At present Amazon is leading the market sales including a larger platform where the third party can design and build skills to its Alexa and Echo products. Google, however, on the run has started its expanse by improving Google Home's appeal aesthetics and better smarts.
Let's Consider the Notable features of Google Home and Amazon Alexa.
As of now, competition between Amazon Echo vs Google Home is well acclaimed among the public. Both of these smart devices come up with bulk interesting features leaves you dazed by its smartness. It allows you to control smart home, listen to entertainment, customize your playlist, let you control smart devices, etc. with sound features and extensive services it can offer choosing one is really a difficult task to encounter. Most of all, both these devices work with common products of famous brands like Nest thermostats, WeMo-friendly lights, etc., which makes picking out one a complex task.
In general, features like reading audiobooks through audible, playing podcasts or music or any other voice command that you throw at them, it is easier to pick any speaker at the market. But eventually, if you are looking for a smarter device, then the choice between Google Home vs Amazon Alexa can be unconvincingly painstaking. Let us help you through this.
1. Smart Assistant
One of the tough choices will be in rating Amazon Alexa vs Google Home based on the smart assistance it can offer. Both of the devices have their purpose of development to work for.
Google Home comes from a most powerful company that can handle a major share of specialized internet related service and products throughout the globe. That also is a base for the working of smart devices. So, obviously, Google has the edge over its creation. Google Home comes with its own original virtual personal assistant "Google assistant" that can engage in two-way conversations. It is built in a powerful way which allows you to perform a variety of tasks including turning on lights. With its ability to understand what the users speak, for years, Google assistant is familiar with this domain of endeavor.
It is also notable that Google Home with its personal assistance can understand many languages like French, Korean, Chinese, Russian Japanese and much more. It carries out a fine job in understanding things that you may say easily, increasing its appeal in the market. However, there are also chances where it fails to understand or answer the user's questions.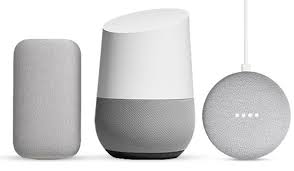 Amazon Alexa is equally a powerful device raising up the heat, with tough competition levels. There are myriad of things that Alexa can do, but the only downside is it can't always understand the different ways in which you may pose your questions. Apart from playing music, turning on lights, it can also order some pizza, book you an Uber ride. Thanks to the "skills" that can be inculcated t Alexa through various platforms by third parties. It is entirely relying on Amazon's online services and store. So if you really are an Amazon shopping lover, then Alexa can make you not get enough of her.
Another downside to Amazon Alexa is that it can't support multiple languages. Trained to work English, she delivers it at her best. When comparing Amazon Alexa vs Google Home over languages, certainly Google assistant takes the lead.
Want to know more about Amazon Alexa? Read our previous article to learn all about Amazon Alexa.
2. Third-Party Support
If you are comparing Google Home vs Amazon Alexa definitely third party support act as a major decision-maker. Amazon Alexa clearly tops the list with more skills developed, with a fair share of pairing up with third-party services. It is well paired up with even ordering Pizza's and booking your Uber rides. Google Home is primitive in such case. But both Amazon Alexa and Google Home are equally good in performing basic assistance via using a smart home device.
Google Home doesn't offer the same level of third party support, though it is finding for expanding. Google home might not support to functionalities apart from the popular ones that Google supports.
3. Appearance
Appearance is another factor when the comparison is a lead factor in deciding Google Home vs Amazon Echo.
Google home is designed to look circular with three varieties Google Home Mini, Google Home and the Google Home max of Google Home hub. It has an interesting design with a white and a grey area at top and bottom respectively. The white area is sloped forms the top of the Google Home embarking LED lights to indicate that the device is on, and can listen to your voice commands. It's quite simple and attractive.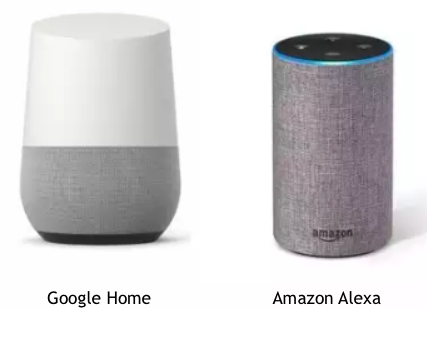 Amazon Echo holds a cylindrical shape design with a variety in the choice of colors. Some of which includes charcoal, oak and more. There are physical buttons that can turn on or off the microphone of the device. To make it visible there are indicator lights around the ring visible when the device is turned on. With the standard language, English Echo speaks out clearly with not so much cute design. 
Google home finds its place anywhere, with its official tech product look, Amazon's Echo needs to search for a fitting position.
4. Price
Thanks to the popularity of the devices! Both Google Home and Amazon Alexa are affordable and available easily. Available with different price ranges fair to the pockets when it comes to choosing between Google Home vs Amazon Echo. More than price, what you expect from your smart assistant that matters more. Amazon offers the widest range of options, whereas Google lies in the middle.
The price for the different models and generations of Amazon Alexa may range from as low as $49.99 to $229.99 while the price for different models of Google Home $129 to $399. So, in terms of price, Amazon Alexa is more affordable.
5. Skills
If you'll analyze, you'll get to realize that neither Amazon Echo nor Google Home offers a straight forward number of the total skills it's possible to work with. But there are a lot more of things that these little speakers can be worked with. 
Amazon with a major step launched the skill blueprints portal, delivering an option for people to build their own skills for Alexa. It's an open space where the users can create their own skills which may not be even professional. Both Google Home and Amazon Echo lets you set routines triggered by a single command.
Google Home started releasing features every other day. Compared to Amazon Echo, users are no need to add skills regularly to their Google Assistant. It even supports Google podcasts, which allows multiple syncing across multiple devices. Google has also launched a feature that allows the user to raise more than one question at a time.  Google is also prepared to launch Google Duplex, which can make calls on behalf of the user, in addition to the present Google Assistant. 
It was revealed in a study that Google Assistant answered more specifically and correctly compared to Amazon Alexa. Echo offers overall more functionalities than Home, but Google Home is a better choice if you are looking for specific capabilities of your virtual assistant.
Also Read: Top Alexa Skills to Try Yourself
6. Smart Features
All the smart features and specifications of Amazon Echo and Google Home can be invariably similar in functioning with a simple wake up command, which can control the digital world. Broadly, if you activate by speaking to your voice assistant, you'll be receiving answers on the question or have it assist you in various activities based on your command.
Both Google Home and Amazon Echo are devoted in long term improvements, dedicated to making an ultimate virtual assistant that can all the needs of the user. They do ameliorate job in enticing and feature-rich third-party manufactures to fix compatibility with Amazon Echo or Google Home.
Different approaches scheme in Google Home and Amazon Echo to access their abilities. Conveniently, Google Home is accessible and functions smartly for all by default, baring the third-party devices that are paired with your advanced Google Home system. So if you make a request, Google Home prompts up with the request.
Alexa, in its nature, relies on the skills of installation, sets that are related to voice commands that focus on diverse topics or skill sets. These app sets can be obtained and activated from the Alexa app available on the user's smartphone. Google makes it simpler when it comes to smart features, whereas, Amazon Alexa gears toward encouragement of broader and better third party support.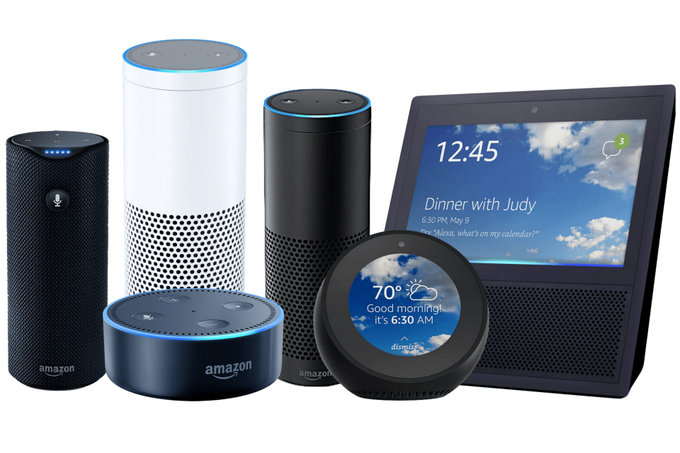 7. Audio
With the impetuously varying shape and design, you get a vehemently different type of sound performance from Google Home and Amazon Echo. Let's look at the breakdown sound comparison between Google Home vs Amazon Alexa.
If you go for the mini devices of Amazon Echo or Google Home, then top priority is given to music. If that is what you are looking for, then Google Home mini goes much better than Amazon Alexa. If small and convenient Echo speaker is your choice, then Echo spot might go well with your taste, despite its varying size offers extravagant sound experience.
At the higher end of the scale, Google Home comes loaded with too heavy bass, often making it less enjoyable. The clarity is weaker compared to Amazon speaker Echo. If audio is your priority, then the Amazon Echo might go well. Echo plus holds an even richer sound experience than Echo. The sound is dynamic in Echo plus compared to standard Echo, which comes with a slight premium price for good sound quality.
If you are planning for sonic superiority the between Amazon Echo vs Google Home, opting out for Google Home Max is a splendid choice. It has well-built bass, with top volume, as well not barging into the distorted territory.
Final Verdict
Choosing between Amazon Alexa vs Google Home as your smart virtual assistant is not an easy task. Both options are very good at respective price points as long as your expectations are in the right line along with your buying budget. If you have already invested in more of googles services then, it would be a logical option to go for Google Home. Understanding of voice commands is technically better in Google compared to Alexa. However, some refinements can also be needed to make it even more powerful.
Moreover, if you want value for your money, going for an option that has a wide reach of operations and possibilities would be a mature choice. In this regard, Amazon's Alexa seems to be a sensible option with wide possibilities of working. Equally, Google has a powerful search capability making it widely popular; it may also come with a focussed approach considering its abilities over internet service so far. If you're looking for a reliable assistant, Alexa is the best choice. But again that may or may not change in the near future.
Alexa skills are one of the unavoidable reasons for the increasing demand of the Amazon Alexa. If you are an Alexa skill builder, validate your skills now with the AWS Certified Alexa Skill Builder Specialty exam. To help you in achieving the certification, we have launched AWS Certified Alexa Skill Builder practice tests. Check your readiness for the exam with these practice tests and get ready for the exam.