Recently Gartner, the leading global IT research and advisory company released their 2019 Magic Quadrant for APM (Application Performance Monitoring). As per Gartner APM Magic Quadrant report, Dynatrace – the top software Intelligence Company is named in this report as a leader in "execution capability" and "completeness of vision" for the 9th consecutive time.
Dynatrace Wins Gartner APM Magic Quadrant
John Can Siclen, the Chief Executive Officer of Dynatrace said, "We are very proud of this recognition and we extend our gratitude to our customers who constantly challenge us and inspire us to continue to push the boundaries of innovation." According to him, Dynatrace has taken a radical approach for rebuilding a new platform from scratch so as to meet the dynamic, changing demands of web-scale cloud monitoring.
He's assured about Dynatrace's AI-driven approach and automation strategies that can provide immediate responses to its clients without having to dig into the details of the data for finding the required information.
Steve Tack is the SVP of Product Management at Dynatrace. In his standpoint, the power of Dynatrace is its AI engine, Davis. It's situated at the core of Dynatrace's platform that enables the customers to understand dependencies, anomalies, code deploys, event sequences, etc. with absolute precision.
According to Steve, Davis can efficiently measure business impacts by recording and quantifying the root causes of the issue rather than making simple guesses based on the correlation. It's also possible to ingest data and events from third-party solutions to ensure autonomous cloud operations.
For Gartner, these APM suites are the software components that facilitate application monitoring to meet the functions including Digital Experience Monitoring (DEM), Application Discovery- Tracing- Diagnosis (ADTD), and Artificial Intelligence for IT operations (AIOps). Dynatrace is the only vendor to maintain this top position in Magic Quadrant ever since Gartner has introduced this.
Also within 2020, Gartner is expecting a 25% increase of APM buyers from non-IT organizations from 35% that exists today. This is perhaps a favorable condition for Dynatrace to expand its customer base and success.
Gartner Magic Quadrant 2019
Gartner Peer Insights is a platform in Gartner's portal where customers of various APM suites can record their feedbacks about the software suites they use. Till now, more than 500 customers have rated Dynatrace in this portal by sharing their experiences with this vendor. Currently, the average rating received by Dynatrace in this portal is 4.5 out of 5, indicating the common acceptance of this platform over the technology industry.
Gartner's Magic Quadrant is divided into 4 categories: niche players, visionaries, challengers, and leaders. The selection of a vendor to this quadrant is based on various measures like its market share, user reviews, and many others. In addition to Dynatrace, Gartner has selected 11 other vendors for this Magic Quadrant for this year. These vendors are Microsoft, New Relic, Oracle, Tingyun, Riverbed, Micro Focus, Broadcom(CA Technologies), IBM, ManageEngine, SolarWinds and Cisco (App Dynamics).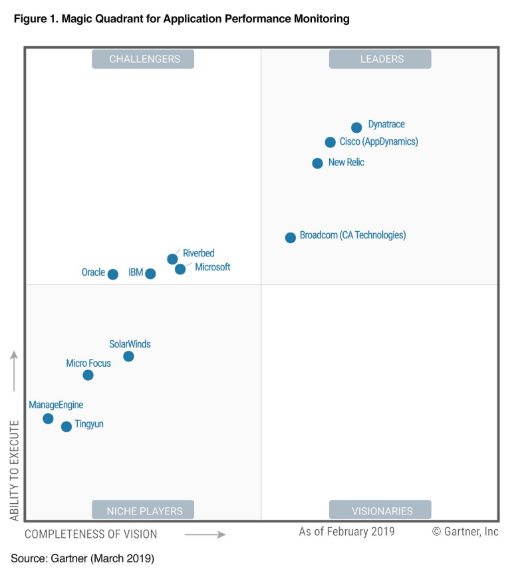 Anyway, the 2019 APM Magic Quadrant report remains almost consistent with last year's report. We can see that the Vendors in "challengers and leaders" categories remain unchanged. Dynatrace, Cisco, Broadcom, and New Relic maintain the leader position whereas Oracle, Microsoft, IBM, Riverbed hold the challenger position in the Quadrant. You can download full Gartner APM Magic Quadrant 2019 report here.
Similar to the previous year, there's no vendor in visionaries section even in this year. But in the niche players section, there are some major changes. Micro Focus is the new member here. Three members from last year's list failed to reappear on the quadrant; Nastel Technologies, Correlsense, and BMC.
And Dynatrace is at the top for the 9th consecutive time in the 2019 Gartner Magic Quadrant for Application Performance Monitoring (APM).