Cloud Security is highly demanding in the present era, and its demand is now recognized amongst big and small enterprises. Microsoft Azure is offering dedicated certification for aspirants to attain this fruitful career boost. The job roles associated with Azure Security Engineer are gaining demand gradually amongst the audience. The first step towards becoming an Azure Security Engineer is by clearing the AZ-500 certification exams.
Microsoft is taking a deep consideration of the cloud security aspects for a long time now. And with impactful efforts, it has evidently improved the security aspects after experiencing diverse incidents. Some of the common problems that originated the demand for certification of Azure security engineer include system downtime, security breaches, data loss, and others. Therefore the demand for dedicated security engineers is now high. AZ-500 is the role-based Azure certification that lets you master the relevant skills required associated with the professional qualification.

In this article, you will know about the right process of approaching and succeeding in the pursuit of being an Azure Security Engineer.
Basic Skills to Acquire for being Azure Security Engineer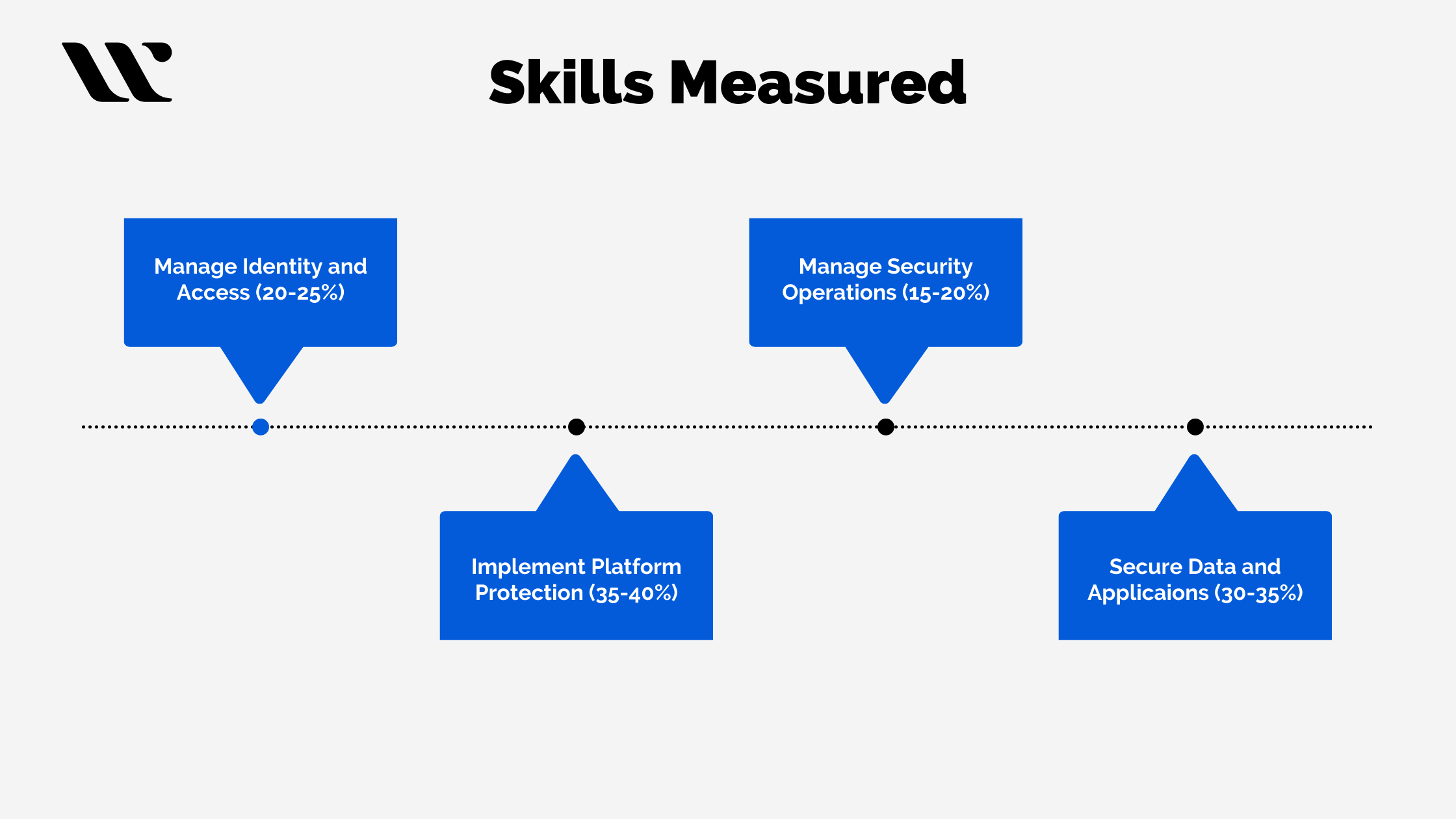 AZ-500 is the dedicated certification by Microsoft Azure that trains an individual to adapt certain professional skills. But before that, it is important for an aspirant to adapt the basic skills before you can start the preparations for the main exam. Some of the basic skills that you need to adapt before commencing your preparation with AZ-500:
You need to understand the basics of security controls and their implementation.

Basic theoretical knowledge of infrastructure management and cloud security.

You need to develop expertise in maintaining a defined security posture.

Aspirants need to gain knowledge and develop skills upon access management.

Learn about implementing the right ways of protecting data, applications, and networks.

Team working ability and practice to implement security within Azure infrastructure.
With these skills in hand, the Azure Security Engineer aspirants can clear the primary requirements for starting the preparations for the AZ-500 examination.
Take up the AZ-500 Examination
Once you have developed the general or basic skills upon Azure Security, you can now head towards appearing the dedicated role-based certification exam for being an Azure Security Engineer Associate. Along with all the above basic and fundamental skills, you need to understand the threat protection, application protection, cloud network protection, and other such aspects essential for attaining this certification.
For being professionally ready to take up dedicated job roles as an Azure security engineer, you mandatorily need to take up the AZ-500 examination and get it cleared. After passing this certification, the responsibilities that you will have to take charge of include maintenance of the security posture, identifying vulnerabilities & remediating them, responding to all security incidents, and others.
These responsibilities are destined to help increase the pay-outs for certificate holders. The Azure security engineers often work in a large team upon cloud security and management. The entire team will have to secure the hybrid environments to make them part of an end-to-end infrastructure.
There are certain strong skills recommended for the candidates to work on and adapt for clearing the certification exam in one attempt. The specific role-based skills important for the preparation of AZ-500 examination includes:
Utmost proficiency in scripting & automation. 

One should have a considerable amount of knowledge of all features and services associated with the Azure cloud. 

Master the fundamentals and concepts of networking, virtualization & N-tier architecture. 

Get in-depth insight into all products and services associated with MS Azure. 

One must be adaptable to the operational aspects of both hybrid and cloud environments.
Consider these skills as perquisites for appearing in the AZ-500 examination. Even though there is no official requirement stated over the official page, without an idea and expertise on these skills, it will be difficult for you to attain the certification. Currently, the next update on the AZ-500 exam will be updated on June 2, 2021, over the official site.
The price for this certification is USD 165, and you can appear for the exam in different languages that you think are suitable for you. The objectives that you will accomplish upon completing this certification include access management, platform projection, operational security management, data security, and application security.
Preparation Options for AZ-500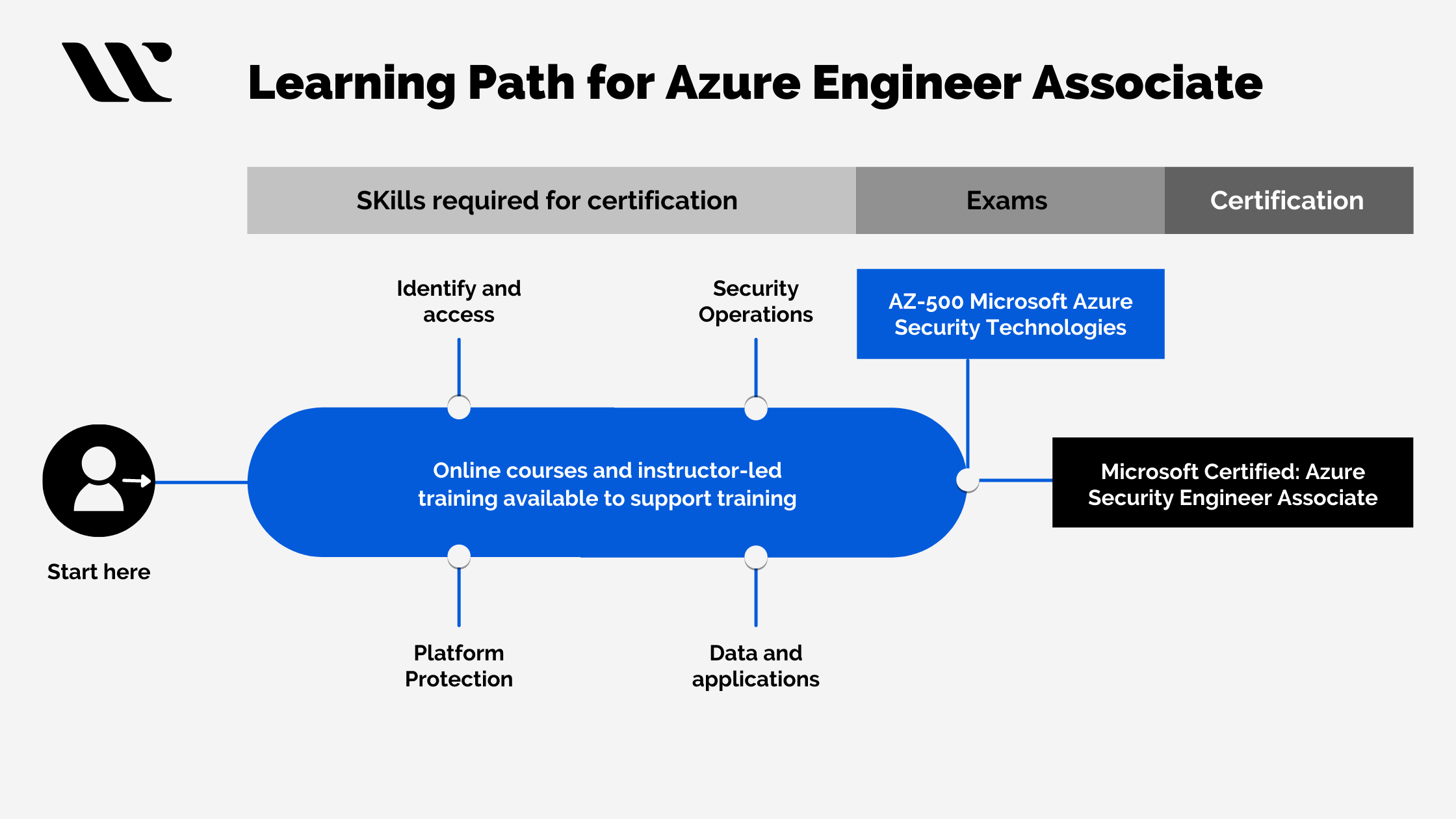 On the official page of Microsoft Azure Security Engineer Certification, the company itself has given you two modes of preparing for this examination. You can either take up online & free training modules or go for instructor-led paid training to prepare for AZ-500.
The free training module covers a lot of important topics with complete description and clarity for enhanced knowledge. The areas that these free training module covers are:
6 Modules about securing cloud applications in Azure.

6 Modules about implementing resource management security in Azure

5 Modules about implementing network security in Azure

6 Modules about implementing virtual machine host security within Azure

9 Modules for managing identity and accessibility within Azure Active Directory

8 Modules about managing security operations within Azure.
Follow these modules to get yourself completely prepared for the AZ-500 examination. With it, you will definitely be able to understand the important concepts and clear this exam to be a certified Azure Security Engineer.

If you want to get a more intense and dedicated preparation, you can also take up an instructor-led training program for Microsoft Azure Security Technologies. This paid training course will provide candidates with ample knowledge of dedicated security controls and maintain security posture. It is a complete preparatory guide or training course that will help the candidates clear this certification exam to pursue a better career within Azure.
Understand the Job Role of Azure Security Professionals
After clearing the Azure Security Engineer certification, you are ready to take up available job opportunities for the same. But, when you are preparing for this certification, it is your responsibility to understand the details associated with its job roles.
The details upon the job description of Azure Security Professionals include:
As a security engineer, you have to support the development of cloud security frameworks and deploy it upon the Azure cloud.

Individuals will mostly have to work with seniors to develop and implement new security designs and strategies.

One needs to be in frequent communication with project heads and clients for analyzing the project requirement or objectives. With it, one can intend to execute the job with the right approach.

Individuals need to be proficient in working with internal and external resources and diverse clients.

Preparation of the documents or reports on security implementations for producing it to clients
These bullets highlight the basic and crucial job description for an Azure certified security engineer. It is important for an aspiring Azure security engineer to get an idea of this for complete preparation.
Monetary Perks or Salary Payout for an Azure Security Engineer
Azure Security Engineers are quite proficient in getting high pay-outs. As you have already evolved your existing skills and expertise, it is evident that you are about to live a standard life by putting those skills into action. The top earners across the globe are earning around $166,000 annually.
Along with that, 75% of the Azure security engineers are earning $152,000 annually across the globe. The Azure security engineer salary with Azure certifications across the globe is $130,000 per year. Hence, it is a high pay scale that will increase over time, with individuals gaining immense experience in the long run.
With over 8 years of experience in this sector, working as Azure Security Engineers, you can expect to earn over $220,000 annually. It is one of the most rewarding job roles of Azure that develops your overall security skills upon the cloud architecture.
The demand of the organizations for Azure cloud security professionals is increasing on a large scale. Therefore, the company officials are seeking individuals with the Azure Security Engineer Associate certification to offer them high-paying and responsibility-oriented jobs. You just have to be ready with your skills in hand, and the jobs will await your way.
Final Words
These are a few of the things that you need to keep in mind if you are ready to start your preparations for Azure Security Engineer certification. It is advised that you get a clear insight into all attributes of Azure before you can head to the role-based certifications. Get used to the cloud architecture of Azure, be aware of the features & services, and know the dedicated certification details available over the official site.
In the case of Azure Security Engineer associate certification, all the details about appearing for this exam are mentioned above in the article. There are different registration gateways for both students and non-students who are interested in technology and job seekers. Moreover, there are several practice tests available for you over the internet. Consider taking them up with complete preparation to know where you stand with it.
Check out All Best Performing Free Tests from Whizlabs!
Online courses and practice tests will help you find your loose ends. So, enroll in the online course and practice tests for the AZ-500 exam preparation and give your preparation a new edge!