In the new role-based certifications, Microsoft replaced launched two certifications AZ-100 and AZ-101 as the replacement of 70-535 for the Microsoft Azure Administrator role. But effective from May 1, 2019, both the AZ-100 and AZ-101 exams will be replaced by the AZ-103 exam. So, if you are aspired to become a Microsoft Certified Azure Administrator, you should be focused on AZ-103 exam preparation.
Try Now: AZ-103 Free Practice Test
From May 1, 2019, all the previous exams associated with Microsoft Azure Administrator role i.e. AZ-100, AZ-101, and AZ-102 will be expired and you'll have to take the only AZ-103 certification exam to receive the badge of Microsoft Azure Administrator Associate. It has been done on the basis of customer feedback to simplify the process of earning certifications to become Microsoft Azure Administrator. So, the exam AZ-103 is a combination of the previous AZ-100 and AZ-101 exams.
If you have scheduled your Azure Administrator certification exams before May 1, 2019? We'll recommend you to check out the preparation guides for AZ-100 exam and AZ-101 exam to give your preparation a new edge.

Exam AZ-103: Microsoft Azure Administrator
AZ-103 Microsoft Azure Administrator certification exam validates and demonstrates the expertise of those who are performing the role of Azure Administrator. This exam basically tests the knowledge of the candidate to manage cloud services that span compute, storage, networking, security, and other cloud capabilities within Microsoft Azure. Let's dive deeper to know more about this exam so it could be easier for you to start your AZ-103 exam preparation.
Microsoft Azure AZ-103 Exam Information
Although AZ-103 official page doesn't give more information about the AZ-103 exam, this exam is like any other exam. The full name of the exam demotes the certification name i.e. Exam AZ-103: Microsoft Azure Administrator. You may expect 40-60 number of questions in the AZ-103 exam in multiple choice and multiple answer format. The registration fee has not yet been reflected by Microsoft, it may be USD 165 or more as the exam is a combination of AZ-100 and AZ-101 exam. The table below gives you quick information about the exam:
Exam AZ-103 Basic Information

Name of the Exam

Exam AZ-103: Microsoft Azure Administrator

Technology

Microsoft Azure

Prerequisites

None

Number of Questions

40-60

Exam Fee

USD 165

Exam Language

English
Microsoft Azure AZ-103 Exam Blueprint
Being the combination of AZ-100 and AZ-101, the exam blueprint now includes the objectives of both the AZ-100 and AZ-101 exams. Definitely, now you'll have to cover more syllabus during your Microsoft Azure Administrator AZ-103 exam preparation. Let's have a look at the domains and topics covered in the Microsoft Azure AZ-103 certification exam.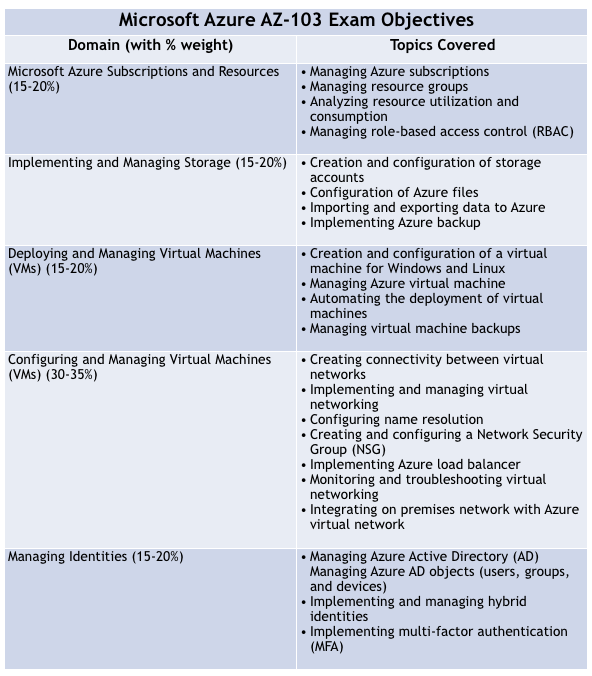 So, it is mandatory to keep your AZ-103 Azure Administrator exam preparation fully focused on the above-mentioned exam objectives. Once you are confident with your preparation, you are ready to get to take the exam.
A Comprehensive Guide for AZ-103 Exam Preparation
We've brought together the key steps that one needs to follow during the AZ-103: Microsoft Azure Administrator exam preparation. These steps form a comprehensive AZ-103 preparation guide that will minimize your efforts to pass this certification exam. All the preparation steps are easy to understand and implement for your preparation, so just have a look at the below steps:
1. Visit the Official Certification Page
Once you make your mind to take the AZ-103 certification exam, it is recommended to go through the official AZ-103 page on the Microsoft website. This is one of the most trusted pages to find up-to-date and authentic information regarding the exam. At the official page, you will find the details of the prerequisites for the exam, eligibility criteria, exam objectives, detailed pricing details, exam scheduling options, and all the relevant updates on the exam structure.
2. Understand the Exam Objectives
As the AZ-103 exam is the new, modules and the weight of the different modules has been changed so it becomes important to understand it carefully. You will find the exam blueprint and information on the weight of different modules on the official page itself. You should understand each domain and every module so you could prepare well for the exam. Knowing the weight of each module will help you to keep more focus on the modules that have a high weight in the exam.
3. Join Online Training
Online training is one of the most important training methods that will help you with your AZ-103 exam preparation. With online training, you get connected with the industry experts who make you learn the concepts of the exam modules, thus get you ready for the certification exam. You can take online self-paced training for AZ-103 exam from Microsoft learning portal that is totally free. You can also choose to get paid personalized instructor-led training form Microsoft or any other online certification training provider to get prepared with the exam objectives.
4. Reference Books and Online Resources
Since AZ-103 is relatively a new exam, you may not find enough books for your AZ-103 Azure Administrator exam preparation. Though you can preorder the Microsoft Azure Administrator Exam Ref AZ-103 that is a part of exam ref series. The book has been written by Michael Washam, Scott Hoag, and Jonathan Tuliani and can be pre-ordered from the Microsoft Press Store. Also, you can refer to the previously available books for Azure Administrator exam as they may help you to cover many exam modules that were there in the AZ-100 or AZ-101 exams.
5. Online Discussion Forums and Study Groups
This is the step that is not required to be followed in any sequence; you can join study groups and discussion forms at any stage of your exam preparation, even at the very first step of your preparation. Joining study groups and discussion forums give you a chance to connect with those who are preparing for the exam or are certified Azure Administrators. It helps you to get answers to your questions, and get your queries resolved. So, it always recommended joining a few Azure discussion forums and study groups during your AZ-103 exam preparation. You can join and start a discussion in Whizlabs Forum to get your queries resolved by the certified professionals and aspirants. 
6. Take Practice Tests
It's the final step in the AZ-103 study guide that boosts your confidence and gets you all ready for the AZ-103 exam. When you think that you are done with your preparation through all resources and the preparation steps, you should take some good practice tests or mock exams. These AZ-103 practice exams are set in such a way that gives you the real exam like environment. Taking practice tests help you find your strength and weakness so you can focus on your weak areas to improve them. You can first try some free practice questions and then move to full-length practice exams to check your preparation level and get ready for the exam.
So, these are the steps that form the preparation guide for AZ-103 exam. All you need to do is just follow these steps and get ready to pass the AZ-103 certification exam in the first attempt.
Check your preparation level with AZ-103 practice tests. Try AZ-103 Free Test now!
Final Words
On the basis of feedback received on AZ-100 and AZ-101 exams, Microsoft has launched the exam AZ-103: Microsoft Azure Administrator to simplify the Azure Administrator path. If you're aspired to advance your career as an Azure administrator, then you should plan to take AZ-103 exam. The certification exam enhances your skills as well as demonstrate it among your employers, thus makes you stand out of the crowd. The above preparation guide for AZ-103 exam is an ultimate guide for you to prepare for the AZ-103 certification exam.
The practice is equally important as that of the preparation for a certification exam. So, the Whizlabs provide you a platform with AZ-103 practice tests to practice and get ready to take the exam. Join us now and get ahead to become a certified Azure Administrator!
Have any questions regarding AZ-103 Azure Administrator exam? Just write in the comment section below or write at Whizlabs Helpdesk to get answers by our Azure experts.