Over the past couple of years, there has been a significant increase in the adoption of Azure stack by organizations for building on-premise hybrid cloud applications. The fast-paced innovation and agility of Azure stack are sufficient to deliver Azure services from an organization's data center with the right balance of flexibility and control.
Anyway, it's a must fact to properly know how to effectively configure and operate a hybrid cloud with Microsoft Azure stack. Here is the relevance of Microsoft's 70-537. The intention of this article is to help you in the 70-537 exam preparation so you could pass the exam with minimal efforts and time.
All you need to do is to make sure that you are following the right 70-537 exam preparation recommended by this guide.

Exam 70-537: Configuring and Operating a Hybrid Cloud with Microsoft Azure Stack
The exam 70-537 is basically intended for Azure administrators and Azure Stack operators who are using Azure Stack for providing cloud services to their end users within their own data centers. This exam thoroughly examines a candidate's proficiency and experience as an Azure administrator or Azure Stack operator who can manage and operate Azure stack environments.
Prerequisites of Exam 70-537
Before starting your preparation for the exam 70-537, it is important to understand the prerequisites and requirements for the exam. Although there is no prerequisite in terms of an exam, the candidate should have some required knowledge to take this exam. Following knowledge is considered as the prerequisite for the 70-537 exam:
Considerable experience in the management and operations in Azure Stack Environments

Understanding of Azure technologies along with some considerable knowledge in virtualization, identity management, and networking.

Understanding of how Azure Stack enables hybrid development model and DevOps processes.
Also, the candidates are expected to show their skills to plan, update, deploy, package, and maintain Azure Stack infrastructure. A candidate's ability to offer hybrid cloud solutions and services is another major requirement for this exam. To a greater extent, we can say 70-537 as an intermediate to advanced level exam that makes mandatory for you to have some relevant experience before thinking about 70-537 Exam Preparation.
Basics of Exam 70-537
It is good for you to know some basics on this exam even if you haven't started your Microsoft 70-537 exam preparation till now. These basics include exam specifies, structure, scores, results, and many more. Most of the Microsoft certification exams including 70-537 exam can contain questions in between 40 and 60. You have a total time of 150 minutes to complete this exam. The cost of the exam is $165 if you are living in the United States. Anyway, the price is subject to change from country to country.
The following table shows some of the elementary information which you need to know about the 70-537 exam:

You will get the notification about your pass or fail status within a few minutes after completing the exam. You will receive a score report that contains an overall exam score, pass/fail status, bar chart indicating your performance in each skill area and the way to interpret your test results. This kind of scorecard is sufficient enough to validate the effectiveness of your 70-537 exam preparation and scope of methodologies you have adopted for the exam.
Exam Modules on a 70-537 Exam Study Guide
The exam 70-537 is targeted on Microsoft professionals who can manage and operate in hybrid cloud environments with Microsoft Azure Stack. The candidates who are opting for this exam are required to accomplish the modules listed below. Here, the percentage figure shows the relative weightage of each module in the exam. The higher the percentage, you can expect more questions from that area in the exam. If you can organize your 70-537 exam preparation in accordance with these exam topics, you are likely to score more on the exam.
Deploy and Integrate an Azure Stack Environment (20-25%)

Configure PaaS and IaaS for an Azure Stack Environment (25-30%)

Provide Services to and Enabling DevOps for Azure Stack Tenants (25-30%)

Maintain and Monitor an Azure Stack Environment (20-25%)
For each of these modules, you can find a number of sub-modules that cover a variety of basic to advanced level topics.
Common Question Types That can be Asked in this Exam
If you have started any of the azure certification exam preparation these days, just know that Microsoft has adopted a more or less similar pattern for questions that can be asked in the exam. The exam 70-537 is not an exception for this. You can expect different question types in the exam as shown below.
Best answer

Build list

Active Screen

Hot area

Drag and drop

Multiple Choices

Repeated answer choices

Review screen

Short answer

Case studies

Mark review
It is also important to understand that Microsoft is liable to change this question pattern at any time without advance notice. Anyhow, the introduction of more and more innovative technologies from this software giant for exam evaluation and performance can definitely make a positive impact to choose the right candidates in the exam. Your 70-537 exam preparation may become worthless sometimes if you fail to notice these changes.
Steps You Should Follow for Microsoft 70-537 Exam Preparation
If you can put a little effort and time, you can find abundant 70-537 exam study materials with less or totally free of cost. Anyway, it is important to note the trustworthiness of each of these resources if you intend to consider any of these resources as a preparation guide for the 70-537 exam you wish to appear. Here we have gathered a list of materials that can help to uplift your 70-537 exam preparation strategies without incurring much cost or effort. And, besides 70-537 exam preparation, these options are also useful for other Azure certification exams preparation as well.
So, let's check each of the 70-537 exam preparation options in detail.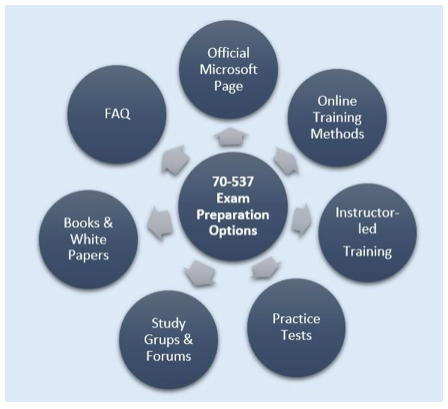 1. Visit the official Microsoft Learning page for 70-537 exam
Whatever other alternatives you may consider for 70-537 exam preparation, Microsoft Learning portal deserves a place on the top of all the other options. This is not just because as it's official Microsoft gateway point for these exams, but this portal provides access to comprehensive learning resources which is well suited for any Azure certification exam preparation.
You can find all the necessary details to take 70-537 exam including exam requisites, scheduling options, information on exam modules, the scope of the exam, exam preparation options, links to exam study groups and much more. Moreover, it's the place where you can find all the possible exam updates on exam dates or exam topics. So, it's a good practice to often visit this page during each stage of your 70-537 exam preparation.
2. Find out the Online Training Options For 70-537 Exam Preparation
Proper online training would be one of the key stages that an Azure expert recommend in any of the preparation guides for 70-537 exam. Nowadays, Microsoft provides three major options for 70-537 exam preparation in the online format. These are described below.
3. Azure Stack Documentation
As this documentation contains comprehensive 70-537 exam study materials that are well-suited for both Azure stack operators and Azure stack users, neglecting this documentation may cause unfavorable effects on your exam results. For an Azure Stack operator point of view, this document contains everything you need to know about configuring and operating Azure stack development kit. You can find step-by-step tutorials on adding services on your Azure stack deployment in this page.
In case you are the one who is not intended to manage Azure stack infrastructure or offer services but interested in Azure Stack Development Kit, you can refer the documentation guide for Azure Stack general user. This documentation contains five minutes quick start tutorials to deploy both Linux and Windows virtual machines on Azure Stack. These tutorials can help you to create virtual machines on Azure Stack portal, PowerShell, and command line interfaces.
Apart from being an all-inclusive 70-537 exam study guide, you can access many other Azure resources including Azure architecture documentation, documentation for programming languages & frameworks in this page. You can also find links to download various tools and extensions required for the ease working of Azure infrastructure.
4. Free Azure Stack Development Kit
Now without any cost, you can freely try Microsoft's Azure Stack Development Kit, a hyper-converged cloud solution to prototype your applications. The applications built with this single-server deployment option will run smoothly when these are deployed into a multi-server system. Anyway, in order to get most out of this kit, your system should meet the basic hardware and deployment requirements. You can fill your information and download this kit for free from this page: https://azure.microsoft.com/en-us/overview/azure-stack/development-kit/
In case you intend to buy Azure stack, you can go with any of these two options with pay as you use pricing model. One of these options is as a system you manage and the second option is to buy as a managed service. The first option is typically on-premises where you can control the operations and management. The second option is Azure Stack as a managed service, you will get services typically at a service provider premises.
5. Open edX Courses
edX is a top-notch online learning platform founded jointly by Massachusetts Institute of Technology and Harvard University in 2012. With this massive open online course (MOOC) provider, Microsoft has hosted some of the self-paced courses on Microsoft technologies. Now, you can find 70-537 exam study materials on this portal with the course name "INF240x" that provides you hands-on training on Azure stack topics including storage, virtual networking, virtual machines, and deployment options. This course can help you to comprehend PaaS (platform as a service) and IaaS (infrastructure as a service) used in Microsoft Azure stack with those in Microsoft Azure.
You can navigate through each module in this course by taking enough time you need. Totally, there are nine modules in this course and each module is well explained with charts and figures. And, there is a provision to bookmark the pages in this course so as you can access them later. Also, you can see your real-time progress on each module of this course from the "progress" tab in the course.
You can find the link to the course from openedx.microsoft.com page. You just need a Microsoft account to enroll in this course.

Also, note that this course will end on 22 March 2019. So make sure to enroll in this course before this deadline to access the course content even after this date.
Find Out Instructor-led Training for 70-537 Exam Preparation
Microsoft offers a course namely 20537B where you can choose between a classroom training and on-demand training for your 70-537 exam. Here, the on-demand training is self-paced with 3 months access whereas the time commitment for the classroom training is 5 days. For both of these training methods, you can find official Microsoft partners depending on your country/geographic location.
Microsoft provides free and premium practice tests for its different certification exams. If any of such tests are available for the 70-537 exam, you can find it on Microsoft's 70-537 exam preparation page. So make sure to regularly keep in touch with the exam preparation section on the 70-537 page on Microsoft Learning portal.
If you are facing any doubts or questions regarding 70-537 exam preparation or exam specifies, exam discussion forums are one of the most convenient ways to resolve such queries. Here, you can find people who have prior experience in taking such an exam from Microsoft. They can solve many of your doubts regarding exam structure, scoring, retaking, exam cancellation, and many more. In the Learning portal, Microsoft itself has hosted a study group for the 70-537 exam where you can share your doubts and queries related to the exam.
Search for the Books & White Papers on 70-537
Since 70-537 is relatively a new exam, you may not find the desired reference book on this topic. However, an authoritative book on this subject can function more than merely as a 70-537 exam study guide – but will make you aware on many of the vital technologies & concepts that are crucial for the deployment and management of Azure infrastructure. Same is the case with exam white papers released from the exam provider.
Go through Frequently Asked Questions
On the Microsoft Learning portal, you can find a page targeted for exam policies. There is a comprehensive list of Frequently Asked Questions for Microsoft certification exams which are also valid for 70-537 exam. These questions are categorized into various sections including exam basics, exam specifies, exam security & integrity policies, Staying Current and Recertifying, scoring & results, Performance-based Testing and finally Academic pricing on exams. Many of these questions would be capable of clarifying your doubts relating to the 70-537 exam.
Apart from the FAQ section, you can find the exam policies section from Microsoft in this page itself. This section contains detailed information on various exam policies including non-disclosure agreement, beta exams, challenging a Microsoft Certification exam item, Special accommodation when taking exams, Microsoft Certification Program Agreement, Academic pricing on exams and Security and the retake policies. All the latest updates from Microsoft about its exam policy changes will be first reflected in this section. For that reason, it is a good approach to regularly check this document section.
Don't have enough information about the new role-based Azure Certifications? Here is everything you should know about the new Azure Certifications.
Procedure for Taking 70-537 Exam
One need to follow a step by step procedure to take the 70-537 exam. First, register yourself on the Microsoft portal, then choose the exam local location, exam center, and exam date. After that, schedule the exam, make the payment, and get ready to take the exam on the fixed date and time. Here are the steps for 70-537 exam registration in detail.
Step 1 – Registering for Exam on Microsoft Portal
Once you are confident enough on the progress of your 70-537 Exam Preparation, you can proceed to the next level by registering for the exam. You can find out the scheduling links on Microsoft 70-537 exam's page itself. You should use your Microsoft email for registration. Once you sign in using your account credentials, you will be redirected to a registration form where you need to fill up your contact information and address. If you are a Microsoft employee, you can link your employment status in the next page to avail employee benefits. Otherwise, you can continue exam registration at Pearson VUE website, Microsoft's exam partner.
Step 2 – Choosing The Exam Delivery Option
Here, you can choose the location where you want to take the exam. There can be four options viz. "At a local test center", "At my home or office", "At a Certiport test center" and "I have a private access code". Choose an option from here according to your convenience. If you choose a certiport test center, you must equip the specific system requirements listed on the Pearson website. Also, you need to choose an exam date from the range allotted by the exam provider. If you are choosing the online proctored option or "at my home or office", you must have a deep knowledge of requirements, participating countries and testing protocols in details. Anyhow, there won't be any change in the pricing of the exam irrespective of exam delivery option.
Step 3 – Exam Scheduling
Suppose you have chosen the first option – at a local test center, it will show the available test centers near the address you have given. You just have to choose a test center, date and time according to your convenience here. Finally, you can move into the payment page where you can pay the exam fee with any type of available debit/credit card. In case you choose the certiport test center option, there'll be additional authentication requirements including your photo and account validation. All other options will be similar including the selection of exam date and time. In case you feel that your 70-537 Exam Preparation isn't completed yet but you've already scheduled an exam, don't worry; you still can modify the exam schedule according to your convenience.
Step 4 – Take The Exam
Once you have confirmed about the final date for which you can appear for the exam, just take the exam without delay. Anyway, there is another important factor candidates generally ignore here – cancellation of the exam. According to the latest Microsoft policy, Rescheduling or canceling the exam within 5 days of your scheduled exam time is subjected to cost a fair amount of money. In case you fail to appear for the exam or not canceling/rescheduling the exam at least 24 hours prior to the exam time will forfeit your entire exam fee. So, make sure not to forget these facts during your 70-537 exam preparation.
Bottom Line
No matter whether you want to propagate your career goals towards becoming an Azure Stack operator or you are intended to deploy a hybrid cloud with Azure Stack, there is a key role for 70-537 exam nowadays. Anyway, your results in this exam greatly depend on the methodologies and strategies you are adopting for the 70-537 exam preparation. But, if you hope to pass this exam with brain dumps or similar practices, it may harm your efforts rather than helping you. By this reason, it's always good to follow official resources and the materials recommended by Microsoft as the preparation guide for 70-537 exam.
According to the new role-based Azure certifications, many certifications have been retired and many other added in the list. If you are preparing for any other Microsoft Azure certification, you can check out our Azure certifications training courses and start your preparation for the exams.
So, gear up and perform the best you can for the exam!